A customized print-friendly version of this recipe is available by clicking the "Print Recipe" button on this page.
Walter Sands' Favorite Bread Machine Bread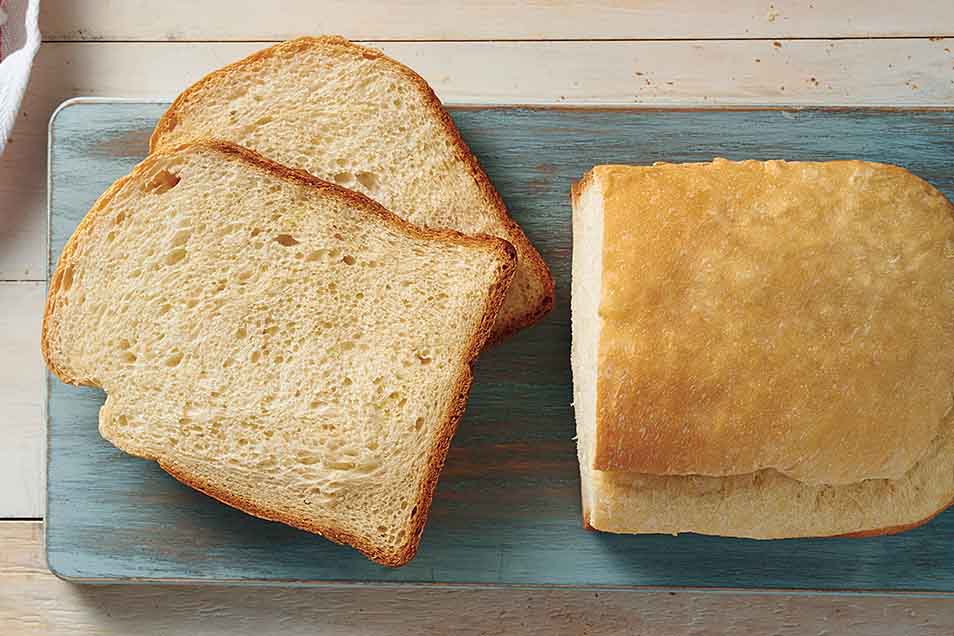 This bread may be prepared and baked right in the machine (1 1/2-pound or larger models), or prepared in the machine, then removed, shaped, given a final rise and baked in a conventional oven. Either way, it's a good, down-to-earth white sandwich bread.
This is a variation on a recipe from Walter Sands, one-time president and owner of the King Arthur Flour company. A member of just one of the many generations of the Sands family associated with the business, Walter made this bread faithfully once a week for years. Because of his arthritic hands, he used a bread bucket with a crank, which kneaded hundreds of loaves of this fragrant, soft sandwich bread with all its happy associations. We've modified Walter's recipe here for use in a bread machine.
Ingredients
1 1/4 to 1 1/3 cups lukewarm water, depending on the time of year (more in the winter, less in the summer)
1 heaping tablespoon honey or sugar
1 1/2 teaspoons instant yeast
1/3 cup Baker's Special Dry Milk or 1/2 cup nonfat dry milk granules
2 tablespoons butter
2 teaspoons salt
Instructions
Place the ingredients in your bread machine in the order recommended by the manufacturer, and program the machine for white or basic bread, or for the dough cycle. Press Start.

If you're using the dough cycle, after the cycle is complete, allow the dough to continue to rise in the machine until it's doubled in bulk.

Remove the dough, shape it into a loaf, and place it in a 9" x 5" loaf pan. Let it rise until almost doubled.

Bake the bread in a preheated 350°F oven for 35 to 40 minutes. Cool, and offer to a friend.
Nutrition Information
Serving Size

49g

Servings Per Batch

18
Amount Per Serving:
Calories

120

Calories from Fat

15

Total Fat

1.5g

Saturated Fat

1g

Trans Fat

0g

Cholesterol

5mg
Sodium

270mg

Total Carbohydrate

23g

Dietary Fiber

1g

Sugars

3g

Protein

4g
* The nutrition information provided for this recipe is determined by the ESHA Genesis R&D software program. Substituting any ingredients may change the posted nutrition information.
Reviews
Bread tastes very good. However, I find it to be a a very dense or heavy bread. Is there anyway to make it lighter and still retain the flavor.

Hi there, Robert! One of the most common reasons why baked goods turn out heavy and lacking flavor is because too much flour is used. To ensure you're using the right amount, we recommend checking out the "Recipe Success Guide," link next to the ingredients header above. You'll see that either measuring your flour by weight using a scale, or fluffing and sprinkling the flour into your measuring cup are the best ways to ensure your recipe turns out perfectly. We hope this helps and happy baking! Morgan@KAF
I'm new to bread making and the only successful loaf I've made in my machine is the basic white bread recipe that is in the instruction manual. It is great but it requires Bread Flour, which I don't always have on hand. I wanted a recipe that uses all-purpose, and this one came out perfectly!
I am a daily, experienced cooker, baker. I've been trying to learn a good bread recipe to remove as much store bread from our diet as I can. The preservatives in our foods are so bad for our bodies. I have fibro and degenerative arthritis and I can tell when I indulged in too much junk, not home cooked food. I have been making this for not only a dinner bread and toast, but for daily sandwiches. It has excellent texture and stands up well to slicing, especially when cooled. It slices, easily into slices thin enough for a sandwiches. I make the dough in my machine then put it in a loaf pan for the second rise, then into my oven. I do heat my oven longer than the standard preheat. I find with baking this bakes nicer. I made one altercation. The first time I made this recipe, I found it too salty with 2tsp salt. I put 1.5tsp salt in last time and it was much better.
I made this bread in the bread machine. It's yummy, but, I had a few issues since I live at 5400 ft altitude. It is very dense and crumbly. I made all the high-altitude adjustments as suggested but would love a recipe just for us at high altitudes that do not require math and experimentation.

We're so sorry, Blair, but because we aren't at high-altitude here in Vermont, we're simply unable to develop and test recipes meant to be baked at high-altitude. However, there's a recipe to check out on Tasty Kitchen's blog called "Bread Machine Basic White Bread High Altitude." They're lower than you are, (4300 ft) but they're certainly closer than we are, and that recipe will be a great one to experiment with. We also encourage you to check out your local library for cookbooks designed for high altitude cooking and baking to give you some inspiration. Kindly, Annabelle@KAF
I recieved my first bread machine for Christmas . A 1lb and 1 1/2 Vivreal bread machine . Honestly I have baked many cookie , cake , pies and bread over the past 25 years but found myself a little nerves using a bread machine .So I made this recipe as my first bread in my new machine . I loved how easy the recipe was to make . I used bread flour and bread machine yeast though via manufactor recommendtions . I treated the bread flour as cake flour since my food scale is broken . I sifted it through a sieve , gently fluffed the flour with my scoop and spooned in my measuring cup and gentley leved it . My husband and I enjoied the aroma of it baking . I set the machine to dark . So when we finally were able to take the bread out . The crust was nice and crisp and the crumb was airy and moist . We buttered the bread and dove in . The bread is wonderful . My husband said it was just like bakery bread . Thank you KA for shareing the wonderful recipe . We are looking forward to try more of your recipes .
This recipe was the first one I tried on my Zo. Turned out perfect. Can you substitute Almond milk for the non fat dry milk.

You can definitely do that! Just replace the warm water with warm almond milk, and follow the rest of the directions as written. To make the recipe entirely dairy-free, substitute Earth Balance for butter as well. (If baking vegan, also choose the sugar option instead of honey.) Happy baking! Kat@KAF
I tried a lot of bread recipes. I read the comments before I make this bread to make sure I will not fail again. And this is the first time I made a bread this easy and successful. I tried the following: 1.) 4 cups of bread flour 2.) I omit the dry milk instead I used 1-1/3 cup whole milk (100deg) I would like to ask if I can add kalamata olives or seeds like sesame, sunflower, chia, etc for this recipe? Thanks, Anne

Hi Anne, you're welcome to try adding up to 1 cup of mix-ins to the dough if you'd like to make your loaf a little more interesting. The best mix-ins are those that don't changed the moisture of the dough (either by absorbing liquid or releasing it), so we recommend using things like seeds, nuts, and dried fruit. (You can experiment with using chopped kalamata olives, but be sure to drain them well and consider reducing the salt in the dough slightly since they're quite salty themselves.)

Most bread machines will beep to indicate when the mix-ins should be added; the dough should be mixed and kneaded slightly before adding. We hope this helps and happy baking! Kye@KAF
I have to say...not only is this the easiest bread I've ever made, but it's the tasties. Since I'm a newby at baking bread I used my bread machine for the dough process. I got my grandsons involved in this venture with much success. I'm looking forward to making another in a few days. Many thanks to Walter Sands for sharing it with us!
I'm a beginner bread maker. I must say that this is truly the easies and tastiest bread I ever made. And I've made several over the years. My grandkids and I used my bread machine to start the dough process. Once the cycle completed we turned the dough into an oiled bowl until it reached double in size. Then transferred it to a loaf pan until it almost double in size. Can't wait until I make another one!
this has become my favorite bread recipe It is so simple and works well any sandwich or just with jam Thank you for sharing this treasure of a recipe