A customized print-friendly version of this recipe is available by clicking the "Print Recipe" button on this page.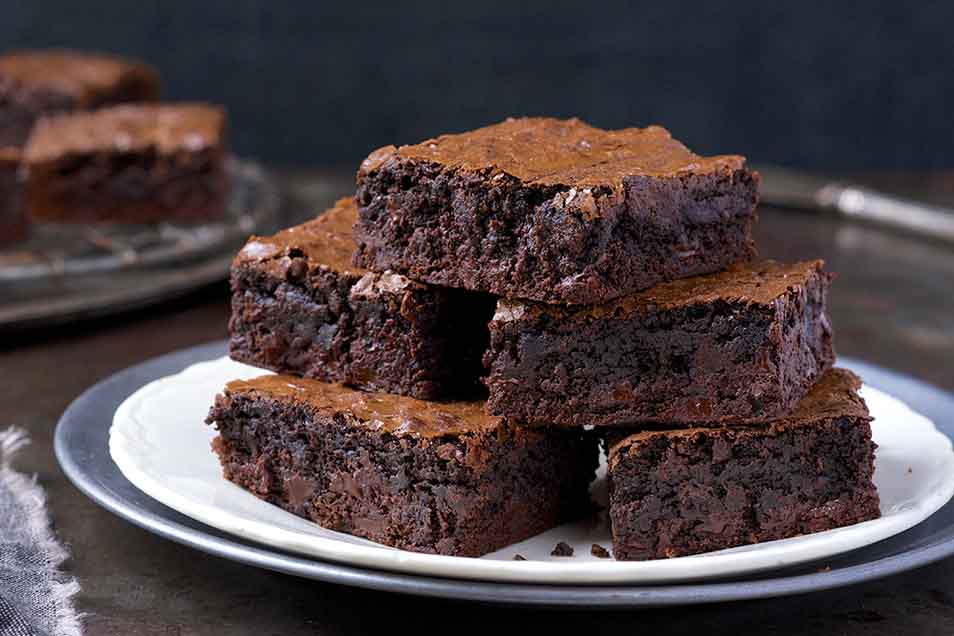 Tasting is believing! These whole wheat brownies are the treat we serve when we're trying to convince folks that baking with whole grains doesn't have to be an exercise in deprivation! Moist, rich, and deeply, darkly chocolate, these brownies are the ones to go through life with.
Instructions
Preheat the oven to 350°F. Lightly grease a 9" x 13" pan; line the pan with parchment paper if desired.

In a medium-sized microwave-safe bowl, or in a saucepan set over low heat, melt the butter, then add the sugar and stir to combine.

Return the mixture to the heat (or microwave) briefly just till it's hot (about 110°F to 120°F) but not bubbling. Don't worry if it separates; just stir it briefly to recombine a bit. Heating this mixture a second time will dissolve more of the sugar, which will yield a shiny top crust on your brownies.

Transfer the mixture to a bowl, and stir in the cocoa, salt, baking powder, espresso powder if using, and vanilla.

Add the eggs, stirring till smooth.

Then add the flour and chips, again stirring till smooth. Spoon the batter into the prepared pan.

Bake the brownies for 30 minutes, until a cake tester or sharp knife poked into the center reveals wet crumbs, but not raw batter. The brownies should feel set on the edges and in the center. Remove them from the oven, and cool completely on a rack.
Nutrition Information
Serving Size

60g

Servings Per Batch

24
Amount Per Serving:
Calories

247

Calories from Fat

120

Total Fat

14g

Saturated Fat

8g

Trans Fat

0g

Cholesterol

56mg
Sodium

134mg

Total Carbohydrate

32g

Dietary Fiber

2g

Sugars

25g

Protein

3g
* The nutrition information provided for this recipe is determined by the ESHA Genesis R&D software program. Substituting any ingredients may change the posted nutrition information.
Tips from our bakers
You can add 1 cup of nuts, or try other flavor combinations that appeal to you: toffee chips, or white chocolate, peanut butter, cappuccino, or mint chips. The total volume of mix-ins shouldn't exceed 3 cups, and may increase baking time by 3 to 5 minutes.
If you want to cut shapes out of the brownies, line the baking pan with a sheet of parchment paper. Use a paper or metal spring clip to secure the parchment to the edge of the pan so it doesn't flop down on the batter as it bakes. After the brownies are cool, you can use the parchment to lift the slab of brownies out of the pan, making them easier to frost or glaze, and cut.
We discovered something interesting when sampling these. For those finicky about texture (kids!), try waiting 24 hours before cutting into these brownies. Why? The wait gives the wheat bran a chance to soften and "disappear," texture-wise.
Reviews
Super dry and cakey.

We're so sorry to hear that the brownies came out dry, Dana, and can understand feeling disappointed after all of that work. Dryness is a common problem in baking that happens to everyone at some point or another, and it's usually caused by accidentally packing a bit too much flour into a measuring cup.

To ensure you're using the right amount, we recommend checking out the "Recipe Success Guide," link next to the ingredients header above. You'll see that if not using a scale to weigh your ingredients, the most accurate way to measure flour by volume is to fluff it up, sprinkle it into your measuring cup, and scrape off the excess. This will be especially important when baking with whole wheat flour because it absorbs a lot more liquid than all-purpose flour does due to the higher protein. We hope this helps with future baking! Annabelle@KAF
This has become my go-to brownie recipe, especially for the cooking I do for large groups. I use a 4c glass measure to mix it all together, so clean up is super easy. I bake them in a parchment lined glass 9x13 for 37-40 minutes convection, and they come out great every time - I do bake them at least a day ahead, and don't cut them until serving time.
Excellent! Followed recipe as written, baked 35 minutes. I sampled a piece after cooling for 2 hours-yummy. But, I served to my kids the next day, after overnight in fridge-they said these brownie are the best! Only, I didn't get a shiny crust-my top crust was covered with tiny bubbles-why????

Hi there, JS! We're so happy that you and your family enjoyed this recipe! The shiny crust comes from heating your butter and sugar mixture to between 110°F and 120°F. This will dissolve more of the sugar, which will help produce a shiny top crust on your brownies. We hope this helps and happy baking! Morgan@KAF
This is the second time i have made these. they were excellent the first time but the second time i used one cup of dark brown sugar and one of reg brown sugar ( Iwas low on regular brown sugar) I also paid closer attention to checking for doneness after 40 minutes using the recipes guide about no raw batter on the tester but moist crumbs. I only added 5 more min to baking but checked doneness 3 times in the 5 min with a toothpick. I did use a glass pan so for me that worked out. This second batch was over the top with wonderful chocolate flavor, and moist but not overly sweet for us. I wonder if the dark brown sugar made a difference? maybe i will try another batch :)
The brownies came out very dry. I had to bake a bit longer because it was too gooey and I felt they were not done. It was almost like there was a missing wet ingredient. Not again.

JJ, were you by any chance baking in a glass dish? Gooey middles and dry, overcooked edges are SUPER common issues when baking in a glass or ceramic pan, which is why we always recommend working with metal pans instead. It's also possible that your oven runs a little cool, leading to brownies that dry out rather than cooking through. Hope that helps! Kat@KAF
These are awesome! I will never use a ox mix again. I used the Bensdorp cocoa and mini chocolate chips. They are so decadent, you will be satisfied with a small piece!
Oh my gosh!!!Best brownies ever! I added 1 cup of pecan halves and these are soooo delicious! Didn't use espresso and used pure Mexican vanilla. I loved the fact I didn't need to use my electric mixer! This is a fairly dense brownie that isn't overly sweet but full of flavor. Thanks for reminding me to use my white whole wheat flour! I'll be trying more WWW flour recipes.
I was skeptical, I admit it. But this is the BEST Brownie recipe ever! Moist and exploding with great chocolate flavor. The most surprising thing is how the whole grain adds unexpected depth and a truly satisfying texture to a classic favorite. I'm baking these exclusively from now on.
I'm just curious as to whether or not there is much difference in the nutritional value using the whole grain wheat vs all purpose unbleached flour?? I only see a possible difference of 1 gram of fiber vs 2?

Hi Andrea. The bran and germ are inlcuded in whole wheat flour so you'll be receiving some additional nutrients there. We recommend looking at the product labels. You can do so on our website by going to the product pages of the flours and clicking "Nutrition and Ingredients." We also recommend speaking with your physician or nutritionist to see if one flour would be better for your diet than another. Annabelle@KAF
I didn't have great results my first time with this recipe, but plan to try it again. First of all, my little inner voice was telling me to use my 9 inch square cake pan instead of the 9X13, but I followed the recipe, and the brownies turned out very dry. I probably should have taken them out of the oven at 20 minutes but I waited until 25. Also, I substituted coconut oil for half the butter. Before I tried this, I chatted with a King Arthur Flour baker who said it would be find to do that. I suppose this could have been another reason the brownies were dry. My gas oven is also suspect, as it doesn't hold a constant temperature very well (my husband says go ahead and find a duel-fuel range which is what we should have done 5 years ago when we bought the cheap piece of junk). Anyway, I was disappointed, but reading the other great reviews I'm sure I will do better next time. In my new oven, my 9-in square pan, and 100% butter!