A customized print-friendly version of this recipe is available by clicking the "Print Recipe" button on this page.
Whole Wheat Sourdough Bread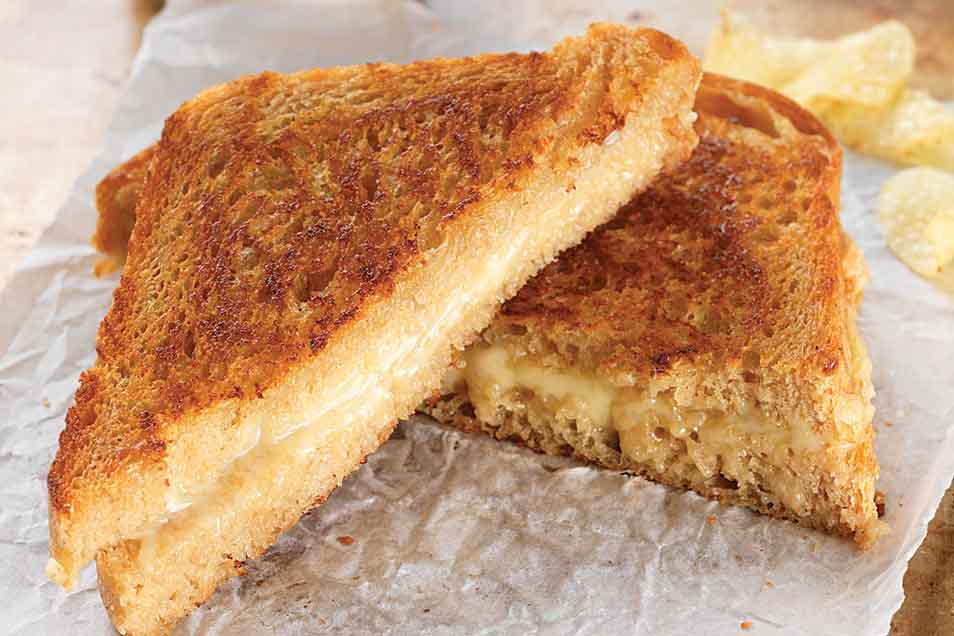 We love the combination of sourdough and whole wheat. The tanginess of a fed and active starter complements the inherent nuttiness of the flour. Together the two create a perfectly soft and moist loaf ideal for sandwiches, toast, and just about any other bread-based snack.
Instructions
Combine all of the ingredients, mixing until a shaggy dough forms.

Let the dough rest, covered, for 20 minutes, then knead until fairly smooth and slightly sticky.

Place the dough in a lightly greased bowl, cover it, and let it rise until almost doubled, about 60 to 90 minutes.

Gently fold the dough over a few times on a lightly floured work surface.

Shape it into an 8" log, and place it in a lightly greased 9" x 5" loaf pan.

Cover the loaf and let it rise until it's crowned 1" over the rim of the pan, about 60 to 90 minutes.

Towards the end of the rising time, preheat the oven to 350°F

Bake the bread for 40 to 45 minutes, or until the loaf is golden brown and a digital thermometer inserted into the center registers 205°F to 210°F.

Remove the bread from the oven, let it sit in the pan for 5 minutes, then turn it out onto a rack to cool.
Tips from our bakers
This bread gets a wonderfully hearty crust when made in our Emile covered bread loaf baker. Bake the loaf in a preheated 350°F oven with the lid on for 35 minutes then remove the lid and bake for 5 to 10 minutes longer.
Reviews
I guess I need some help. I'm using whole wheat flour for the first time; I followed the recipe exactly and on the first rise it was perfect (more than doubled in size in 90 minutes). I carefully folded the dough over 3 or 4 times and after 90 minutes, my bread did not rise much. The same thing happened yesterday, and I ended up throwing the loaf out. Today the rise was a little better, so I went ahead and baked it. It isn't light and airy. I bought the Emile Henry covered bread loaf pan and used it for this recipe. Any suggestions? I would have thought my yeast was bad but because the first rise was so good, I don't think it is that.

Hi there, Steve! We're sorry to hear that you're having a bit of trouble with this recipe. It sounds like your dough is over-proofing on the first rise. We'd suggest moving onto the folding and shaping after about an hour of letting the dough rise — you want the dough to be doubled at the most so if it's not quite that large that is totally fine. We hope this helps but if we can help troubleshoot further or talk through this recipe with you, please feel free to give our friendly Baker's Hotline folks a call at 855-371-BAKE(2253). Happy baking! Morgan@KAF
I made this recipe once before and it turned out great. The crust was nice and soft and it sliced very well. Flavor and texture were nice for sandwiches-mild sourness and a firm, slightly chewy bite that was still soft. I am making it again but omitting the yeast as a dietary preference. I want a slightly more sour taste this time so would you suggest letting it rise in the bread pan refrigerated?

That's a good question! We usually suggest folks do their bulk rise (Step 3 in this recipe) overnight rather than the final rise, because you care more about what the final rise looks like and it's easier to stop any over-proofing if it's out on the counter where you can see it. That said, if you're an experienced bread baker and are comfortable doing the second rise overnight in the fridge, feel free to go with that. Happy baking! Kat@KAF
Excellent bread with one problem. I ended up with a hole/tunnel at the top of the loaf running the entire length. The proving times seemed shorter than the 60 minutes, so I suspected over-proving; could that be the issue? My sourdough was very active, so could the added yeast be a problem?

Hi Dave! It definitely sounds like your starter is healthy and happy, so try to go off of what the dough is doing rather than the clock. Give your oven plenty of time to preheat so that when you poke your loaf and the finger indent stays, (which means it's ready to bake) you can pop it right in to bake. The indent won't show on the final loaf — don't worry! Annabelle@KAF
I was very happy with the recipe and my bread came out perfectly! I didn't use the whole grain bread improver and I had no issues with the rise. As the recipe says, it makes a soft and delicious bread perfect for sandwiches! I will definitely be making this again!
Baking with sourdough starter is a new experience for me. I used this recipe using a very active whole wheat starter and a freshly milled mix of white and red hard wheat (1/2 by 1/2). I measured using weight. The final product is delicious. The crumb is perfect for sandwich bread and it has a nice chewy crust. I thought I'd be smart and score it...not a good idea. I think it took away from some of the rise. Next time I will not score it.
Wonderful bread. Tried the covered baker but the bread stuck to the lid. Not sure if greasing the lid will fix this. Also used 450 as the oven temperature to start as recommended by EH. Lowered to 350 for the final 15 minutes.

Greasing the lid should help, Clarence, though usually, if bread hits the lid, the loaf is just a little too big for that sized pan, so it should be fine if you were to make the loaf a little bit smaller and make a couple rolls with the extra dough. Annabelle@KAF
I think this is the fourth time time making this bread. It is fantastic. It is to wet to knead by hand though. So I use the kitchen aid dough hook. I have to scrape the hook several times as it will ball up. I use different speeds during me knead time of about 10 tp 15 minutes process. I use it for toast generally and I toast it twice to get some color. Butter and jelly. Oh do good. I keep it is a ziplock but it is a wet bread and it condenses and I leave the bag open for a few hours. We eat it in a week it has never molded.
Second loaf, and very nice results. It's as people say, a very wet loaf, but great spring, especially as I added honey for flavor, but it gave the yeast some extra nourishment I Think. This loaf was a bit wavy on top after having a great rise, maybe too much honey or the egg wash and oats I used? Hmmm.

Hi Mark, if the top of your loaf was a bit "wavy" as you describe, it likely means your loaf was over-proofed. Try reducing the rising time slightly or reducing the yeast by 1/4 teaspoon. The texture and overall appearance of the loaf should be just right next time. Happy baking! Kye@KAF
My second loaf tonight. Turned out very nice. The first of one was Sunday and we have had it for breakfast daily. It is really good. Tonight's dough was pretty wet so I just rolled it in the bowl and plopped it in the loaf pan. 40 minutes and cooked very nice. I will use this weekly. I changed my sourdough to whole wheat so this bread is 100% whole wheat. I don't add the bread additive in the recipe.
This is a very wet and soft dough, probably best done in a mixer. I just sorta rolled it around a bit to get a loaf shape and didn't worry about how soft it is. Mine baked up just fine and is very tasty. I will definetly make this recipe again.