A customized print-friendly version of this recipe is available by clicking the "Print Recipe" button on this page.
100% Whole Wheat Bread for the Bread Machine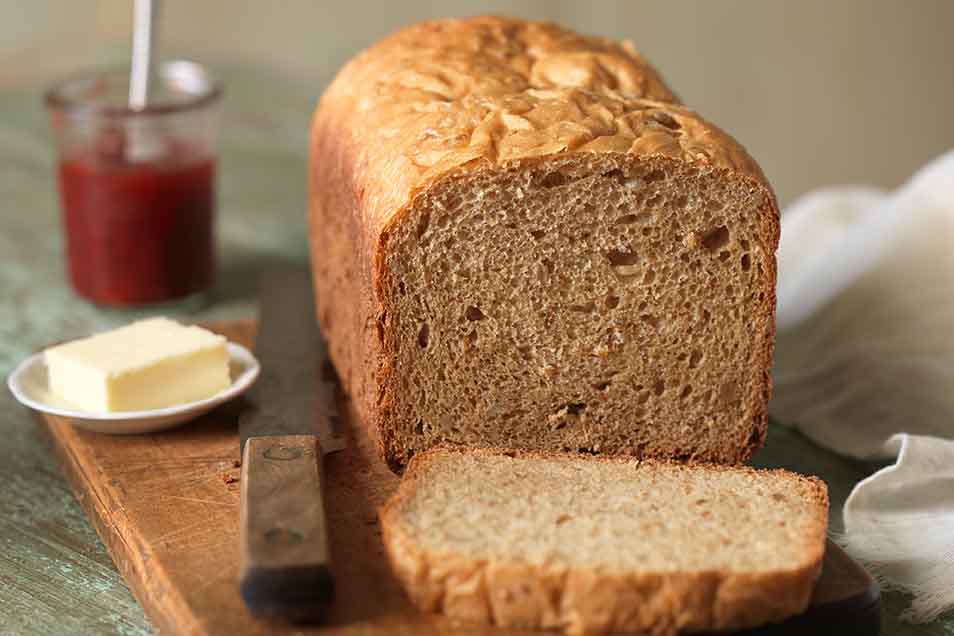 This firm, sweet loaf of golden whole wheat bread, perfect for sandwiches and toast, is one we worked out for our Zojirushi bread machine. But fear not; we've included directions for baking the bread by the standard method, as well.
Ingredients
1 1/4 cups lukewarm water
2 tablespoons olive oil or vegetable oil
1/4 cup honey or maple syrup
3 1/2 cups King Arthur White Whole Wheat Flour, Premium Whole Wheat Flour, or Organic Whole Wheat Flour
1/4 cup sunflower, sesame or flax seeds, or a combination, optional
1 tablespoon vital wheat gluten, optional; for higher rise
1 1/2 teaspoons salt
1 1/2 teaspoons instant yeast
Instructions
To make bread in a bread machine: Put all of the ingredients into the bread pan in the order listed. Program for basic white bread (or for whole wheat bread, if your machine has a whole wheat setting), and press Start.

Remove the bread from the machine when it's done. Either turn it out of the pan onto a rack to cool; or turn it out of the pan, place it back in the machine (atop the structure that holds the pan), crack the lid open about 1", and let it cool right in the cooling-down machine. This helps prevent the crust from wrinkling as the loaf cools.

To make bread by hand: Mix all of the ingredients in a large bowl, or in the bowl of a stand mixer.

Knead the dough until it's smooth and just slightly tacky, about 8 to 10 minutes. Place the dough in a greased bowl, cover, and let it rise until doubled in volume, about 1 to 1 1/2 hours.

Gently deflate the dough and shape it to fit a greased 8 1/2" x 4 1/2" loaf pan. Let it rise, covered, until doubled, about 1 to 1 1/2 hours.

Bake the bread in a preheated 375°F oven for 35 minutes, or until a digital thermometer inserted in the center of the loaf reads 190°F. Remove the bread from the oven, remove it from the pan, and cool it on a rack.
Nutrition Information
Serving Size

47g

Servings Per Batch

18
Amount Per Serving:
Calories

120

Calories from Fat

25

Total Fat

3g

Saturated Fat

.0g

Trans Fat

0g

Cholesterol

0mg
Sodium

200mg

Total Carbohydrate

21g

Dietary Fiber

3g

Sugars

4g

Protein

4g
* The nutrition information provided for this recipe is determined by the ESHA Genesis R&D software program. Substituting any ingredients may change the posted nutrition information.
Tips from our bakers
It shouldn't be hard adapting this loaf to your own bread machine; all you need to know is what proportion of flour/liquid/yeast your machine functions best with. Take a look at the dough after it's kneaded for about 10 to 12 minutes or so; it should be smooth, not sticky (too little flour) or lumpy (too little liquid), forming a nice ball. If the dough looks good at this point, you're probably all set.
Reviews
Thanks for sharing this recipe. It is my go to whole wheat recipe. If I wanted to use butter instead of the olive oil how much would recommend using?

Sarah, you can go ahead and substitute the same amount of unmelted butter (by volume) as oil. This is one of the rare occasions where measuring by weight messes things up. Keep in mind that there is no salt in oil, so you'll either want to use unsalted butter or adjust the amount of added salt in the recipe accordingly. Happy baking! Kat@KAF
Without a doubt, the best whole wheat bread machine recipe! Delicious taste, and perfect texture of both the doughball in the machine and the finished product. I made this recipe in the Cuisinart CBK-200 bread machine. It's a perfect 1-1/2# loaf. If I make another loaf, I'll try the light crust setting, although the medium was a typical medium. This recipe is a winner!
Delicious, love this recipe thank you!
Loved it. New to baking bread. No eggs no butter surprised me but it was great. But Very dense. Don't always want it that way. How might I lighten it up for variation?

Hi there, Tom. One of the most common reasons why baked goods turn out dry and heavy is because too much flour is used. To ensure you're using the right amount, we recommend checking out the "Recipe Success Guide," link next to the ingredients header above. You'll see that either measuring your flour by weight using a scale or fluffing and sprinkling the flour into your measuring cup are the best ways to ensure your recipe turns out perfectly. Also the drier environment may require you to add a little extra liquid to your dough. We would suggest adding a couple additional tablespoons of water to help make a lighter dough. Happy baking! Morgan@KAF
The main purpose of this comment is to ask a question. I live at a mile above sea level and my bread machine is the Cuisinart CBK-200. I am making the dough now and it looks a bit too sticky. How much flour does KA recommend adding to make the dough smooth, like it should be. I have been baking bread for over a decade now, so this recipe looks completely sound. I am sure it will be excellent once I figure out how I need to alter it.

Dylan, that's an excellent question! We actually have an entire guide dedicated to high-altitude baking. If you type "high altitude" into the search bar of our website, it will take you directly to the guide, with specific recommendations for baking time, oven temperatures, leavening, sugar, liquid, and flour. Being located in New Mexico, you may also find after baking that it helps to add additional liquid to compensate for the low humidity. Happy baking! Kat@KAF
I wanted to ask a question please I love the sound of this recipe! I have only just bought a bread maker and it asks me for a weigh setting in grams (I'm in UK) rather than a loaf size. Would u know if it is 1000g 1250g or 1500g loaf size - thank you in advance Kirstie

Hi Kristie, this recipe makes a 1 1/2-pound loaf, which translates to 680 grams. It sounds like you'll want to select the smallest setting on your machine, and even see if you can select something less than 1,000 grams. Good luck and happy baking! We think you'll love this recipe! Kye@KAF
Didn't work for me. I used the volume recipe instead of by weight which may have been the problem, but if it doesn't work by volume then the recipe should say so. The dough was not elastic and barely rose. Surprised to see so many positive reviews here, which is why I decided to try it.

We're sorry to hear you didn't have the same delightful experience we've come to know from the recipe, Sal. We encourage you to give our Baker's Hotline a call at 855-371-BAKE (2253) so we can hear more about your ingredients and method. It might be that you're adding too much flour to the dough, making it heavy and preventing it from rising.

To ensure you're using the right amount, we recommend checking out the "Measuring Standards," link next to the ingredients header above. You'll see that either measuring your flour by weight using a scale, or fluffing and sprinkling the flour into your measuring cup are the best ways to ensure your recipe turns out perfectly. Kindly, Kye@KAF
This was delicious!! Sweeter than my usual go-to whole wheat & sesame bread, but a great variation and oh-so-good fresh from the breadmaker. Cheers
I'll definitely make this again. I added two tablespoons of vital wheat gluten instead of one and added the salt with the liquid ingredients instead of on top of the flour with the yeast (aren't they supposed to be added separately this way?), and I chose 1.5 loaf with light crust. I put it on a chopping board and threw a tea towel over it, which softened the crust. Very, very good. My hunt for a good whole wheat recipe is definitely over!

It's an old myth that salt and yeast can't touch when making bread. It used to be thought that salt would deactivate the yeast, but we've since come to understand that's not true. If it makes you feel better to keep them separate, you're more than welcome to do it this way. Otherwise, you can go ahead and add the salt straight in with the other ingredients. Happy baking! Kye@KAF
Tried this recipe yesterday and was thrilled with the outcome. I was concerned about the maple syrup or honey being too sweet but happily, using maple syrup just added to the nutty flavor. I used KA 100% whole wheat flour. I prefer a dense loaf and this bread did not disappoint. I also prefer a crisp crust and was happy with the result. I made the bread completely in the bread machine, only removing the paddles as recommended. Next time I think I will just make the dough in the machine & bake the loaf in the oven because there were still holes in the bottom of the bread from the shafts.