A customized print-friendly version of this recipe is available by clicking the "Print Recipe" button on this page.
100% Whole Wheat Bread for the Bread Machine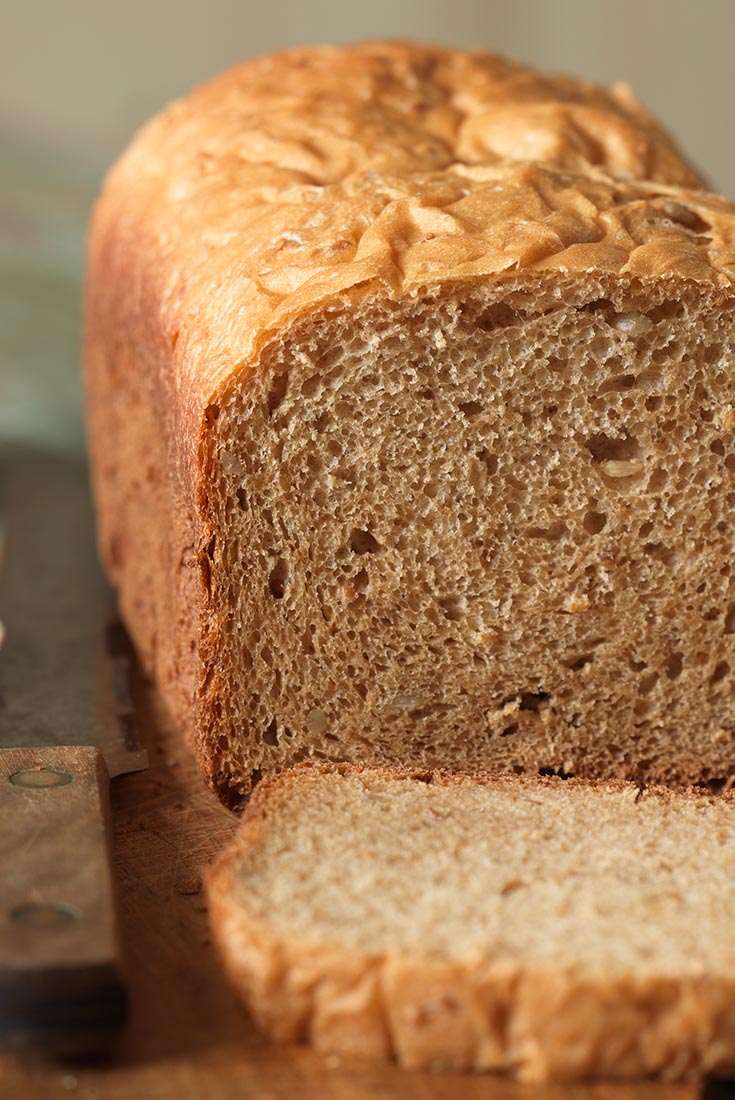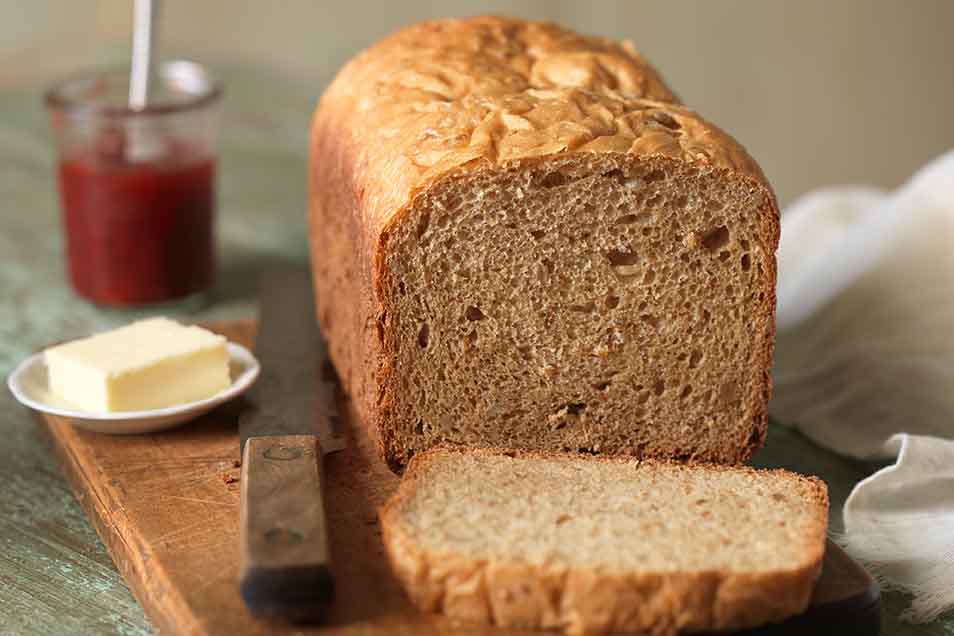 This firm, sweet loaf of golden whole wheat bread, perfect for sandwiches and toast, is one we worked out for our Zojirushi bread machine. But fear not; we've included directions for baking the bread by the standard method, as well.
Ingredients
1 1/4 cups lukewarm water
2 tablespoons olive oil or vegetable oil
1/4 cup honey or maple syrup
3 1/2 cups King Arthur White Whole Wheat Flour, Premium Whole Wheat Flour, or Organic Whole Wheat Flour
1/4 cup sunflower, sesame or flax seeds, or a combination, optional
1 tablespoon vital wheat gluten, optional; for higher rise
1 1/2 teaspoons salt
1 1/2 teaspoons instant yeast
Instructions
To make bread in a bread machine: Put all of the ingredients into the bread pan in the order listed. Program for basic white bread (or for whole wheat bread, if your machine has a whole wheat setting), and press Start.

Remove the bread from the machine when it's done. Either turn it out of the pan onto a rack to cool; or turn it out of the pan, place it back in the machine (atop the structure that holds the pan), crack the lid open about 1", and let it cool right in the cooling-down machine. This helps prevent the crust from wrinkling as the loaf cools.

To make bread by hand: Mix all of the ingredients in a large bowl, or in the bowl of a stand mixer.

Knead the dough until it's smooth and just slightly tacky, about 8 to 10 minutes. Place the dough in a greased bowl, cover, and let it rise until doubled in volume, about 1 to 1 1/2 hours.

Gently deflate the dough and shape it to fit a greased 8 1/2" x 4 1/2" loaf pan. Let it rise, covered, until doubled, about 1 to 1 1/2 hours.

Bake the bread in a preheated 375°F oven for 35 minutes, or until a digital thermometer inserted in the center of the loaf reads 190°F. Remove the bread from the oven, remove it from the pan, and cool it on a rack.
Nutrition Information
Serving Size

47g

Servings Per Batch

18
Amount Per Serving:
Calories

120

Calories from Fat

25

Total Fat

3g

Saturated Fat

.0g

Trans Fat

0g

Cholesterol

0mg
Sodium

200mg

Total Carbohydrate

21g

Dietary Fiber

3g

Sugars

4g

Protein

4g
* The nutrition information provided for this recipe is determined by the ESHA Genesis R&D software program. Substituting any ingredients may change the posted nutrition information.
Tips from our bakers
It shouldn't be hard adapting this loaf to your own bread machine; all you need to know is what proportion of flour/liquid/yeast your machine functions best with. Take a look at the dough after it's kneaded for about 10 to 12 minutes or so; it should be smooth, not sticky (too little flour) or lumpy (too little liquid), forming a nice ball. If the dough looks good at this point, you're probably all set.
Reviews
I made this bread ,it turned out very hard,I followed all instructions properly so don't know where I went wrong. I used Breadman pro. I am really desperate to make good wheat bread at home.

Hi Lata, we're sorry to hear you had trouble with this recipe, and we'd love to help ensure your next loaf turns out tender and moist. There are a number of factors that can compromise the texture of homemade bread, so we encourage you to give our Baker's Hotline a call at 855-371-BAKE (2253) so we can hear more about your ingredients and method. We're ready to help and look forward to your call. Kye@KAF
While I'm going to tinker with this recipe more, my first attempt with my older Breadman machine was a success. We really liked the taste of this bread. The loaf was a bit dense, but not disagreeably so. I used settings for 1.5 loaf, whole wheat and light crust using KA white whole wheat flour. I also used 2 T honey and canola oil as well as 1 T vital wheat gluten. I didn't have instant yeast so I used the active dry yeast. I am now considering what changes to make to perhaps get a bit more rise. Perhaps the instant yeast rather than the ADY? Maybe one more tablespoon of the vital wheat gluten? Maple syrup rather than honey? I'd like to try to keep the amount of sugar less rather than more. Thanks for such a great recipe. It's going to be a keeper!

Hi Cynthia! We think the thing that will make the biggest difference in rise is adding another tablespoon of Vital Wheat Gluten. Using instant yeast might make a difference but it would probably be undetectable. No need to add more sugar, the Vital Wheat Gluten should do the trick! Annabelle@KAF
I made this 2 ways, breadmachine and stand mixer. First of all I used the metric option which called for MUCH less flour then the cups measurement . Approx 400 gram is just 2 cups and not three as the recipe states so I am a bit confused. The bread machine made a much lighter and better loaf then the stand mixer. Taste and texture is very nice. Will use the bread machine next time,

We apologize for any confusion, Nori. We've double-checked the metric weights, and they're correct as listed. 1 cup of whole wheat flour weighs 113 grams when measured using the fluff, sprinkle, sweep technique. (See the "Measuring standards" link next to the ingredients header above for more details on this.) We're glad the final loaf turned out deliciously! Kye@KAF
Absolutely delicious!!! Followed recipe to the t! Only question- how do I make it a bit more firm?

Try using the "dark crust" setting on your machine if it has one, Mandira. You can also try adding 2 tablespoons of additional flour to the dough to give it slightly more structure. Kye@KAF
I followed the directions pretty much exactly. I'm diabetic, so this recipe is awesome. Many commercial breads use processed flour & lots of sugar in their 'Whole Wheat' recipes. 1. Used pine & walnuts as the optional nuts. 2. Used honey. 3. Transferred dough to bread pan. -Used 'proof' on my oven to aid the rise. -1 hour. -Then egg washed the top. Used my oven's temperature probe, set end temp to 190F. (The oven shuts off, but keeps cooking). Phenomenal!
I made this recipe last night in my bread machine. Select 1.5 pound loaf and light crust setting. This is the best whole wheat bread I have ever had. Thank you! I followed the instructions provided, used Bread Machine Whole Wheat Flour and added the optional 1/4 Sesame Seeds. I used Canola Oil instead of Olive Oil. I would like to cut the oil back next time, perhaps use 1 Tbsp Canola Oil and omit sesame seeds but add flax seeds. >Do you think this will work with less oil?

If it's the best whole wheat bread you've ever had, we'd encourage you to not change a single thing about the recipe, Elisa! However, if you'd like to use less oil you can experiment with using 1 tablespoon in your next loaf. If the dough feels dry, add about 1 to 2 teaspoons of water to help it come together. Happy baking! Kye@KAF
I make this so often that I have recipe memorized. I use walnut oil and flaxseed meal. Best toast ever, by the way. I've only made using white whole wheat flour, like the mild taste. Seriously, I make a loaf every 5 to 7 days, I've made 70 loaves in last 14 months in Zojirushi machine.
This is spectacular bread. I made it by weight with organic white whole wheat flour and used 2 TBS whole grain improver as substitute for vital wheat gluten. I used 1/2 dark molasses and 1/2 honey to fill 1/4 cup ( eyeballed it) and added a mixture of sunflower seeds and chopped walnuts ( for a total of 1/3 cup) at the beginning. When the Zo beeped I added 1/3 cup golden raisins. I let the bread entirely bake in the machine (wheat bread setting). As suggested I took it out of the pan and put the loaf back into the unplugged machine after I'd given it a minute to cool down. Beautiful rise, beautiful crumb, soft and full of flavor with a crunchy, yummy crust. Needs nothing: no butter, no jam. Next time would add more seeds - toasted sesame seeds would be good, chia seeds very healthy, flax would be good as well. Thank you, KAF! (And thank you Mary Ellen for giving me the vital wheat Gluten ->Whole Grain Improver ratio)
Hi team, I have made this bread Atleast 10 times but the dough just starts tearing after the 1st rise. I am using my kitchen aid stand mixe for kneading. I have measured all the ingredients, tried different whole wheat flour available here, tried with and without autolyze, with and without gluten, more honey, more yeast, less honey, less yeast, no honey, more water less water.. U name it and I would have tried it all. The dough comes together properly after 15mins of kneading on speed 2. I have even done 10 mins of kneading. But 15 mins seems to made the dough more elastic. Then I rest it f9r 1 hours and the dough is nice and doubled in size. I have even tried 30 mins rise but no luck. Now the problem starts after the first rose when I try to shape the dough. The minute I start to roll it out I can see tears all over the dough. I can see the air bubbles also but the minute I start to roll it into a log, it just starts to tear on me . I have even tried to proof and bake the bread just to see what happens but it hardly rises and if it does manege to rise slightly it goes completely flat after baking. I am really out of options team, pls pls help me out here. I really wanna make this bread coz even after all the disasters the crumb come out more moist than the other whole wheat bread recipe on your site. KAF is my favourite bread site and I don't know why this one bread just wont work! Pls pls pls help me here team.

Hi Seema, it sounds like your dough is a bit too stiff so we might recommend holding back some of the flour when making your next batch of dough. We also see that you're baking abroad, and the flour may not be quite as strong as the flour that we're baking with here in the U.S., which is giving you different results. It may be that the flour is low in protein, which makes it difficult to get good structural results. You can try using a higher protein flour (like bread flour) to help strengthen the dough while also adding more water. We hope you consider giving these tips a try while also knowing that some cracks in your bread isn't the end of the world: If it tastes delicious, you're more than halfway there! We hope this helps and we wish you good luck! Kye@KAF