A customized print-friendly version of this recipe is available by clicking the "Print Recipe" button on this page.
100% Whole Wheat Bread for the Bread Machine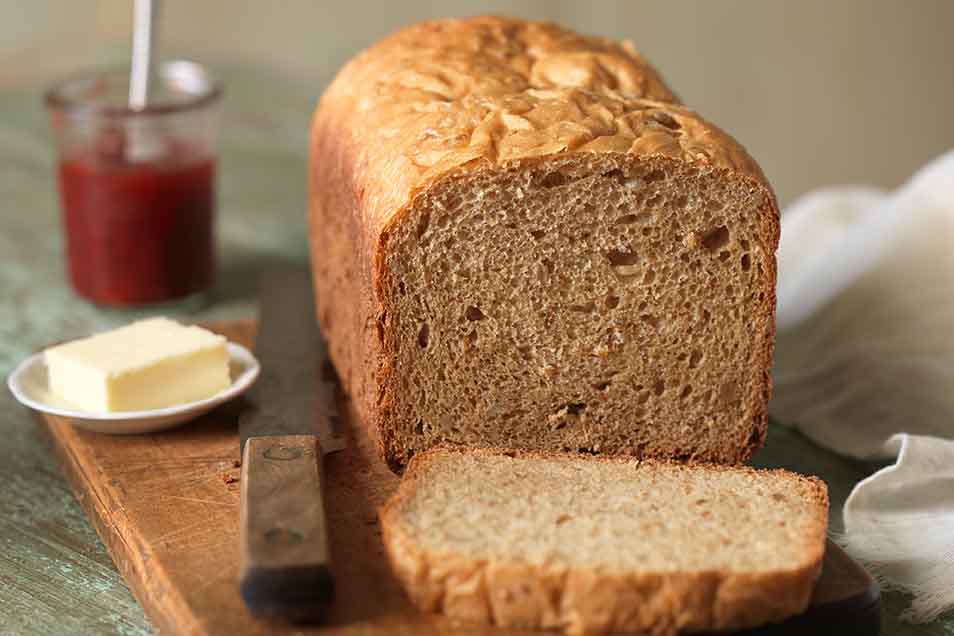 This firm, sweet loaf of golden whole wheat bread, perfect for sandwiches and toast, is one we worked out for our Zojirushi bread machine. But fear not; we've included directions for baking the bread by the standard method, as well.
Ingredients
1 1/4 cups lukewarm water
2 tablespoons olive oil or vegetable oil
1/4 cup honey or maple syrup
3 1/2 cups King Arthur White Whole Wheat Flour, Premium Whole Wheat Flour, or Organic Whole Wheat Flour
1/4 cup sunflower, sesame or flax seeds, or a combination, optional
1 tablespoon vital wheat gluten, optional; for higher rise
1 1/2 teaspoons salt
1 1/2 teaspoons instant yeast
Instructions
To make bread in a bread machine: Put all of the ingredients into the bread pan in the order listed. Program for basic white bread (or for whole wheat bread, if your machine has a whole wheat setting), and press Start.

Remove the bread from the machine when it's done. Either turn it out of the pan onto a rack to cool; or turn it out of the pan, place it back in the machine (atop the structure that holds the pan), crack the lid open about 1", and let it cool right in the cooling-down machine. This helps prevent the crust from wrinkling as the loaf cools.

To make bread by hand: Mix all of the ingredients in a large bowl, or in the bowl of a stand mixer.

Knead the dough until it's smooth and just slightly tacky, about 8 to 10 minutes. Place the dough in a greased bowl, cover, and let it rise until doubled in volume, about 1 to 1 1/2 hours.

Gently deflate the dough and shape it to fit a greased 8 1/2" x 4 1/2" loaf pan. Let it rise, covered, until doubled, about 1 to 1 1/2 hours.

Bake the bread in a preheated 375°F oven for 35 minutes, or until a digital thermometer inserted in the center of the loaf reads 190°F. Remove the bread from the oven, remove it from the pan, and cool it on a rack.
Nutrition Information
Serving Size

47g

Servings Per Batch

18
Amount Per Serving:
Calories

120

Calories from Fat

25

Total Fat

3g

Saturated Fat

.0g

Trans Fat

0g

Cholesterol

0mg
Sodium

200mg

Total Carbohydrate

21g

Dietary Fiber

3g

Sugars

4g

Protein

4g
* The nutrition information provided for this recipe is determined by the ESHA Genesis R&D software program. Substituting any ingredients may change the posted nutrition information.
Tips from our bakers
It shouldn't be hard adapting this loaf to your own bread machine; all you need to know is what proportion of flour/liquid/yeast your machine functions best with. Take a look at the dough after it's kneaded for about 10 to 12 minutes or so; it should be smooth, not sticky (too little flour) or lumpy (too little liquid), forming a nice ball. If the dough looks good at this point, you're probably all set.
Reviews
Hi, This looks like a great recipe. Do you have an option for a 2 lb loaf? I have a Zojirushi Home Bakery.

Maxwell, you can go ahead and increase all the ingredients by 25% and this loaf should turn out just fine. Happy baking! Kat@KAF
Easy recipe, came out very well! I used 1.5lb, whole wheat setting on my machine. The dough seemed a little wet at first, but didn't cause any problems. I added steel cut oats. The flavor of the honey comes through.
I tried this recipe yesterday. I opted for the maple syrup and a mixture of sunflower and sesame seeds. So yummy, my husband was raving and commented we should stop buying bread and just make our own. Thanks for the great recipe, I can't wait to try others!
I made your recipe then Tweaked It a bit Bread Machine Bread with King Arthur Flour For large (1 1/2 to 2 lb) machine 1 C Water 1/2 C Milk 3 T Butter 2 C White Flour 1 1/2 C Wheat Flour 1/2 C FLAX 3 T Brown Sugar 1/2 T Salt 1/2 T Yeast Put ingredients in Bread Pan from top to bottom. Program Bread maker either just Dough or Bread Light or Med crust. If making just dough, pull out when buzzer goes off. Flour a Bread Board Knead down - cut into pieces fit Brownie Pan or USE - Cookie Cutters tooo Cute. Let rise in warm oven 150* 45 minutes or so. Once dough rises Turn OVEN to 350* for 15-20 minutes small Brownie size loaves. On 1/4/19 I added Italian Spices taking to Malines with Meatballs in A concoction of Diced Toms & Tom Paste for My own ** Sauce **. I Bake Bread AS OFTEN as NEEDED. I enjoy switching - tweaking ingredients UP.
Yummy! This turned out great! I did not add the seeds or wheat gluten. I only had whole wheat pastry flour on hand so that's what I used. I don't know how it could taste better!
I am very new to bread making, and recently purchased a Breadman bread machine. After trying a couple of other recipes, I tried this one. They were very dense and had so many ingredients. This one is so easy, using only a handful of ingredients. I opted for maple syrup, over honey. I used the rapid whole wheat cycle on my machine, and it turned out fantastic! My family absolutely loved it. I wouldn't change a thing...well, I'll maybe try it with some sunflower seeds along with the flaxseeds next time
I have a Zojirushi BB-PAC20 and it only does 2 lb loaves and I didn't even think to look to see what lb loaf this was so it came out lopsided but looks good otherwise. I'm no good at math lol so how could this be converted for 2 lb loaf?

Hi Kathy. This recipe is designed to be baked in a 1 1/2 lb - 2 lb loaf bread machine, so we aren't sure why it turned out a little wonky. We'd recommend reaching out to Zojirushi at 800-733-6270 to see if one of the parts or settings isn't working properly. Annabelle@KAF
Used the w/w setting on my bread and it came out perfect. I did add about another 2 T of water. DELCIOUS
I got really excited over this recipe but the bread came out extremely dense and dry. I don't think there is enough liquid in this recipe. I will look for another recipe.

Oksana, we're sorry to hear this recipe didn't work out well for you! It does indeed sound like you had too much flour in your dough for the amount of liquid in it. This is a very common issue for folks who measure their ingredients by volume rather than weight, and even more so during the dry winter months, when the air pulls all the moisture from our ingredients. If using a kitchen scale that measures in grams isn't an option, we suggest following the measurement guidelines in the Recipe Success Guide next to this recipe. Or just add a bit extra liquid when your dough looks too dry. Happy baking! Kat@KAF
Mixed in bread machine but eliminated the last rise and the bake. Used 1 oz. maple syrup in place of honey. Over-baked at 197 deg. internal. This took 33 minutes, will adjust. Smell was super, very pleasing. Crust color was darker and crumb was denser at bottom and sides than your photo of sliced loaf. This lessened as we get to the center of loaf. Baked in 4-1/2 X 3 X 10" dark metal loaf pan. I don't like oversize slices that will not fit into toaster. The crumb for most of the loaf was very nice and the flavor was better than expected, especially toasted. Will make again but will increase last rise to 1-1/2 hours and bake for 30 minutes.