A customized print-friendly version of this recipe is available by clicking the "Print Recipe" button on this page.
A Smaller 100% Whole Wheat Pain de Mie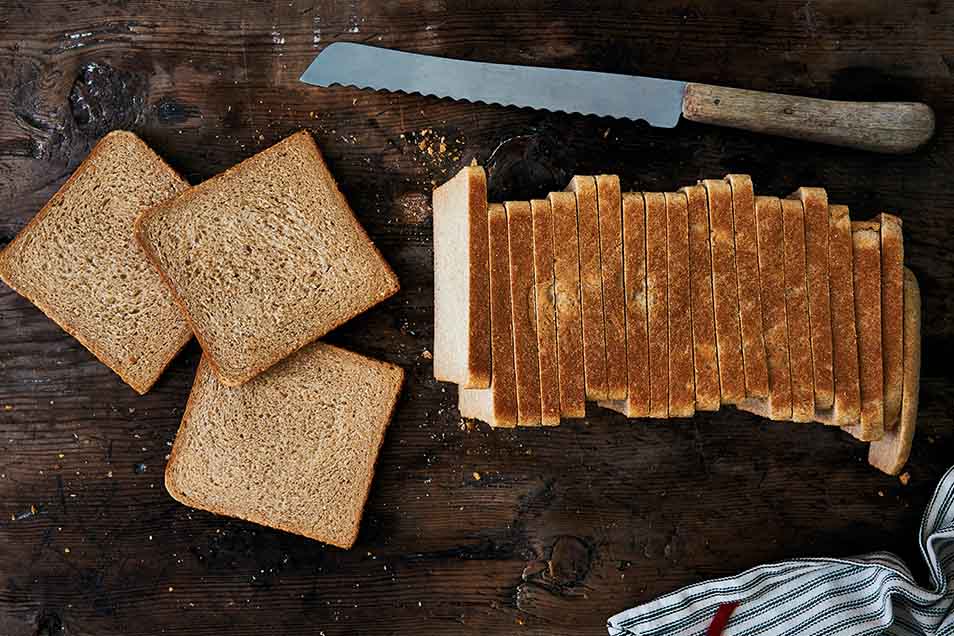 The best bread for thin-slicing is called pain de mie, a butter- and milk-rich loaf baked in a special lidded pan (often called a Pullman pan). The lid ensures that the baking bread won't expand too much, keeping it very close-grained — and thus totally non-crumbly, and easy to slice.

This 100% whole wheat bread, baked in a smaller-than-normal 9" pain de mie pan, is gently sweetened with honey. It yields a soft sandwich-type loaf that's probably the most kid-friendly whole wheat bread we've ever found.
Ingredients
3/4 cup lukewarm milk
2/3 cup lukewarm water
4 tablespoons butter
1 1/2 teaspoons salt
2 tablespoons honey
1/4 cup Baker's Special Dry Milk or nonfat dry milk
1/4 cup potato flour or 3/4 cup potato flakes
3 1/2 cups King Arthur 100% Organic White Whole Wheat Flour*
2 1/4 teaspoons instant yeast
*For the very best results, we recommend our white whole wheat flour, either regular or organic. Using a traditional whole wheat flour, one milled from red wheat, will give you a stronger-flavored, less kid-friendly loaf.
Instructions
Combine all of the ingredients, and mix and knead them — by hand, mixer, or bread machine — to form a smooth, supple dough.

Transfer the dough to a lightly greased bowl or dough-rising bucket, cover the bowl or bucket, and allow the dough to rise till puffy though not necessarily doubled in bulk, about 1 1/2 hours.

Lightly grease a small (9" x 4" x 4") lidded pain de mie (pullman) pan.

Transfer the risen dough to a lightly greased work surface, shape it into a log, and fit it into the pan. Flatten the top as much as possible.

Cover the pan with lightly greased plastic wrap, and allow the dough to rise until its domed center is about 3/4" below the lip of the pan, about 60 to 90 minutes. Towards the end of the rising time, preheat the oven to 350°F.

Remove the plastic, and carefully slip the cover onto the pan.

Bake the bread for 30 minutes. Remove the pan from the oven, carefully remove the lid, and return the bread to the oven to bake for an additional 10 minutes, until it's golden-brown on top and tests done; an instant-read thermometer inserted into the center will register at least 190°F.

Remove the bread from the oven, and turn it out of the pan onto a rack to cool completely. For a soft, flavorful crust, brush the loaf with melted butter while warm.

Yield: 1 loaf.
Reviews
This is a family favorite! There are several times I have made it. The last time i had to substitute the mashed potatoes. i think you need to use white whole wheat flour and knowing that the dough in making to be on the squishy side
Perfect, except it's too dry. KA - What could I add to make it more moist without making it rise too much.?

Doreen, that's a super common issue when the weather is very cold and dry like it is in the Midwest right now. Feel free to add a little more milk to get the texture of the dough closer to where it should be. Happy baking! Kat@KAF
Made without substitutions or changes. Very little rise. Used brand new saf yeast (that is producing rise in other baking). Tried making twice. Tastes ok, but too dense. Giving up on this. Very disappointing.

We're sorry to hear you weren't able to get the rise you were looking for with this dough, and we hope you don't give up on this well-loved recipe altogether, PB. A simple adjustment of how you measure your flour might remedy your trouble. (One of the most common reasons why baked goods turn out dry and heavy is because too much flour is used.)

To ensure you're using the right amount, we recommend checking out the "Measuring Standards," link next to the ingredients header above. You'll see that either measuring your flour by weight using a scale, or fluffing and sprinkling the flour into your measuring cup are the best ways to ensure your dough rises high and your bread turns out perfectly. Kye@KAF
Hi team, I do not have potato starch or potato flour available, so can I just replace the 46gms with whole wheat flour instead? If yes do I need to reduce the liquid in the recipe or continue as is. ?

Hi Seema, if you don't have potato flour or potato starch, we'd recommend using 3/4 cup (64 grams) of instant potato flakes instead. If that's also not an option, you can use 1/4 cup (28 grams) of cornstarch or 3/4 cup (160 grams) of real mashed potatoes. As a last resort, you can use 1/4 cup (57 grams) whole wheat or all-purpose flour noting that your bread will be slightly paler in color and not as moist as it otherwise would be. We hope this gives you some options to explore and we wish you happy baking! Kye@KAF
Twice now I have used this recipe. Both times I did not use potato flour, but substituted cornstarch. The dough was absolutely beautiful! However, both times, it was way more than the pain de Mie 9' loaf pan which I purchased at KAF store in Vermont. The first time the bread was dry, this time, it's still cooling, and feels spongy. It overflowed the covered pan, making a mess in my oven, so what is happening? I also use an oven thermometer. I used the ingredients listed, including brands, except for the potato flour, and went by grams. as this is supposed to be a more accurate way to measure. Very frustrating, as I feel I could use less ingredients and save money that way, instead of scraping burnt dough off of my oven floor. Please help!

We can help, Lynn! It sounds like you have very happy air in your house for bread. Something about the environment must be very conducive to yeast growth. Consider yourself lucky! The next time you make this, try a 3/4 batch and see if that creates the perfect amount for your pan. We're eager to hear how it turns out! Annabelle@KAF
I made this for the first time today and it was just about perfect! When it was rising in the pan, it rose higher in the middle of the loaf than on the sides, so that might be why the crumb was a little loose in spots. But it was fine, and it made those perfect square slices I was hoping for. It wasn't dense at all, but it sliced beautifully. I came back to this recipe after having some trouble with other pain de mie recipes, so now I'm looking forward to trying them again.
This is a recipe that I highly recommend with one word of caution. I think as in any baking it is better to way your ingredients rather than measure them!
this recipe was wonderful! I had to modify it a bit, because I do not have white whole wheat flour and I thought using whole wheat flour for the entire loaf would not be what I wanted. So I used half all purpose white flour, and half whole wheat flour. I mixed it using a stand mixer, and it was very loose, so I added a 2 tablespoons bit more flour And it was still a bit loose but it rose beautifully. When I formed The dough into a loaf I floured the counter and coated the finished loaf with a bit of flour. Then I put it into my pan which I had greased but lined with parchment paper . It looks fabulous I can't wait to try it
Perfect thin-slicing whole wheat sandwich loaf.
Very satisfied with the outcome of this recipe. I made this for a standard sized Pullman pan (13") so I did 1.5x everything in the recipe except for the yeast. I wasn't sure how it would all turn out, since I changed quite a few things. I semi-veganized it (still used the honey, but no milk or butter). I subbed oil for the butter (a bit less, since oil is 100% fat and butter only about 80%) and a thick and creamy soymilk for the milk and most of the milk powder. I didn't have any potato flour, so I used some mashed potatoes. I then used some of the water I'd used to boil the potatoes to help tenderize the crumb a bit more. I had also never had much luck with 100% whole wheat doughs that didn't involve pre-ferments or overnight rises in the fridge--they'd always turned out a bit "grassy"--but then again I'd never tried white whole wheat. But in the end it turned out exceedingly well. A beautiful color, and smell, and it was definitely "of crumb." Since it was a larger loaf I baked it for 50 minutes total, taking off the lid after 40 min.