A customized print-friendly version of this recipe is available by clicking the "Print Recipe" button on this page.
A Smaller 100% Whole Wheat Pain de Mie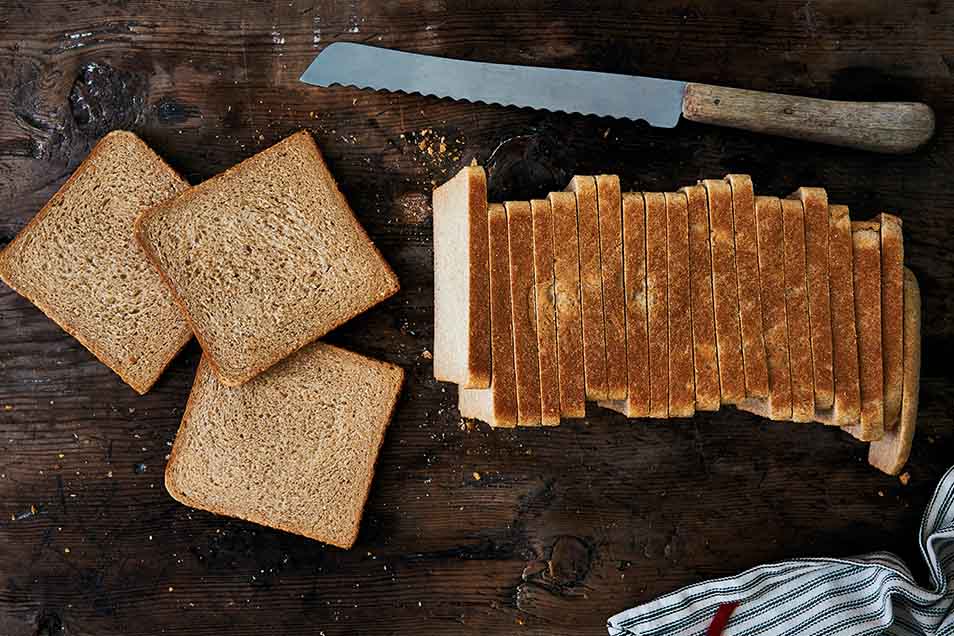 The best bread for thin-slicing is called pain de mie, a butter- and milk-rich loaf baked in a special lidded pan (often called a Pullman pan). The lid ensures that the baking bread won't expand too much, keeping it very close-grained — and thus totally non-crumbly, and easy to slice.

This 100% whole wheat bread, baked in a smaller-than-normal 9" pain de mie pan, is gently sweetened with honey. It yields a soft sandwich-type loaf that's probably the most kid-friendly whole wheat bread we've ever found.
Ingredients
3/4 cup lukewarm milk
2/3 cup lukewarm water
4 tablespoons butter
1 1/2 teaspoons salt
2 tablespoons honey
1/4 cup Baker's Special Dry Milk or nonfat dry milk
1/4 cup potato flour or 3/4 cup potato flakes
3 1/2 cups King Arthur 100% Organic White Whole Wheat Flour*
2 1/4 teaspoons instant yeast
*For the very best results, we recommend our white whole wheat flour, either regular or organic. Using a traditional whole wheat flour, one milled from red wheat, will give you a stronger-flavored, less kid-friendly loaf.
Instructions
Combine all of the ingredients, and mix and knead them — by hand, mixer, or bread machine — to form a smooth, supple dough.

Transfer the dough to a lightly greased bowl or dough-rising bucket, cover the bowl or bucket, and allow the dough to rise till puffy though not necessarily doubled in bulk, about 1 1/2 hours.

Lightly grease a small (9" x 4" x 4") lidded pain de mie (pullman) pan.

Transfer the risen dough to a lightly greased work surface, shape it into a log, and fit it into the pan. Flatten the top as much as possible.

Cover the pan with lightly greased plastic wrap, and allow the dough to rise until its domed center is about 3/4" below the lip of the pan, about 60 to 90 minutes. Towards the end of the rising time, preheat the oven to 350°F.

Remove the plastic, and carefully slip the cover onto the pan.

Bake the bread for 30 minutes. Remove the pan from the oven, carefully remove the lid, and return the bread to the oven to bake for an additional 10 minutes, until it's golden-brown on top and tests done; an instant-read thermometer inserted into the center will register at least 190°F.

Remove the bread from the oven, and turn it out of the pan onto a rack to cool completely. For a soft, flavorful crust, brush the loaf with melted butter while warm.

Yield: 1 loaf.