A customized print-friendly version of this recipe is available by clicking the "Print Recipe" button on this page.
American-Style Vanilla Biscotti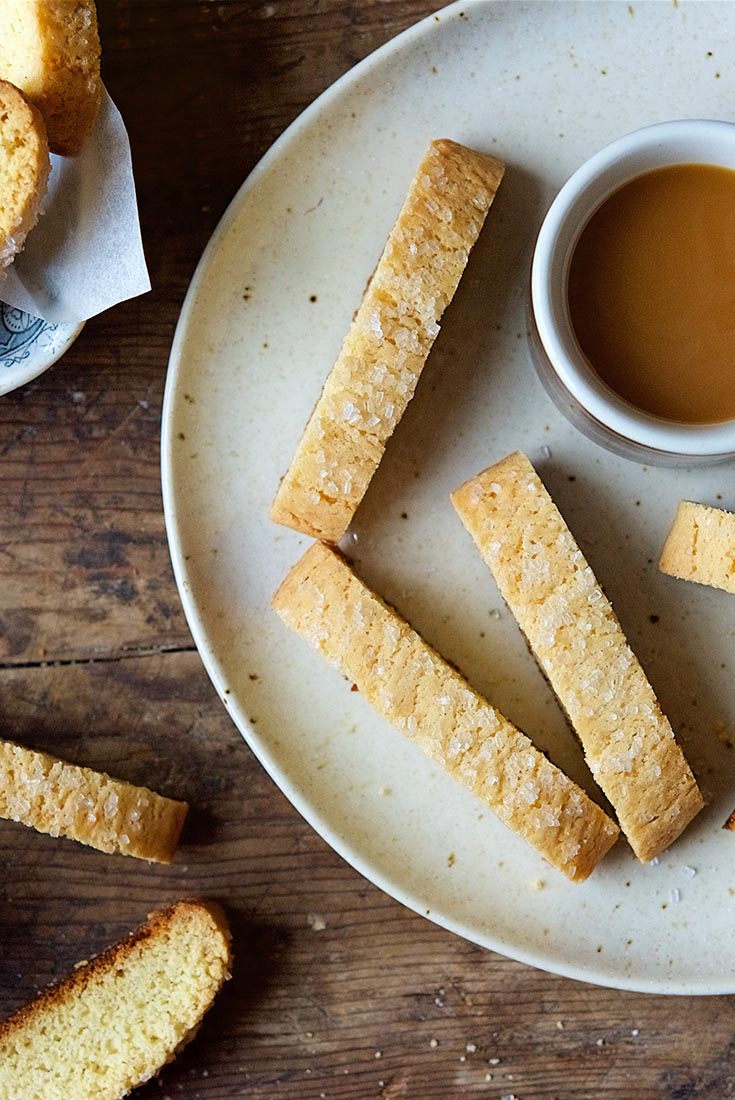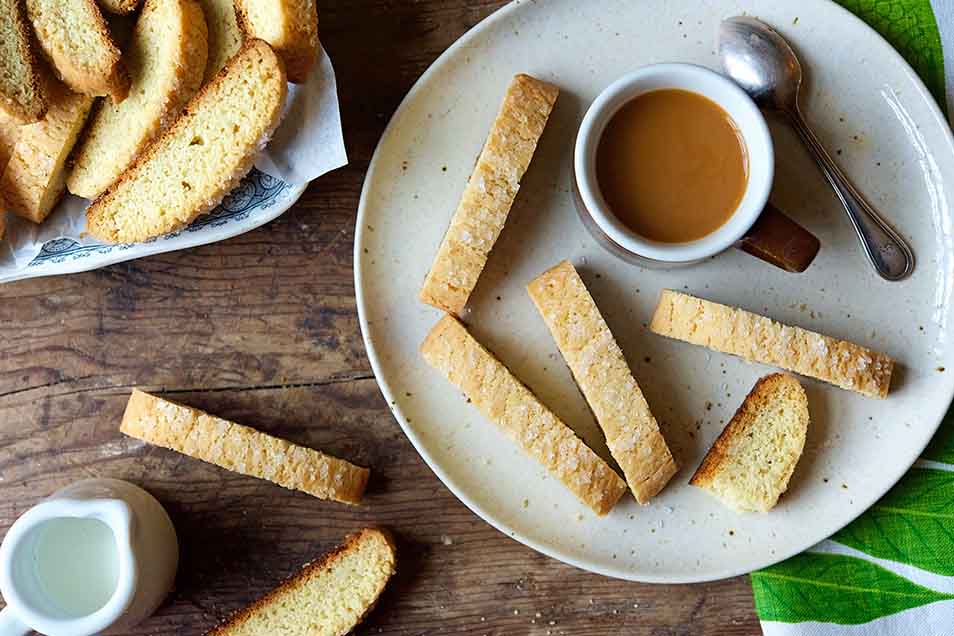 Here it is, a biscotti recipe everyone can enjoy — unlike classic Italian biscotti, which are quite hard, these are light and crunchy. Biscotti bake twice rather than once, and thus take a bit longer start-to-finish than normal drop cookies. But the dough is put together exactly like drop cookie dough. And if your kitchen skills include shaping a meatloaf and slicing a loaf of bread, you've got what it takes to make delicious, gorgeous biscotti.
Ingredients
6 tablespoons butter, salted or unsalted
2/3 cup sugar
1/2 teaspoon salt
2 to 3 teaspoons vanilla extract
1/4 teaspoon almond extract, optional
1 1/2 teaspoons baking powder
2 large eggs
coarse white sparkling sugar, for sprinkling on top, optional
Instructions
Preheat the oven to 350°F. Lightly grease (or line with parchment) one large (about 18" x 13") baking sheet.

In a medium-sized bowl, beat the butter, sugar, salt, vanilla, almond extract (if you're using it), and baking powder until the mixture is smooth and creamy.

Beat in the eggs; the batter may look slightly curdled. At low speed of your mixer, add the flour, stirring until smooth; the dough will be sticky.

Plop the dough onto the prepared baking sheet. Divide it in half, and shape it into two 9 1/2" x 2" logs, about 3/4" tall. Straighten the logs, and smooth their tops and sides; a wet spatula or wet bowl scraper works well here. Sprinkle with coarse white sparkling sugar, if desired, pressing it in gently.

Bake the dough for 25 minutes. Remove it from the oven.

Using a spray bottle filled with room-temperature water, lightly but thoroughly spritz the logs, making sure to cover the sides as well as the top. Softening the crust just this little bit will make slicing the biscotti much easier. Reduce the oven temperature to 325°F.

Wait 5 minutes, then use a sharp chef's knife or serrated knife to cut the log crosswise into 1/2" to 3/4" slices. Or cut the biscotti on the diagonal, for fewer, longer biscotti. As you're slicing, be sure to cut straight up and down, perpendicular to the pan; if you cut unevenly, biscotti may be thicker at the top than the bottom, and they'll topple over during their second bake.

Set the biscotti on edge on the prepared baking sheet. Return the biscotti to the oven, and bake them for 25 to 30 minutes, until they feel very dry and are beginning to turn golden. They'll still feel a tiny bit moist in the very center, if you break off a piece; but they'll continue to dry out as they cool.

Remove the biscotti from the oven, and transfer them to a rack to cool. Store airtight at room temperature; they'll stay good for weeks.

Yield: 30 to 40 biscotti, depending on size.
Nutrition Information
Serving Size

1 piece (20g)

Servings Per Batch

30
Amount Per Serving:
Calories

70

Calories from Fat

25

Total Fat

2.5g

Saturated Fat

1.5g

Trans Fat

0g

Cholesterol

20mg
Sodium

65mg

Total Carbohydrate

11g

Dietary Fiber

0g

Sugars

5g

Protein

1g
* The nutrition information provided for this recipe is determined by the ESHA Genesis R&D software program. Substituting any ingredients may change the posted nutrition information.
Tips from our bakers
Variations: Add up to 2 cups nuts, dried fruit (dried, not fresh), or chips to the dough, along with the flour. Adjust the spice to suit the add-in, if desired; e.g., add 1 teaspoon cinnamon with 1 cup chopped dried apple and 1 cup diced pecans. Or substitute hazelnut, butter-rum, or your favorite flavor for the vanilla. A classic Italian anise biscotti is made with 1/2 teaspoon anise extract (or 1/8 to 1/4 teaspoon anise oil, to taste), and 1 tablespoon fennel seeds.
Want to bake these in a biscotti pan? Simply press the unbaked dough into the pan, and bake as directed in the recipe. Remove the pan from the oven, and after 15 to 30 minutes loosen the edges of the biscotti log, and carefully turn it out of the pan onto a cutting surface. Let it cool slightly, and proceed with the recipe as directed. Your resulting biscotti will be larger, and the yield will be fewer.
Reviews
Wow! This is a great biscotti recipe, easy to mix, easy to make, very good instructions on the technique. After the second bake and letting them cool, I drizzled a glaze of confectioner's sugar mixed with orange juice. The family enjoyed them.
This recipe is top notch! (I bake many recipes from KAF) I have made this recipe about 6 times now and I follow the recipe exactly except for the extracts (I just add almond and different vanilla extracts etc to my taste). This is a fantastic basic base recipe that you can pretty much add whatever you like that is complimentary to whatever extracts you add to it. It is a easy gift that looks good and you can gift to others over days and not worry about them going bad on you because they will last a bit longer. I LOVE how they are NOT break your teeth (though you could bake them much longer if you like them very crunchy). They are nothing like the packaged starbuck ones. They are so much better. Look into the other biscotti recipes on here too - I've made them as well (some of them.) If I could post pictures I would------ I hope one day they would let us.

We'd love to see photos of your successful bake, Lisa! Consider posting them on our Facebook page or sharing them on Instagram with #kingarthurflour. Happy baking! Kye@KAF
I made these with KAF GF measure for measure and they came out great!
This is the only tried and true biscotti recipe I've ever used. It's perfect the way it is, and it's also great with chopped up hazelnuts, cranberries, pistachios, chocolate, etc. added!
I love this recipe! So easy to put together! Results are light and delicious! For a few batches, after the first baking, I cut it lengthwise, then width wise to make more to hand out. I like to use sliced almonds & dried cranberries. Everyone wants more!
Awesome! So tasty with the Almond flavor I bought at KAF (SO TASTY and nut-allergy free (**says it on the label**))
I make these almost weekly and they are a huge hit with everyone. So many people say they like them because they're not quite as hard as a traditional style Italian biscotti. They lend themselves to your creative whims to add in just about anything you can think of. Dried Blueberry & pistachio, craisin and white chocolate, lemon oil and fresh thyme...you can leave the vanilla out and sub other flavors. Love them...yay, King Arthur! Another successful recipe. P.S. I back by weight not volume and love the fact that you can swap the ounces to grams as you like to suit your style.
This recipe is wonderful. The variations are endless. My question is the recipe states to add the baking powder to the wet mixture instead of with the flour. Is there a reason for this?

Hi Gracie, adding the baking power to the butter and spices evenly distributed it and also allows it to become activated early. This may make a subtle change in the final texture and rise of the biscotti (making them rise slightly less), but the difference is small if any. Often times the specific order of steps is something that gets grandfathered into the method of a recipe without specific reasons why. This may be one of those cases, so you're welcome to whisk in the baking powder with the flour if that's what you're more comfortable with. Kye@KAF
Delicious and simple to make. They keep for a long time in a tight jar.( if I can restrain myself) I have added sliced almonds and cristalised ginger which was wonderful. I will try lavendar next although they are great just as the recipe goes. I brush the top with water and let stand a few minutes before slicing and use a serrated knife.