A customized print-friendly version of this recipe is available by clicking the "Print Recipe" button on this page.
American-Style Vanilla Biscotti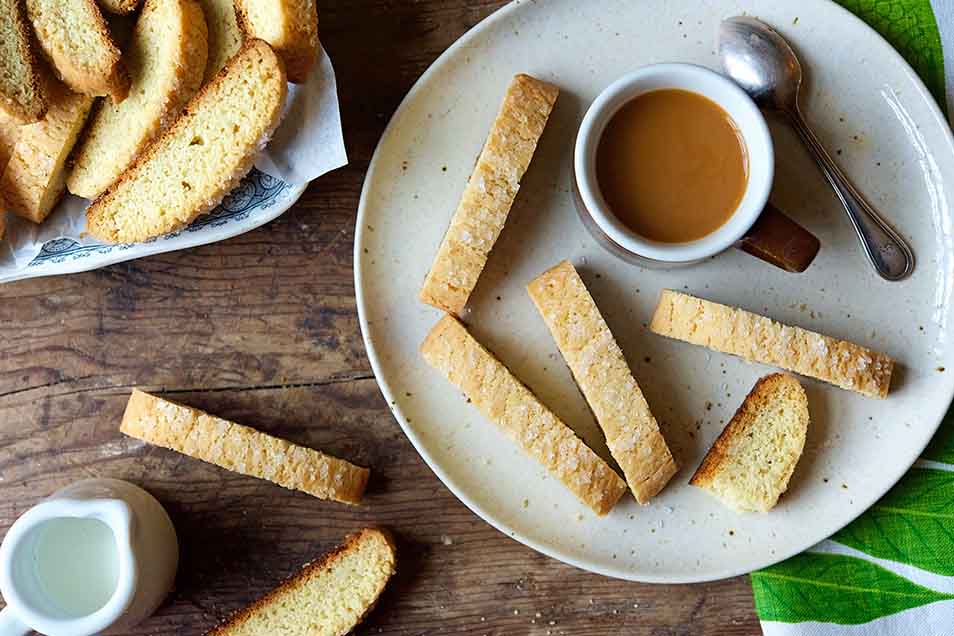 Here it is, a biscotti recipe everyone can enjoy — unlike classic Italian biscotti, which are quite hard, these are light and crunchy. Biscotti bake twice rather than once, and thus take a bit longer start-to-finish than normal drop cookies. But the dough is put together exactly like drop cookie dough. And if your kitchen skills include shaping a meatloaf and slicing a loaf of bread, you've got what it takes to make delicious, gorgeous biscotti.
Ingredients
6 tablespoons butter, salted or unsalted
2/3 cup sugar
1/2 teaspoon salt
2 to 3 teaspoons vanilla extract
1/4 teaspoon almond extract, optional
1 1/2 teaspoons baking powder
2 large eggs
coarse white sparkling sugar, for sprinkling on top, optional
Instructions
Preheat the oven to 350°F. Lightly grease (or line with parchment) one large (about 18" x 13") baking sheet.

In a medium-sized bowl, beat the butter, sugar, salt, vanilla, almond extract (if you're using it), and baking powder until the mixture is smooth and creamy.

Beat in the eggs; the batter may look slightly curdled. At low speed of your mixer, add the flour, stirring until smooth; the dough will be sticky.

Plop the dough onto the prepared baking sheet. Divide it in half, and shape it into two 9 1/2" x 2" logs, about 3/4" tall. Straighten the logs, and smooth their tops and sides; a wet spatula or wet bowl scraper works well here. Sprinkle with coarse white sparkling sugar, if desired, pressing it in gently.

Bake the dough for 25 minutes. Remove it from the oven.

Using a spray bottle filled with room-temperature water, lightly but thoroughly spritz the logs, making sure to cover the sides as well as the top. Softening the crust just this little bit will make slicing the biscotti much easier. Reduce the oven temperature to 325°F.

Wait 5 minutes, then use a sharp chef's knife or serrated knife to cut the log crosswise into 1/2" to 3/4" slices. Or cut the biscotti on the diagonal, for fewer, longer biscotti. As you're slicing, be sure to cut straight up and down, perpendicular to the pan; if you cut unevenly, biscotti may be thicker at the top than the bottom, and they'll topple over during their second bake.

Set the biscotti on edge on the prepared baking sheet. Return the biscotti to the oven, and bake them for 25 to 30 minutes, until they feel very dry and are beginning to turn golden. They'll still feel a tiny bit moist in the very center, if you break off a piece; but they'll continue to dry out as they cool.

Remove the biscotti from the oven, and transfer them to a rack to cool. Store airtight at room temperature; they'll stay good for weeks.

Yield: 30 to 40 biscotti, depending on size.
Nutrition Information
Serving Size

1 piece (20g)

Servings Per Batch

30
Amount Per Serving:
Calories

70

Calories from Fat

25

Total Fat

2.5g

Saturated Fat

1.5g

Trans Fat

0g

Cholesterol

20mg
Sodium

65mg

Total Carbohydrate

11g

Dietary Fiber

0g

Sugars

5g

Protein

1g
* The nutrition information provided for this recipe is determined by the ESHA Genesis R&D software program. Substituting any ingredients may change the posted nutrition information.
Tips from our bakers
Variations: Add up to 2 cups nuts, dried fruit (dried, not fresh), or chips to the dough, along with the flour. Adjust the spice to suit the add-in, if desired; e.g., add 1 teaspoon cinnamon with 1 cup chopped dried apple and 1 cup diced pecans. Or substitute hazelnut, butter-rum, or your favorite flavor for the vanilla. A classic Italian anise biscotti is made with 1/2 teaspoon anise extract (or 1/8 to 1/4 teaspoon anise oil, to taste), and 1 tablespoon fennel seeds.
Want to bake these in a biscotti pan? Simply press the unbaked dough into the pan, and bake as directed in the recipe. Remove the pan from the oven, and after 15 to 30 minutes loosen the edges of the biscotti log, and carefully turn it out of the pan onto a cutting surface. Let it cool slightly, and proceed with the recipe as directed. Your resulting biscotti will be larger, and the yield will be fewer.
Reviews
Good recipe. I would suggest in the second part of the baking to turn the biscottis half way. Mine got slightly too dark on one side. Other than that, they are delicious!
These would have come out better if I had chilled the dough logs in the freezer it
Easy and clear recipe, turns out attractive and tasty. We have been making these for 3-4 years now and they turn out perfect each time. Great to make on a whim, as I always seem to have these basic ingredients on hand.
This biscotti is the bees knees. I use a biscotti pan and get about 20 long, thin cookies. I have never had them crumble while cutting. My favorite variation: 1 tsp almond extract (no vanilla), 10 maraschino cherries finely diced, 2 tsp juice from the cherries, and 1/2 cup white chocolate chips. Makes a beautiful Valentine's day dessert
but I was in the middle of star trek movie, and my wife ups and makes it.. good recipe , Bad timing.
Could these be made vegan? I know to use Earth Balance margarine, but what to do about the eggs? Would KAF suggest EnerG Egg Replacer or Flax or. . . .what? One of my kids is vegan. Thanks.

Lorraine, you're in luck! Since the egg here is just a binder, it's very easy to replace. Flax egg is our go-to solution for veganizing recipes like this for its nice texture and neutral flavor (check out our blog post "How to make homemade egg replacer" for details on this), but a commercial egg replacer would probably work just fine if you happen to have it on hand. And kudos to you for going out of your way to accommodate your vegan child! Kat@KAF
First batch was excellent. Tried doubling up and the dough almost arrested our mixer. Had to add another egg just to thin it out. Any suggestions when doubling this recipe, except to measure carefully and do the math right?

Math and measuring really are the keys, Arthur. There are some recipes, however, that just don't double well. It's possible that this could be one of them. Measuring by weight will ensure everything is accurate if you'd like to try doubling again. Annabelle@KAF
Wonderful as all these folks said. Just one thing: mine were very short in height. They spread a lot. My only change was using canola oil for butter. If I continue to use oil, KAF, can I get the height, the nicely rounded top? Thanks!!

Hello! Oil will likely always cause them to spread, though you could try chilling the dough in the fridge for half an hour before baking to see if that helps. You could also try baking in a Bicotti Pan (Item #201359 on our website) so that the dough literally has no where to spread. We hope one of these tips help! Annabelle@KAF
Oh man, my mother sent me a batch of these for Christmas and my family, friends, and coworkers all raved about them. She followed the recipe exactly, added sliced almonds and dried cranberries. They are light, crisp but not hard, and not horribly sweet. I asked her for the recipe because I'm definitely going to be making these as a standard for get togethers and holidays.
Simple to make and good. I added zest of an orange and 1/2 cup dried cranberries.