A customized print-friendly version of this recipe is available by clicking the "Print Recipe" button on this page.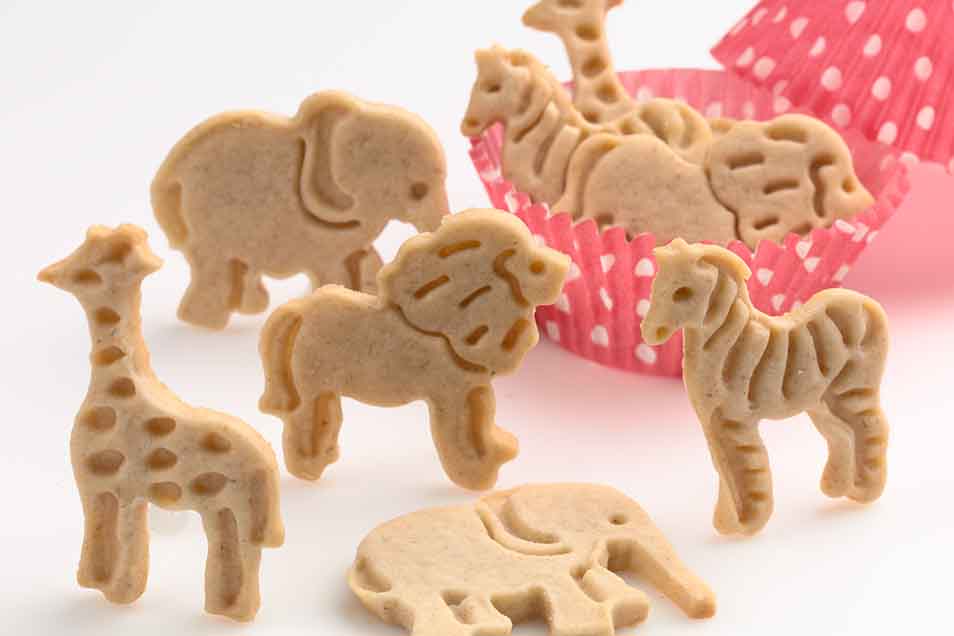 Remember the good old days of playing zookeeper with your own individual box of animal crackers? This is our version of the treat. They're not overly sweet, but do taste more like cookies than crackers.
Instructions
Beat together the butter, sugar, honey, salt, baking soda, and flavor until well combined.

Add the flour and oat flour, mixing to combine.

Divide the dough in half, flattening each half slightly to make a disk, then wrap in plastic. Refrigerate for at least 1 hour.

Preheat the oven to 350°F. Lightly grease several baking sheets, or line them with parchment.

Take one piece of dough out of the refrigerator, and turn it out onto a lightly floured surface. Roll the dough 1/4" thick.

Dip animal cookie cutters in flour, then use them to cut the dough. Transfer the cookies to the prepared baking sheets.

Bake the cookies for 8 to 10 minutes, until lightly browned around the edges.

Remove the cookies from the oven, and let them cool on the baking sheet for several minutes, or until set.

Transfer the cookies on parchment to a rack to cool completely. Repeat with the remaining dough.

Yield: about 5 dozen cookies.
Nutrition Information
Serving Size

1 cookie (9g)

Servings Per Batch

60
Amount Per Serving:
Calories

45

Calories from Fat

20

Total Fat

2.5g

Saturated Fat

1.5g

Trans Fat

0g

Cholesterol

5mg
Sodium

30mg

Total Carbohydrate

5g

Dietary Fiber

0g

Sugars

2g

Protein

1g
* The nutrition information provided for this recipe is determined by the ESHA Genesis R&D software program. Substituting any ingredients may change the posted nutrition information.
Tips from our bakers
Freezing the cookies on the baking sheet for 15 minutes will help them retain their shape and imprint.
For the most authentic animal cracker flavor, use Princess Cake and Cookie Flavor — it makes a difference.
Reviews
Just made these today and they came out great! I may add a bit more flavoring the next time but otherwise it's a perfect recipe. Looking forward to giving these to my granddaughter when we visit tomorrow. I know she'll get a kick out of them.
My grandson loves these cookies. I have made this recipe several times for him. I put them in freezer bags so his parents can get them out for him at their discretion. The K.A. Princess flavoring and oat flour are a must. Those who think the dough is too crumbly are perhaps not mixing it long enough; the dough eventually holds together. If it's still too crumbly, just work the dough with your hands. I would not add additional liquid. Be sure to dust the cookie cutters with flour once in awhile. Use parchment paper to bake. I also baked only 6 1/2 to 7 minutes. Great recipe! Love the cookie cutter shapes and so does my grandson.
Do you have tips to make these chocolate? How much Dutch process cocoa should I add? And how much flour should I omit?

We'd start with 1/4 cup of cocoa without reducing the flour at all. If that leaves your dough too crumbly to handle, you can add a bit of water (carefully, just a tablespoon at a time) to add a touch more moisture. We haven't tried making a chocolate version here in our test kitchen, but we're sure that after a batch or two you'll have found jut the right balance for your animal cookies. Do let us know how they turn out! Happy baking! Kat@KAF
The first time I make a recipe, I make it exactly as stated. I found the dough to be dry. I will add some moisture next time. The dough needed to come to room temp after being refrigerated to be able to easily roll the dough. It would help if the directions said that. It took me a bit to get the hang of the plunger cookie cutters. You really need to "plunge" the cookies out of the cutter. Baking for 8 minutes was too long. 6 1/2 worked for me. I did lower the temp on my over to 325 as well. That worked for me. The "Princess" flavoring is great! Nice cookie flavor. I like that it is not particularly sweet. Yes, I will make these again and will tweak things to be more successful next time. The cookies are adorable!!!
These taste nothing like the animal crackers you buy in a store, and that's a good thing. They are incredibly delicious and are always gobbled up. You don't need to use the special cutters - I generally just use the smallest cookie cutters I have or, even easier, form the dough into a squarish shape, slice it into small rectangles or squares, prick them with a fork and bake. I've substituted molasses when out of honey, brown sugar for white, and 1 cup whole wheat pastry flour for 1 cup white and had no problems whatsoever. I do add a tablespoon or so of water to make the dough more cohesive when I need to. The princess flavor I now use exclusively for these as I don't like it in cakes. They are one of my best King Arthur discoveries and have so little sugar, they are almost healthy. My small relatives love them.
I followed this recipe exactly. Hard for me to do that because I like to fool around with recipes. I used the Princess flavoring. Wow. These are the best animal cookies ever. I have made them several times and get rave reviews every time. I have the embossing cutters. They're not too tricky. Dip them in flour then tap. Every time. Cut the dough. Remove the excess bits with a small knife. Then, at the baking sheet, press the plunger to emboss. Then while lifting the cutter, press the plunger to release the dough. The only time that won't work as well is if the dough gets too warm or it's rolled too thin. watch the giraffes. They cook faster and will be browner than the others.
I've made these several times and love them. The dough is crumbly when cold but warm up a little in your hands and it is easy to handle. When I make the dough, instead of oats I add equal amount of almond flour. These are such a hit I am looking for other designs of cookie presses to purchase. I have the snowflakes too!
I found the dough very easy to work with. I put oats in my bullet and made the oat flour, I didn't have the flavoring so used 1/2 tsp vanilla, 1/4 tsp almond and 1/4 of lemon extract. Came out very good. but think I'll order some of the princess flavoring to try. I love the cookie cutters.
I found the dough very difficult to work with. It crumbled and fell apart. It behaved a little better at room temp but not great. I weighed my ingredients so I'm a little stumped at why the dough came out so dry. I used Bob's red Mill oat flour... Perhaps this was too fine and resulted in too much oat flour even though I weighed it out. I also found these to be rather bland. I used the princess flavoring, which smells amazing, but didn't come through in the baked cookie. Again, maybe the oat flour I used? The cookie cutters are adorable. I'll definitely use again and may try the princess flavoring with a more traditional sugar cookie.

We're sorry to hear this dough was difficult to work with, Carrie! It does sound like the oat flour you used absorbed more moisture than the one we used when making this recipe. Next time, try to hold back 1/4 cup of the oat flour so you can sprinkle it in as needed. Another option would be to add a bit of water to your dough a teaspoon at a time to get it to come together. Feel free to increase the Princess Cake and Cookie Flavor as well if you'd like to bump up the intensity. We hope your next batch of animal cookies are as sturdy and flavorful as they are cute! Annabelle@KAF
Okay - I'm a cake baker so this is probably my fault :-) I followed the recipe by volume (I normally do cakes by weight) since there were few ingredients that were more than a tablespoon (or 3). The dough was really dry and crumbly. When cold it just fell apart once enough force was applied to even dent the dough disk. I let it come to room temperature and added small amounts of water until I could hand knead it without it crumbling. Then it rolled well enough for me to apply cookie cutters. I read the bench cutter suggestion for cracked edges and will try that next time. I'm not sure i had enough dough for 5 dozen cookies, even with the cute little animal cutters (which worked wonderfully). It baked well and within the recommended time. The cookies are good, but more like shortbread. Or maybe I just don't remember what the original animal crackers taste like - good excuse to buy a box :-) What did I do wrong? Be gentle - I'm a cake baker but want to do more cookies :-)

Welcome to the cookie world! Your cake-baking instincts are right on point in weighing your ingredients. Weighing ingredients for cookies, particularly the flour, will result in moister doughs that are significantly easier to roll out and work with. For ideal measurement accuracy when not using a scale, we recommend fluffing the flour with a whisk or spoon, sprinkling it into the measuring cup, and scraping off the excess. We hope the next batch brings back those tasty animal cracker memories! Annabelle@KAF