A customized print-friendly version of this recipe is available by clicking the "Print Recipe" button on this page.
King Arthur's English Digestive Biscuits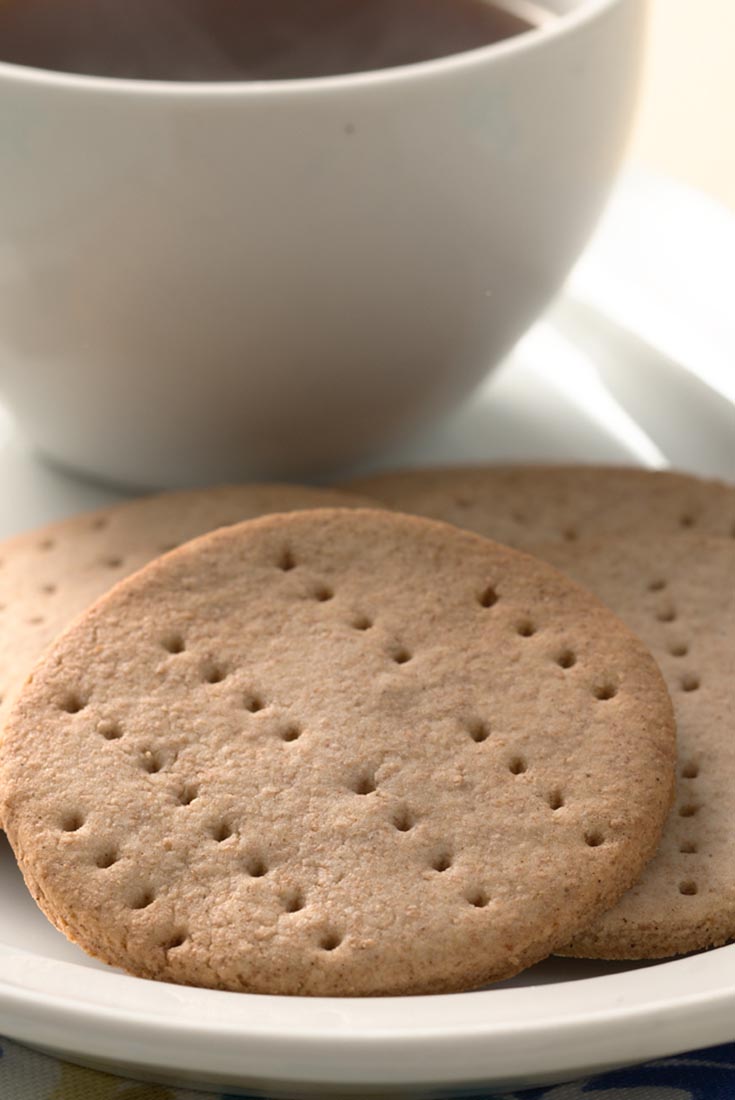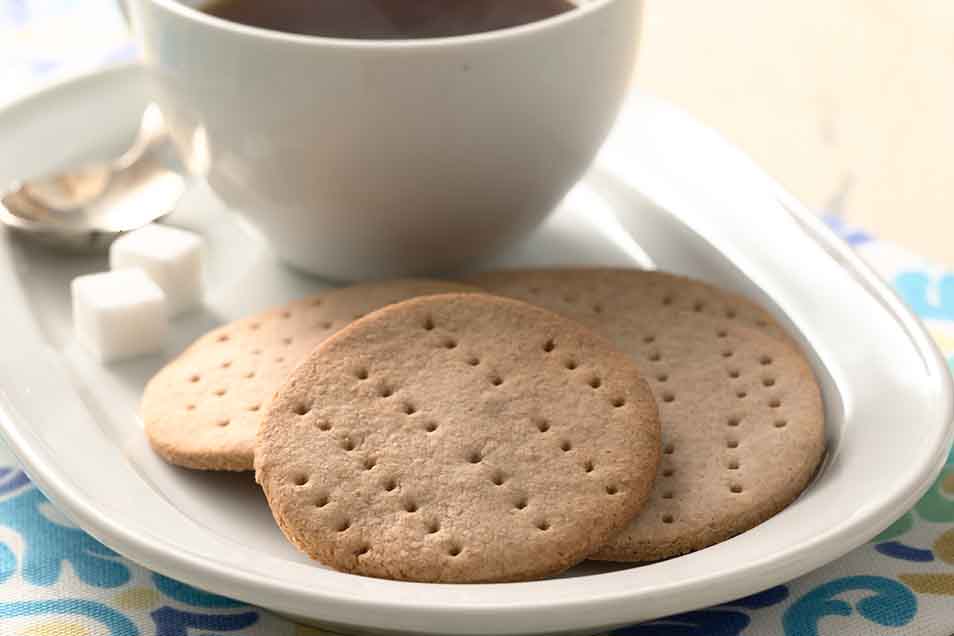 These biscuits were developed during the latter part of the 19th century to increase fiber in Victorian diets — something that still might be appealing to us today. Digestive Biscuits are really just sophisticated graham crackers and are very simple to make. They're delicious with tea and fruit.
Instructions
Preheat your oven to 350°F. Lightly grease a couple of baking sheets, or line them with parchment.

Measure the flour and baking powder into a mixing bowl. With a pastry blender, two knives, or your fingertips, rub the butter into the flour mixture. Toss in the sugar and enough milk to make a stiff dough. Gently and briefly knead this mixture on a floured surface until smooth. (All this can be done almost instantly in a food processor.)

Roll the dough out to a bit more than 1/8" thick, and cut into any desired shape. Traditionally, these "biscuits" are round and about 2 1/2" in diameter.

Place the cutout cookies on the prepared baking sheets. Prick them all over with a fork, and bake until pale gold, between 15 and 20 minutes.

Remove the cookies from the oven, and cool right on the pan. Store airtight at room temperature for up to a week; freeze for longer storage.
Reviews
So good. First time making this and I had all the ingredients sitting in my cabnet. Perfect. Eating my bisquits and tea. Yummy
This recipe is absolutely wonderful!!!!!I followed it perfectly...
Made these today as directed in the recipe. I'm a big fan of McVities biscuits and these are pretty darn close. I don't find them to be too sweet at all, and I liked the butter in them. Of course I couldn't find my round cutter, so just cut squares. Not as pretty as yours but I'm the only one eating them so who cares. The dough was soft, but I floured the surface pretty well and it handled fine.
Just finished baking these. I had to chill the dough in the freezer for 15 mins as they were pretty sticky when I put the dough together. Did not get the beautiful round shape like those in the picture as my dough got stuck to the silicon mat. I used a spatula to lift up the cut dough but the shape didnt hold. The taste however was very good. KAF- is the sticky dough due to over handling?

Pauline, it sounds like you may have use a flour that was lower in protein content than the flour we used to develop the recipe. In these instances, more flour needs to be added to achieve the same results. Try adding additional tablespoons of flour next time until the dough feels a bit more solid and workable. Happy baking! Kye@KAF
This recipe was super easy and came out delicious. I was missing some things, so I ended up substituting a decent amount of ingredients. I used coconut sugar (blended down finely), coconut/almond milk, and butter and coconut oil. I also used 2 cups of white flour because I didn't have wheat. Overall the coconut gave it a great flavor and color and really tasted like a graham cracker... would definitely recommend if you are lactose.
These are not good. They're overwhelmingly sweet and really taste nothing like digestives, which normally taste like an animal cracker/graham cracker hybrid. I'm going to have to dip them in super dark chocolate to balance out the sweetness.

Heather, we're surprised to hear you found these biscuits too sweet, as 3/4 cup of confectioner's sugar doesn't provide much sweetness. We're wondering if perhaps you used regular granulated sugar instead, which would have certainly made the biscuits too sweet. If this wasn't the case and you did use confectioner's sugar (powdered sugar), then feel free to reduce it to as little as 1/4 cup to make the biscuits less sweet if you like. Hope that helps. Kye@KAF
My husband is English and I lived in the UK for thirteen years. I usually find McVitties Rich tea and Digestive biscuits here in the grocery store "ethnic" section :-) As they say in England, "A drink's too wet without one." I made these and my husband thought they were very good "dunkers," but his observation is that they were more like a shortcrust pastry than like true digestives. i suspected the butter, the traditional American roll-out fat ingredient, as the reason for this. Sure enough, McVitties use palm oil as the fat in their Digestive and Rich Tea biscuits. Subbing a bland vegetable oil for part or all of the butter will make them that much more authentic. As the recipe stands, very nice if you don't know any better...but for authenticity, swap out the butter for oil. And oh yes, please add a pinch of alt, that was good advice.
I just tried these for the first time today, alongside a package of the genuine article from England. I measured everything by mass and substituted superfine sugar for confectioners', since I was out of the latter. Fantastic flavor and texture! They weren't quite as light as the store-bought biscuits, but I think I over-worked the dough. Work the dough as little as possible!