A customized print-friendly version of this recipe is available by clicking the "Print Recipe" button on this page.
King Arthur's English Digestive Biscuits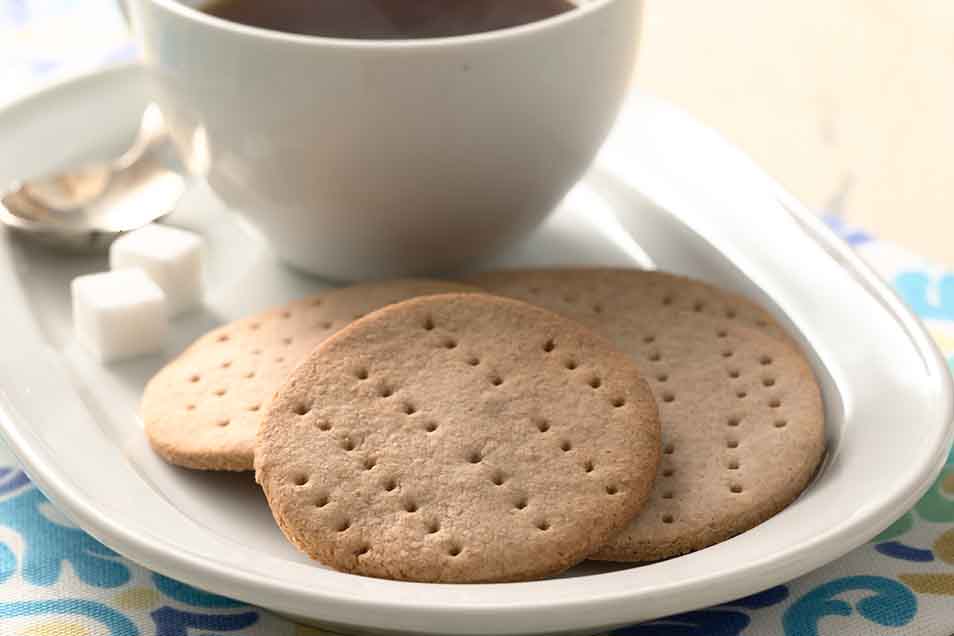 These biscuits were developed during the latter part of the 19th century to increase fiber in Victorian diets — something that still might be appealing to us today. Digestive Biscuits are really just sophisticated graham crackers and are very simple to make. They're delicious with tea and fruit.
Instructions
Preheat your oven to 350°F. Lightly grease a couple of baking sheets, or line them with parchment.

Measure the flour and baking powder into a mixing bowl. With a pastry blender, two knives, or your fingertips, rub the butter into the flour mixture. Toss in the sugar and enough milk to make a stiff dough. Gently and briefly knead this mixture on a floured surface until smooth. (All this can be done almost instantly in a food processor.)

Roll the dough out to a bit more than 1/8" thick, and cut into any desired shape. Traditionally, these "biscuits" are round and about 2 1/2" in diameter.

Place the cutout cookies on the prepared baking sheets. Prick them all over with a fork, and bake until pale gold, between 15 and 20 minutes.

Remove the cookies from the oven, and cool right on the pan. Store airtight at room temperature for up to a week; freeze for longer storage.
Reviews
This recipe is great! I have a dairy allergy so I used butter flavored shortening in place of the butter and almond milk in place of the milk. I also used 1/2 cup brown sugar instead of the confectioners sugar as others had suggested for flavor and the taste and texture is awesome.
its really simple .. i used 1cup of dark brown sugar instead of confectioners sugar ... its delicious!!
Would love to have calories for this recipe. Is it possible to get an estimate? Thanks.

Hi there! We're sorry but at this time we don't have that information available for this recipe. A resource you might consider exploring is free nutrition analysis calculators, which are made available online for general, non-medical use. We like the one from the Spark Recipes website. Happy baking! Morgan@KAF
Made this recipe on a whim yesterday evening. I have never made anything so easy . . . I kept re-reading the recipe to make sure I hadn't missed anything! My 8-year-old son enjoyed cutting them out and doing the "hole pricking." And in the end I got a thumbs-up from a picky 13-year-old! Miracles DO happen!
I had trouble mixing the ingredients it was as if there was not enough milk or butter to have the flour and all ingredients form together. I had to add an extra 1/2 cup milk. I don't understand. Is the amount of flour 2 cups total? If you have any advice let me know

Thanks for reaching out with your concerns, Ren! While this is designed to be a fairly dry recipe, it sounds like your digestives contained too much flour, which is a common issue for folks who are measuring by volume rather than weight. This is further exacerbated during the winter, when the cold, dry air often sucks the moisture out of our ingredients. If you have access to a kitchen scale, we highly recommend using grams for the most consistent results. If that's not an option, though, you can learn more about our recommendations for accurate volumetric measurements in the Recipe Success Guide, which is linked at the top of the ingredients list. Ultimately, your baking instincts were exactly right! If you ever end up with a dough that has too much flour to hold together, adding a bit of liquid can save the day, just as you found. So while we're glad to help, it seems like you worked out the perfect solution all on your own. Happy baking! Kat@KAF
Easy and good preschool snack recipe.Thanks KAF
Made these for my Mother In-Law who eats this type of cookie everyday with tea and she loved them. I did add a chocolate coating to the back of the biscuit. Will absolutely make them again!
I have made this recipe several times, exactly as written, and I really Love it. But I am making this for my dad who is addicted to the commercial version of it. While he enjoys these, he complains about the butter flavor that according to him shouldn't be there. I read another reviewer using oil instead of butter, I just tried it today, it was very difficult, it was like sand, impossible to roll out without no crumbling, and I ended up overworking the dough like mad. Do you have any advice on how to use oil?

Hi Jessica, instead of oil, try using vegetable shortening (like Crisco). You'll get a perfectly textured biscuit without the butter flavor. Use the same amount called for in the recipe for best results; no other adjustments need to be made. Happy baking! Kye@KAF
Thank you for this perfect recipe. The biscuits turned out perfect and my husband I absolutely love them.
Worked perfectly, thanks! Used half cup brown sugar as suggested by others