A customized print-friendly version of this recipe is available by clicking the "Print Recipe" button on this page.
Baked Doughnuts Three Ways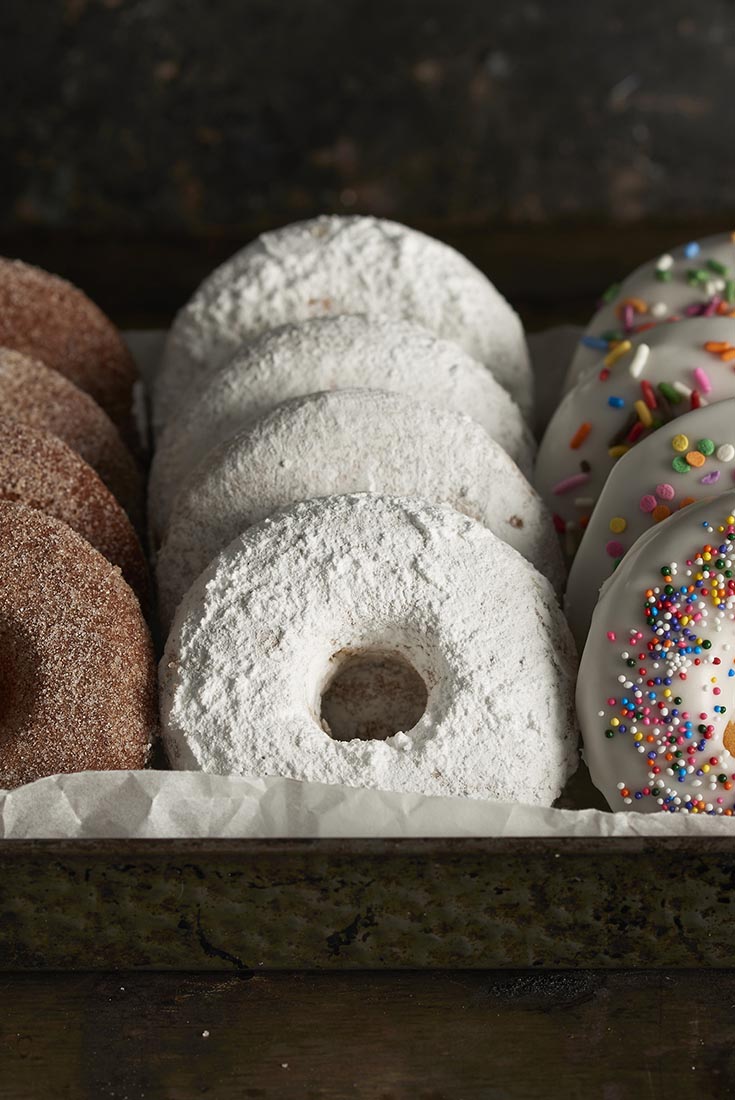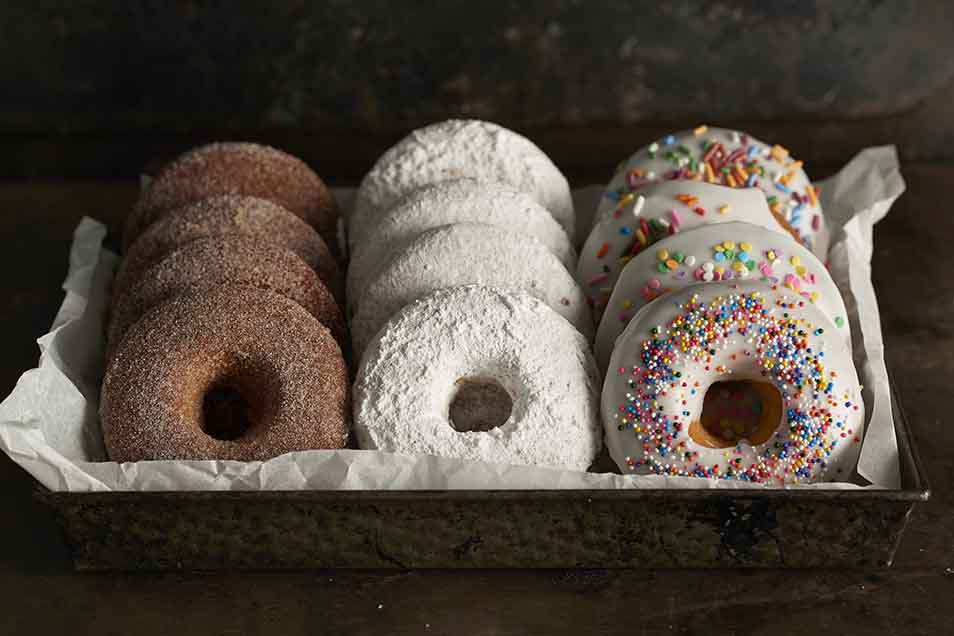 Old-fashioned cake doughnuts were deep-fried in hot fat; NEW-fashioned cake doughnuts are baked in a hot oven! Use a doughnut pan and this tasty recipe to create your choice of doughnuts.
Ingredients
1/4 cup (4 tablespoons) butter
1/4 cup vegetable oil
1/2 cup granulated sugar
1/3 cup brown sugar
2 large eggs
1 1/2 teaspoons baking powder
1/4 teaspoon baking soda
1/2 to 1 teaspoon ground nutmeg, to taste
3/4 teaspoon salt
1 teaspoon vanilla extract
2 2/3 cups King Arthur Unbleached All-Purpose Flour
1 cup milk
Instructions
Preheat the oven to 425°F. Lightly grease two standard doughnut pans.

In a medium-sized mixing bowl, beat together the butter, vegetable oil, and sugars until smooth.

Add the eggs, beating to combine.

Stir in the baking powder, baking soda, nutmeg, salt, and vanilla.

Stir the flour into the butter mixture alternately with the milk, beginning and ending with the flour and making sure everything is thoroughly combined.

Spoon the batter into the lightly greased doughnut pans, filling the wells to about 1/4" shy of the rim.

Bake the doughnuts for 10 minutes. Remove them from the oven, and wait 5 to 7 minutes before turning them out of the pans onto a rack.

For cinnamon doughnuts, shake warm doughnuts in a plastic bag with about 1/4 to 1/3 cup cinnamon-sugar. For sugar-coated doughnuts, shake doughnuts in a plastic bag with about 1/2 cup non-melting topping sugar (for best results), or confectioners' sugar.
For frosted doughnuts, see our three easy doughnut glazes. Sprinkle the glazed doughnuts with toasted coconut or chopped nuts, if desired.
Nutrition Information
Serving Size

1

Servings Per Batch

12
Amount Per Serving:
Calories

260

Calories from Fat

80

Total Fat

9g

Saturated Fat

3.5g

Trans Fat

0g

Cholesterol

45mg
Sodium

260mg

Total Carbohydrate

40g

Dietary Fiber

1g

Sugars

19g

Protein

5g
* The nutrition information provided for this recipe is determined by the ESHA Genesis R&D software program. Substituting any ingredients may change the posted nutrition information.
Tips from our bakers
Why use non-melting white sugar instead of confectioners' sugar? Confectioners' sugar will melt and disappear; non-melting white sugar will keep the doughnuts nice and white.
For chocolate chip doughnuts, stir in 3/4 cup chocolate chips, mini chips preferred. If you make chocolate chip doughnuts, fill each well of the pan right to the rim with batter.
Reviews
Made these as written, using only a half tsp of nutmeg. I thought they came out kind of bland so next time I will add a full tsp of nutmeg. Since it was my first time making these, I only made 6 at a time so I could adjust. For me, 425 and 10 minutes was too much, so the second round went at 400 and 8 minutes. I flipped them halfway through to even out the color. I made these by weighing the ingredients and they came out really light and fluffy. Yielded 18 donuts in a wilton pan and next time, I will fill each cavity more so that I get 12. The ones I made that were a bit more full were really great. My husband said, I thought not frying them would be a deal breaker but they are delicious! TLDR; Next time I will do 420 degrees for 8 mins, flip halfway through, 1 tsp nutmeg, fill the cavity all the way.
This is an easy recipe with ingredients that I always keep in my house so I was able to make them one morning when schools were cancelled for snow. Only plan ahead item is to soften the butter at room temperature, but I was able to get around that with 10 seconds of the microwave. The batter seemed a bit dry when I finished, but I think that because I measured out my flour rather than weighing it, I may have had a bit too much. I just added an extra tablespoon of oil and the finished donuts were perfect - soft, fluffy and scented with just enough nutmeg and vanilla. I got 12 large donuts out of the recipe and made a combination of chocolate glaze and cinnamon sugar donuts. The leftovers still tasted great the following day. I will definitely make these again although I may try to pipe the batter next time since I hated the mess of trying to fill the doughnut pans by spoon.
Batch 3 Batch of 12. note: This is for the recipe that calls for butter milk powder. I don't see that in the stores. I substituted powdered milk. That was a mistake. Baking powder needs an acid to make bubbles. If you take a tea spoon of baking soda and put a few drops of vinegar on it you will see bubbles in action. Sour cream works. 4 Tbl. All three batches are good. Batch three is better. I am not a baker. I do this for fun. I do enjoy the challenge. Happy donuts
Batch 2 update. The last batch of six was a little dense and a little dry. Not bad though. Today's was a batch of 12 by doubling your recipe extra vanilla and almond extract and plus 1 more egg and 1 more TBL oil. Came out lighter and more moist. Perfect. Not bragging. Just thought you would like to know. Cheers
Sorry, missed a spot in my previous post. This tip came from the net Use a piping bag without a tip to fill the cups. Takes all the fight out of it. I know all your experts already know all this. It's not a secret. Thanks : )
I give this five stars because they came out exactly the way they should. My experience with Irish soda breads and biscuits is they are a little dry, but it beats messing around with yeast. Irish used soda in the old days because they couldn't afford yeast. This is the answer to the problem I have been looking for. I tried various fried donuts and to me the mess isn't worth it. Store donuts cost too much and the quality is all over the place. I am by no means a baker. I just do this stuff. Perhaps my few hints will help someone else. This my first six. Baking is like chemistry. Don't mess around too much with the recipe. No stick pans stick. I use a Wilton product called Cake Release. It is flour and oil combined and the donuts fell right out on the cooling rack, no problem. It comes in a squeeze bottle, use very little and spread it with a pastry brush and no puddle of oil in the bottom of the pan. I don't know if Arthur has a similar product. I did add 1/2 tsp vanilla and 1/2 tsp almond extract for a little more flavor. I used cake flour because I had it on the shelf. The taste test. Just plain donuts. Tastes great. No boiling oil and no yeast I am a happy camper ... with donuts.
they are a little too dry after baking

We're sorry to hear these doughnuts came out dry, Dawna. We encourage you to reach out to our friendly Baker's Hotline staff to help troubleshoot at 855-371-BAKE(2253). Kindly, Annabelle@KAF
These were amazing! I filled the cups a little too much and they came out big like bagels. Very filling though. How do I reduce size and...fillingness?

It sounds like our Mini Doughnut Pan is the tool you're looking for, Jenna. It makes one or two-bite-sized doughnuts, which are a nice snack. (They'll bake in about 7 to 8 minutes.) Or if you'd like to try to use your full-sized pan, try pouring less batter into each well. Fill each one only about half-way full to see if that makes a doughnut to your liking. Kye@KAF
The only complaint I can possibly have for this recipe is feeling bad about feeding all the neighborhood kids tons of doughnuts. I made these for the first time last year. It was my first time making doughnuts other than with biscuit dough. It is an undertaking, but the smiles are worth it. I am planning to make these again this year and compare them to another recipe I found. My husband's coworkers get to try out the majority so I don't overeat.
I've been in crazy donut-baking mode since getting a new pan, and so far this is the best donut recipe I've used! Donuts come out delicious, moist, and not too sweet. Just some tips, it doesn't specify (it would be helpful if it did), but I think the butter should be softened/room temp, not melted (so far all other donut recipes I've made have called for melted butter). 425F was too hot so I baked at 375F and they were perfect. Also, baking on one of the lower oven racks helps with overbrowning bottoms too. The tops will be paler than the bottoms but I just glaze the pale tops and they look perfect!

Hi Lisa, you can assume that all of the butter in our recipes should be soft at room temperature unless otherwise specified. We'll specifically say if the butter should be cold from the fridge or melted. Happy baking! Kye@KAF