A customized print-friendly version of this recipe is available by clicking the "Print Recipe" button on this page.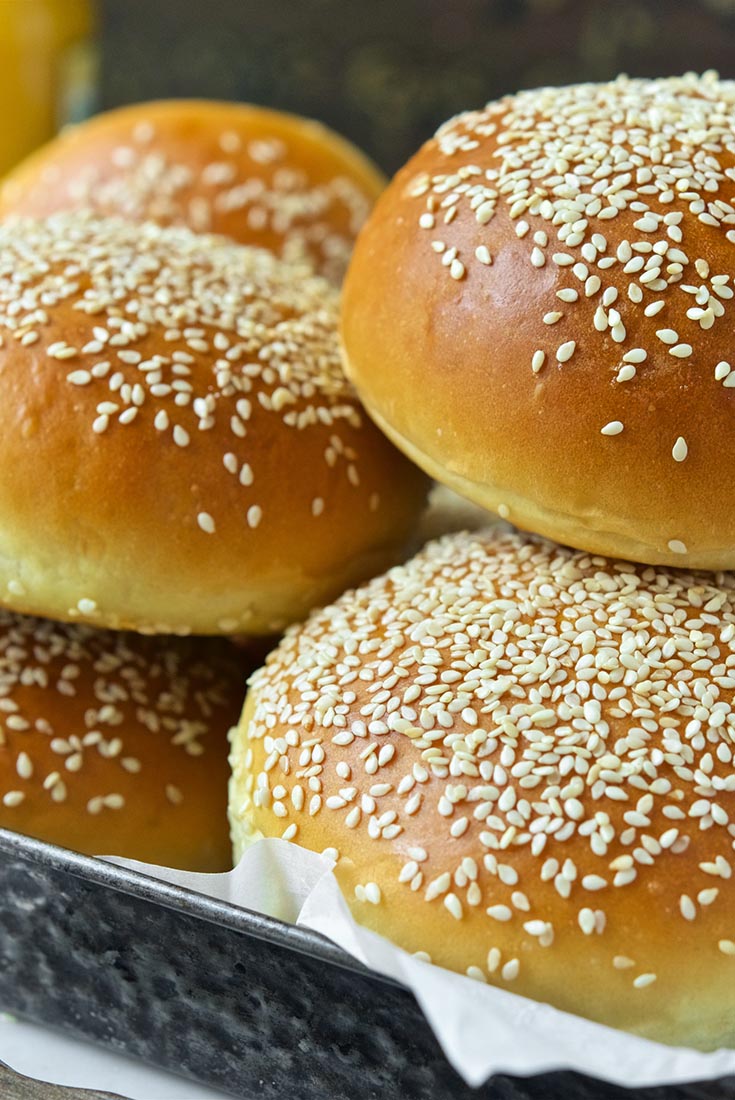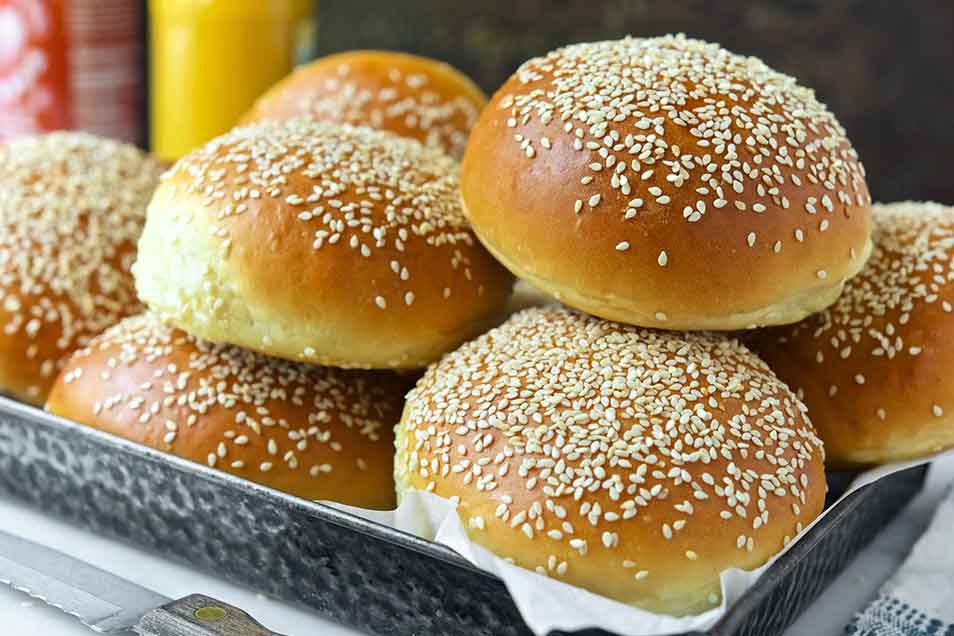 The following recipe created quite a stir when "Moomie" first posted it on our online community. Baker after baker tried these buns and declared them THE BEST. Soft, vaguely sweet and golden-yellow from the butter and egg, these simple buns are perfect for burgers, but also fine for any kind of sandwich.
Ingredients
Buns
3/4 to 1 cup lukewarm water*
2 tablespoons butter, at room temperature
1 large egg
3 1/2 cups King Arthur Unbleached All-Purpose Flour
1/4 cup sugar
1 1/4 teaspoons salt
1 tablespoon instant yeast
*For best results (a smooth, slightly soft dough), use the smaller amount of water in summer (or in a humid environment), the greater amount in winter (or in a dry climate); and something in between the rest of the time.
Topping
3 tablespoons melted butter
Instructions
Mix and knead all of the dough ingredients — by hand, mixer, or bread machine — to make a soft, smooth dough.

Cover the dough, and let it rise for 1 to 2 hours, or until it's nearly doubled in bulk.

Gently deflate the dough, and divide it into 8 pieces. Shape each piece into a round ball; flatten to about 3" across. Place the buns on a lightly greased or parchment-lined baking sheet, cover, and let rise for about an hour, until noticeably puffy.

Brush the buns with about half of the melted butter.

Bake the buns in a preheated 375°F oven for 15 to 18 minutes, until golden. Remove them from the oven, and brush with the remaining melted butter. This will give the buns a satiny, buttery crust.

Cool the buns on a rack.

Yield: 8 large buns.
Nutrition Information
Serving Size

1 bun (99g)

Servings Per Batch

8
Amount Per Serving:
Calories

250

Calories from Fat

35

Total Fat

4g

Saturated Fat

2g

Trans Fat

0g

Cholesterol

30mg
Sodium

370mg

Total Carbohydrate

45g

Dietary Fiber

2g

Sugars

7g

Protein

8g
* The nutrition information provided for this recipe is determined by the ESHA Genesis R&D software program. Substituting any ingredients may change the posted nutrition information.
Tips from our bakers
For slightly smaller buns, divide the dough into 12 pieces instead of 8. Bake the buns for 12 to 15 minutes, instead of 15 to 18 minutes. And how about "slider buns" — about 3" in diameter? Divide the dough into 24 pieces, and bake for 12 to 15 minutes.
When making anything with yeast, including these rolls, let the dough rise to the point the recipe says it should, e.g., "Let the dough rise till it's doubled in bulk." Rising times are only a guide; there are so many variables in yeast baking (how you knead the dough; what kind of yeast you use) that it's impossible to say that bread dough will ALWAYS double in bulk in a specific amount of time.
What's another easy way to shape buns, besides rolling them into balls and flattening? Gently deflate the dough, and form it into a smooth 8" log. Slice the log as though you were slicing cinnamon buns. Gently pull each slice into a circle.
Brushing buns with melted butter will give them a soft, light golden crust. Brushing with an egg-white wash (1 egg white beaten with 1/4 cup water) will give them a shinier, darker crust. For seeded buns, brush with the egg wash; it'll make the seeds adhere. And, feel free to add the extra yolk to the dough, reserving the white for the wash.
To make these buns using our hamburger bun pan: Divide the dough into six pieces (if you have a kitchen scale each piece will weigh about 4 1/2 ounces), and shape them into balls. Place the balls into the lightly-greased wells of a hamburger bun pan, and gently press them with your hand to fill the bottom of the wells, or until they're about 3 1/2" to 4" wide. Proceed with the recipe as written.
Reviews
First let me say thank you for this simply yet tasty recipe. I've made several times and I'll always amazed at how such simple ingredients produces such wonderful tasting bread. Loved them everytime. Thank you.
One of the best bun recipes I've found online. Great the way it is, it's also a solid starting point if you like to experiment! With a few tweaks, I've made it even better, but that's now a different recipe and a different discussion. Anyone who doesn't already have a killer, go-to recipe for buns owes it to himself to try this. Measure and follow instructions carefully and you won't be disappointed. Make sure your dough is smooth and elastic when you finish kneading -- or you haven't finished kneading it, yet! As with all recipes, when allowing dough to rise, go by the LOOK rather than the TIME. If the recipe says "1 - 2 hours, or until almost doubled," the important detail is "almost doubled" -- no matter if it takes 45 minutes or 3 hours! Bake, eat, enjoy!
I had pinned this recipe for later and eventually got to it. I've made it three times in the last two days. It is amazing how very simple ingredients can make such a delicious soft bread. I plan on baking for friends and they'll be amazed at how simple the ingredients are yet how rich a bread it produces. Thanks for such a wonderful recipe.
I love this recipe, the buns turned out nice and soft and just supberb. Thank you
I use this recipe to make both hamburger buns and dinner rolls. For hamburger buns I make it just as written. For dinner rolls, I split the dough into 16-20 little pieces after the first rise, make each into a ball, and place side by side in a 9x13 baking dish. I let them rise for 45-60 minutes. Then I brush the tops with butter and bake at 375 for about 13-15 minutes. I brush them again with butter when they come out, and they always look and smell amazing! Everyone loves them!!
These were easy to make and smell great baking, but mine came out more like biscuits for some reason- harder and more dense than I expected- guessing I made a mistake somewhere?

Hi Stephanie, one of the most common reasons why bread and buns turn out dry and heavy is because too much flour is used. To ensure you're using the right amount, we recommend checking out the "Measuring Standards," link next to the ingredients header above. You'll see that either measuring your flour by weight using a scale, or fluffing and sprinkling the flour into your measuring cup are the best ways to ensure your burger buns turn out beautiful and light. Happy baking! Kye@KAF
This is by far our favorite bun recipe! We make these on a regular basis and they always turn out great! Beautiful and delicious! I use a scale to measure flour and find success with that. I use a bread machine for all my doughs. The kneading process is something I have never mastered (I think I have a heavy hand) and this way the resting, kneading and such are done perfectly, plus it gives me an hour and forty minutes :) So easy, so delicious!
I use this recipe for burgers, sloppy joes, pepperoni rolls (subbing pepperoni grease for the butter), Thanksgiving rolls... And it has made my life more difficult. Why? Because now, I can't even OFFER burgers to my family unless I've made these rolls. Ditto with sloppy joes. Kids in the neighborhood smell the bread from the vent fan and come sniffing in for them. They're FABULOUS. I have two breadmakers and always make two batches at a time. Leftovers are great the next morning (if the kids don't eat them while cleaning up!) toasted with jam, or as the base for a homemade "McMuffin" (try slicing them in thirds for that use... Makes it a little more manageable). You can't go wrong with this recipe!
I made this once so far, for a mixed family outing. I've been baking a while and people enjoy the buns I've made before, but EVERYONE raved about these buns for months.
I think I did something wrong, but not sure what! My bun dough proofed beautifully after 1.5 hours then when I shaped the buns they spread out like pancakes! Great taste, but not sure why they didn't keep their shape.

Jamie, it sounds like the buns might have over-proofed, which means the dough was left to rise for too long. When this happens, the dough stretches out so much so that it loses its strength and structure. The dough ends up collapsing in the heat of the oven, and you're left with pancake-like buns. Next time try cutting back on the length of both the first and second rise, or consider reducing the yeast by 1/4 teaspoon. The dough is ready for the oven as soon as you can poke it with your finger and the indent stays instead of springs back. Good luck and happy baking! Kye@KAF