A customized print-friendly version of this recipe is available by clicking the "Print Recipe" button on this page.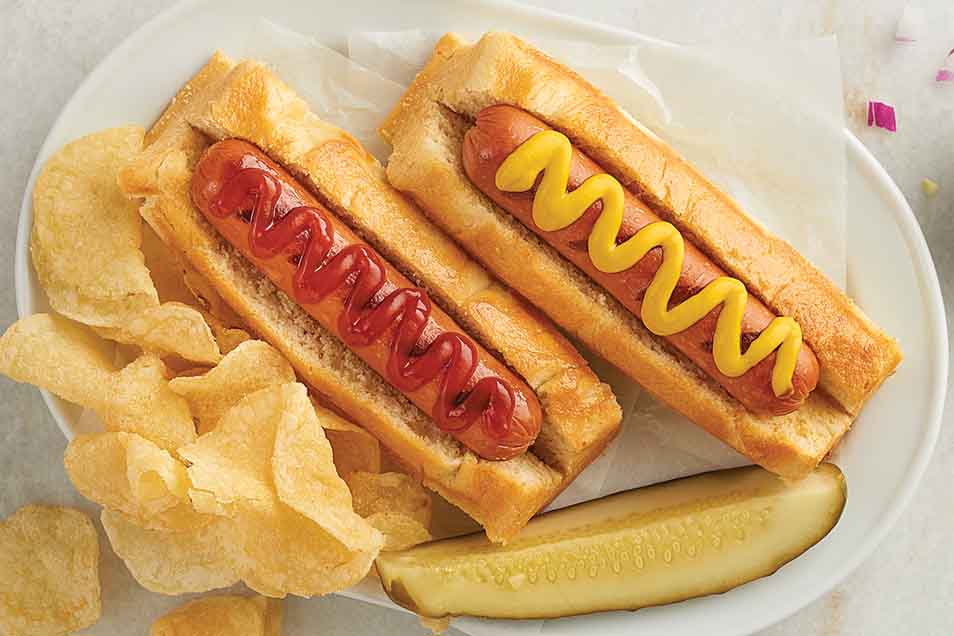 These classic rolls, with their straight-up, white sides, golden-crust tops and bottoms, and soft texture, have been filled with everything from hotdogs to lobster salad in these parts. Now you can have them fresh and warm from your own oven!


Ingredients
2 teaspoons instant yeast
2 tablespoons sugar or non-diastatic malt powder
1/4 cup Baker's Special Dry Milk or nonfat dry milk
1/4 cup (1 1/2 ounces) potato flour or 2/3 cup instant mashed potato flakes
2 tablespoons King Arthur Cake Enhancer, optional, for enhanced freshness
1 1/2 teaspoons salt
2 tablespoons soft butter
1 large egg
7/8 cup to 1 1/8 cups lukewarm water*
*Use the greater amount in winter or in a dry climate; the lesser amount in summer or a humid climate.
Instructions
Mix and knead together all of the ingredients (using 1 cup of the water) to make a shiny, elastic dough, about 10 minutes by hand, 5 or more by mixer. Add the additional water if necessary to make a smooth, soft dough.

Place the dough in a lightly greased bowl, and allow it to rise for 1 to 2 hours, until it's puffy.

Lightly grease your New England hot dog bun pan.

Gently deflate the dough, and stretch it in your hands till it's about 15" long and 6" wide, more or less; don't make yourself crazy being exact. Place the dough into the bun pan, stretching it to the edges as best you can.

Cover the pan with plastic wrap, and let the dough rest for 15 minutes. Remove the plastic wrap, and push it all the way into the corners of the pan, leveling the top surface as best you can. Re-cover the pan.

Let the buns rise for 45 to 60 minutes, until they've come to within 1/2" of the rim of the pan. While the dough is rising, preheat your oven to 375°F.

Grease a baking sheet, and place it atop the risen buns. Put the covered buns in the oven, weigh the baking sheet down with something oven-safe cookware (e.g., a cast iron or stoneware pan; a brick), and bake the buns for 18 minutes. Remove the baking sheet and bake a few minutes longer, if necessary to brown the rolls.

Remove the buns from the oven and place the pan on a rack for 5 minutes. Turn the buns out of the pan onto a rack to finish cooling; make sure the top (rounded) side is up.

When completely cool, slice each bun down the middle vertically, without cutting through the bottom; then separate into individual buns.
Reviews
I followed the recipe, used my bread machine to mix & knead. (Had to add a touch more water - flour is different every day). I divided the dough into 16 pieces. I formed 8 for hotdogs (used the biscotti pan in your catalog) - and 8 for hamburger buns. All turned out fabulous, !!!
I made these buns and weighed the ingredients in grams per the recipe. My buns turned out perfectly! They actually rose slightly higher and spread a little outside the pan. I trimmed off the excess edges. I'm going to experiment with this recipe though because the flavor is a bit bland. The bread doesn't have much of a yeast flavor that I find quite appealing in homemade bread. The text though is perfect and I think it would be just find as a compliment for sandwiches or hot dogs.
I made these buns for the third time today and would recommend not putting a baking sheet on top of the pan while cooking. The buns turn out to be only about 1 1/2 " tall, which is really too short. The buns taste good, however. I just think they would be more satisfying if the buns were a bit taller.
Made this recipe, but formed hamburger buns for a quick meal for our young people's group. This is an "I will do this again!!!" recipe for sure. Sturdy enough to stand up to pullled pork with barbecue sauce, delicious with just butter.
I have been reading "Bread" by Jeffrey Hamelman . . . is there a "desired dough temperature" for this recipe?

We're glad you asked, Kerry. We just happen to have a full article on our blog about desired dough temperature (which can be found by searching for that phrase in the search box above). Within the article, baker and blogger Barb Alpern reports that professionals have determined the ideal dough temperature range to be 75 to 78°F. If you're working with a yeast dough that doesn't otherwise specify what the desired temperature should be, aim for a temperature in this range. We think this will bring you beautiful hot dog bun success! Kye@KAF
Just baked (and ate!) these. Made the recipe exactly as directed & they turned out great! Great texture, browned nicely, good flavor. I bookmarked the recipe because it will definitely be my go-to. Not sure how others had so much trouble. I used my scale & the gram measurements, so that made things easy and accurate.
I'm sorry to say I was very disappointed with the results of these hot dog buns. I followed the recipe to a T; I fluffed the flour before measuring, I used all KAF ingredients, even bought the special pan. After the first rise, the dough was a dream to work with. Rolling it out, putting in the pan, I even followed the baking procedures. That was something! When they came out of the pan, I cut them apart. My mother-in-law took one fresh from the oven. I noticed she didn't finish it. AND SHE WILL EAT ANYTHING!!! I was so disappointed. The texture was terrible, there was no taste, the crumb was so dry, and I will never make them again. Now I just have to figure what else I can use the pan for.

We're sorry to hear this recipe didn't work for you, Theresa. We'd love the chance to talk through the recipe with you, so we encourage you to reach out to our free and friendly Baker's Hotline staff to help troubleshoot at 855-371-BAKE (2253). Kindly, Annabelle@KAF
I made these today and they turned out great. I'm used to working with wet dough, so I added all of the water even though it's summer. The dough was sticky but easy enough to spread in the pan after only a one hour rise, and the resulting buns were fabulous.
I hate gummy store bought hot dog buns. This recipe rocks and I have made it at least 6 times now. Here are some tips about the problems some have mentioned. First make the dough wet, I use 1 1/4 to 1 3/8 cup water. Take about 250-300 grams out and make a couple of hamburger buns. It will keep them from pushing your weighted top off. It will stop them from breaking when you insert the dogs. Bake them for 16 minutes and take the top off to finish to your desired color. I've filled them with lots of things beside hot dogs and they are awesome. Be sure to spread them with a bit of butter on the sides and fry the buns to a golden color on the sides. Put them cut into a freezer bag and freeze them. They still taste great and you can take what you need out and the rest will keep a long time. Thanks KAF!
Love this recipe. Didn't grow up with this style of buns, but it's become a family favorite. My college son requested hot dogs for dinner when he came home from school, just so he could have the home made buns. I always make these in my Zoroshi bread maker, and they are so simple. I seem to forget about the pan on top of them when baking to keep the bottoms flat, but no one even knows the difference so I don't even bother anymore! Thanks KAF!! another winner