A customized print-friendly version of this recipe is available by clicking the "Print Recipe" button on this page.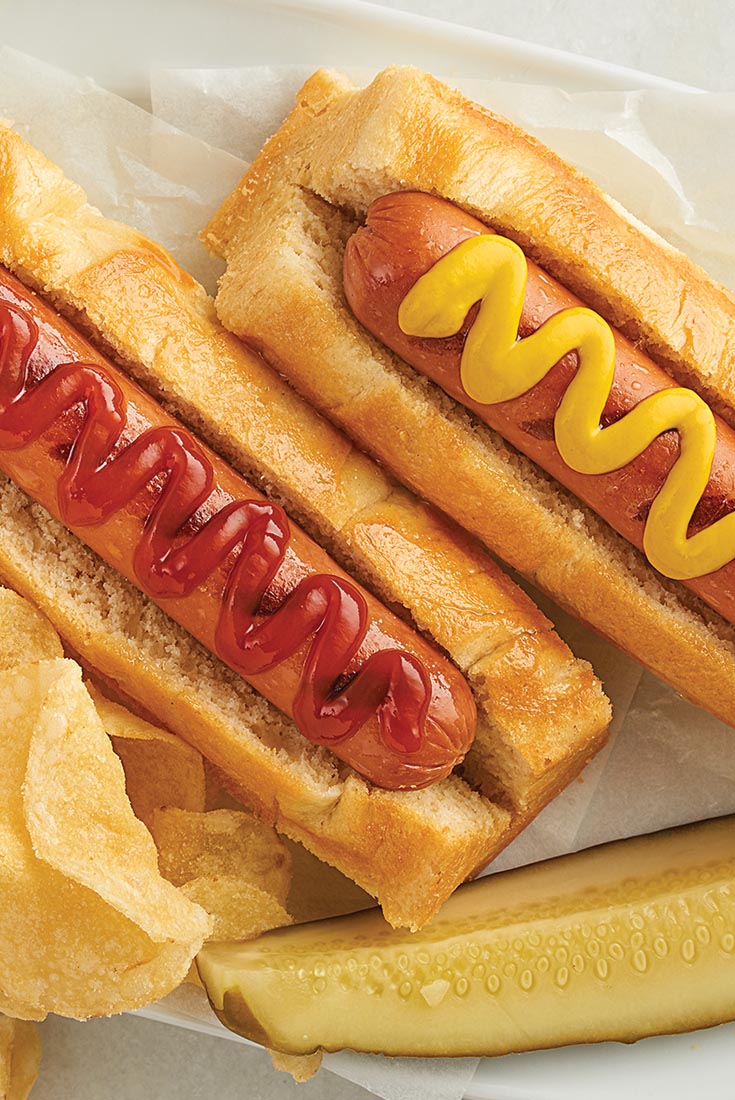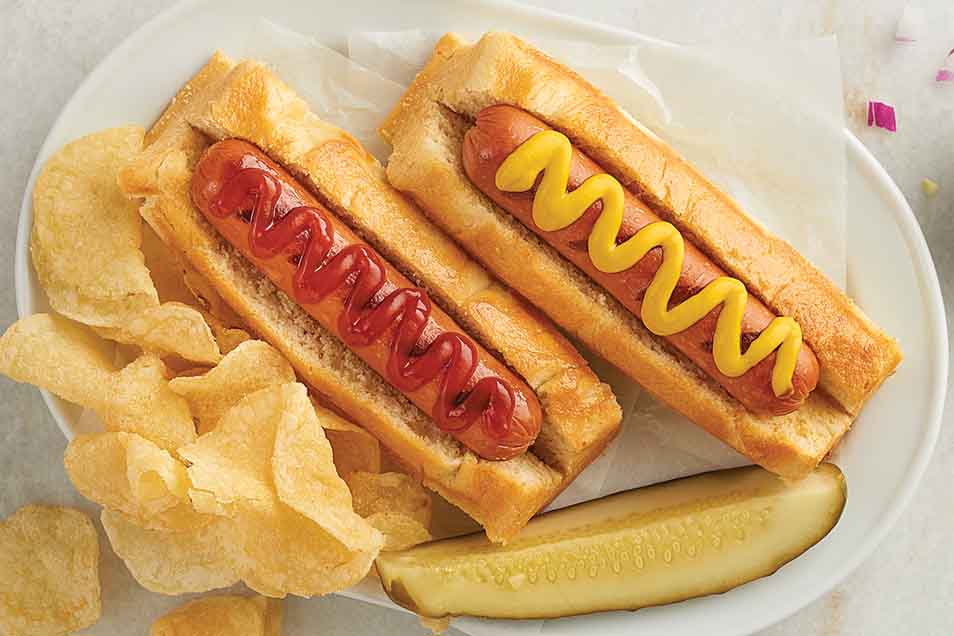 These classic rolls, with their straight-up, white sides, golden-crust tops and bottoms, and soft texture, have been filled with everything from hotdogs to lobster salad in these parts. Now you can have them fresh and warm from your own oven!


Instructions
Mix and knead together all of the ingredients (using 1 cup of the water) to make a shiny, elastic dough, about 10 minutes by hand, 5 or more by mixer. Add the additional water if necessary to make a smooth, soft dough.

Place the dough in a lightly greased bowl, and allow it to rise for 1 to 2 hours, until it's puffy.

Lightly grease your New England hot dog bun pan.

Gently deflate the dough, and stretch it in your hands till it's about 15" long and 6" wide, more or less; don't make yourself crazy being exact. Place the dough into the bun pan, stretching it to the edges as best you can.

Cover the pan with plastic wrap, and let the dough rest for 15 minutes. Remove the plastic wrap, and push it all the way into the corners of the pan, leveling the top surface as best you can. Re-cover the pan.

Let the buns rise for 45 to 60 minutes, until they've come to within 1/2" of the rim of the pan. While the dough is rising, preheat your oven to 375°F.

Grease a baking sheet, and place it atop the risen buns. Put the covered buns in the oven, weigh the baking sheet down with something oven-safe cookware (e.g., a cast iron or stoneware pan; a brick), and bake the buns for 18 minutes. Remove the baking sheet and bake a few minutes longer, if necessary to brown the rolls.

Remove the buns from the oven and place the pan on a rack for 5 minutes. Turn the buns out of the pan onto a rack to finish cooling; make sure the top (rounded) side is up.

When completely cool, slice each bun down the middle vertically, without cutting through the bottom; then separate into individual buns.
Reviews
Just baked (and ate!) these. Made the recipe exactly as directed & they turned out great! Great texture, browned nicely, good flavor. I bookmarked the recipe because it will definitely be my go-to. Not sure how others had so much trouble. I used my scale & the gram measurements, so that made things easy and accurate.
I'm sorry to say I was very disappointed with the results of these hot dog buns. I followed the recipe to a T; I fluffed the flour before measuring, I used all KAF ingredients, even bought the special pan. After the first rise, the dough was a dream to work with. Rolling it out, putting in the pan, I even followed the baking procedures. That was something! When they came out of the pan, I cut them apart. My mother-in-law took one fresh from the oven. I noticed she didn't finish it. AND SHE WILL EAT ANYTHING!!! I was so disappointed. The texture was terrible, there was no taste, the crumb was so dry, and I will never make them again. Now I just have to figure what else I can use the pan for.

We're sorry to hear this recipe didn't work for you, Theresa. We'd love the chance to talk through the recipe with you, so we encourage you to reach out to our free and friendly Baker's Hotline staff to help troubleshoot at 855-371-BAKE (2253). Kindly, Annabelle@KAF
I made these today and they turned out great. I'm used to working with wet dough, so I added all of the water even though it's summer. The dough was sticky but easy enough to spread in the pan after only a one hour rise, and the resulting buns were fabulous.
I hate gummy store bought hot dog buns. This recipe rocks and I have made it at least 6 times now. Here are some tips about the problems some have mentioned. First make the dough wet, I use 1 1/4 to 1 3/8 cup water. Take about 250-300 grams out and make a couple of hamburger buns. It will keep them from pushing your weighted top off. It will stop them from breaking when you insert the dogs. Bake them for 16 minutes and take the top off to finish to your desired color. I've filled them with lots of things beside hot dogs and they are awesome. Be sure to spread them with a bit of butter on the sides and fry the buns to a golden color on the sides. Put them cut into a freezer bag and freeze them. They still taste great and you can take what you need out and the rest will keep a long time. Thanks KAF!
Love this recipe. Didn't grow up with this style of buns, but it's become a family favorite. My college son requested hot dogs for dinner when he came home from school, just so he could have the home made buns. I always make these in my Zoroshi bread maker, and they are so simple. I seem to forget about the pan on top of them when baking to keep the bottoms flat, but no one even knows the difference so I don't even bother anymore! Thanks KAF!! another winner
I made these rolls for our hot dog dinner tonight. I didnt realize until a minute ago that I forgot to include the potato flakes. Oops! We still found the rolls to be very good and I will make them again. I invested in the bun pan, which worked well. My question: what else can I use the pan for? I'd love to hear suggestions!

Donna, we wrote a full article on our blog about all of the wonderful ways to put your bun pan to good use. (Search for "How to Use a Bun Pan," in the blog section of our website.) We highlight a few fun uses like mini layer cakes, mini pies and quiches, even personal pizzas! Check out the post for more details. Happy baking! Kye@KAF
I made this recipe and I was very disappointed. They turned out very dense. Looking for a store like fluffy inside. Should I use a regular bread recipe? Help KAF. I will hold off on my stars if it will let me in till I try again.

The most common reason why bread and rolls turns out dense is because too much flour is added to the dough. To ensure you're using the right amount, click on the "Measuring Standards," link next to the ingredients header above. You can also consider using the recipe called Buttery Hot Dog Buns, which tends to have a more tender, lighter crumb. We hope this helps, and feel free to call our Baker's Hotline for more help: 855-371-BAKE(2253). Kye@KAF
My first attempt at this recipe was a failure but the bun pan was SO expensive that it was worth another try. I live at 6,000 feet so using the suggestions from the Pie in the Sky cookbook, I added an additional tablespoon of flour (KA white organic from Target), increased salt to 2 teaspoons, reduced yeast to 1-1/2 teaspoons, used a very large farm egg and the full 9 oz of water. I used the dough setting on my bread maker and cut the rise short by 15 minutes, patted the dough into the pan, let it rise for 15 minutes and baked the buns for 20+ minutes at 400 degrees. They are tasty and hold together quite well.
ok kaf, time to call a spade a spade. this is a very time-consuming and tricky recipe for a simple staple of american life. it doesn't make any sense.

Achieving the delicate balance of soft, tender dough that will still hold up to supporting a topping-laden hot dog can be difficult. It takes a precise blend of ingredients, as well as time to let the dough rise in order to achieve the very best result. If you feel like the ingredients and time didn't produce the fantastic result you were expecting, please feel free our Baker's Hotline a call at 855-371-BAKE(2253) and we can work together to see what may have gone wrong. Kye@KAF
Made this recipe twice so far. I bought the kit with the cake enhancer and all the other components recommended. The buns were very tasty and delicious. They baked up just as the recipe said. My only question is, when I sliced them and had to pull them slightly open to put the cooked hot dog in them, they broke apart easily. I used my scale to measure the ingredients. What, if anything, can I do so they don't break apart so easily.

Charlotte, if you're looking to make the hot dog buns a bit more sturdy, you can try using our bread flour, which has a higher protein content. You might need to add just a touch more liquid to ensure the dough is nice and soft, but it might give you just the slight bit of additional support you're looking for. Extending the baking time a bit longer and making your cuts more shallow may also help prevent breakage. We hope that helps! Kye@KAF