A customized print-friendly version of this recipe is available by clicking the "Print Recipe" button on this page.
Big-Batch Frosted Cinnamon Rolls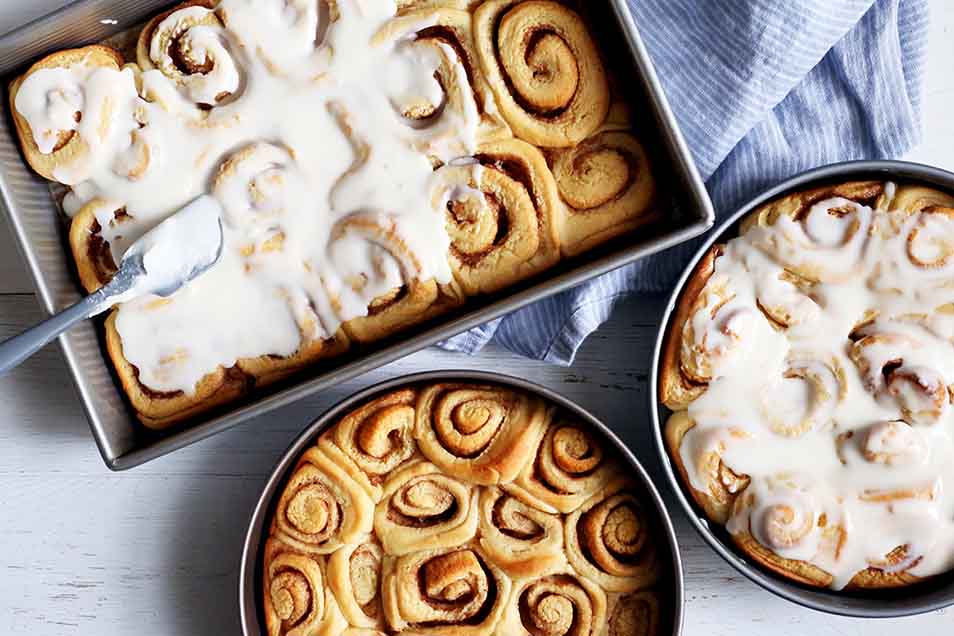 These light-as-a feather, generously sized rolls, with their crown of vanilla-scented icing, are perfect for a breakfast or brunch gathering. Since the recipe makes 24 large rolls, it's ideal for a crowd. And the rolls go quickly from bowl to oven, thanks to Fleischmann's® RapidRise yeast and no initial rise in the bowl — a single rise, shaped and in the pan, is all it takes.
Ingredients
Dough
7 1/2 to 8 1/4 cups King Arthur Unbleached All-Purpose Flour*
2/3 cup granulated sugar
1 tablespoon salt**
2 envelopes Fleischmann's® RapidRise Yeast
1 1/2 cups milk
1/2 cup water
3/4 cup (12 tablespoons) butter**
2 large eggs
*See "tips," below.
**If you use salted butter, reduce the salt to 2 1/2 teaspoons.
Filling
1/2 cup granulated sugar
1/4 cup (4 tablespoons) softened butter
1 1/2 tablespoons (4 1/2 teaspoons) ground cinnamon
Frosting
1/4 cup (4 tablespoons) softened butter
4 cups confectioners' sugar
1/8 teaspoon salt, optional; for enhanced flavor
1/2 to 1 teaspoon vanilla extract, to taste; optional
4 to 6 tablespoons milk
Instructions
To make the dough: Combine 3 cups of the flour, the sugar, salt, and undissolved yeast in a large mixing bowl.

Heat the milk, water, and butter until very warm (120°F to 130°F). The butter doesn't need to melt completely.

Add the liquid ingredients to the flour mixture, along with the eggs.

Beat for 2 minutes; the mixture will be soupy.

Gradually beat in enough of the remaining flour to make a soft dough. In the winter, or under less humid conditions, you may not need all the flour; in the summer, or when it's humid, you'll probably use it all.

Knead the dough until it's smooth, elastic, yet still quite soft, about 6 to 8 minutes. Cover it, and let it rest for 10 minutes.

To make the filling: Whisk together the sugar and cinnamon. Set it aside.

Lightly grease two 9" x 13" pans; or a 9" x 13" pan and two 9" round cake pans.

Divide the dough in half. Working with one piece at a time, pat/roll the dough into a 10" x 15" rectangle. It's a soft dough, and should handle easily.

Spread with half the softened butter (2 tablespoons). Sprinkle with half the cinnamon-sugar.

Starting with a long side, gently roll the dough into a log, pinching the edge to seal as well as you can.

Cut the log into 12 pieces, and space them in the prepared pan.

Repeat with the remaining dough and filling.

Cover the pans, and let the rolls rise until they're nearly doubled, about 1 hour. Towards the end of the rising time, preheat the oven to 350°F.

Bake the rolls for 25 to 30 minutes, until they're golden brown. Remove them from the oven, and cool them for at least 20 minutes before frosting.

To make the frosting: Combine the frosting ingredients, using enough milk to make a soft, spreadable frosting.

Spread the frosting on the rolls. Serve immediately; or cover loosely, and serve later. Store well-wrapped, at room temperature, for several days; freeze for longer storage.
Nutrition Information
Serving Size

105g

Servings Per Batch

24
Amount Per Serving:
Calories

350

Calories from Fat

90

Total Fat

11g

Saturated Fat

6g

Trans Fat

0g

Cholesterol

40mg
Sodium

310mg

Total Carbohydrate

59g

Dietary Fiber

1g

Sugars

29g

Protein

6g
* The nutrition information provided for this recipe is determined by the ESHA Genesis R&D software program. Substituting any ingredients may change the posted nutrition information.
Tips from our bakers
If you measure flour the "heavy" way, by dipping your cup into the flour bag, then tapping it to settle the flour and leveling it off (rather than using the "sprinkle and sweep" method), start with 6 1/2 cups flour rather than 7 1/2 cups, and go up from there as needed. Even better — use a scale, and use 32 to 35 ounces flour, enough to make a soft yet workable dough.
If you use vanilla extract in the icing, it'll be cream- to tan-colored, rather than bright white.
Reviews
I would like to make these delicious gooey bits of heaven again but my last batch made so many. I knew 2 dozen, but somehow that seemed doable. But now I want to make the recipe and freeze it. Should I make the dough and freeze it, should I freeze the raw rolls? Or cook and freeze? Freeze with icing on or off? How do I then go about cooking and thawing process?

This big batch recipe certainly does make a lot of cinnamon rolls, Megan! If you're looking to freeze the rolls, consider baking the rolls, letting them cool, and then freezing (without any icing). This way you can pull out precisely the number of rolls you want, reheat them and serve right away. You can reheat the rolls by thawing in the microwave slightly (if you have one), and then wrapping them in foil and placing in a warm oven (around 350°F) until they're warmed through. Top with icing and enjoy. Happy baking! Kye@KAF
I doubled this recipe and they turned out great! One question though. My husband volunteered me to make cinnamon rolls for a church event and I need to make several hundred. Can I quadruple (or even make it larger!) the batch without any issue? Thank you so much!

Wow, lots of cinnamon rolls in your future, Sarah! It sounds like you'd benefit from reading the article on our blog called "Baker's percentage." It describes a process that's both reliable and often used by professional bakers when scaling recipes up to this degree. We recommend using this approach rather than simply multiplying the ingredients for best results. You can find the article by searching for it by name in the blog section of our website (find a link in the upper right-hand corner of this page). Please feel encouraged to give our Baker's Hotline a call a to talk through this process before you start your big baking project if you like: 855-371-BAKE(2253). Good luck! Kye@KAF
Very easy. Perfect for bringing to work (or a weekend study session, in my case).
The recipe is really good, when it comes out, I have had times when the buns were just little rocks, and other times when they were gooey and delicious. I did everything the same all the times so I don't know why they didn't work. but I can say that when they did work, they got raving reviews by family and friends

Hi Hannah, we're wondering if you use the exact same kind of yeast and flour when you bake these rolls. (Changing from brand to brand, especially with the flour, can have a notable result on the final product.) Another factor that can change the texture of the rolls quite a bit is the way the flour is measured. For consistent, accurate results, we recommend measuring the flour by weighing it out with a scale. Scooping directly from the bag of flour can compact it into the cup and result in heavy cups, and in turn, heavy rolls that fail to rise. We hope this helps you achieve fantastic cinnamon rolls every time! Kye@KAF
I made these rolls for and they were a huge hit! So excited to make these again for the holidays!
I followed this recipe exactly and my rolls were soft and pillowy. They rose beautifully. I'm giving 4 stars because I don't think the filling was sufficient for really ooey gooey rolls. Also I partially baked them today and froze them in the pan. I'm planning to finishing baking them Christmas morning and frosting them. I'm hoping they hold up.
Well, I must say that this is the second recipe that I've made from you wonderful people and as the first time I am impressed. I made a half of a batch and further divided the batch into two different kind. I made half of them cinnamon and the other half apple cinnamon. I had some leftover cooked apples from the previous night's dinner. Both were amazing. I like this dough because it isn't what I call "tight" it's nice and soft and sticky but a breeze to work with. Today I'm going to make another half batch and experiment with other filling flavors. Thank you again for an amazing recipe.
I am always trying out new recipes because I love finding new ways to do things. I will no longer be trying new cinnamon roll recipes after using this one. I made 2 batches of these for my husband to take to work and share. I have never received such amazing reviews as I did with this recipe. They are wonderfully moist and the dough is a dream to work with!! Great recipe KAF!!!
I decided to make this recipe today. I have four kids, and I felt guilty about feeding them the preservative-laden canisters of cinnamon rolls from the grocery store over the holidays. Not that cinnamon rolls are the healthiest of breakfasts..but for a special treat or holiday homemade would certainly be much better! I cook and bake a lot, but don't have a ton of yeast-bread experience so I needed the practice! These turned out AMAZING, but I had my doubts during the process! I used all the flour (I measured by weight), and I added an additional 1/2 cup (its winter, but rainy today...? Maybe that's why?). Anyway, I used the dough hook on my Kitchenaid mixer to do the kneading for the recommended amount of time. The dough was VERY sticky during the machine-kneading and stuck to the sides of the bowl. I was worried it wouldn't work/develop the gluten which is why I added the additional 1/2 cup of flour. I let it rest for the 10 minutes in the bowl, and it didn't really seem to rise much so I was still worried! But the dough rolled out fine and my four year old had a ball helping with the cinnamon sugar part. I made two 9x13 glass pans and during the 1 hour rest they really puffed up and I was so relieved! I baked them both at the same time on convection bake, switching oven shelves half way through. I took one batch out 5 minutes early and plan to freeze it. The rolls were fluffy, light, and perfect! The rolls were quite large and the entire house smelled amazing. No more cannisters of cinnamon rolls. I'll be making this again!

We're glad to hear you treated your family to a batch of homemade cinnamon rolls! It sounds like you may be using a flour that's lower in protein than what was used to develop the recipe, which means that more is needed to achieve the proper dough consistency. If you're not already doing so, be sure you're using King Arthur Flour brand all-purpose flour. It will make the dough a dream to work with and your rolls will rise high. Happy baking! Kye@KAF