A customized print-friendly version of this recipe is available by clicking the "Print Recipe" button on this page.
Blue Ribbon Blueberry Pie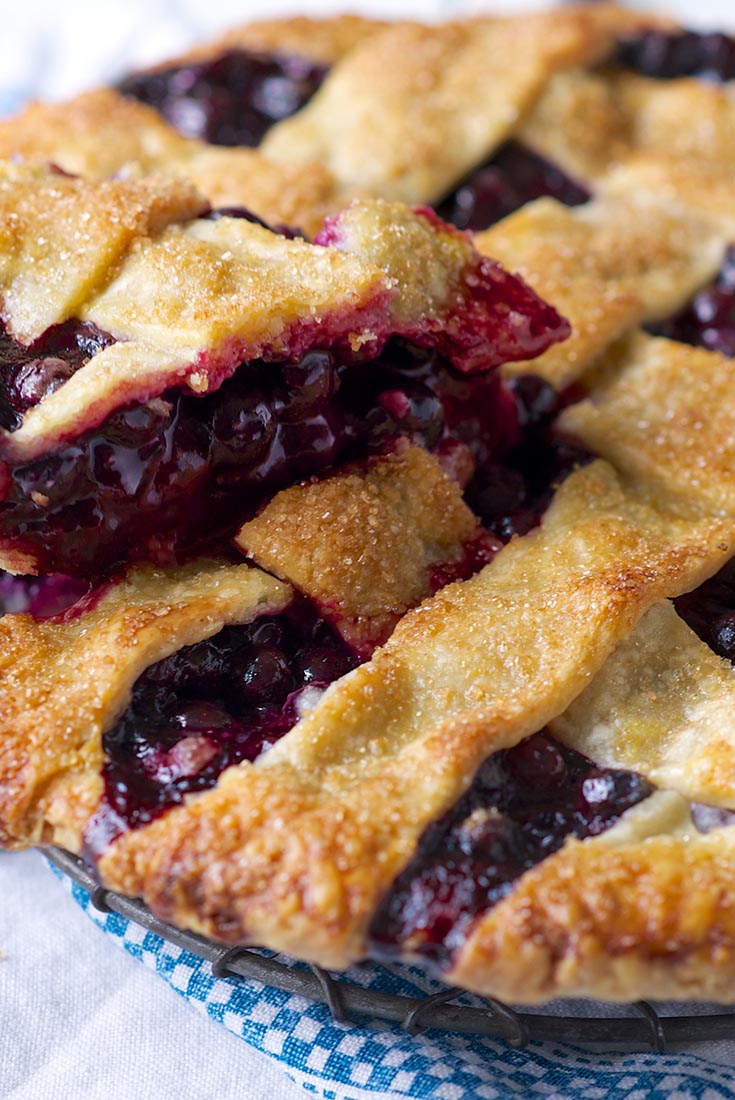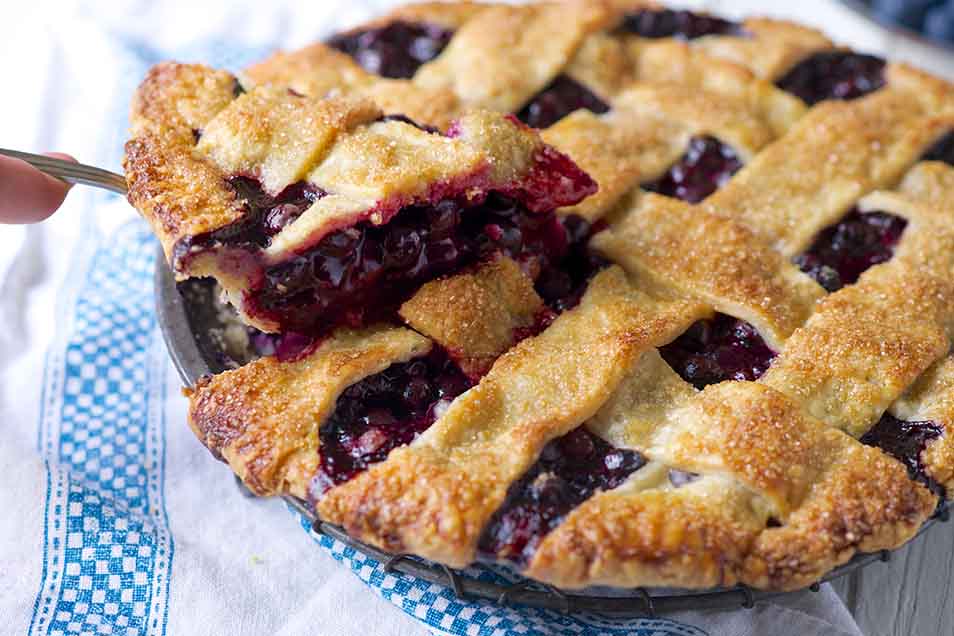 This deep-dish blueberry pie celebrates the summer harvest of one of America's favorite berries.
Ingredients
Filling
8 cups (about 2 pounds) fresh blueberries, washed and drained
1 cup sugar
1/3 cup Instant ClearJel OR 1/2 cup King Arthur Pie Filling Enhancer OR 1/2 cup King Arthur Unbleached All-Purpose Flour
1/4 teaspoon cinnamon, optional
2 tablespoons lemon juice
2 tablespoons butter, melted
sparkling sugar or cinnamon-sugar, for sprinkling on the top crust
Instructions
To make the crust: Combine the flour, buttermilk powder, and salt. Work in the fat in two batches, leaving some pieces as large as your thumbnail.

Sprinkle in ice water 1 tablespoon at a time, tossing with a fork and adding water until the dough is completely cohesive.

Divide the dough in two pieces; one should be about twice as big as the other. Wrap in plastic, and chill for 30 minutes before rolling.

Roll the crust about 1/8" thick, and about 12" to 13" wide, large enough to fit a 9" deep-dish pie pan (at least 1 1/2" deep). Place the crust in the pan, and refrigerate the pie while you preheat the oven to 425°F.

To make the filling: In a large bowl, whisk together the sugar, thickener, and cinnamon.

Add the berries, lemon juice, and melted butter. Scoop the mixture into the prepared crust.

Roll out the top crust, making a lattice if you like; place it over the berries. Trim any excess overhang, and crimp the edges together. Cut several slashes to allow steam to escape (if you haven't made a lattice crust). Spritz with water, and sprinkle with sparkling sugar or cinnamon-sugar.

Bake the pie for 15 minutes, then reduce the oven heat to 350°F and bake for another 40 to 50 minutes, covering the edges if they seem to be browning too quickly. When done, the filling will be bubbling, and the crust golden brown.

Remove the pie from the oven, and cool it for at least 1 hour before serving.
Nutrition Information
Serving Size

1/8th pie

Servings Per Batch

8
Amount Per Serving:
Calories

570

Calories from Fat

243

Total Fat

27g

Saturated Fat

16g

Trans Fat

1g

Cholesterol

70mg
Sodium

470mg

Total Carbohydrate

83g

Dietary Fiber

3g

Sugars

41g

Protein

7g
* The nutrition information provided for this recipe is determined by the ESHA Genesis R&D software program. Substituting any ingredients may change the posted nutrition information.
Tips from our bakers
There are many different thickening options available for fruit pies, from flour to cornstarch to Instant ClearJel and more. For an easy guide to thickener substitutions, see our Pie Filling Thickeners Guide.
Reviews
Delish! I love Orange with Blueberries so I used orange juice and some zest. One of my favorite pies. Also, I used the crust from the Raspberry Peach pie. That crust is my new favorite.
Just baked this blueberry pie. Made a lattice crust and fresh blueberries. It is delicious!! Most everything I bake from your site comes out wonderfully
I made the crust with lard instead of butter, because there is just nothing else like it. I used the KF pie enhancer. I topped it with stars using a cookie cutter and baked it in a deep dish Hennstone (stoneware) pie plate. Perhaps because of the type of pie plate I used, it took longer to cook than in the instructions. I magnificent pie both in flavor and appearance! My husband like the one I made on July 4th so much, I baked another for him this morning! Thanks for a great recipe.
I used frozen berries. I wish that when you make a recommendation in the comment section as to how to use frozen fruit in a recipe, that you'd also add that to the hints at the bottom of the recipe. After putting the pie in the oven, I found your recommendation to cook frozen berries with thickener and sugar on the 4th or 5th page of comments. Too late for that now!!
My 6 year old daughter and I made this pie with a lattice top today and the crust was great, but the filling was problematic. We used a 1/2 cup of A.P. flour to thicken it, baked at 425 for 15 minutes and then at 350 for 55 minutes. It was visibly bubbly and we let it cool for 3-4 hours. We baked it in a ceramic pie plate on top of a metal pan to catch drips on the middle rack and the filling was very, very runny and the bottom crust was completely soggy. I was thinking that baking it on top of the metal pan rather than right on the rack could have been the problem. We would love some feedback as we would like to try the recipe again.

Erika, we're genuinely surprised to hear about the runny consistency of your pie as 1/2 cup of flour is quite a lot to thicken a pie and typically results in a slicable consistency. There are a few things that could have caused this to happen, including using frozen berries. (Frozen blueberries tend to release more juices during baking, so it's important to increase the thickener if using this option.) If you used fresh berries, the filling might also have been thinner than expected because of the ceramic pan. If you're able to bake in a medium-colored metal pie pan, you'll end up with the best results and crispest bottom crust. You can try placing the pan lower in the oven, closer to the heating elements to help encourage browning. If you wait fail-proof results, you can also try using the Instant ClearJel option to thicken the filling. This works like a charm every time. Kye@KAF
Best blueberry pie ever. I do one thing different. I have baked it with cinnamon or nutmeg. We prefer the nutmeg. It brings out more of the blueberry flavor.
Anyone have issues when using all butter in the crust, it melts into the oven and causing smoking? I put a baking sheet on a lower rack in hopes test would help....aargh, the house just smells like burned butter

You're not alone, Janet. Butter burning on the bottom of the oven is a smell that's familiar to most pie bakers. We have a few tips that might help make your next pie bake a little less smokey. First, be sure you're using a deep-dish pan if you're not already doing so. It's somewhat normal for butter to bubble up around the edges of a pie crust during baking. This becomes a problem when your pie pan is too small because the butter overflows the side and ends up burning in the bottom of your oven.

A few other tips that might help include chilling the pie dough before baking, and making sure your oven is fully preheated before putting the pie in the oven. Most pie recipes (including this one) start by baking the pie super hot (425°F) and then call for reducing the temperature for the last portion of the bake. The initial high temperature makes the moisture in the butter evaporate and turn into steam (which in turn produces a flaky crust). If your oven isn't quite hot enough, the butter will just become melty and start puddling in the pie pan (and may end up on the bottom of your oven).

Last option to consider is replacing about 25% of the butter with vegetable shortening or vegan butter. These ingredients have a higher melting point than butter, so they hold their shape better and don't burn quite as easily. We hope this helps, and good luck! Kye@KAF
Awesome recipe and the first pie I ever baked totally from scratch. I used a Pi Day (3/14) pie bake-off at my office as motivation to finally try baking pie. I used frozen blueberries (the little wild ones from Maine) and followed the KAF tip to add an extra 1/2 tsp flour for each 8 oz frozen berries, so I added 2 tsp extra flour to my berries and they set well. I used a cookie cutter to make a fun pattern in crust on the top and held back about 2/3 cup filling so it wouldn't overflow the crust. (Delicious on yogurt in the morning.) Happy to report that my pie won the sweet category, and I'm grateful to KAF for all their great tips, especially the crimping video and the 'Learn' section about pie thickeners.
I was so worried I wouldn't have enough pie crust but I did and the bottom of the crust baked to a nice golden brown. I mixed the butter with veg shortening and lard that I had left over. I had 6 cups fresh berries and 2 cups frozen. I also was concerned it might not thicken enough but after it cooled completely it did perfectly. I didn't use as much sugar as the recipe called for as the berries were pretty sweet. I would make it again.