A customized print-friendly version of this recipe is available by clicking the "Print Recipe" button on this page.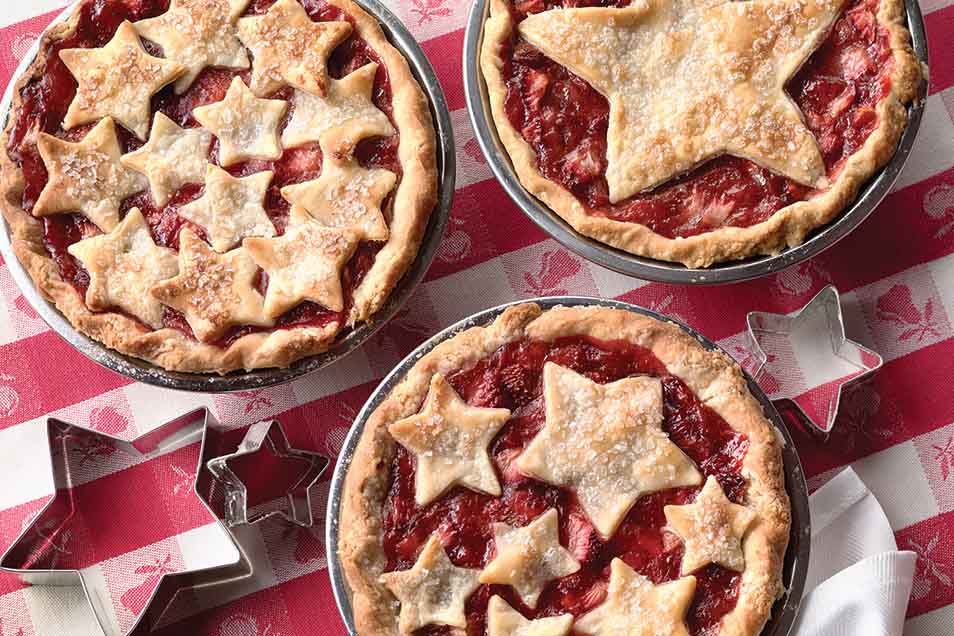 Strawberries + rhubarb = a match made in heaven! This pie has wonderful flavor, the assertive tang from the rhubarb perfectly balanced by sweet, ripe strawberries. Tangy and colorful, this pie is the essence of summer.
Ingredients
Filling
1 1/4 cups sugar
5 tablespoons Instant ClearJel or 7 1/2 tablespoons King Arthur Unbleached All-Purpose Flour or 3/4 cup Pie Filling Enhancer*
1/4 teaspoon salt
3 1/2 to 4 cups lightly packed diced rhubarb, fresh or frozen
3 cups hulled, quartered strawberries, fresh or frozen
1 tablespoon butter
coarse white sparkling sugar, to garnish
*If using Pie Filling Enhancer cut the sugar back by 1/2 cup.
Instructions
To make the crust: Line a 9" pie pan (or two 6" pie pans) with half the crust. Refrigerate while you make the filling, for at least 30 minutes.

To make the filling: Whisk together the sugar, thickener, and salt.

Toss the rhubarb and strawberries with the sugar mixture. Spoon the fruit into the pan(s), filling them about 3/4 full and mounding the filling a bit in the center.

Place dabs of the butter atop the filling. Return the pie to the refrigerator.

Preheat the oven to 425°F.

Roll out the remaining crust, and cut it into star shapes.

Place the pastry stars atop the filling. Brush with water and sprinkle with coarse white sparkling sugar, if desired.

Bake the pie(s) for 30 minutes (for the 9" pie), or 20 minutes (for the 6" pies), then reduce the oven heat to 375°F and bake for an additional 30 to 40 minutes (9" pie), or 20 to 25 minutes (6" pies), until the filling is bubbling and the crust nicely browned.

Remove the pie(s) from the oven, and let them cool for an hour or so before serving.

The pie may be served warm, but it'll be a bit messy; it sets as it cools. Top with vanilla ice cream or whipped cream, if desired.

Yield: one 9" pie or two 6" pies.
Tips from our bakers
There are many different thickening options available for fruit pies, from flour to cornstarch to Instant ClearJel and more. For an easy guide to thickener substitutions, see our Pie Filling Thickeners Guide.
Reviews
Delicious! I substituted tapioca starch (powder as opposed to pearls to avoid the gelatinous blobs of quick pearl) but was wondering if you might be able to provide some guidance about tapioca starch as a thickener. Is it comparable to the quantities used for corn starch, clear jel, flour or pie filling enhancer?

We're happy to help with using tapioca, Linda! We actually have a full chart of how much to use of whichever pie thickener is your choice, depending on the fruit you're using. If you click on the "Learn" tab of our website, go down to "Baking guides" and go the the Pie Baking guide. About halfway down that guide there's a box labeled "Questions about thickeners?" and you can go to the Pie Filling Thickeners guide from there. It's not the easier page to get to so it's worth printing it off or bookmarking it on your computer. Now you'll know how much tapioca to use in any dish using lots of different fruit! Annabelle@KAF
This pie came out amazing!! I used the crust recipe from the Thanksgiving class I took a few years ago and only baked it the first 30 minutes , let it cool and then refrigerated over night... Wow !!! It was almost like a glaze pie I also make, fresh and just the right amount of tart!!
Way too much filling :( It dripped all over my oven and made a huge mess.. had to take it out 8 minutes early. I'm very disappointed.

We're sorry to hear this recipe caused a bit of a mess in your oven. We've all been there and definitely feel your frustration. One thing that can help to avoid this in the future is to weigh your your ingredients, including the fruit, with a scale rather than measuring by volume. This will ensure that extra fruits aren't sneaking their way into the measuring cup, making the finished pie filling overflow. To view any of our recipes by weight, simply click "ounces" or "grams" right under the "Ingredients" header. We also recommend baking pies with either foil or a baking sheet below your pie pan to catch any rogue drips and prevent future scrubbing. If you have any other questions, our free and friendly Baker's Hotline is available at 855-371-BAKE (2253). Kindly, Annabelle@KAF
Turned out beautifully both times. Wish I could attach a picture. I used a leaf decoration using your star idea.

We'd love to see a photo, Rosemarie! Head over to our Facebook page and tag your photo with #kingarthurflour and we'll be sure to see it. You can find the link to Facebook in the "Contact" section found at the top of our website. Thanks for sharing! Annabelle@KAF
I have made this pie several times, usually with a top crust rather than cutouts. I also use the KA crust recipe listed. Always get enthusiastic reviews. The secret for me is instant clear jel which reliably and consistently thickens the filling.
I made this at my husband's request. I used flour as the thickener and did a lattice top. It came out beautifully. I also cut the sugar by about a third. It was pleasantly tart. I'd definitely make this again. It was easy and not too time consuming. A definite winner.
This was the best strawberry rhubarb pie, I've ever made. I used the pie filling enhancer and reduced to sugar to only 1/2 a cup. I let the pie sit for an hour as recommended and the conststancy was perfect.
Fantastic recipe! This is the first time I have baked with ClearJel and it worked beautifully. Could you give me the amounts of ClearJel, fruit and sugar I should use for a deep dish 9-1/2 inch pie?
I love strawberry rhubarb pie and my search stops here!! This is excellent and definitely a keeper. I only used 124 grams (3/4 c) of sugar and it was just right. I highly recommend you try this recipe and you won't be disappointed. Thank you, KAF.
This was the worst pie crust I have ever made. I am known for my excellent baking this pie was a disaster. I have the idea what went wrong. I followed the recipe to the nth degree. The crust was like cardboard and tasteless and the filling was soupy. HELP

Uh oh! We'd love to help! We encourage you to reach out to our free and friendly Baker's Hotline staff to help troubleshoot at 855-371-BAKE (2253). We'll get to the bottom of this together. Annabelle@KAF