A customized print-friendly version of this recipe is available by clicking the "Print Recipe" button on this page.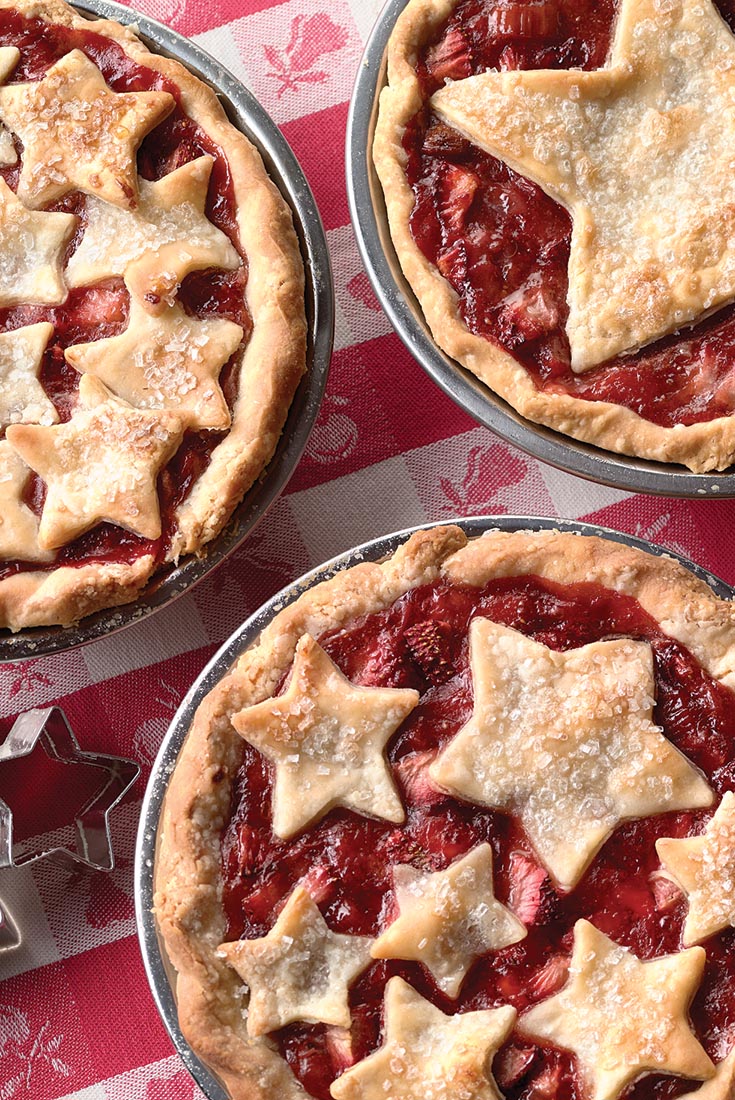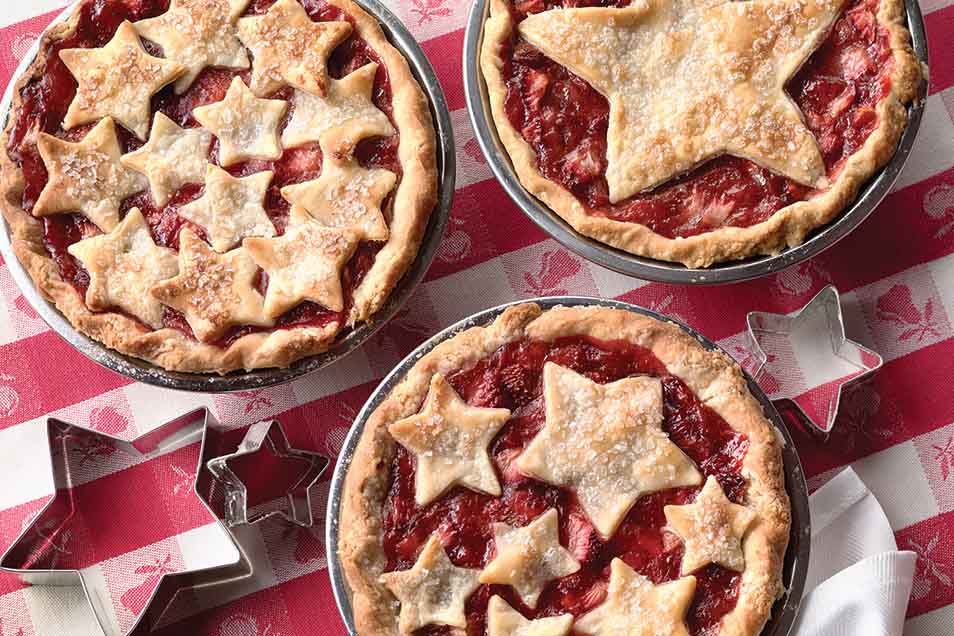 Strawberries + rhubarb = a match made in heaven! This pie has wonderful flavor, the assertive tang from the rhubarb perfectly balanced by sweet, ripe strawberries. Tangy and colorful, this pie is the essence of summer.
Ingredients
Filling
1 1/4 cups sugar
5 tablespoons Instant ClearJel or 7 1/2 tablespoons King Arthur Unbleached All-Purpose Flour or 3/4 cup Pie Filling Enhancer*
1/4 teaspoon salt
3 1/2 to 4 cups lightly packed diced rhubarb, fresh or frozen
3 cups hulled, quartered strawberries, fresh or frozen
1 tablespoon butter
coarse white sparkling sugar, to garnish
*If using Pie Filling Enhancer cut the sugar back by 1/2 cup.
Instructions
To make the crust: Line a 9" pie pan (or two 6" pie pans) with half the crust. Refrigerate while you make the filling, for at least 30 minutes.

To make the filling: Whisk together the sugar, thickener, and salt.

Toss the rhubarb and strawberries with the sugar mixture. Spoon the fruit into the pan(s), filling them about 3/4 full and mounding the filling a bit in the center.

Place dabs of the butter atop the filling. Return the pie to the refrigerator.

Preheat the oven to 425°F.

Roll out the remaining crust, and cut it into star shapes.

Place the pastry stars atop the filling. Brush with water and sprinkle with coarse white sparkling sugar, if desired.

Bake the pie(s) for 30 minutes (for the 9" pie), or 20 minutes (for the 6" pies), then reduce the oven heat to 375°F and bake for an additional 30 to 40 minutes (9" pie), or 20 to 25 minutes (6" pies), until the filling is bubbling and the crust nicely browned.

Remove the pie(s) from the oven, and let them cool for an hour or so before serving.

The pie may be served warm, but it'll be a bit messy; it sets as it cools. Top with vanilla ice cream or whipped cream, if desired.

Yield: one 9" pie or two 6" pies.
Tips from our bakers
There are many different thickening options available for fruit pies, from flour to cornstarch to Instant ClearJel and more. For an easy guide to thickener substitutions, see our Pie Filling Thickeners Guide.
Reviews
Great recipe! I made it with my usual crust recipe (Rose Levy Beranbaum's cream cheese pie crust) and did a lattice top. I used flour as the thickener and macerated the fruit with the sugar/thickener mixer for an hour or two before assembling the pie. The filling came out perfect -- soft but firm, without being mushy or soupy, and not too sweet.
This was the first strawberry rhubarb pie I've ever made and it was great! It came out pretty runny but sticking it in the fridge fixed that! Got great reviews. I would just like to know the nutritional information for this pie, only thing I'd ask for.

We're thrilled you so enjoyed this pie, Stephanie! Due to the extensive size of our recipe library and the scope of work our team performs on a daily basis, we're currently unable to research and provide nutritional information for all of our past recipes, including this one. We can understand your interest in those details, and extend our sincere apologies for any inconvenience. A resource you might consider exploring is free nutrition analysis calculators, which are made available online for general, non-medical use. Happy baking! Mollie@KAF
This is by far the best recipe for Strawberry Rhubarb pie that I have ever made. The instant sure gel gives it a very smooth texture. Since my strawberries were very sweet, I reduced the sugar by 1/4 cup. Excellent taste.
We loved this pie. I did it a little differently in that I cooked the rhubarb a bit first, added 1/2 cup of water and 1/4 cup of Grand Marnier. I included the thickener, Clear Jel. I then stired in my prepared strawberries and some orange zest, turned it all into the shell, topped with crust and baked. It was wonderful. Thank you KAF !
This is the secret nod time I made this recipe and just love, love, love it. It was, however, the first time I used the pie thickener and the results were great but I was only able to make two of these pies with the package I purchased. Did I use too much. The recipe called for 3/4.

We're happy to hear that you had such success with our Pie Filling Enhancer, Joann. How much you need depends on what kind of fruit you're using, with strawberry and rhubarb being among the juiciest of fruits. If you were baking with apples or blueberries, for example, you'd be using much less thickener per pie. To see this explained in more detail, try searching our site for "Pie Thickener Ingredient Guide". Mollie@KAF
The ratio of sugar to fruit worked perfectly!!! I'm never sure how much sugar to add. I used a lot more butter, about 4 to 5 tablespoons and used tapioca to thicken. I grind my tapioca in my coffee-grinder-now-spice-grinder to a fine powder; takes away those tapioca bumps that appeared in the old days!
I baked this for a birthday pie last summer, and I will be baking it again on July 12 for a birthday. The family loved this pie. They said that it was the best strawberry -rhubarb pie I have ever made. The star cut outs made a very festive (and easy) top crust.
I've made this pie several times for my family, and every time I've gotten rave reviews. Love the consistency the Clear gel product gives the filling. Debbie Annapolis, MD
Best Strawberry Rhubarb pie ever and I've made dozens. I used Special Pie Enhancer for the first time - the thickening was perfect, better than the tapioca I've used in the past. I add a splash of Triple Sec and grated orange rind. Adds a little orange-y something without being overwhelming.
Perfect blend of strawberry, rhubarb, and the right amount of sugar! This was my first attempt at a strawberry rhubarb pie. I used the Instant Clear Gel as my thickener, but next time I'd use cornstarch. I've used the ICG on 2 different fruit pies now, and I don't love the consistency it produces - a little too gelled for my taste. I used a 9" pie tin with my favorite all butter double crust pie dough, next time I think I'll use an 8" pie dish to make the filling to crust ratio a little thicker though.