A customized print-friendly version of this recipe is available by clicking the "Print Recipe" button on this page.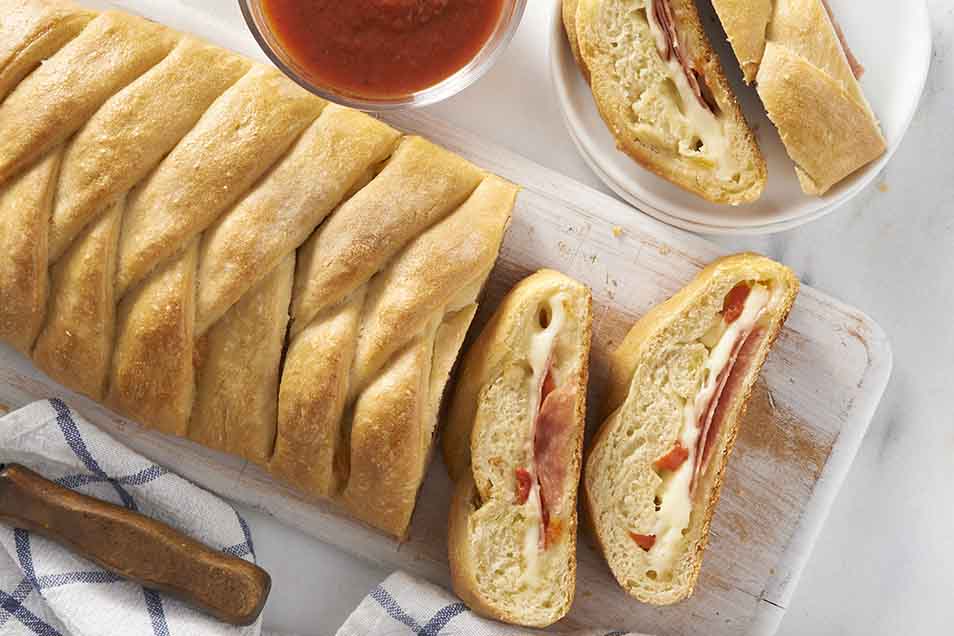 The giant party sub has become somewhat of an American icon when it comes to feeding a crowd. We've come up with a rendition in which the filling is elegantly packed away inside a simple bread dough and then baked. The result is a sandwich whose cheese center is wonderfully oozy, but which nevertheless stays in place — no lava flow!
Ingredients
Filling
2 garlic cloves, peeled and chopped
2 tablespoons olive oil
1/2 pound Provolone cheese, thinly sliced
1/4 pound salami, thinly sliced
1/2 cup diced roasted red peppers
Glaze
1 large egg beaten with 1 tablespoon cold water
Instructions
To make the dough: Combine all the ingredients and mix and knead — by hand, mixer, or bread machine set to the dough cycle — until the dough is smooth and satiny.

Put the dough into a well-greased bowl and drizzle a little olive oil on it, to prevent the formation of a skin while it's rising. Cover with plastic wrap and let rise until doubled in volume, 1 to 2 hours.

To fill the braid: Combine the garlic and oil. Turn the dough out onto a lightly floured surface and knead to expel any air bubbles.

Roll the dough into an 18" x 12" rectangle. Brush an even coating of the garlic olive oil over the surface. Layer the Provolone, salami, and red peppers down the center 4" of dough.

To form the braid: Starting at the edge of the filling, make parallel horizontal cuts in the dough at 1" intervals down both sides, leaving a 1" border at the top and bottom. Fold the top and bottom edges over the filling.

Starting with the top right-hand strip of dough, fold it over the filling. Cross the top left-hand strip over the filling. Continue alternating strips to create a braided effect. Brush with the remaining garlic and olive oil mixture.

Gently pick the braid up and transfer it to a greased or parchment-lined baking sheet.

Cover the braid, and let rise until puffy, 30 to 60 minutes. Towards the end of the rising time, preheat the oven to 350°F.

Brush the risen braid with the glaze, then bake for 30 to 35 minutes, or until golden brown. Remove from oven and cool slightly before serving.

Yield: one 18" braided loaf, about 10 servings.
Reviews
This recipe was so easy! I wanted to make KAF pizza bread, but didn't have a couple ingredients, so I used this dough. It was fabulous! Kids and hubby really liked it! Will save this dough fir many future uses!
Does anyone have a suggestion of about how many minutes you knead the bread in a stand mixer and on what speed ? I am a new bread maker and need all the information I can get. Thanks!

Hi there, fellow baker! You'll want to go more so by how your dough looks than a set amount of time. Your dough should be smooth and springy to the touch — like if you were to press on your cheek. This can take about 4 to 6 minutes in a stand mixer. We hope this helps for future baking adventures! Morgan@KAF
Loved the dough, easy to handle, but I can't get the braid right. Are there any videos for this technique? After I folded the top and bottom, I had too much dough at the top to start the braid. Any helpful tips?

We actually do have a video of this technique, Loraine! If you go to the Learn section of our website, scroll down to Video Tips and click on "view all videos." You'll find the video "How to Make a Filled Braid" under "Baking Skills." Happy braiding! Annabelle@KAF
I love this recipe... I used a variety of fillings with it that have been successful... Use the egg glaze to add a seed or bread topping when appropriate.... VERY VERSATILE!!
Great find.... easy dough to make and work with.... I can see doing lots with this recipe!
Made on a lark yesterday in case we didn't have enough Super Bowl snacks. Used pizza sauce, pepperoni and slices of monterey jack cheese because it was what was in the fridge. House full of skeptics and suspicious picky eaters to include a spouse who leaves the crusts as much as possible when eating any type of bread/pizza. All loved it and polished it off. Beloved standard snacks that had been specially requested were relegated to 'also ran' status. Would definitely make again and again and again. Can't wait for the weekend.
I've been making a recipe like this for years and it's so good we just call it "the sandwich". My favorite combo is a layer of mozzarella, ham, salami, and muenster. Then my special touch is julienned sundried tomatoes and fresh basil. You can use pesto if you don't have fresh basil, but I definitely prefer basil. Sometimes I put a few dots of yellow mustard, too, but the wife definitely prefers it without.
I was looking for a recipe to use up some extra semolina flour purchased to make the King Arthur Semolina Biscotti (also delicious) and found this one. Wow! Everyone from the kids to the adults loved this! The "bread" has such a wonderful flavor and texture, it went together so quickly, and makes a beautiful presentation. I served with some warmed pizza sauce for dipping. Now I'm going to have order some more semolina flour!
great recipe I've done it about 7 times without fail. Except that for The filing I've been using a mix of garlic with a ton of mushrooms and the provolone cheese. it has been qualified by my family as one of the best things I've ever cooked.
So easy and so delicious! The braided presentation of the stromboli impressed my friend that she asked me where I bought it. I didn't have semolina flour and substituted with ap flour and it tasted great. Made it twice already and will definitely make again.