A customized print-friendly version of this recipe is available by clicking the "Print Recipe" button on this page.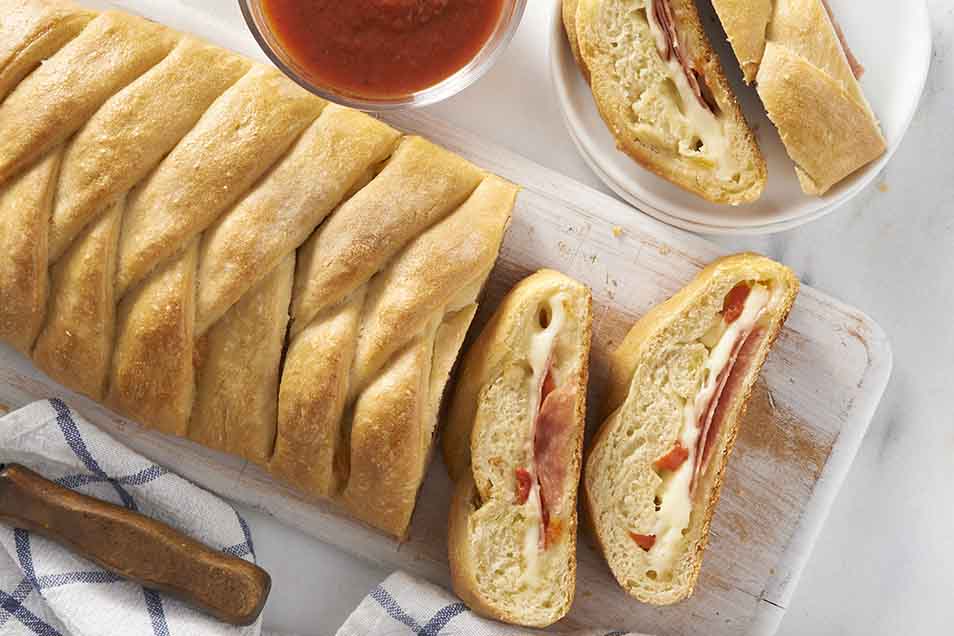 The giant party sub has become somewhat of an American icon when it comes to feeding a crowd. We've come up with a rendition in which the filling is elegantly packed away inside a simple bread dough and then baked. The result is a sandwich whose cheese center is wonderfully oozy, but which nevertheless stays in place — no lava flow!
Ingredients
Filling
2 garlic cloves, peeled and chopped
2 tablespoons olive oil
1/2 pound Provolone cheese, thinly sliced
1/4 pound salami, thinly sliced
1/2 cup diced roasted red peppers
Glaze
1 large egg beaten with 1 tablespoon cold water
Instructions
To make the dough: Combine all the ingredients and mix and knead — by hand, mixer, or bread machine set to the dough cycle — until the dough is smooth and satiny.

Put the dough into a well-greased bowl and drizzle a little olive oil on it, to prevent the formation of a skin while it's rising. Cover with plastic wrap and let rise until doubled in volume, 1 to 2 hours.

To fill the braid: Combine the garlic and oil. Turn the dough out onto a lightly floured surface and knead to expel any air bubbles.

Roll the dough into an 18" x 12" rectangle. Brush an even coating of the garlic olive oil over the surface. Layer the Provolone, salami, and red peppers down the center 4" of dough.

To form the braid: Starting at the edge of the filling, make parallel horizontal cuts in the dough at 1" intervals down both sides, leaving a 1" border at the top and bottom. Fold the top and bottom edges over the filling.

Starting with the top right-hand strip of dough, fold it over the filling. Cross the top left-hand strip over the filling. Continue alternating strips to create a braided effect. Brush with the remaining garlic and olive oil mixture.

Gently pick the braid up and transfer it to a greased or parchment-lined baking sheet.

Cover the braid, and let rise until puffy, 30 to 60 minutes. Towards the end of the rising time, preheat the oven to 350°F.

Brush the risen braid with the glaze, then bake for 30 to 35 minutes, or until golden brown. Remove from oven and cool slightly before serving.

Yield: one 18" braided loaf, about 10 servings.