A customized print-friendly version of this recipe is available by clicking the "Print Recipe" button on this page.
Bread Machine Sourdough Bread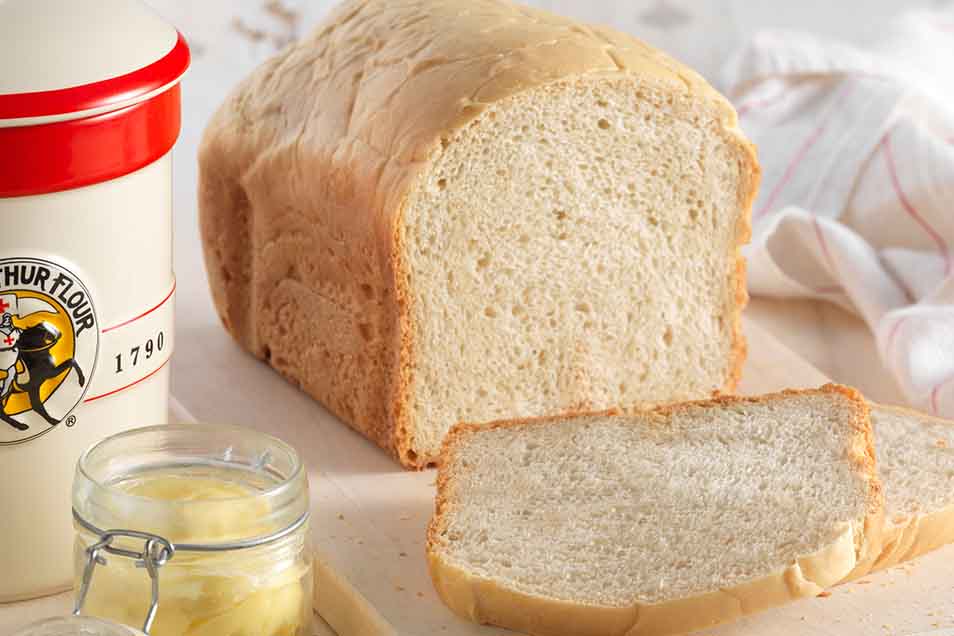 Sourdough bread baked in a bread machine? Not only is it possible — it's delicious!
Ingredients
1 1/2-pound loaf
2 teaspoons active dry yeast or instant yeast
1 1/2 teaspoons salt
1 1/2 teaspoons sugar
2 1/2 cups King Arthur Unbleached All-Purpose Flour or Unbleached Bread Flour
2 cups ripe (fed) sourdough starter
2 tablespoons vegetable oil
4 to 6 tablespoons lukewarm water, enough to make a soft dough
Instructions
Place the ingredients into the pan of your machine, in the order suggested by the manufacturer; program for French Bread, or a similar long-rising cycle; and press start.

Check the dough after about 10 minutes of kneading; add additional water or flour as necessary to make a smooth, soft dough.

Remove the bread from the machine when it's done, and cool it on a rack.
Nutrition Information
Serving Size

1 slice

Servings Per Batch

16 slices
Amount Per Serving:
Calories

178

Calories from Fat

1

Total Fat

3g

Saturated Fat

0g

Trans Fat

0g

Cholesterol

0g
Sodium

225mg

Total Carbohydrate

28g

Dietary Fiber

4g

Sugars

0g

Protein

10g
* The nutrition information provided for this recipe is determined by the ESHA Genesis R&D software program. Substituting any ingredients may change the posted nutrition information.
Tips from our bakers
Because everyone's sourdough starter will vary in consistency — some are on the stiff side, some on the soft — we give a range for the amount of water to add. Start with the smaller amount of water then add more, if necessary, to make a smooth, soft dough.
For crustier bread, substitute water for the vegetable oil.
This recipe was developed using the French bread cycle on an early-model Zojirushi. This particular cycle called for a total of 30 minutes of kneading, a first rise of 40 minutes, and a second rise of 1 hour, 50 minutes. It's this long second rise that allows the sourdough to attain sufficient volume. The bread bakes for 60 minutes, slightly longer than the usual 55 minutes. Your machine may have a whole-grain or some other cycle that approximates these kneading and rising times. Or, if you have a machine that's programmable (Zojirushi Virtuoso or Supreme), you can easily program these cycle times in yourself via the homemade menu.
Need some sourdough starter to get started? See our step-by-step directions for creating your own sourdough starter from scratch. Or, if you're looking for a head-start, check out our classic fresh sourdough starter, a simpler path to fresh, ready-to-use sourdough starter.
Reviews
This makes a great loaf, probably the best I've ever had out my bread machine. Just wondering, is there any way this could be prepared at night in the bread machine and put on a delayed timer so it's ready in the morning or would the starter be no good by that point? Thanks

We're so glad you enjoyed this recipe, Oli! We think if you're going to do any delaying, you'd want to do it in the fridge after the dough has been kneaded and before it's risen. Depending on how your machine works, you can start the next day with the deflate step and then it will do its final rise, but it might be easier to just bake it in your oven at that point. It might take some experimentation to see which method works best for you and your machine. Annabelle@KAF
Tested a few times using the gram version of the recipe for the 1lb but increased the starter (and decreased the flour). Crust came out perfectly, even with the increased starter was sourdough like but not too tangy. Bread was gone after two meals. I think it was better the next day, toasted.
Very good results! I followed recipe exactly for the 1lb loaf. And due to KAF's constant references to weighing ingredients, I bought a kitchen scale a few weeks back Used it for this recipe. The taste and texture are good, and the loaf had perfect rise. I used the French bread setting on my machine. I'm definitely making again, and may experiment with add-ins.
I made the 1 1/2 lb. loaf before, and programmed my Zo as above. Should bake time be changed for the 1 lb. loaf?

Hi Anneee, we'd recommend going with whatever the machine sets for the bake time for a 1 lb loaf. It will probably be quite similar as it was for 1 1/2 lb loaf, possibly a bit shorter. Annabelle@KAF
I need the 2lb machine version recipe

Hi Ray. We don't have a recipe for a 2 lb loaf, however, you may be happy to know that the 1 1/2 pound version will fit very nicely in a 2 lb machine. If you'd prefer to make a 2 lb loaf, we encourage you to check out our blog article on Baker's Percentage to increase the 1 1/2 lb version of this recipe by 25%. Happy baking! Annabelle@KAF
The instructions were easy, and I had all the ingredients on hand. I took the starter out of the fridge and fed it the night before. I made the bread about 13 hours after feeding the starter. The bread looked great at first. A gorgeous rise, but then sunk a little in the middle. The crust was very hard; the bread tasted superb. Any ideas as to what I did wrong?

Hi Layla, it sounds like your dough either rose a bit too much or the starter was left to rise for too long. In the first case, when dough over-proofs it expands so much that it weakens the structure of the loaf. As a result, it often collapses during baking. You can try reducing the added yeast by 1/4 teaspoon next time to prevent this from happening. It's also possible that the starter was simply left to rise for too long. During these long periods of fermentation, the flour starts to break down, which weakens the dough. You might consider using a starter that's been fed only 4 to 6 hours prior to see if that gives you a better final shape. We hope between these two approaches, you're able to make a beautiful loaf of sourdough bread. Happy baking! Kye@KAF
I saw this on Pinterest. I have to say that the list of ingredients is very confusing, As you look at it on the main page it has different amounts from the other page when you select "make it". I didn't notice at first but, all of the ingredients are in different amounts. I'm not sure why. For example; on the main pg it says 3 teaspoons yeast but on the "make it" page it says 2 teaspoons. Same for all of the ingredients. I decided that this time I would use my Bread machine to do all the work and make the dough and then I'm going to bake it in my oven. This time I followed the ingredient list on the make it page. We will see how that works out.

Hi Joann, we apologize for any confusion. It sounds like you're seeing a different version of this recipe posted on Pinterest, which we're unable to curate or update. (Content can be submitted and posted by other bakers who are using slightly different versions of our recipes.) For best results, please follow the ingredients quantities and instructions listed in the recipe here. We hope that helps, and good luck! Kye@KAF
This is awesome!!!! However I add extra water maybe about a 1/4 cup. I love this website and this is the best bread machine recipe I've found for my family so far! (I've tried it twice, and had great results both times).
I love this recipe. I get a good tasting sourdough loaf that rises beautifully. I would like to try this in my oven, as my bread machine doesn't have a long enough bake time and the loaf isn't brown. Also, my machine leaves a large hole in the bread because of the paddle. Can I use this recipe on the dough cycle, and bake it in my oven? I'm not sure how long to let it rest, how long to let it rise, etc. Can you give some advice, please? Love this bread!

Hi Yvonne, we have a full Bread Machine Baking tips and FAQs within the Learn section of our website. We include some detailed instructions that might help you make this recipe in your oven at home.

"You can easily convert bread machine recipes to 'manual' recipes by reading the ingredients, then combining them the way you usually do. Dissolve the yeast in the liquid, add other 'wet' ingredients (e.g., eggs, honey, butter), add the flour and other dry ingredients, knead, then knead in any 'extras' (raisins, nuts, chocolate chips, etc.). Let the bread rise once in the bowl [until roughly doubled in size], then transfer it to a pan and let it rise again [until it looks puffy and you can poke it with your finger and the indent stay visible]. Bake for about 30 minutes in a preheated 350°F oven [or until the internal temperature reaches 190°F, as tested with an instant-read thermometer]. A bread machine recipe for a 'large' machine, calling for 3 cups of all-purpose or bread flour or 4 cups of a whole-grain/all-purpose flour mix, will make a 1-lb. (8 1/2" x 4 1/2") loaf. A bread machine recipe for a 'small' loaf, calling for 2 cups of all-purpose or bread flour or 3 cups of a whole-grain/all-purpose flour mix, will make a 10- to 11-ounce loaf (a 7 3/8' x 3 5/8' pan)." Happy baking! Kye@KAF
WOW! I had NO IDEA how active your sourdough starter would be! I received just the other day, and quite frankly, I did not expect it to pump up the volume so quickly. I've already made two sourdough loaves that have been devoured. The starter was fed today with a cup of KAF Flour plus 1/2 cup of water and it is ready to be used again! I can't thank you enough for the starter you shipped me. I wish I could send you a picture of the starter in pan right now!