A customized print-friendly version of this recipe is available by clicking the "Print Recipe" button on this page.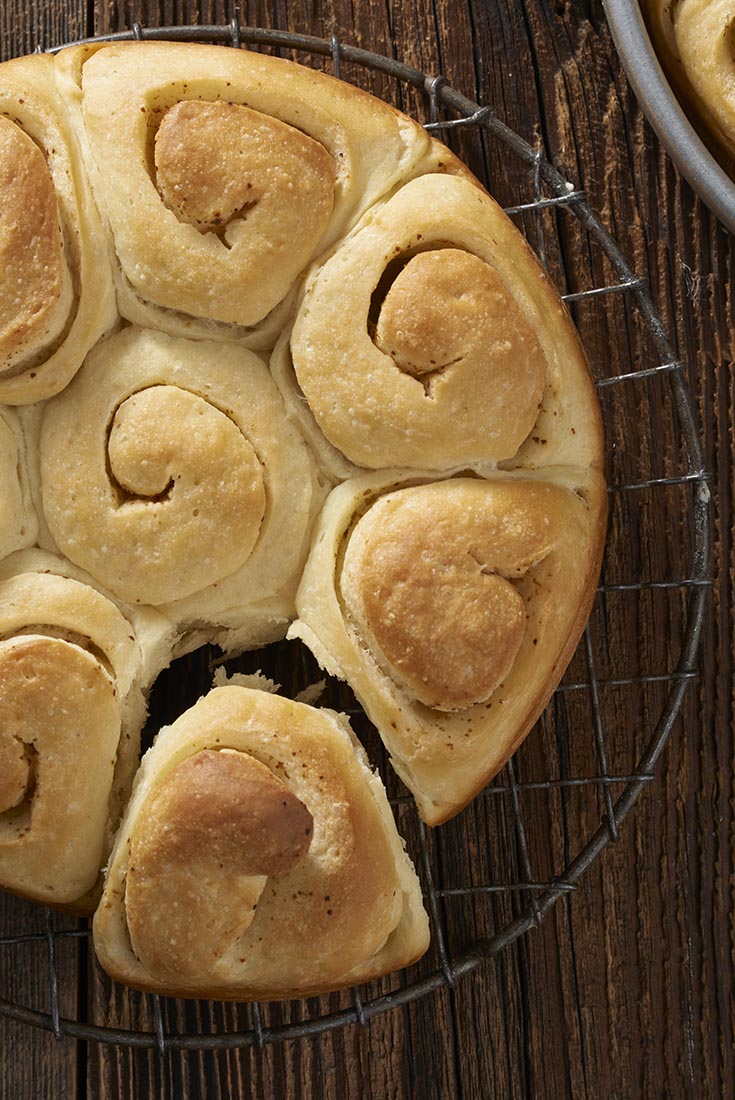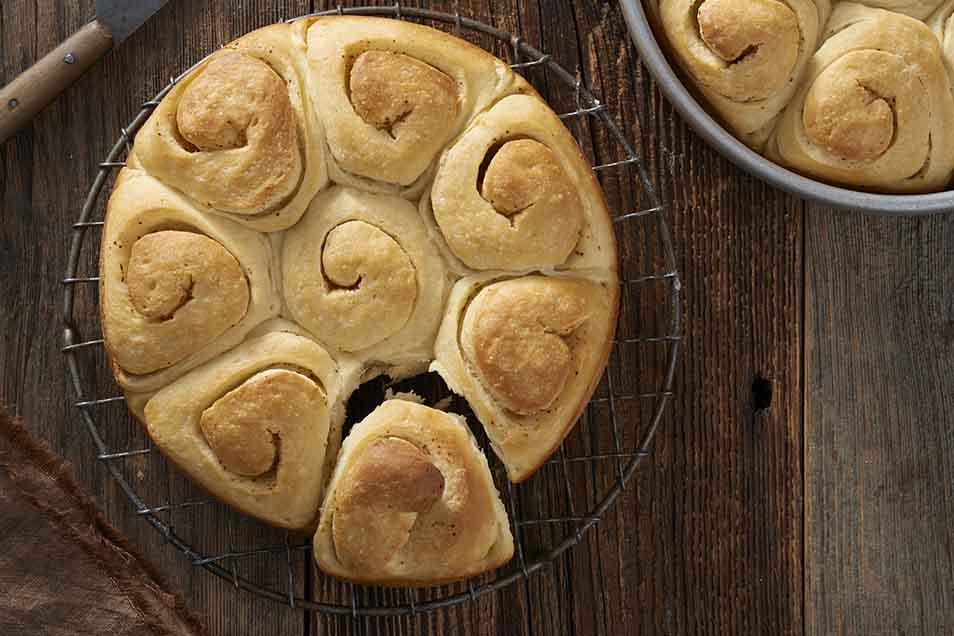 When you think sourdough bread, you probably think an artisan loaf, one with a thick, chewy crust and coarse interior. These soft dinner rolls are at the opposite end of the texture spectrum. Buttery spirals with a pleasingly mild sourdough tang, they're soft on the inside, but sport a wonderfully crisp crust — think crescent roll. And, like a crescent roll, they're fun to unravel and enjoy bit by buttery bit!
Ingredients
Topping
4 tablespoons melted butter, divided
1/4 teaspoon paprika, optional
Instructions
Combine all of the dough ingredients in a large bowl, and mix and knead — using your hands, a stand mixer, or a bread machine set on the dough cycle — to make a soft, smooth dough.

Place the dough in a lightly greased container — an 8-cup measure works well here — and allow the dough to rise for 1 1/2 to 2 hours, until it's just about doubled in bulk.

Gently deflate the dough, and transfer it to a lightly greased work surface.

Roll and pat the dough into a rough rectangle approximately 12" x 16". Put 2 tablespoons melted butter in a small bowl, and add the paprika, if desired; it's there for color, and accentuates the buns' swirl, but omit it if you wish. Spread the dough with the melted butter.

Starting with a long side, roll the dough into a log.

Cut the log in 1" slices, using a sharp knife, or a piece of dental floss looped between your fingers.

Lightly grease two 8" or 9" round cake pans. Arrange 8 buns in each pan.

Cover the pans, and let the buns rise for 60 minutes, until they're noticeably puffy. Don't let these buns rise too long; you want them to have enough rising power left to expand nicely in the oven. Towards the end of the rising time, preheat the oven to 350°F.

Uncover the pans, and brush each bun with some of the remaining melted butter.

Bake the buns for 22 to 25 minutes; they'll color only slightly.

Remove the buns from the oven, and turn them out of the pan onto a rack. Brush with any remaining melted butter. Serve hot or warm. To reheat, place the buns on a baking sheet, tent lightly with aluminum foil, and bake for 10 minutes in a preheated 350°F oven.

Wrap any leftover buns airtight, and store at room temperature for several days. For longer storage, wrap airtight and freeze.

Yield: 16 buns.
Nutrition Information
Serving Size

1 bun (53g)

Servings Per Batch

16
Amount Per Serving:
Calories

160

Calories from Fat

60

Total Fat

7g

Saturated Fat

4.5g

Trans Fat

0g

Cholesterol

30mg
Sodium

190mg

Total Carbohydrate

20g

Dietary Fiber

1g

Sugars

1g

Protein

4g
* The nutrition information provided for this recipe is determined by the ESHA Genesis R&D software program. Substituting any ingredients may change the posted nutrition information.
Tips from our bakers
You'll notice these buns don't brown as deeply as most dinner rolls — how come? Typically long rising, sourdough affects browning by changing the pH of the bun, as well as consuming the sugar that would otherwise caramelize (brown) on the bun's surface.
Reviews
I love the versatility of this recipe. I used half ov it today to make hot dog buns and rolled out the remainder, coated it with soft butter and cinnamon sugar and then rolled it up and coiled it into a cake pan. I sprinkled the the top with more cinnamon sugar and slashed it several times before baking. Absolutely fabulous!
Great recipe! First time i followed recipe strictly, it turned out amazing. Second time i tried without commercial yeast, using only active whole wheat sourdough starter (increased to 1 cup instead of 1/2 cup, the rest ingredients follow recipe). I used this dough to make cinamon bun, result was very satisfying. It took about 4 hours at room temperature (21C) to rise and 20 minutes in oven. I sprinkled some filling ( brown sugar+cinamon) on top of the 'slices' and they brown nicely. By this i end my experiment and decided this is the way forward for my cinamon buns. Thank you for sharing this recipe!
I read through the comments for a savory version and kneaded in two tablespoons of dehydrated onion flakes and a scant cup of loosely grated pecorino Romano. To increase browning, I baked in a glass pie plate. (Normally for Parker house rolls etc, I use a light metal quarter or half sheet). It's relatively warm in the kitchen and the rise is faster. My starter is a bit more liquid and this results in a smooth but slightly sticky dough that I prefer to handle with wet or oiled, rather than floured, hands.I add turmeric to sourdough crackers, so I added a bit to the melted butter and paprika. Delicious, easy and flexible recipe!
These have wonderful flavor! I measured everything by gram weight. The only modifications I made to this recipe were using 2 t. SAF Gold yeast and reducing the butter to 50 g. The dough was far too slack to roll or shape; divided into 12 equal portions by weight, dropped them into greased muffin tin cups and baked them in a thoroughly-preheated oven for 22 minutes. The flavor is delicious, the color is pale blonde. This is a great way to use up excess starter, would definitely make these again with the same modifications.
A light and toothsome bun. Would double next time as these went fast and it utilizes sourdough discard which is efficient. I used salted butter as that is all I had but it didn't have any ill-effect on the bun. Very easy recipe to follow and quick too!
Since I have 4 starters in my refrigerator I am always looking for new ways to use sourdough starters for baking...these rolls came out light and fluffy. They looked good and tasted even better.
Great recipe. I've been using the buns for both chicken salad and bbq sandwiches. Might try rolling them to be thicker so they make for slightly larger sandwiches. But it's both delicious and makes for an amazing looking sandwich. If you wanna show off a bit. It definitely took less time than specified, but it is the height of summer during a heat wave. When it's warm it's gonna go quicker.
Great recipe. I've been using the buns for both chicken salad and bbq sandwiches. Might try rolling them to be thicker so they make for slightly larger sandwiches. But it's both delicious and makes for an amazing looking sandwich. If you wanna show off a bit.
Holy wow! This recipe is just incredible. I use it mostly to make cinnamon rolls and they turn out exactly like I prefer - not too sweet, fluffy but crusts nicely! One thing I've learned is that the recipe is fairly forgiving. I've subbed the butter for oil (to make these dairy free) and they turned out nicely. However make sure you watch the rise times! My dough always rises faster than what's stated in this recipe. Once I let it rise too much in my warm kitchen and the rolls actually fell before baking. Now I watch my dough instead of a timer - a good baking lesson anyway :) Thanks KAF!
I did something really weird with this. I followed the recipe exactly, by grams, except I omitted the salt. One half the rolled log, I made exactly as given, but after the fast rise in the baking skillet, I made cinnamon rolls out of the other half and cut them thinner. In the refrigerator for baking tomorrow. I prefer whole wheat or 1/2 whole wheat and white flour. These were really good, but not exactly to my liking. If I make these again, I will do the whole wheat route and not add instant yeast. I almost never add additional yeast as Frankenstarter is very happy and robust. They rose slightly above the skillet sides, about 2 inches, a good double. I rarely pre-heat the oven as the added warm up adds to the rise. I baked the buns in an antique iron skillet, polished smooth on the inside and still didn't get a brown crust on the bottoms. They were crusty and light, just not browned.