A customized print-friendly version of this recipe is available by clicking the "Print Recipe" button on this page.
Chicago-Style Deep-Dish Pizza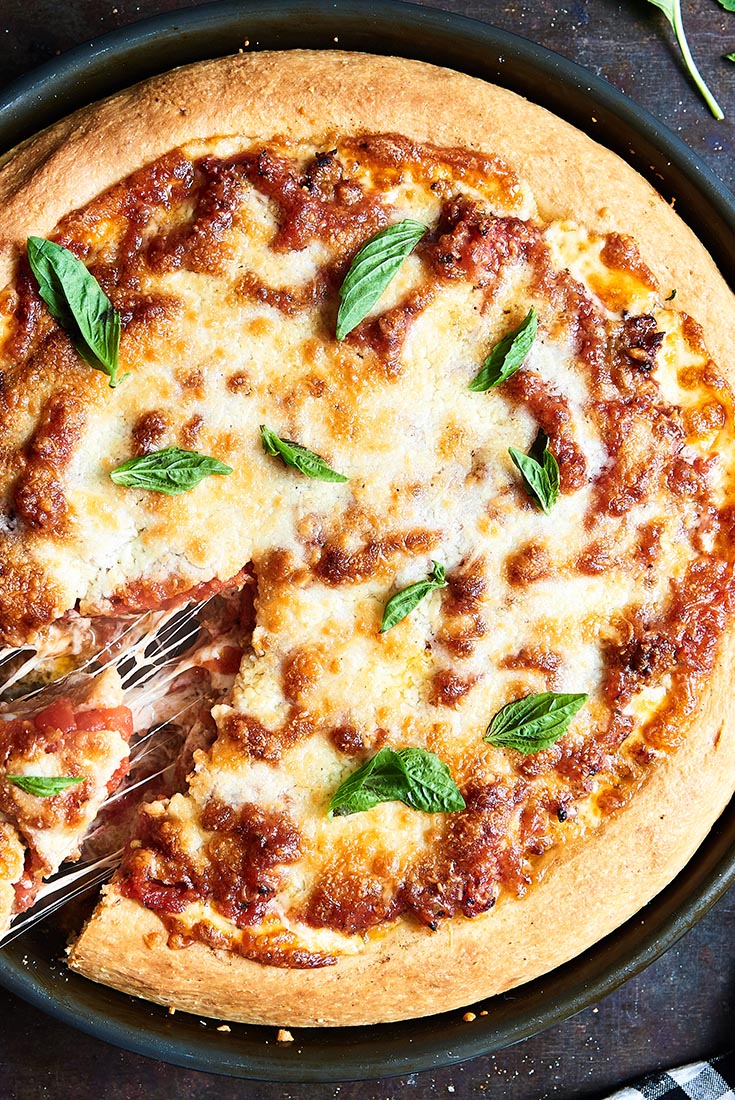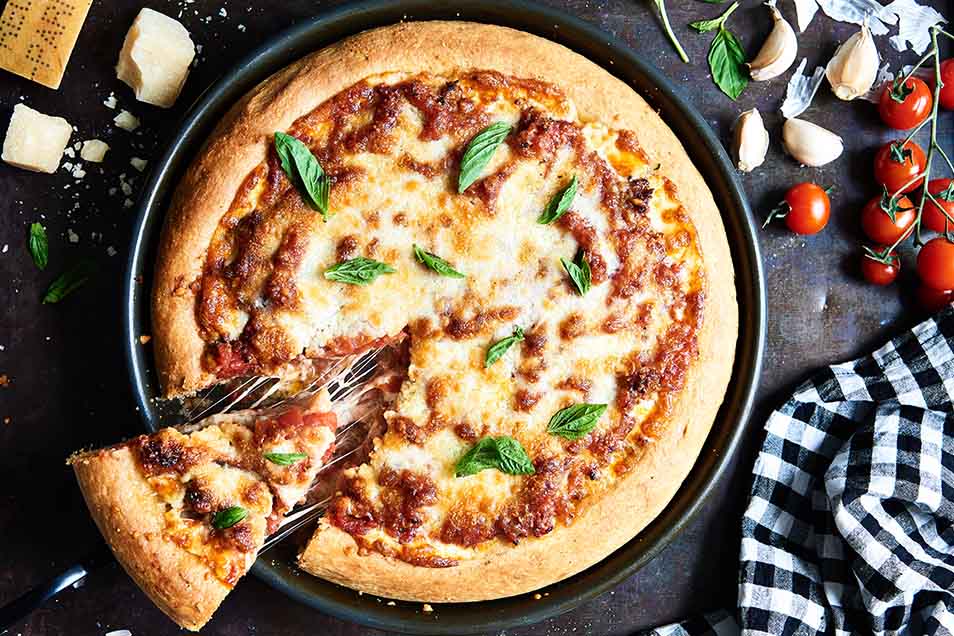 Did you ever wonder about the "pie" in pizza pie? This dish will make that connection clear for you. With its 1 1/2" tall crust cradling distinct layers of cheese, sausage, and tomatoes, this is definitely a knife-and-fork pizza PIE.

The crust, based on a recipe whose supposed provenance is Pizzeria Uno, has an unusual flaky/tender texture, and great taste — courtesy of three types of fat: vegetable oil, olive oil, and butter. Also, the tiny bit of cornmeal adds subtle but delightful crunch.

We like to bake this in a big, 14" deep-dish pizza pan; it makes a spectacular presentation, right out of the oven. But if you don't have a big pan, feel free to use two 9" round cake pans.

Read our blog about this pizza, with additional photos, at Flourish.
Ingredients
Crust
3 tablespoons yellow cornmeal
1 3/4 teaspoons salt
2 3/4 teaspoons instant yeast
2 tablespoons olive oil
4 tablespoons butter, melted
2 tablespoons vegetable oil or salad oil
1 cup + 2 tablespoons lukewarm water
Filling
3/4 lb. mozzarella cheese, sliced
1 pound Italian sweet or hot sausage, cooked and sliced; or about 3 cups of the sautéed vegetables of your choice
28-ounce can plum tomatoes, lightly crushed; or 28-ounce can diced or chopped tomatoes
2 to 4 garlic cloves, peeled and minced, optional
1 tablespoon sugar, optional
1 to 2 teaspoons Pizza Seasoning or mixed dried Italian herbs (oregano, basil, rosemary), to taste
1 cup freshly grated Parmesan or Asiago cheese
2 tablespoons olive oil, to drizzle on top
Instructions
To make the crust: Mix the dough ingredients, and knead — by hand, mixer, or bread machine — to make a smooth crust. This will take about 7 minutes at medium-low speed in a stand mixer.

Place the dough in a lightly oiled bowl or 8-cup measure (which makes it easy to track its rise), cover, and let rise till very puffy, about 60 minutes.
While the dough is rising, ready your 14" deep-dish pizza pan. Grease it with non-stick vegetable oil spray, then pour in 3 to 4 tablespoons olive oil, tilting it to cover the bottom of the pan, and partway up the sides.

Stretch the dough to make as large a circle as you can. You can do this on a lightly oiled baking mat, if you choose; or simply stretch the dough in your hands.

Lay the dough in the pan, and stretch it towards the edges till it starts to shrink back. Cover, and let it rest for 15 minutes. Start preheating the oven to 425°F while the dough rests.

Stretch the dough to cover the bottom of the pan, then gently push it up the sides of the pan. The olive oil may ooze over the edge of the crust; that's OK. Let the crust rest for 15 minutes or so, as your oven comes up to 425°F.

Bake the crust for 10 minutes, until it's set and barely beginning to brown. While it's baking, prepare the filling.

Drain the tomatoes thoroughly. Combine them with the Pizza Seasoning or herbs, and the garlic and sugar (if you're using them). Add salt to taste; you probably won't need any additional salt if you've used the Pizza Seasoning.

Cover the bottom of the crust with the sliced mozzarella, fanning it into the crust. Add the sausage (or sautéed vegetables), then the tomato mixture.

Sprinkle with the grated Parmesan, and drizzle with the olive oil.

Bake the pizza for about 25 minutes, or until the filling is bubbly and the topping is golden brown. Remove it from the oven, and carefully lift it out of the pan onto a rack. A giant spatula is a help here. Allow the pizza to cool for about 15 minutes (or longer, for less oozing) before cutting and serving.

Yield: about 12 servings.
Nutrition Information
Serving Size

1 slice

Servings Per Batch

12
Amount Per Serving:
Calories

420

Calories from Fat

200

Total Fat

22g

Saturated Fat

9g

Trans Fat

0g

Cholesterol

40mg
Sodium

1100mg

Total Carbohydrate

38g

Dietary Fiber

2g

Sugars

3g

Protein

17g
* The nutrition information provided for this recipe is determined by the ESHA Genesis R&D software program. Substituting any ingredients may change the posted nutrition information.
Tips from our bakers
For individual deep-dish pizzas: Grease the wells of an individual hamburger bun pan. Divide the risen dough into 12 equal pieces; if you have a scale, each piece will weigh about 2 1/2 ounces. Roll each piece into a tight ball, then cover six of them and transfer to the refrigerator. Allow the remaining six balls of dough to rest, covered, at room temperature for 20 minutes. Stretch an unrefrigerated dough ball to cover the bottom of a well, then push it up the sides of the pan. Repeat with the remaining dough. After a 15-minute rest, bake the individual crusts for 10 minutes until they're set and barely beginning to brown. Fill, then bake the pizzas for another 20 to 25 minutes, until the filling is bubbly and the topping is golden brown. Repeat with the remaining (refrigerated) dough.
Reviews
Grew up in the suburbs and have so missed Chicago style Pizza. Tried other recipes from the net with lackluster results. This is it! I'm more a fan of Canadian bacon than sausage. Next time I'll make a few changes because we're at 5000 ft. I'll pre-bake the crust for a longer period of time and make sure I prick it. I'll also give the assembled pie a longer period of time in the oven. I like crisp veggies so I'll put them on top towards the end. Food takes longer to cook at high altitude, so I have to make those changes, but the recipe is perfection, pure pizza bliss and goodness. I used a can of crushed San Marzano tomatoes. The sauce with crushed garlic, sea salt, and a tsp of Italian herbs was perfect! The crust--joyously crisp/tender in all the right places and so tasty there will be no thought of not eating it! Thank you, King Arthur Flour! You are my new BFF!!!
Is it possible to use KA pizza dough flour in this recipe?

Pizza Dough Flavor will certainly kick the flavor of this recipe up a notch. We recommend using approximately 1 1/2 teaspoons per cup of flour in any pizza crust recipe, so in this case you can start with about 1 tablespoon plus 1 1/2 teaspoons of Pizza Dough Flavor and adjust to taste. No other adjustments are necessary. Happy baking! Kye@KAF
Although I used store bought pizza dough, my pizza turned out great. I used a cast iron square skillet and lined it with parchment paper. I also used avocado oil instead of olive oil. Also using an electric oven I turned the temp to 375 degrees instead of 400. I pricked the dough around the center, precooked the dough for 10 minutes and then applied the bottled marinara sauce then cheese, etc. This was my first time ever making a pizza. Thank you for the incentive. Next time I will try making my own dough. I had a time crunch and chose store bought.
I made this pizza a couple of times. The first time the dough was too thick so I bought a rolling pin to make it thinner. The second version was absolutely amazing! I used my own recipe for the sauce btw. I also bought some nice, artesenal sausage and used mushrooms sauteed in butter. Perfect!!
This recipe is great. The crust is flaky, delicious, and really easily to make. I'm a cheese LOVER so I would add a little bit more cheese next time, but this turned out fantastic. My other recommendation is to dock the dough or poke holes in the bottom with a fork before par-baking it, so it doesn't bubble up!
Love this recipe. Flakey, buttery goodness. I save a little time and effort by using the tomatoes with basil, oregano, and garlic already mixed in. Only question is if I can do the first bake and then leave it for a few hours before topping it and finishing it off.
Fennel seed. This is such a key ingredient, so do not leave it out. Repeat: YOU NEED FENNEL SEED AND LOTS OF IT!! Other than that, it's great. :)
Made two yesterday. Great first attempt! Wonderful taste. My only question has to do with getting the crust up the sides. After the second crust resting [step 6], the crust was pretty flat in pan. After coming out of the initial baking [step 7] it was flat [not up the sides]. I was just wondering if there is a trick to keeping the dough slightly up the sides to get a raised crust? After step 6 can I form the crust again before putting in for the initial bake? Anyway, just curious. Wonderful recipe.

We're so glad you enjoyed this recipe so much, Adam! Given that your dough fell down the sides before it went into the oven, we wonder if the gluten might not have been relaxed enough during stretching. If this happens again next time, try stretching it up the sides a second time, followed by a second rest. You might also then try a 15 minute rest in the fridge, which would harden up the butter, potentially limiting that slump. If you find that the sides look good going into the oven, but slump in the oven, you could also give it a try without the pre-bake, filling it right up with stuffing to keep the edges nice and tall. Best of luck and happy baking! Mollie@KAF
We really liked this pizza and are going to make it again soon. It was easy enough, and we really liked the tomatoes seasoned as recommended. The one thing I want to try next time is using a very hearty, tangy olive oil because I think it will add flavor to the crust. We loved how the crust was crispy and crunchy on the outside, and it was not gooey on the inside. It was cooked all the way through, which is a trick I seem to have trouble with. In full disclosure, I did not make this recipe following the directions for making the dough. I used a no-knead dough that I already had in the fridge.
I followed the recipe for the dough, and the steps in the blog exactly. I changed the mozzarella out for a non-lactose gouda and used home-made venison and pork Italian sausage. It was delicious, but still not as buttery and flaky as I remember Uno's pizza crust to be.