A customized print-friendly version of this recipe is available by clicking the "Print Recipe" button on this page.
Chicago-Style Deep-Dish Pizza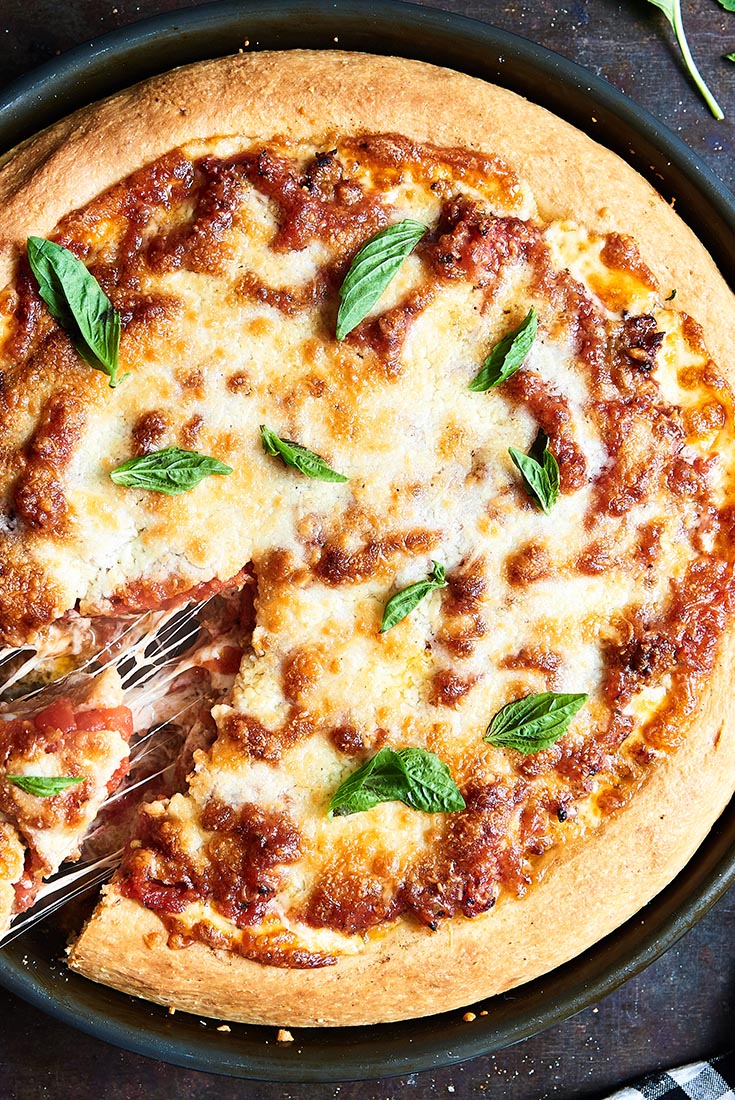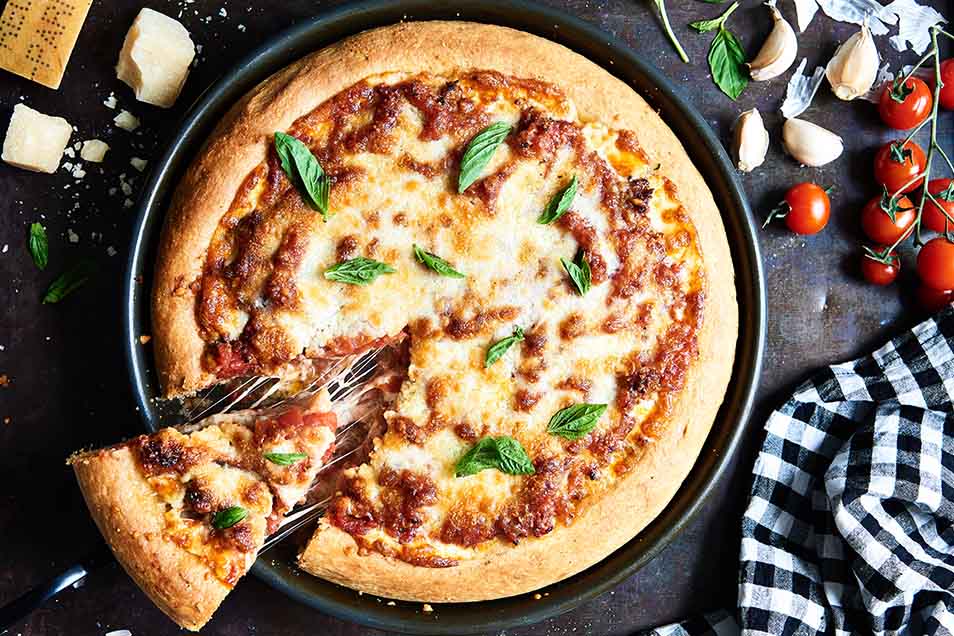 Did you ever wonder about the "pie" in pizza pie? This dish will make that connection clear for you. With its 1 1/2" tall crust cradling distinct layers of cheese, sausage, and tomatoes, this is definitely a knife-and-fork pizza PIE.

The crust, based on a recipe whose supposed provenance is Pizzeria Uno, has an unusual flaky/tender texture, and great taste — courtesy of three types of fat: vegetable oil, olive oil, and butter. Also, the tiny bit of cornmeal adds subtle but delightful crunch.

We like to bake this in a big, 14" deep-dish pizza pan; it makes a spectacular presentation, right out of the oven. But if you don't have a big pan, feel free to use two 9" round cake pans.

Read our blog about this pizza, with additional photos, at Flourish.
Ingredients
Crust
3 tablespoons yellow cornmeal
1 3/4 teaspoons salt
2 3/4 teaspoons instant yeast
2 tablespoons olive oil
4 tablespoons butter, melted
2 tablespoons vegetable oil or salad oil
1 cup + 2 tablespoons lukewarm water
Filling
3/4 lb. mozzarella cheese, sliced
1 pound Italian sweet or hot sausage, cooked and sliced; or about 3 cups of the sautéed vegetables of your choice
28-ounce can plum tomatoes, lightly crushed; or 28-ounce can diced or chopped tomatoes
2 to 4 garlic cloves, peeled and minced, optional
1 tablespoon sugar, optional
1 to 2 teaspoons Pizza Seasoning or mixed dried Italian herbs (oregano, basil, rosemary), to taste
1 cup freshly grated Parmesan or Asiago cheese
2 tablespoons olive oil, to drizzle on top
Instructions
To make the crust: Mix the dough ingredients, and knead — by hand, mixer, or bread machine — to make a smooth crust. This will take about 7 minutes at medium-low speed in a stand mixer.

Place the dough in a lightly oiled bowl or 8-cup measure (which makes it easy to track its rise), cover, and let rise till very puffy, about 60 minutes.
While the dough is rising, ready your 14" deep-dish pizza pan. Grease it with non-stick vegetable oil spray, then pour in 3 to 4 tablespoons olive oil, tilting it to cover the bottom of the pan, and partway up the sides.

Stretch the dough to make as large a circle as you can. You can do this on a lightly oiled baking mat, if you choose; or simply stretch the dough in your hands.

Lay the dough in the pan, and stretch it towards the edges till it starts to shrink back. Cover, and let it rest for 15 minutes. Start preheating the oven to 425°F while the dough rests.

Stretch the dough to cover the bottom of the pan, then gently push it up the sides of the pan. The olive oil may ooze over the edge of the crust; that's OK. Let the crust rest for 15 minutes or so, as your oven comes up to 425°F.

Bake the crust for 10 minutes, until it's set and barely beginning to brown. While it's baking, prepare the filling.

Drain the tomatoes thoroughly. Combine them with the Pizza Seasoning or herbs, and the garlic and sugar (if you're using them). Add salt to taste; you probably won't need any additional salt if you've used the Pizza Seasoning.

Cover the bottom of the crust with the sliced mozzarella, fanning it into the crust. Add the sausage (or sautéed vegetables), then the tomato mixture.

Sprinkle with the grated Parmesan, and drizzle with the olive oil.

Bake the pizza for about 25 minutes, or until the filling is bubbly and the topping is golden brown. Remove it from the oven, and carefully lift it out of the pan onto a rack. A giant spatula is a help here. Allow the pizza to cool for about 15 minutes (or longer, for less oozing) before cutting and serving.

Yield: about 12 servings.
Nutrition Information
Serving Size

1 slice

Servings Per Batch

12
Amount Per Serving:
Calories

420

Calories from Fat

200

Total Fat

22g

Saturated Fat

9g

Trans Fat

0g

Cholesterol

40mg
Sodium

1100mg

Total Carbohydrate

38g

Dietary Fiber

2g

Sugars

3g

Protein

17g
* The nutrition information provided for this recipe is determined by the ESHA Genesis R&D software program. Substituting any ingredients may change the posted nutrition information.
Tips from our bakers
For individual deep-dish pizzas: Grease the wells of an individual hamburger bun pan. Divide the risen dough into 12 equal pieces; if you have a scale, each piece will weigh about 2 1/2 ounces. Roll each piece into a tight ball, then cover six of them and transfer to the refrigerator. Allow the remaining six balls of dough to rest, covered, at room temperature for 20 minutes. Stretch an unrefrigerated dough ball to cover the bottom of a well, then push it up the sides of the pan. Repeat with the remaining dough. After a 15-minute rest, bake the individual crusts for 10 minutes until they're set and barely beginning to brown. Fill, then bake the pizzas for another 20 to 25 minutes, until the filling is bubbly and the topping is golden brown. Repeat with the remaining (refrigerated) dough.
Reviews
I halfed the recipe and made the dough in my bread machine. The dough is very soft and easy to manipulate but i can understand why some people would find it daunting. After it had risen i punched it down, turned it into a ball and turned the bowl over, using it to form the ball into a thick circle. I carefully turned the bowl over my pan to transfer it and spread it out. Two 10 minute rests later the dough was ready to be baked. I filled it with some great pepperoni. It doesn't match my favorite Chicago restaurant's pizza but its its the closest I'll get without a 4 hour road trip.
I've made this recipe probably a dozen times. It's fantastic. The dough is light and flaky...not dense at all. The whole roma tomatoes are a good recommendation...though I've also made it equally well with crushed tomatoes. I also like that I can half the recipe and bake it in a 10' frying pan. I generally load mozzarella on the bottom and top with shredded moz and parm.
I had some doubts on the dough as it was real tough to handle (I don't have a mixer - used good ol' fork n hands to mix) once all the ingredients were mixed. Once I stretched it and placed it on the pan, it looked legit. Tye doubts dissipated. I used this recipe for the sauce but added basil and oregano. Sliced some whole pepperoni and added mushrooms for the filling. Also used fresh mozzarella on the crust floor THEN used shredded, low moisture mozzarella on the top, under the sauce. This crust blew my friggin mind. Incredible recipe and the portion was on point.
Turned out more like a normal deep dish pizza. I would add more butter or oil for a lighter crust. Also let the yeast activate first. I made a nice glossy ball off dough, stretched to pan, let rise. I think the recipe says to let the ball off dough rise first, this might be the difference. It was still good, but not light and flaky enough.
Wonderful pizza recipe!! It is my all time favorite!! I saw one viewer said it was too much flour. Well when you measure flour you should spoon it into the measuring cup. I think many just put the measuring cup directly into the flour packing it tightly and incorporating way too much flour for the recipe! I spooned my flour into the measuring cup and it was great! The crust was light and delicious! Also adding in the different oils and butter in this recipe really makes a difference. I divided the dough into two balls and cooked one in a smaller cast iron and froze the other for later use! Thanks so much for this recipe!! It's a keeper! Also I was wondering for the preparation of the dough it does not mention any sugar and I think yeast rise better with some sugar so I put a 1/2 tbsp of honey in the water that the yeast rose in before putting it into the flour!!
4 cups of flour? This is way too much dough and crust for one 14' pizza. Chicago deep dish pizza is supposed to be light, flaky and buttery like a pie crust. This is not. Maybe if you divided the dough after it came out of the mixer, you might have something. Steps 4 and 5 in the instructions looks to be a duplication. If not, the wording needs to be changed. Also, for most ovens, 425 degrees is too cold to cook something this thick. I guess it is supposed to be 'lower and slower' but the sausage was not done in my pizza at the prescribed time and temp. I spent a lot of money on good ingredients for this pizza and am extremely disappointed in the outcome. Thanks for nothing.

Jimmy, it sounds like you had a frustrating experience using this recipe, which we're genuinely sorry to hear. It's our goal to make pizza baking fun and enjoyable. One thing that may help improve your results next time is noting the flour measurement; we measure very light cups of flour (4 1/4 ounces per cup) rather than scooping directly from the bag of flour (which often compacts it in the cup). The recipe should make enough dough to generously cover the bottom and sides of a 14" pizza.

We appreciate your feedback about steps 4 and 5, and we're happy to clarify. Step 4 calls for stretching the dough into a large circle, gently coaxing it outwards. Then once it's stretched to the right thickness, you can place it in the pan and then allow it to rest. (It's difficult to stretch the dough right in the pan, but you're welcome to give this a shot if you like.) Lastly, it can help to pre-cook some of your toppings if using raw meat (like sausage) to ensure it's fully cooked when the crust is baked and the cheese is melted. We've shared your feedback about some of your concerns with the right team, and we hope these tips help make your next pizza-making experience more enjoyable. Kye@KAF
I made this as 2 small (9') pies since I did not have a large pan pizza pan. The recipe worked fine. Following other recommendations I weighed my flour rather then measured cups. I had to use a little more water then the recipe called for. Finished product was very good. Crust was buttery and not heavy. Even reheated the next day, it was not dry or hard. Next try I will add more of all fillings and try pepperoni instead of sausage. Will be making this again next week. So good!
I made this recipe, but cooked it in a cast iron pan because I don't have a deep dish pizza pan. My crust was super crunchy, to the point of not being able to cut it very well. What am I doing wrong? Is it the pan, is it stretched too thin, is it too deep and I'm baking it too long? Any ideas would be really helpful. I want a well-done crust but without breaking my teeth on it! Thank you!

A couple things could lead to a hard crust, Jaime. One would be overbaking as it would dry out, but the more common one is too much flour in the dough. For ideal measurement accuracy when not using a scale, we recommend fluffing the flour with a whisk or spoon, sprinkling it into the measuring cup, and scraping off the excess. Using this method should definitely soften that crust up! Annabelle@KAF
This recipe was FANTASTIC! I wanted to make one large 12" pizza and two smaller 8" pizzas. Doubling the recipe was going to be too much, so I made the recipe 1.5 times. I did use two packets of yeast because I only had yeast packs on hand. I also proofed my yeast beforehand by adding the water, yeast, a tablespoon of honey, and teaspoon of sugar to my KitchenAid mixer. I also added pizza seasoning to my dough, and it really flavors the crust. I let the mixer do all the kneading work. I made the dough early in the day, and put it in the fridge until I was ready for it. I allowed it to come to room temperature before I handled it. I added veggies to my large pizza that I had sliced very thinly so that they would cook. I didn't want to saute the veggies beforehand because I like that crispness to remain. My goal was to recreate Giordano's Chicago style stuffed pizza, and I can honestly say that this was better! We enjoy Giordano's pizza, but their crust is almost bland. This recipe was anything but bland. This is definitely my go-to recipe from now on! Thanks, King Arthur for another great recipe!
Can the recipe be doubled? Can the dough be frozen?

This recipe can certainly be doubled, and you'll want to double all of the ingredients including the yeast (especially if you'll be freezing the dough). Mix and knead the dough as described and then divide into the number of pizzas you'd like to make. Wrap tightly in plastic or store in zip-top bags that have some extra room for the dough to rise. When you're ready to bake, let the dough thaw in the fridge overnight and then let it rest at room temperature until puffy. Proceed with the recipe as written. Happy baking! Kye@KAF