A customized print-friendly version of this recipe is available by clicking the "Print Recipe" button on this page.
Chocolate Cheesecake Brownies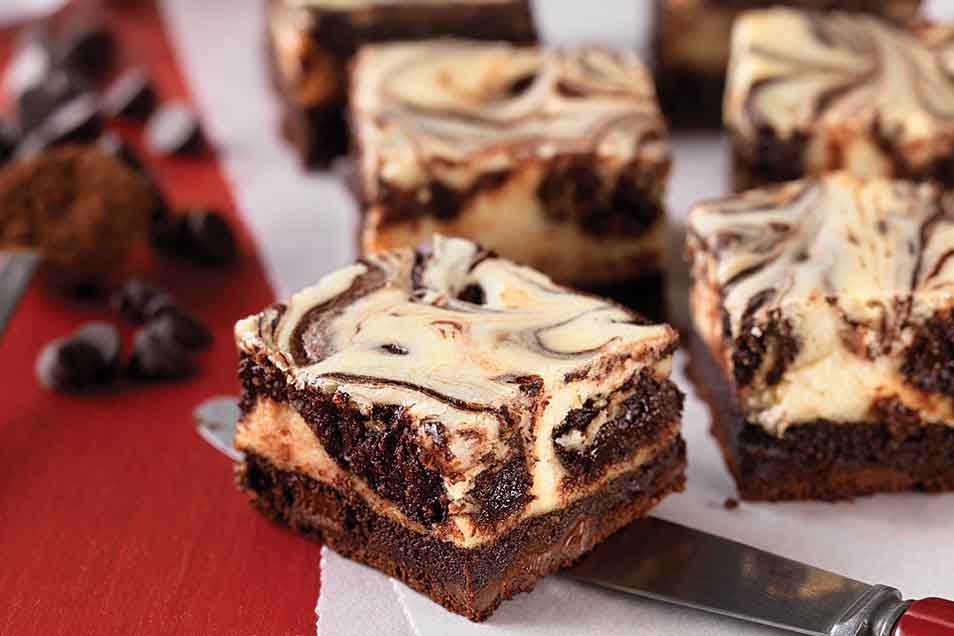 These moist, decadent brownies are for chocolate and cheesecake lovers alike. Each bite fills your mouth with an intensely rich combination of sweetened cream cheese and deep-dark chocolate that, we're certain, won't disappoint — no matter which flavor you prefer.
Ingredients
Cream cheese batter
two 8-ounce packages cream cheese, at room temperature
3/4 cup sugar
2 teaspoons vanilla extract
1/4 cup heavy cream
2 large eggs
Instructions
Preheat the oven to 350°F. Lightly grease a 9" x 13" pan.

To make the brownie batter: In a large saucepan, melt the butter, then stir in the sugar, cooking until the mixture is smooth and shiny.

Remove from the heat and stir in the cocoa, salt, baking powder, espresso powder, and vanilla. Allow to cool slightly, around 5 minutes.

Whisk in the eggs, then the flour, stirring until smooth.

To make the cream cheese batter: Beat the cream cheese until no lumps remain. Mix in the sugar and flour, then the vanilla, cream, and eggs.

Fold the chocolate chips into the brownie batter.

Spoon half the brownie batter into the prepared pan, then top with the cream cheese batter.

Dollop the remaining brownie batter onto the cream cheese, swirling the two together.

Bake the brownies for 40 to 45 minutes, until a tester inserted into the center comes out clean, and the edges are set.

Remove them from the oven, and loosen the edges with a table knife. Cool completely (preferably overnight) before cutting.
Tips from our bakers
To ensure that the moist, sticky brownies release from the pan in one piece, line your greased pan with parchment paper, and grease the parchment.
Substitute Dutch-process cocoa for the all-purpose baking cocoa, if desired.
Reviews
Everyone loves them. The recipe is easy to follow. It's like my 3rd time making them and they can't get enough of them. Are they suppose be refrigerated or are they fine to be out?

Hi Lydia! We're glad to hear that you enjoy this recipe! You will want to store any leftovers in the fridge, for up to three days or freeze them for longer storage. Happy baking! Morgan@KAF
I reduced the sugar by 25 percent for the brownie and by 33 percent for the cheesecake and used 1 cup of chocolate chips. The brownies had a nice deep chocolate flavor. They took a while to make but that's to be expected with 2 separate layers. Excellent recipe.
I'm surprised to see so many positive reviews of this recipe. By the name, these sounded perfect to bake for my family tonight. Instead of chewy brownies, though, I got a huge, dry CAKE. Perhaps I'm incorrect, but I thought that a big part of a brownie recipe is no rising agent (in this case, baking powder). I think it was due to this that the recipe turned into a cake. It resembled nothing of brownies. Bummer.

We're sorry to hear this recipe didn't give you the brownie texture you'd been hoping for, Jessica. Brownie recipes all have some sort of leavening but some are developed to result in a chewier texture rather than cakey. Our recipes for Our Ultimate Chewy Brownies or Fudge Brownies may be more up your alley, so we encourage you to give them a try. Feel free to swirl the cheese mixture from this into the other recipes and follow the time from this one so there's time for the cheese to set. Annabelle@KAF
This is one of my go-to recipes as everyone loves them. A question though: I've never burned the crust of these and they otherwise seem to come out perfect every time; however, I have never been able to bake these while keeping the contrasting cream-cheese part light on the top of the crust, like I see in the pictures! They appear like my brindle dog, which is pretty, but I would like to keep up the contrast between the light and the dark. Any tips would be appreciated. Thanks!

Hi there, fellow baker! We're glad to hear that this recipe is so well-loved by you! To get more contrast between the chocolate and cheesecake batters, it can be helpful to scatter small dollops of the chocolate batter in various spots and use shorter motions when swirling the two. This way you don't have to cut through the swirls you've already made as often. We hope this helps and happy baking! Morgan@KAF
This is my new favorite dessert! It was easy to make and tasted simply decadent. I served it with a berry reduction sauce that complimented it perfectly.
Long prep time but it was good and chocolatey. Thanks again KAF for another good one!
I cheated and used a brownie box mix because I was being lazy, and I only made one pan vs 2. It came out perfect. I baked it for 35 minutes in a 9x13.
Followed directions - Yummy!
THE COOKING TIME IS VERY WRONG. I baked for 40 minutes an the cheese cake part was getting a little golden around the edges, the edges were set and the cake test came out cleanabout 4 out of 6 places tha at I checked. I didn't want to over cook the brownies and figured the other reviews that said 55 mins must be that their oven cooks low. They came out of the oven around 9 pm and at 10 pm I was cutting a hunk out to save for my husband and was going to take the rest of the pan to work the next day for a coworker birthday. Even the corner piece was half baked for the brownie section. It was gooey, there is no question that it was under done. I've got them back in the oven now trying to salvage them but I am very frustrated. Between 1/2 lb butter, 2 packs of cream cheese and the heavy cream, that alone is $9 plus I either won't have this specially requested birthday treat or it's going to not be as good due to the funky bake job to try to fix it. I tasted a few bites of the under done brownie and this is a 5 star recipe but until KAF updates the cooking time, I feel generous giving it 4 stars. I'm NOT a novice cook and my oven cooks evenly. Please be aware that other reviewers are not exaggerating or you could end up wasting a bunch of $ worth of ingredients too.And now I'll be up late waiting for this to cool and go in the fridge for tomorrow, hoping it's ok

Hi Lynda, we're truly sorry to hear you had such a frustrating experience using this recipe. It's our goal for each and every one of our recipes to be reliable and fail-proof. It's best to let these brownies cool overnight (or even put them in the fridge) before serving to help them set. We've asked our Recipe Team to make a note about this to prevent experiences like the one you had. It's also possible that the pan you used insulated the heat differently and required a longer baking time. (Sometimes stoneware or ceramic pans especially need to be baked for longer.) We've shared your feedback with the folks to look into further, and we hope that with a few more minutes in the oven, you were able to get your brownies to turn out just right. Kindly, Kye@KAF
I am not a chef by any means and often have trouble with many recipes on the web. Not this one! Recipe was easy to follow and the result was truly impressive! Delicious! The cream cheese batter was so incredibly tasty, one of the best recipes I've come across. Thank you. My only concern was the butter/sugar process. The sugar didn't seem to blend well and was still very grainy. Perhaps I did not leave it long enough. Is the a specific time needed for that? I was on medium-low heat.

We're glad to hear this recipe brought you so much success, Ryn! It's normal for the butter-and-sugar mixture to have a somewhat grainy texture even after heating. (It's a lot of sugar for that amount of butter!) The sugar will melt while the brownies bake, so it doesn't need to dissolve completely during the initial heating step. There's not a specific time that it needs to be heated for; cook the mixture until it looks smooth and shiny and your brownies will turn out perfectly. Happy baking! Kye@KAF