A customized print-friendly version of this recipe is available by clicking the "Print Recipe" button on this page.
Chocolate Cheesecake Brownies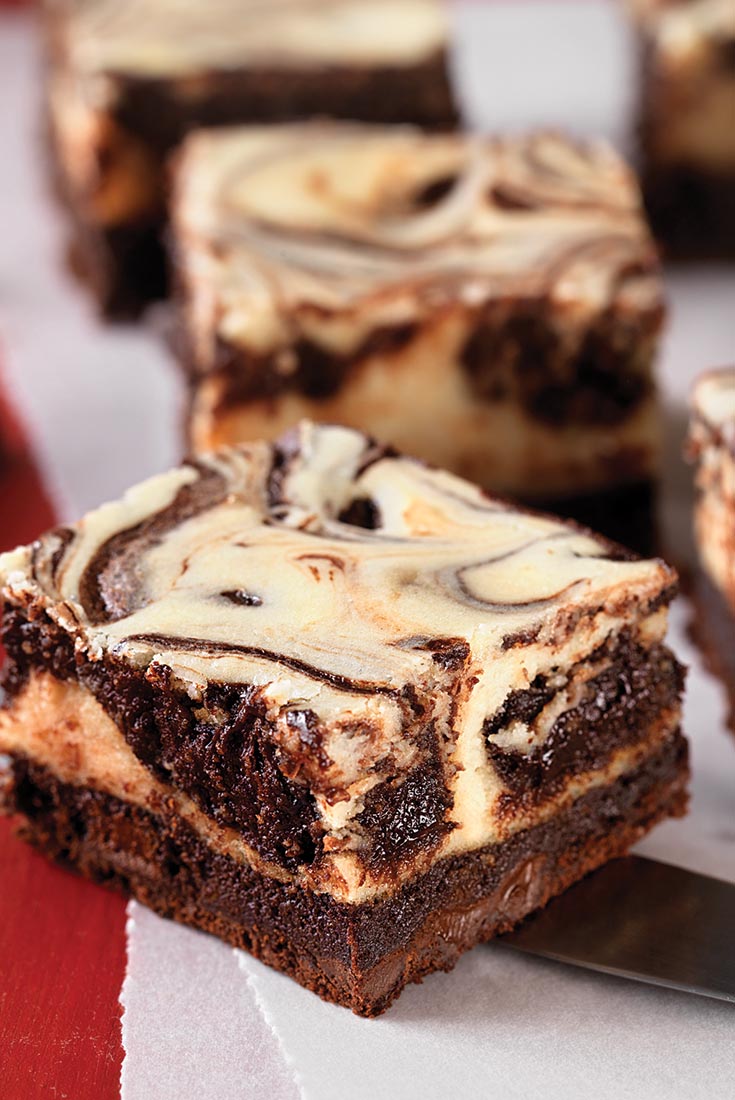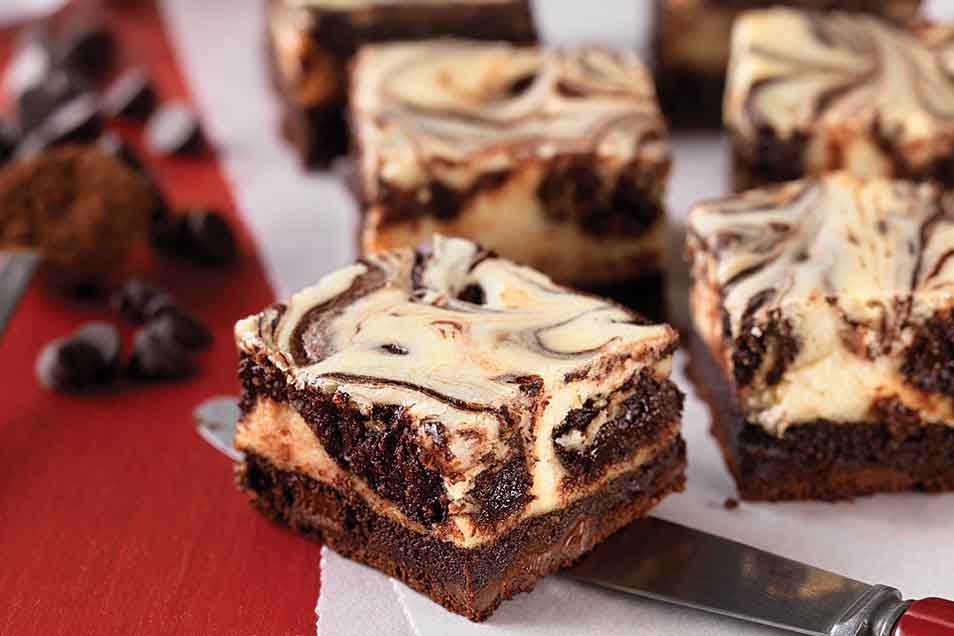 These moist, decadent brownies are for chocolate and cheesecake lovers alike. Each bite fills your mouth with an intensely rich combination of sweetened cream cheese and deep-dark chocolate that, we're certain, won't disappoint — no matter which flavor you prefer.
Ingredients
Cream cheese batter
two 8-ounce packages cream cheese, at room temperature
3/4 cup sugar
2 teaspoons vanilla extract
1/4 cup heavy cream
2 large eggs
Instructions
Preheat the oven to 350°F. Lightly grease a 9" x 13" pan.

To make the brownie batter: In a large saucepan, melt the butter, then stir in the sugar, cooking until the mixture is smooth and shiny.

Remove from the heat and stir in the cocoa, salt, baking powder, espresso powder, and vanilla. Allow to cool slightly, around 5 minutes.

Whisk in the eggs, then the flour, stirring until smooth.

To make the cream cheese batter: Beat the cream cheese until no lumps remain. Mix in the sugar and flour, then the vanilla, cream, and eggs.

Fold the chocolate chips into the brownie batter.

Spoon half the brownie batter into the prepared pan, then top with the cream cheese batter.

Dollop the remaining brownie batter onto the cream cheese, swirling the two together.

Bake the brownies for 35 to 45 minutes, until a tester inserted into the center comes out clean, and the edges are set.

Remove them from the oven, and loosen the edges with a table knife. Cool completely before cutting.

Yield: about 2 dozen 2"-square brownies.
Tips from our bakers
To ensure that the moist, sticky brownies release from the pan in one piece, line your greased pan with parchment paper, and grease the parchment.
Substitute Dutch-process cocoa for the all-purpose baking cocoa, if desired.
Reviews
THE COOKING TIME IS VERY WRONG. I baked for 40 minutes an the cheese cake part was getting a little golden around the edges, the edges were set and the cake test came out cleanabout 4 out of 6 places tha at I checked. I didn't want to over cook the brownies and figured the other reviews that said 55 mins must be that their oven cooks low. They came out of the oven around 9 pm and at 10 pm I was cutting a hunk out to save for my husband and was going to take the rest of the pan to work the next day for a coworker birthday. Even the corner piece was half baked for the brownie section. It was gooey, there is no question that it was under done. I've got them back in the oven now trying to salvage them but I am very frustrated. Between 1/2 lb butter, 2 packs of cream cheese and the heavy cream, that alone is $9 plus I either won't have this specially requested birthday treat or it's going to not be as good due to the funky bake job to try to fix it. I tasted a few bites of the under done brownie and this is a 5 star recipe but until KAF updates the cooking time, I feel generous giving it 4 stars. I'm NOT a novice cook and my oven cooks evenly. Please be aware that other reviewers are not exaggerating or you could end up wasting a bunch of $ worth of ingredients too.And now I'll be up late waiting for this to cool and go in the fridge for tomorrow, hoping it's ok

Hi Lynda, we're truly sorry to hear you had such a frustrating experience using this recipe. It's our goal for each and every one of our recipes to be reliable and fail-proof. It's best to let these brownies cool overnight (or even put them in the fridge) before serving to help them set. We've asked our Recipe Team to make a note about this to prevent experiences like the one you had. It's also possible that the pan you used insulated the heat differently and required a longer baking time. (Sometimes stoneware or ceramic pans especially need to be baked for longer.) We've shared your feedback with the folks to look into further, and we hope that with a few more minutes in the oven, you were able to get your brownies to turn out just right. Kindly, Kye@KAF
I am not a chef by any means and often have trouble with many recipes on the web. Not this one! Recipe was easy to follow and the result was truly impressive! Delicious! The cream cheese batter was so incredibly tasty, one of the best recipes I've come across. Thank you. My only concern was the butter/sugar process. The sugar didn't seem to blend well and was still very grainy. Perhaps I did not leave it long enough. Is the a specific time needed for that? I was on medium-low heat.

We're glad to hear this recipe brought you so much success, Ryn! It's normal for the butter-and-sugar mixture to have a somewhat grainy texture even after heating. (It's a lot of sugar for that amount of butter!) The sugar will melt while the brownies bake, so it doesn't need to dissolve completely during the initial heating step. There's not a specific time that it needs to be heated for; cook the mixture until it looks smooth and shiny and your brownies will turn out perfectly. Happy baking! Kye@KAF
I'm making these for a bake sale at Town Meeting Day....Ah, life in Vermont...., but I need to know how to store them and how far ahead I can bake them. Any advice would be greatly appreciated!

Barbara, store these brownies (uncut) in an airtight container in the fridge. (Already cut brownies tend to dry out faster than uncut brownies.) They can be made up to three days in advance or frozen if you'd like to prepare them further ahead. Happy baking! Kye@KAF
I made these brownies for a Super Bowl family dinner. I only made half the recipe . They came out delicious! Will make them again for the next family get together.
This makes a very large thick batch of very rich brownies that are delicious. If you haven't made them yet a couple of cautions...I expected the butter sugar mixture to actually get smooth (i.e. not grainy from the sugar) so continued to cook an stir for an extended period and the mixture are shiny, smoothish but still grainy. Turned out wonderful anyhow. Also highly recommend having a thermapen. With the addition of the chocolate chips it is hard to get a good read on a normal poke test. It took about 55+ minutes before they reached 180 in my oven. They are wonderful and still chewy. Making half a batch is preferable unless you are having a lot of company or serious chocoholics in the house. Do have some vanilla ice cream around if you like your chocolate diluted a bit.
I particularly like the contrast in flavour and texture between the white and dark batters in these brownies. It also gives a lovely marbled look which is much more attractive than regular brownies. I did not add chocolate chips and did not miss them. I cut the sugar a little for each batter (by less than a 1/4 cup) and found them plenty sweet. They baked about 40 minutes just until a knife came out clean and were perfect. And winter bonus: the -10C weather today came in handy for quick cooling! I lined the glass 13 x 9 pan with parchment paper (which I still lightly butter and flour) and was able to immediately remove the baked brownies from the pan with the parchment, avoiding condensation in the pan during cooling. They cooled in no time on the cooling rack with the help of a crisp north Atlantic wind.
Totally confused by melting butter and sugar. Is it supposed to boil? High heat, low heat? Stir or not? Help!

Emma, this is a technique that we call for in a number of our brownie recipes, as it dissolves more of the sugar, which helps to produce a shiny top crust. You can do this over low heat just until hot (110° to 120°), but not bubbling. You'll notice that it starts to become shiny as you stir it. Mollie@KAF
This is my newest and most popular brownie recipe. Most recently, I doubled the recipe to bake in holiday tins for teachers gifts and one for the family, of course. Will the brownies freeze well? For how long?

Freeze the brownies for up to 1 month, well-wrapped in plastic. It's best to freeze the brownies uncut if possible, as this will prevent them from drying out. Kye@KAF
Wonderful recipe. I was uncertain how long to low cook the butter and sugar. I stirred it the entire time until mixture was about as shiny as I was comfortable with. The mix does have to cool down as noted before adding eggs. Using all the best quality ingredients certainly makes a huge difference in baking outcome. Love the cocoas and chips from KA. As a couple of other bakers, I also added almost ten additional minutes to baking time. Once cool enough to go into the refrigerator, they will have a little rest to chill up before cutting....if they don't disappear before then.
everyone loved these! rich, moist and fudgy...i swirlred in about 1/2 cup raspberry jam (put with spoonfuls over the cream cheese mix before topping with the rest of the brownie batter. excellent. thanks