A customized print-friendly version of this recipe is available by clicking the "Print Recipe" button on this page.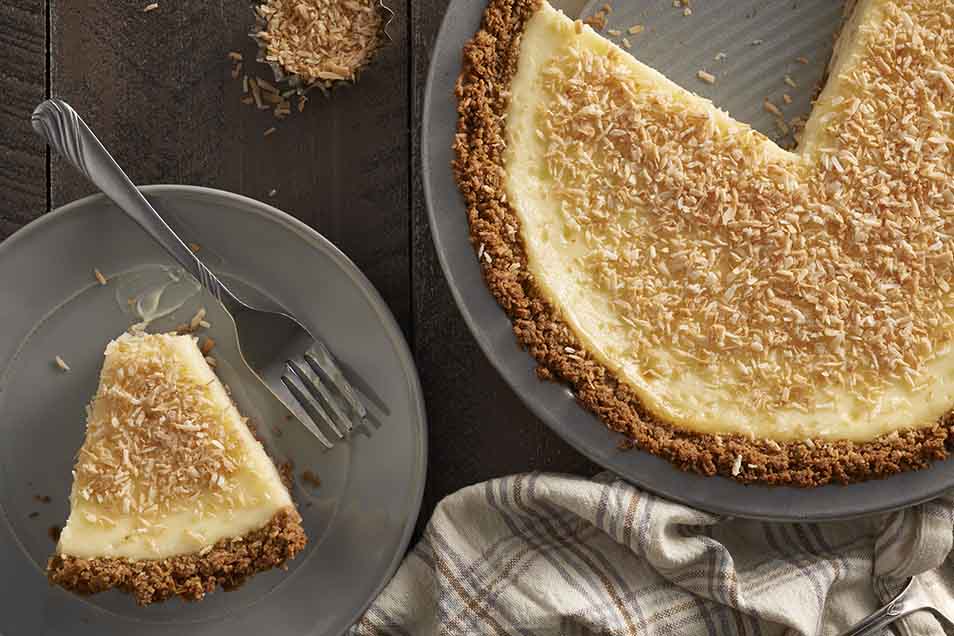 Based on our ever-popular recipe for easy cheesecake, this coconut variation gets its flavor from unsweetened coconut, toasted to perfection in the crust and again for the topping; as well as one of our favorite specialty ingredients, coconut milk powder. If you don't think that coconut and cheesecake go together, this recipe will prove you wrong!
Ingredients
Crust
6 tablespoons unsalted butter, melted
1 cup graham cracker crumbs
1/2 cup unsweetened shredded coconut
1/4 cup confectioners' sugar
1/8 teaspoon salt
Topping
1/4 cup unsweetened shredded coconut
Instructions
Select a pie pan whose inside top dimension is at least 9", and whose height is at least 1 1/4". Preheat the oven to 350°F.

To make the crust: Stir together all the crust ingredients, mixing until thoroughly combined.

Press the crust mixture into the bottom and up the sides of the pie pan, making a thicker layer on the bottom than on the sides.

To make the filling: Mix together the room-temperature cream cheese, sugar, and coconut milk powder until smooth. Mix in the eggs and coconut flavor, again mixing until smooth. To avoid beating too much air into the batter, use a mixer set at low-medium speed. To avoid lumps, make sure the cream cheese is softened, and/or at room temperature.

Set the pie pan onto a baking sheet, if desired; this makes it easier to transport in and out of the oven, and protects the bottom of the crust from any potential scorching. Pour the filling into the crust.

Place the cheesecake in the oven. Bake it for 20 minutes, then add a crust shield; or shield the crust with strips of aluminum foil. Bake for an additional 10 minutes (for a total of about 30 minutes). A digital thermometer inserted into the crust 1" from the edge should read between 165°F and 170°F; the filling won't look entirely set in the center.

Remove the cheesecake from the oven, and set it on a rack to cool.

Toast the coconut for the topping in a 350°F oven on a baking sheet for about 5 minutes, until it's just beginning to turn golden.

Once the cake is cool, top it with the toasted coconut, cover it loosely, and refrigerate it until you're ready to serve it.

Store any leftover cheesecake, covered, in the refrigerator for 2 to 3 days.