A customized print-friendly version of this recipe is available by clicking the "Print Recipe" button on this page.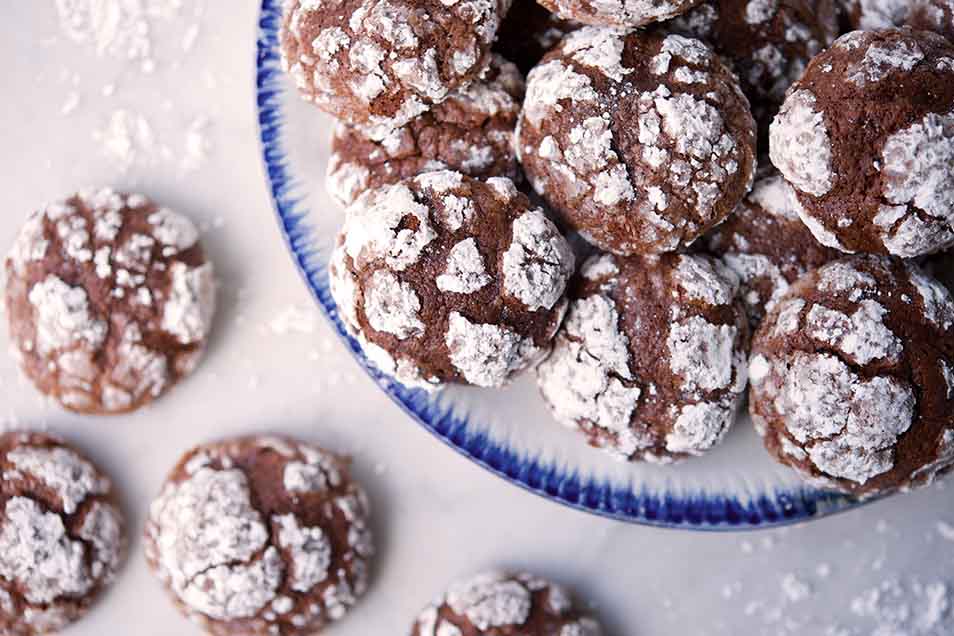 Like every recipe, including the very simplest, this one has gone through a number of permutations. This variation includes espresso powder; it gives the chocolate flavor a boost while adding the merest aromatic hint of itself. For a mocha crinkle, increase the espresso powder to 1 tablespoon or more, to taste. For a peppermint twist, substitute 1/4 teaspoon peppermint oil for the vanilla.
Ingredients
1 1/3 cups chopped bittersweet chocolate or chocolate chips
1/2 cup (8 tablespoons) unsalted butter
2/3 cup granulated sugar
3 large eggs
2 teaspoons vanilla extract
2 teaspoons espresso powder, optional; for enhanced chocolate flavor
1/2 teaspoon baking powder
1/4 teaspoon salt
1 2/3 cups King Arthur Unbleached All-Purpose Flour
confectioners' sugar, for coating
Instructions
To make the dough: Place the chocolate and butter in a small saucepan or microwave-safe bowl, and heat or microwave until the butter melts. Remove it from the heat, and stir until the chocolate melts and the mixture is smooth.

In a separate bowl, beat together the sugar, eggs, vanilla and espresso powder. Stir in the chocolate mixture, baking powder and salt, then the flour. Chill the dough for 2 to 3 hours, or overnight; it'll firm up considerably.

Preheat the oven to 325°F. Lightly grease a couple of baking sheets, or line them with parchment.

To shape the cookies: Put about a cup of confectioners' sugar into a shallow bowl. Using a teaspoon cookie scoop, a spoon, or your fingers, scoop out heaping teaspoon-sized portions of the dough; they should be roughly 1 1/4" in diameter. Drop the dough balls into the confectioners' sugar as you go.

Once about five or six are in the bowl, shake and toss the bowl to coat the balls with the sugar. (If you try to do this with too many balls at a time, they'll just stick together.) Place the cookies on the prepared baking sheets, leaving about 1 1/2" between them.

Bake the cookies for 10 to 12 minutes, switching the position of the pans (top to bottom, and front to back) midway through the baking time. As the cookies bake, they'll flatten out and acquire their distinctive "streaked" appearance.

Remove the cookies from the oven, and allow them to cool on a rack. Store them at room temperature, well wrapped, for several days; freeze for longer storage.
Nutrition Information
Serving Size

2 cookies

Servings Per Batch

30
Amount Per Serving:
Calories

130

Calories from Fat

60

Total Fat

6g

Saturated Fat

4g

Trans Fat

0g

Cholesterol

25mg
Sodium

35mg

Total Carbohydrate

17g

Dietary Fiber

1g

Sugars

11g

Protein

2g
* The nutrition information provided for this recipe is determined by the ESHA Genesis R&D software program. Substituting any ingredients may change the posted nutrition information.
Reviews
I made exactly as the recipe stated and the result was wonderful yummy perfection. I dipped in granulated sugar before the powder sugar dip. Worked great. The bake time in my gas oven was ten minutes.
The dough was more bitter the 2nd time I made these (the baked ones were hard to compare cuz I rolled them in granulated sugar the 2nd time & not the 1st), & I realized that the 1st time around I used bittersweet chocolate with 60% cacao & the 2nd time I used organic bittersweet chocolate with 70% cacao. Does that contribute to the difference in sweetness I experienced (or perhaps problems other people are having?) Also, these darn cookies seem to have broken my brand new cookie scoop! The dough almost feels frozen when taken out of the fridge. Should I let them sit at room temp for 5 or 10min before scooping? Seems like I read that on a similar recipe or in the comments/reviews for a similar recipe.

Hi Jennifer! The higher percentage of cacao would make the cookies significantly more bitter, so we're glad you added a little sugar to balance it out. As for scooping, feel free to let the dough sit on the counter for 15 minutes (or until it's more easily scoopable) before using your scoop. If they're really warm you can always put the scooped cookies back in the fridge before baking to re-firm the dough. Annabelle@KAF
I just wanted to share with all those having trouble with the powdered sugar "melting" into the cookies, there is an easy solution from the wonderful KAF helpline. I called with the same problem and the wonderful baker (I'm so sorry I forgot to write down her name) checked in one of old baking books and the key is granulate sugar. Roll the cookies first in granulated sugar, then powdered sugar. Everyone one in the multiple batches were recipe picture perfect. Thanks again KAF.
I made these today and am disappointed in how they turned out. They did not spread much and are very dry. I rolled them in granulated sugar and then in confectioners sugar and they do have a nice crinkle. I used grams to measure the flour and sugar. For the chocolate I used approx half bittersweet wafers and half semi sweet chocolate chips and added the 2 tsps of espresso powder. The flavor is very strong dark chocolate, almost a bitter aftertaste. Would not use bittersweet chocolate. While I'm not a fan, the husband likes them.

We're sorry this cookie recipe wasn't a hit for you, Gina! They are a dryer cookie than some, but you can certainly add a little extra liquid, especially during the winter months when the cooler, dryer air tends to pull all of the moisture out of our ingredients. Feel free to use a sweeter chocolate if that's you're preference. We think that would be a lovely variation on these cookies! Kat@KAF
I've made several batches now, all delicious. But the powdered sugar topping isn't consistent. I first thought it was a variation in my ingredients that caused the sugar sometimes to be absorbed into the cookie, and sometimes not. My final batch confirmed that this was not the case. From the same batch o batter, I got a definitely mixed result. I couldn't even blame it on variation in oven temperature because I know my oven't hot spots and it didn't follow that pattern either. I do a granulated coating first, before the powder both because I like the thin shell it creates and in the hopes that it will absorb any extra moisture and leave the powder for decoration. The only variable I couldn't control was the temperature of my hands as I roll the scoops of dough briefly before sugaring. The chocolate gradually accumulates on my palms and I have to wash it off several times while making the balls. But I dry my hands thoroughly before touching the dough again. I think this would make a perfect experiment for a future KA "lab". What causes the powder to sometimes get moist and sometimes not? It happens during the oven time, maybe about halfway through. The cookies looked perfect going in. What causes it, and how can it be minimized? Perfectionist bakers wan to know ... chocolate lovers really don't care ... can't decide which I am.

Hmm, that's quite a mystery you have on your hands! It seems like general humidity in the air (rather than heat) might be the culprit, as it can do funky things to baked goods, even within the same batch of cookies. You may get more consistent results with our Snow White Non-Melting Topping Sugar, which is designed specifically for recipes like these. Otherwise, you might just save your powdery crinkles for the perfectionists and the melty ones for the chocolate lovers. (We won't tell!) Kat@KAF
These were a smash-hit at Christmas!! I baked exactly to the recipe, except I had to substitute instant coffee for espresso powder, as I couldn't find any espresso powder. The coffee taste was a lovely complement to the chocolate. When coating with powdered sugar, make sure to coat heavily-- not just a dusting!! Perfect little two-bite cookie!
Came out picture perfect - I wish I could include a picture- and they taste really good. I am not a huge fan a chocolate bakes but I did like this one a lot. The size was perfect because they are so rich. Some people commented that they didn't spread out at all. I only left them in the fridge for slightly less than two hours and they came out shaped like cookies. I guess if they stayed longer in the fridge they wouldn't spread out.
I was making these as a Christmas present for a friend's husband who is a chocolate freak. It was easy to make. I let them sit overnight and the dough definitely firmed up. I could not use a cookie scoop as it was so firm. They did not spread very much and were more 'cakey' than cookie. They look pretty though and the flavor was there. I think he'll like them and we'll eat whatever doesn't fit in the cookie tin. :)
I liked this cookie but probably wouldn't bake it again. The balls seemed to absorb all of the powdered sugar as they baked and came out still a little tacky (on the sugared part) and I even baked them a little longer. After they cooled and I tasted one they were very dry and disappointing. I'd love for some advice on how to make these a little better! I was embarrassed to give them out so I shamefully ate them myself.

Hi Lexi. We're sorry to hear that your Chocolate Crinkles didn't turn out looking the way you had expected. It sounds like your dough was a little too wet and absorbed the confectioners'sugar that it was tossed in. If we can help troubleshoot or pick out a recipe that might be a better fit, please feel free to reach out to our friendly Baker's Hotline folks at 855-371-BAKE (2253). Kindly, Morgan@KAF
Mine stayed more like little balls and didn't flatten out much, but very good soft texture. Used 1 tsp vanilla and 1/4 tsp fiori di sicilia which gave the batch a hint of orange flavor, which has garnered this baker lots of compliments! Another winner.