A customized print-friendly version of this recipe is available by clicking the "Print Recipe" button on this page.
Chocolate Peanut Butter Cookies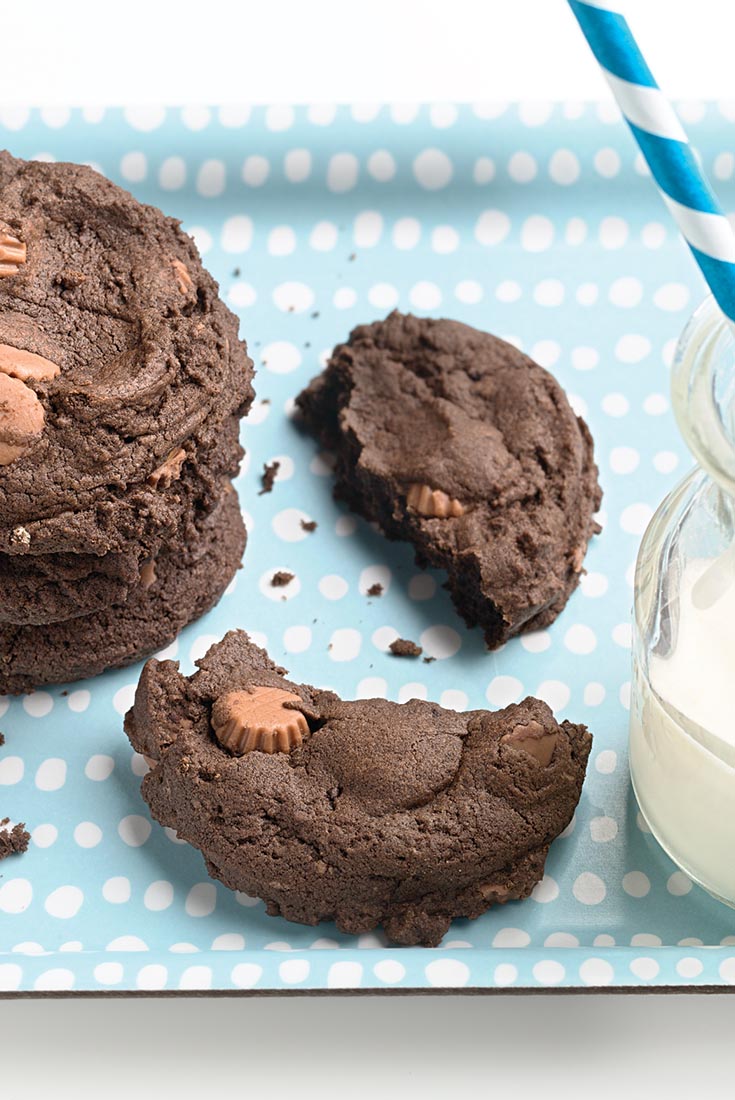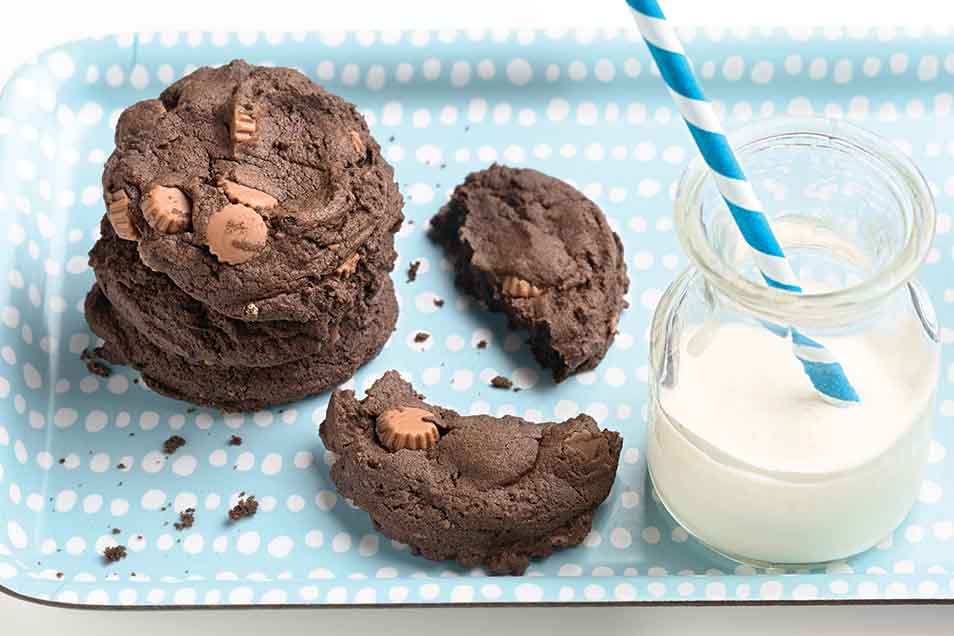 Pools of melty, chocolate-y, peanut butter-y goodness in a scrumptious chocolate cookie.
Instructions
Preheat the oven to 375°F. Lightly grease (or line with parchment) two baking sheets.

In a medium-sized bowl, whisk together the flour, cocoa, baking soda, and salt.

In another bowl, beat together the sugars, butter, and peanut butter until light and fluffy.

Beat in the vanilla, egg, and water, then stir in the dry ingredients, blending well.

Stir in the mini peanut butter cups.

Scoop rounded tablespoonfuls of dough onto the prepared baking sheets; a tablespoon cookie scoop works well here. Flatten each cookie to about 1/2" thick.

Bake the cookies for 7 to 9 minutes, or until they're set and you can smell chocolate. Remove them from the oven, and cool on a rack.

Yield: about 3 dozen cookies.
Reviews
Yummers! I made only three changes. 1 1/2 cups Reeses peanut butter chips instead of mini-peanut butter cups. 3/4 cup brown sugar instead of 1/2 cup white & 1/2 cup brown sugar. 1/2 cup KAF white whole wheat flour for 1/2 cup KAF all-purpose flour. Chilled the dough. These did not spread out much at all. They came out like a cross between a cookie and a really rich brownie. Awesome.
These turned out great. My family loved them. The only substitutions were peanut butter chips instead of the mini peanut butter cups and salted butter instead of unsalted butter, as those were the ingredients on hand. I reduced the salt because of the salted butter. Just baked them today and there are just a few left. Another great recipe. Thank you!
PERFECT! These cookies are delicious and soft with a creamy peanut butter texture and phenomenal peanut butter flavor. I used the mini peanut butter cups available in the bulk aisle of a local supermarket and followed the recipe to exact specifications. I made no substitutions or modifications and will continue to make them as written. Also, these cookies get softer with time, so if you like soft-batch cookies, then these are for you.
These cookies are amazing when warm! I couldn't find mini peanut butter cups where I am, so I used peanut butter chips. A few reviewers thought the cookies were dry and crumbly - I think that would happen only if you didn't flatten the cookies per the instructions. I was nervous about them turning out that way, so I baked for just 7-8 minutes, and they turned out great.
This is a great cookie dough but the fact that the peanut butter cups have hydrogenated fats in them is unconscionable. Charge more but use ingredients known not to be harmful!! I substituted dried cherries as I simply could not bring myself to use the pb cups.
These cookies are a huge hit every time I make them! I use a small cookie scoop, a bit overfilled, and then bake them no more than 9 minutes, in my convection oven. I highly recommend watching carefully so they are barely past being shiny wet in the cracks that might appear- just "set", so they are still soft after letting them cool on parchment lined sheets. They are best the first day or two. Using Reese's brand mini cups is good, but I like the really mini cups I get in bulk at local "natural" type supermarket, as there are more cups per cookie. Thanks for another great recipe, KAF!
Other than mini peanut butter cups, what else would you recommend adding in (and how much of it)?
I think Reese's pieces or peanut butter M&M's might be a nice substitute in this recipe, although they will not be quite so melty and messy. Regular chocolate chips would also work. I would add the same amount. Barb@KAF
I have made this recipe several times now and it is always requested anytime I make them (and have any left over to actually share :) I always make the recipe as written and it turns out moist and delicious. This is one of my family's favorites and is always on our Christmas cookie tray.
These cookies are dry and cake-like. They are not crisp and chewy at all. I followed the directions using your KAF double-dutch dark cocoa and peanut butter cups. I was disappointed in the taste and texture of these cookies. I decided to make these cookies based on the ratings posted. I see my review has not been posted to date: June 19, 2014. I sent in my review of this recipe in April 2014 and again in May 2014 giving this cookie recipe a one-star review. If you do not wish to post all reviews both good and bad, why bother asking for feedback?
We are sorry to hear that your past reviews did not make it to the website Linda. It is our policy to post all reviews whether positive and negative. We post reviews verbatim, and will only edit for profanity or similar content.
For the recipe, we are sorry too to hear that you didn't care for the results. We encourage you to contact our Baker's hotline by phone, email or chat to help troubleshoot what may have gone amiss with the recipe. ~ MJ
SO delicious! Always a hit. If you like chocolate and peanut butter...you'll loves these! They've always been moist and just the right amount of chewy when I've made them.