A customized print-friendly version of this recipe is available by clicking the "Print Recipe" button on this page.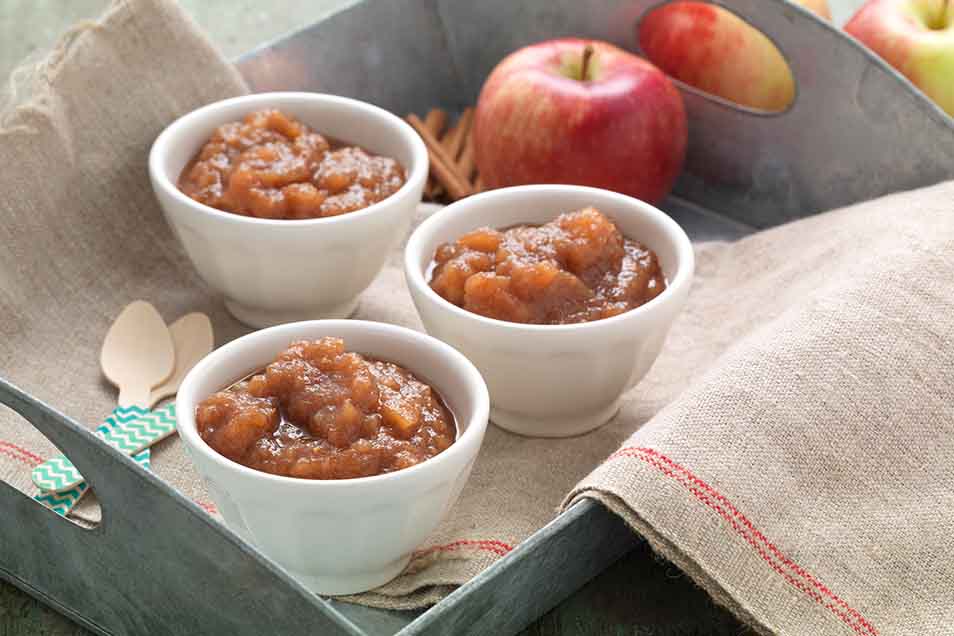 Fall comfort food lists simply must include a big bowl of cinnamon applesauce. Served warm or cold, the heady scent of cinnamon relaxes you and wraps you like your favorite blanket. Our version makes great use of your slow cooker, freeing you up to take in the beauty of the season.
Ingredients
10 to 12 large apples
1/3 cup water
1/3 cup boiled cider
1/2 cup sugar
1 tablespoon cinnamon
2 teaspoons vanilla
Instructions
Peel and coarsely chop the apples, being careful to remove their core and seeds.

Place all of the ingredients except vanilla into a 4- to 6-quart slow cooker. Cook on high for 2 to 3 hours, stirring occasionally.

When the apples are tender, add the vanilla and use a potato masher, whisk, or immersion blender to purée the sauce to your preferred texture.

Serve warm or cold. Store leftover sauce in the refrigerator for up to 1 week. Sauce can be frozen for up to 2 months.

Yield: 3 to 4 cups sauce, depending on the size of apples used.
Tips from our bakers
No slow cooker in the cupboard? Simply cook on the stove top in a heavy-bottomed pan over very low heat, stirring often to prevent scorching.
No boiled cider? Leave it out, and increase the water to 1/2 cup. Or substitute 1/3 cup frozen apple juice concentrate.
Reviews
Oh my word this applesauce is tasty! Making my own never occurred to me until we had a bunch of apples left over from baking a cake. So on a whim I searched KAF for an easy apple recipe and boom! I made it exactly as directed, and the results are delicious. I will definitely be making this again... as in the moment this batch runs out.
Maybe I had apple size issues, but this is way too much cinnamon (so that's all I can taste with this recipe), I recommend starting with maybe 1tsp or not at all.

Feel free to adjust the cinnamon to meet your personal taste preferences -- less or no cinnamon, whatever you like best. The full tablespoon does impart a pleasant robust cinnamon flavor. Kye@KAF
I have yet to find someone who doesn't love this sweet applesauce. We have used all types of apples and it is delicious every time. It is my go to applesauce recipe for sure!
Delicious-my family loved this-both warm and cold. I only used 1/4 cup sugar as other suggested, which was plenty sweet. When I make this again, I'm going to reduce the cinnamon as it seemed strong, but I will definitely be making this again, as my family loves applesauce, and this is certainly tastier, and healthier, than store bought! Thanks for another great recipe.
I loved this recipe, as did everyone else, made my own boiled cider. Used a variety of apples got them from our local farm market, asked for apples that would be good for sauce, sweet and tart. Have passed this on to everyone who tasted it, and posted it on the recipe board at the market.
I made this today with gala apples (what was in house), just boiled cider, no sugar, plus a shot of spiced rum. Boiled cider sweetened it perfectly.
This was delicious! Will make it for Thanksgiving this year. Very easy too.
This is definitely sweet as written (esp. if you use sweeter apples like Fuji - which is what I had a ton of on hand). It is very delicious - almost like a dessert applesauce! I made it on the stovetop - it simmered for a bit over an hour and was completely cooked. I then used my immersion blender right in the pan to get the desired consistency. I will definitely make it again - but with less sugar. Probably will do it on the stovetop, unless it's busy with other things, as it seems like a lot of (cleanup) work to do it in the crockpot. The boiled cider is truly divine in this recipe.
Easy and excellent flavor. I upped the apple count as my apples were not large. Also decreased sugar since I prefer fruit to be more on tart side. I really enjoyed the flavor with the cinnamon, boiled cider and vanilla. Making second batch today.
This is a great recipe and a perfect way to use up the huge bag of apples I picked! I omitted the sugar and added a little maple syrup at the end instead so I could better control the sweetness. I served it for dessert at a little dinner party and everyone was raving that it was like crust-less apple pie! Definitely a keeper!