A customized print-friendly version of this recipe is available by clicking the "Print Recipe" button on this page.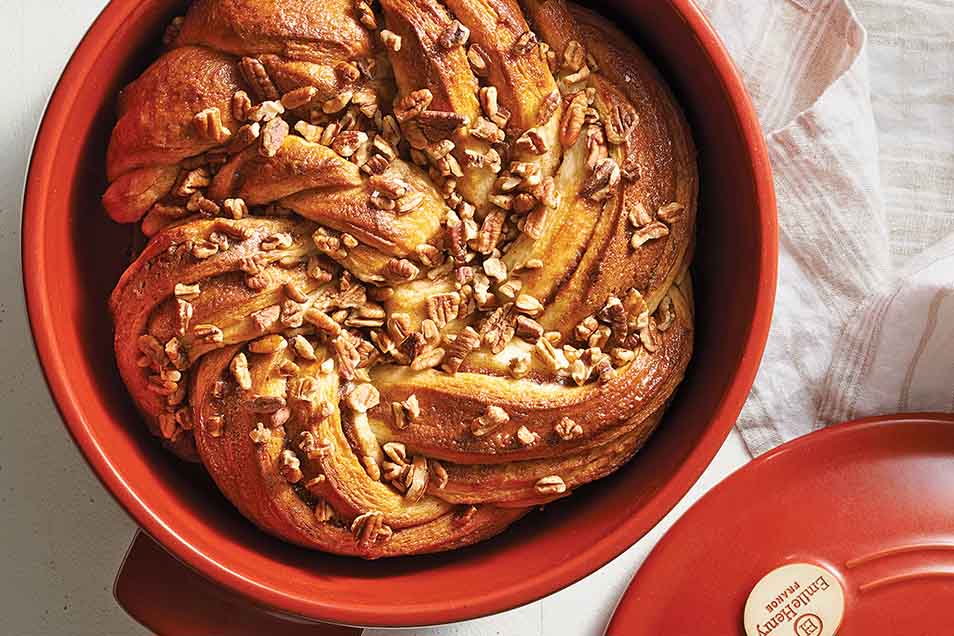 This bread has the look of a classic Russenzopf, but the taste and decadence of a cinnamon roll crossed with a sticky bun. We've baked the loaf in our new Emile cloche because the contained heat helps to bake the loaf more evenly. If you don't have a cloche, a sheet pan and parchment along with close monitoring will work fine.
Ingredients
Dough
1/4 cup potato flour
1/4 cup Baker's Special Dry Milk
3 tablespoons sugar
1 1/4 teaspoons salt
2 1/4 teaspoons instant yeast, SAF Gold instant yeast preferred
6 tablespoons unsalted butter, at room temperature
1 cup lukewarm water
1 teaspoon Buttery Sweet Dough Flavor, optional; for enhanced flavor
Topping
2 tablespoons Sticky Bun Sugar* or granulated sugar
1/2 cup diced pecans, optional
Instructions
To make the dough: Mix and knead all the ingredients together — by hand, mixer, or bread machine set on the dough cycle — until you've made a smooth dough.

Allow the dough to rise, covered, at room temperature, until it's nearly doubled in bulk — about 60 to 90 minutes. Rising may take longer if you haven't used SAF Gold yeast, or if you've kneaded by hand; give the dough enough time to become quite puffy.

Transfer the risen dough to a lightly greased work surface, and pat or roll it into a 24" x 10" rectangle.

Mix the Baker's Cinnamon Filling and water together until they're well combined. Spread the mixture evenly over the surface of the dough.

Roll the dough into a log the long way, then pinch the seam closed as best you can.

Using a bench knife (or large chef's knife), cut the log in half lengthwise.

Twist the two halves together, trying to keep the cut sides facing up as much as possible. It helps to start by crossing the two strands in the middle, and then twisting them to the ends, so that you have smaller strands with which to work.

Form the twisted log into a tight coil and place it on the base of a bread baking cloche or a 4 to 5-quart Dutch oven. Sprinkle the Sticky Bun Sugar and pecans on top.

Cover the loaf with the cloche lid, and let rise until it's noticeably puffy, about 45 minutes to 1 hour. Again, this may take longer if you haven't used SAF Gold yeast; the loaf should spread to almost fill the base of the cloche.

While the loaf is rising, position a rack in the middle of the oven, and preheat the oven to 400°F.

Bake the loaf for 35 to 40 minutes, until it's nicely golden with dark brown cinnamon streaks; the loaf's internal temperature should read between 190°F and 200°F on a digital thermometer. Remove the cover of the cloche 5 to 10 minutes from the end of the bake, to allow a slight crust to form.

Remove the loaf from the oven, and transfer it to a rack to cool.

Yield: one 10" loaf.
Nutrition Information
Serving Size

1 slice (59g)

Servings Per Batch

16
Amount Per Serving:
Calories

190

Calories from Fat

70

Total Fat

8g

Saturated Fat

3g

Trans Fat

0g

Cholesterol

10mg
Sodium

190mg

Total Carbohydrate

26g

Dietary Fiber

1g

Sugars

6g

Protein

4g
* The nutrition information provided for this recipe is determined by the ESHA Genesis R&D software program. Substituting any ingredients may change the posted nutrition information.
Tips from our bakers
If you don't have Baker's Cinnamon Filling, substitute 1/2 cup granulated sugar and 1 tablespoon cinnamon; omit the water. This substitute will be slightly runny, and may spill out onto your baking vessel, so be prepared.
Sticky Bun Sugar yields a nicely gooey, sticky crust to this loaf that regular granulated sugar just can't achieve. If you use granulated sugar, the nuts, if you're using them, won't adhere as well.
We like to bake this loaf in a covered cloche, as the contained heat helps it to bake more evenly. If you don't have a cloche, bake the loaf on a greased or parchment-lined baking sheet for 35 to 45 minutes. You may need to tent the loaf with aluminum foil partway through the bake to prevent the edges and surface from browning too quickly.
Reviews
I don't have potato flour on hand - is there a substitute I can use?

Kara, you can use cornstarch as a 1:1 substitute by volume. It won't give you the same flavor as potato flour, but the texture will be just as soft. Happy baking! Kat@KAF
I've attempted to make this 3 times and 3 times I've thrown it away. I couldn't get it to rise the second time, all the ingredients were brand new so I know it wasn't the yeast.

We're sorry to hear you've been struggling with this recipe! Sweet loaves like this are very slow risers, which is why we call for SAF Gold yeast rather than a more standard yeast type. Too much flour (a very common issue for bakers who are measuring by volume rather than by weight) can also stop a loaf from rising. Finally, there are seasonal issues like cold kitchens, which is an issue every winter. In the end, careful measuring and a lot of patience are the solutions, as it may just take longer (sometimes a LOT longer) to rise than you expect. We hope you have a better experience with your next loaf. Happy baking! Kat@KAF
I have a quick question. Do you think I could incorporate raisins in the bread? Should I add it to the bread or to the filling?

We like the way your thing Jeanne! You can certainly include raisins, 1/2 cup or so, and we'd recommend using them in the filling rather than in the dough itself. Annabelle@KAF
Wonderful results! I did add pecans to the cinnamon filling well as the topping and would increase the cinnamon next time, but it makes for an impressive bread! I found it took 10 plus extra minutes for the center to reach 190* and definitely use a thermometer to check this; outside got a bit browner than I wanted even with the tenting but result was an impressive loaf of sweet and sticky goodness.
Baked this yesterday. Mostly, happy with the result. Looked beautiful. I used the recommended Cinnamon Filling, but everyone agreed there should have been more filling. Also, they all thought adding chopped nuts to the filling would be helpful. I used the Sticky Bun Sugar, which totally dried out and left no "sticky" on the surface.
I have baked this recipe several times and have shared with my neighbors. Its easy to make and cooks wonderfully in my Emile Henry Flame potatoe pot. Very nice recipe, soft dough and tasty.
I give it a 5 star if you add a little drizzle of icing on top!
Easy to make and the perfect amount of sweetness. I made this in a cast iron skillet using the lid from a Le Crueset Dutch oven (Will look for an alternate bake method next time- lid was not tall enough). For filling: Used brown sugar, cinnamon and some KAF pie filling thickener with enough water to make it spreadable - worked perfectly! Just sprinkled with pearl sugar before baking, using up ingredients that I had on hand.
I loved it. It is quite simple you only need a little time to let it rise. I don't have a bread cloche and the second time I did it I used an apple baker and it came out perfect, it was only a little tricky to take the loaf out. For the filling I used the brown sugar, cinnamon and butter as suggested in one of the reviews. I am going to make it very often!
I made this today and now I'm trying to keep my son and husband away from it. I'd like to save some for tomorrow's breakfast. I made the dough in my bread machine; it was very easy to work with, and easily rolled out to the recommended size. Great directions! I didn't have the butter flavor enhancer, the gold yeast or the cloche. I don't feel the rise of the dough was harmed by the regular yeast. I did have and used the other KAF recommended ingredients. In place of the cloche I used a parchment lined 10" tart pan which worked perfectly. This is a definite keeper! Thanks!!