A customized print-friendly version of this recipe is available by clicking the "Print Recipe" button on this page.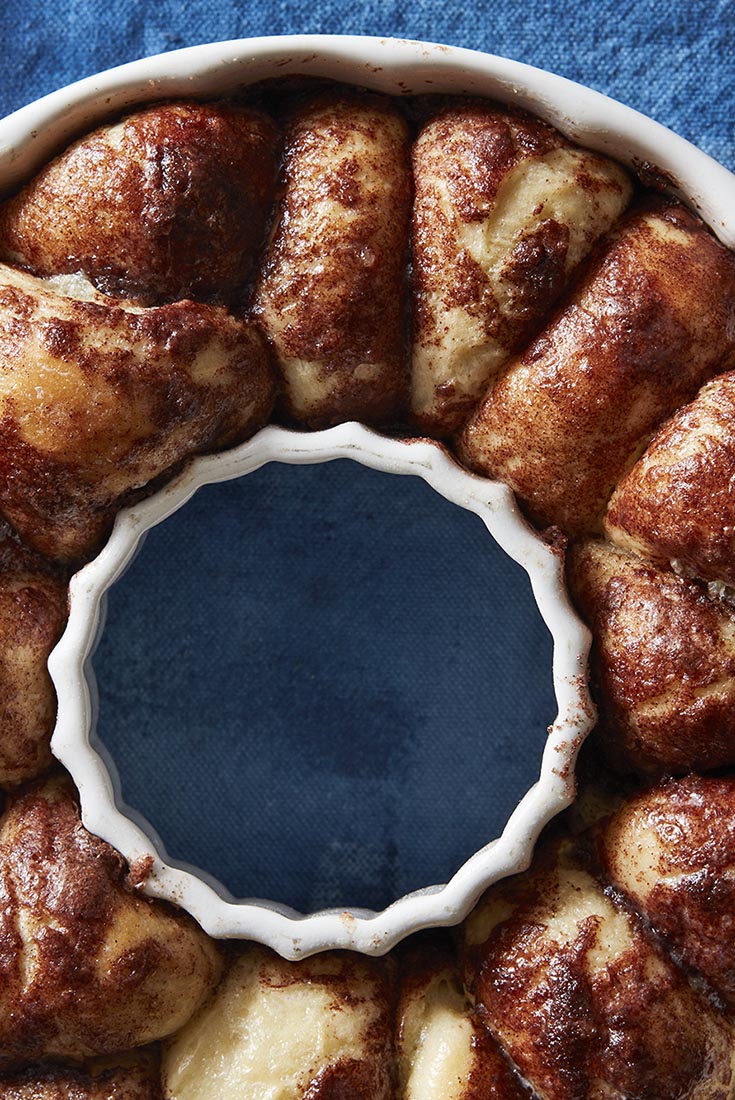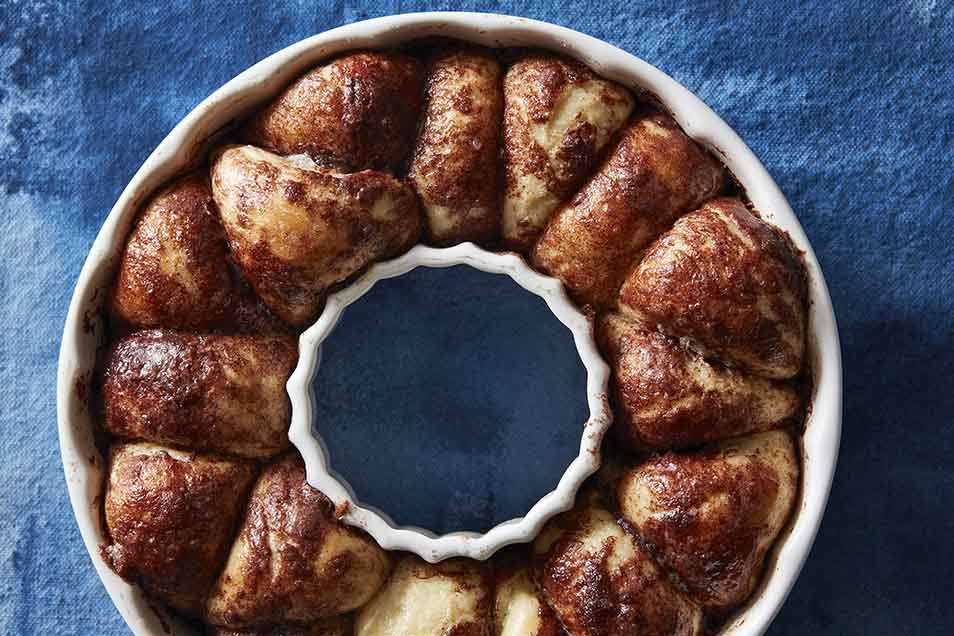 This is the simplest, most basic of all monkey (pull-apart) breads. It's a great introduction to this fun style of loaf, and a great place for kids to start baking with yeast.
Ingredients
Topping
1/2 cup granulated sugar
1 tablespoon cinnamon
Dough
1/2 cup lukewarm water
1 tablespoon vegetable oil
1 large egg
1 teaspoon salt
1 tablespoon sugar
2 teaspoons instant yeast
Instructions
To make the topping: Blend the sugar and cinnamon in a small bowl, or shake them together in a small lidded container. Set aside.

To make the dough: Stir together the water, vegetable oil, egg, salt, sugar, and yeast in a medium bowl.

Add 1 cup of the flour, stirring to blend.

Add the second cup of flour, stirring to make a cohesive dough. Let the dough rest for 5 minutes; this gives the flour a chance to absorb the liquid, making it easier to knead.

Knead the dough — by hand, mixer, or bread machine — until it's soft and smooth.

Place the dough in a lightly greased bowl, cover it, and let the dough rise for 45 to 60 minutes, until it's doubled in size.

Gently deflate the dough, and place it on a clean, lightly greased work surface; a silicone mat works well here. Divide it into pieces about 1 1/2" in diameter; you'll make 16 to 18 pieces.

Lightly grease an 8" round cake pan or 9" tube pan. Dip each dough piece in water, then roll it in the cinnamon-sugar mixture to coat.

Place the pieces in a single layer in the prepared pan. Sprinkle any remaining cinnamon-sugar over the top.

Cover the pan, and let the bread rise for 45 to 60 minutes, until it's visibly puffy. Towards the end of the rising time, preheat the oven to 350°F.

Uncover the pan, and bake the bread for 25 to 30 minutes, until it's golden brown and feels set.

Remove the bread from the oven, and immediately turn the pan over onto a cooling rack. Lift the pan off the bread, and scrape any leftover topping in the pan onto the bread.

Pull the bread apart to serve. Serve warm, or at room temperature.

Store any leftovers, well wrapped, at room temperature for a couple of days; freeze for longer storage.
Reviews
Lovely! i was looking for a dairy free version of Monkey bread and this recipe delivered. I did flavor the dipping water with 1 tsp. Vanilla extract (idea from Maida Heatter's Mile High Cinnamon Bread). I also doubled the recipe as I only had a larger pan. Baked for 25 minutes but might do 22 or 23 minutes next time. Will definitely make again.
Great monkey bread but only if you dip pieces in melted butter instead of water... makes it so much better! I also like to add 1 tsp cinnamon & 1 tsp vanilla to the flour mix too. So delicious!!!! Thanks!
Compared to what I expect from monkey bread, this recipe was on the dry and bland side. Another review accurately described this as biscuits with cinnamon sugar topping. If you're looking for a monkey bread that is more in the sticky/gooey category (which is what I expect from monkey bread) this is not the recipe for you.

We're sorry to hear this recipe didn't hold up to your light and fluffy, ooey-gooey expectations, Jessica. We realize that's important to some bakers when making sweet bread. The dough contains yeast, so it should turn pillowy and soft if given enough time to rise and the right amount of flour is used. (Avoid using too much flour by checking out our "Measuring standards," link next to the ingredients header, above.)

To make this tear-and-share bread more reminiscent of a classic sticky bun, you can try adding up to 4 tablespoons of melted butter and 2-3 tablespoons of maple syrup or corn syrup to the topping to impart a luscious texture. We hope this helps! Kye@KAF
Yummy! I love monkey bread, and this did not disappoint. I found that this recipe didn't make enough dough to fill my pan, but I may just have a larger pan than what King Arthur kitchen uses. I'll probably double it next time.
25 min seems too long for cook time. Will try 22 next time. Used half brown sugar to add more flavor. Good as base recipe. Wonder if coating in butter instead of water would have made for better topping

We do use butter in some of our other monkey bread recipes, Kristen, so feel free to give it a try, along with the lower bake time, in your next batch. Happy baking! Mollie@KAF
I've been making this bread for about 2 years. Ever since I went to Rosie's in Middlebury(AMAZING kid friendly restaurant), and had their Monkey Bread, I've wanted to make my own. This is an amazing recipe. My dad took some to work with him, and his co-workers loved it!
I saw my husband eying the monkey bread at Walmart, so I decided to make some for him. I did make some changes to the recipe, I used half ap flour and half white whole wheat (KA of course) and about a tablespoon of additional water for the dough. I also used 1/2 a cup of homemade brown sugar and 1/2 a cup of granulated sugar and 2 tablespoons of cinnamon for the topping. I just took them out of the oven and burned my mouth wolfing one down, they just smelled soooo good. They were light and fluffy and just the right amount of sweet, my husband loves them and so do the kids.
I followed the recipe exactly as written (60 min for each wait), except I completely subbed KAF white whole wheat for the flour and added 1 tbsp of water to compensate. Turned out with a good taste, but rather dry - like a cinnamon-coated dinner roll, which wasn't what I expected. Next time, I may add another egg to see what happens.
Love it! Like others, I dipped the batter in milk instead of water. Also, I had the second rise in the fridge overnight. Then in the morning, popped it in the oven for 30 minutes. Perfect! Next time might try some sort of cream cheese topping. Thanks!
The BEST! I haven't made monkey bread in years because of how blah it'd turned out with the previous recipes I'd used. Today, housebound for Frankenstorm, I promised my son we'd make some so I found this recipe and am so glad I did. It's almost all gone, and only 3 of us here to eat it:) The only little changes I made: I used one cup whole wheat pastry flour, one cup all purpose four; dipped the pieces in half-and-half instead of water (meant to grab milk like others suggested but this worked great); and for the topping I used 1/4 cup light brown sugar and 1/4 cup organic sugar. Kids LOVE this- the taste, the making, the name- so I am sooo happy to have a good monkey bread recipe!