A customized print-friendly version of this recipe is available by clicking the "Print Recipe" button on this page.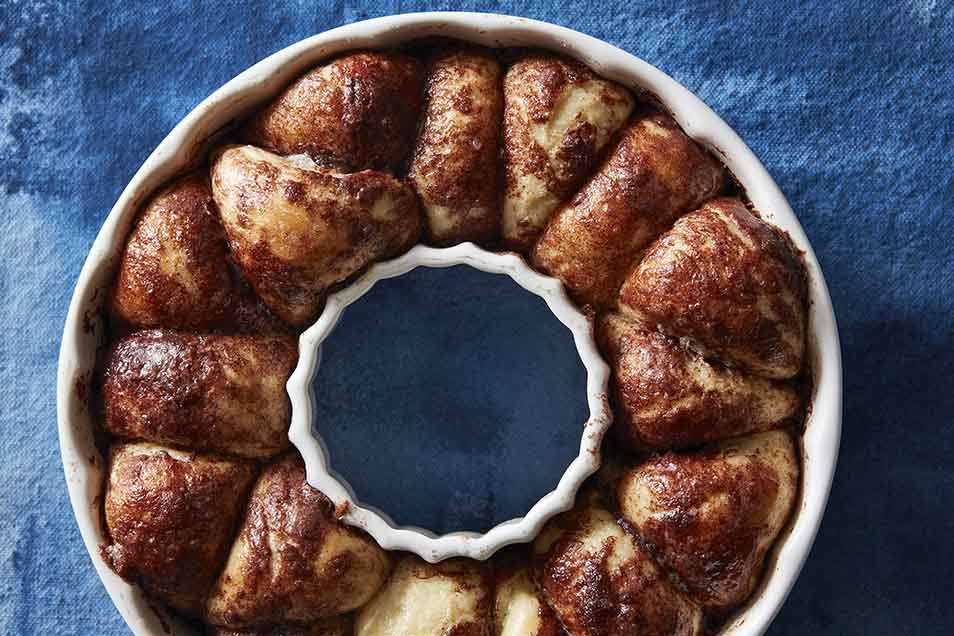 This is the simplest, most basic of all monkey (pull-apart) breads. It's a great introduction to this fun style of loaf, and a great place for kids to start baking with yeast.
Ingredients
Topping
1/2 cup granulated sugar
1 tablespoon cinnamon
Dough
1/2 cup lukewarm water
1 tablespoon vegetable oil
1 large egg
1 teaspoon salt
1 tablespoon sugar
2 teaspoons instant yeast
Instructions
To make the topping: Blend the sugar and cinnamon in a small bowl, or shake them together in a small lidded container. Set aside.

To make the dough: Stir together the water, vegetable oil, egg, salt, sugar, and yeast in a medium bowl.

Add 1 cup of the flour, stirring to blend.

Add the second cup of flour, stirring to make a cohesive dough. Let the dough rest for 5 minutes; this gives the flour a chance to absorb the liquid, making it easier to knead.

Knead the dough — by hand, mixer, or bread machine — until it's soft and smooth.

Place the dough in a lightly greased bowl, cover it, and let the dough rise for 45 to 60 minutes, until it's doubled in size.

Gently deflate the dough, and place it on a clean, lightly greased work surface; a silicone mat works well here. Divide it into pieces about 1 1/2" in diameter; you'll make 16 to 18 pieces.

Lightly grease an 8" round cake pan or 9" tube pan. Dip each dough piece in water, then roll it in the cinnamon-sugar mixture to coat.

Place the pieces in a single layer in the prepared pan. Sprinkle any remaining cinnamon-sugar over the top.

Cover the pan, and let the bread rise for 45 to 60 minutes, until it's visibly puffy. Towards the end of the rising time, preheat the oven to 350°F.

Uncover the pan, and bake the bread for 25 to 30 minutes, until it's golden brown and feels set.

Remove the bread from the oven, and immediately turn the pan over onto a cooling rack. Lift the pan off the bread, and scrape any leftover topping in the pan onto the bread.

Pull the bread apart to serve. Serve warm, or at room temperature.

Store any leftovers, well wrapped, at room temperature for a couple of days; freeze for longer storage.
Reviews
I give this 4 stars because although the bread was wonderful, it needed icing or something to balance it out. I whipped together an icing using 1C powdered sugar, 1/4C butter, 1/4tsp vanilla and added milk until it reached my desired thickness.
This was not gooey in the slightest, it was dry and bland and I followed the directions to a T. Not pleased at all, I'm sorry to say but there was no sweetness, no sugary goodness, it wasn't sticky like monkey bread should be and wouldn't even come out of my bundt pan very very disappointing.

Hi there, Laura. We're sorry to hear that this well-loved recipe didn't do the trick for you. One of the most common reasons why a baked good turns out dry and lacking flavor is because too much flour has snuck its way into the mixing bowl. To ensure you're using the right amount, we recommend checking out the "Recipe Success Guide," link next to the ingredients header above. You'll see that either measuring your flour by weight using a scale, or fluffing and sprinkling the flour into your measuring cup are the best ways to ensure your recipe turns out perfectly. If we can help troubleshoot or pick out a recipe that better fits your tastes, please give our Baker's Hotline a call at 855-371-BAKE (2253). Kindly, Morgan@KAF
This was a great Snow Day activity! My 8-yr old and I are learning how to bake yeast breads and this was one of our first projects. Our dough did not rise initially but the KAF folks helped us solve it (too chilly kitchen!). The recipe was easy to follow and so delicious, we ate all but 5 pieces while still warm! It's a good recipe for learners.
Very good and easy to follow! I've been eating monkey bread since I can remember. Before I could read, I was allowed to cut the canned biscuits. One of my fondest memories of my grandma. Fast forward to now, I've gotten a lot better with dough, so I figured I'd try this one. WOW! This was so much easier than I thought it would be. I used my kitchen aid and scale so not much work or dishes. One adjustment, I add a makeshift caramel. Brown sugar, butter.. microwave it, pour it between the layers. If you're gonna be bad, be reeeeaaal bad!!
This is my new favorite recipe for Monkey Bread. I only make it on Christmas morning and upon request for special occasions. I changed a couple things. 1-I used melted butter instead of oil. 2-I used my bread machine to make the dough. 3-I rolled the dough balls in butter and then rolled them in cinnamon & sugar. 4-I used a cast iron skillet to bake them. My whole family and guests loved them!
This was a pretty good recipe. It was a little dry though, but that also might have been my fault! It needs less time than 30 minutes. I baked it for 30 minutes and it came out a little dry. Also I switched out the water for butter. It made it so good!
Lovely! i was looking for a dairy free version of Monkey bread and this recipe delivered. I did flavor the dipping water with 1 tsp. Vanilla extract (idea from Maida Heatter's Mile High Cinnamon Bread). I also doubled the recipe as I only had a larger pan. Baked for 25 minutes but might do 22 or 23 minutes next time. Will definitely make again.
Great monkey bread but only if you dip pieces in melted butter instead of water... makes it so much better! I also like to add 1 tsp cinnamon & 1 tsp vanilla to the flour mix too. So delicious!!!! Thanks!
Compared to what I expect from monkey bread, this recipe was on the dry and bland side. Another review accurately described this as biscuits with cinnamon sugar topping. If you're looking for a monkey bread that is more in the sticky/gooey category (which is what I expect from monkey bread) this is not the recipe for you.

We're sorry to hear this recipe didn't hold up to your light and fluffy, ooey-gooey expectations, Jessica. We realize that's important to some bakers when making sweet bread. The dough contains yeast, so it should turn pillowy and soft if given enough time to rise and the right amount of flour is used. (Avoid using too much flour by checking out our "Measuring standards," link next to the ingredients header, above.)

To make this tear-and-share bread more reminiscent of a classic sticky bun, you can try adding up to 4 tablespoons of melted butter and 2-3 tablespoons of maple syrup or corn syrup to the topping to impart a luscious texture. We hope this helps! Kye@KAF
Yummy! I love monkey bread, and this did not disappoint. I found that this recipe didn't make enough dough to fill my pan, but I may just have a larger pan than what King Arthur kitchen uses. I'll probably double it next time.