A customized print-friendly version of this recipe is available by clicking the "Print Recipe" button on this page.
Cinnamon-Swirl Pumpkin Rolls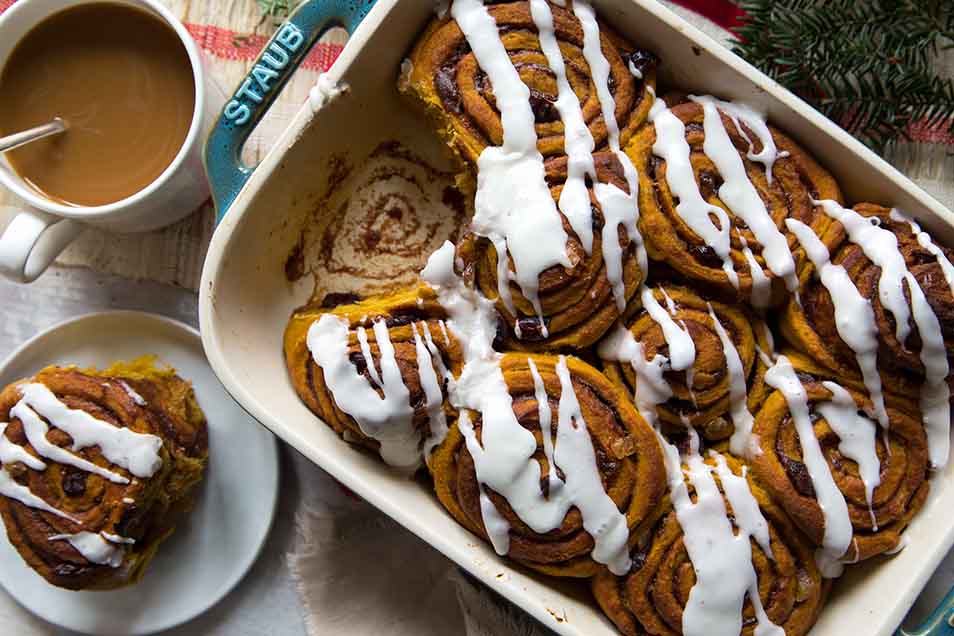 These cinnamon-roll lookalikes are made with a golden, pumpkin-scented dough and lots of spice.

Read our blog about these rolls, with additional photos, at Flourish.
Ingredients
Dough
1 cup canned pumpkin or squash
2 large eggs
2 tablespoons to 1/4 cup lukewarm water*
1/4 cup soft butter
2 1/2 cups King Arthur Unbleached All-Purpose Flour
1 3/4 cups King Arthur White Whole Wheat Flour
1/4 cup Baker's Special Dry Milk or nonfat dry milk
1 teaspoon ground cinnamon
1/2 teaspoon ground ginger
1/4 teaspoon ground cloves, optional
3 tablespoons brown sugar, light or dark
1 1/2 teaspoons salt
2 teaspoons instant yeast
*Adjust the amount of water by the time of year or your climate. For summer, or in a humid enivronment, use the lesser amount of water. In winter, or in a dry climate, use the greater amount. It's always best to start with the lesser amount; you can
Filling
3/4 cup Baker's Cinnamon Filling*
3 tablespoons water
1/2 cup minced crystallized ginger, raisins, or dried cranberries, optional
*Substitute 3/4 cup granulated sugar and 1 tablespoon ground cinnamon for the Baker's Cinnamon Filling and water, if desired. If you use sugar and cinnamon, DO NOT ADD THE WATER.
Glaze
1 cup glazing or confectioners' sugar
1 tablespoon butter
1 1/2 tablespoons milk, or enough to make a "drizzlable" glaze
Instructions
Mix and knead all of the dough ingredients together — by hand, mixer, or bread machine — until you've made a soft, fairly smooth dough.

Place the dough in a lightly greased bowl, cover the bowl, and allow the dough to rise for 1 1/2 hours, until it's almost doubled in bulk.

Turn the dough out onto a lightly greased surface. Roll it into a 14" x 22" rectangle; the dough will be thin.

Mix the cinnamon filling and water. Spread a thin layer over the dough, leaving one short edge free of filling.

Sprinkle with crystallized ginger or dried fruit (or both), if desired.

Starting with the short end that's covered with filling, roll the dough into a log.

Cut the log into nine 1 ½"-thick rolls.

Place the rolls into a lightly greased 9" x 9" pan that's at least 2" deep. Set aside, covered, to rise for 1 hour, or until the rolls look puffy.

Bake the rolls in a preheated 375°F oven for 25 to 30 minutes, until they're lightly browned and feel set. Remove them from the oven, and set them on a rack. Turn them out of the pan, and allow them to cool for about 15 minutes. Towards the end of the cooling time, make the glaze.

To make the glaze: Heat the butter and milk together till the butter melts. Whisk into the sugar.

Drizzle the warm rolls with the warm glaze. Sprinkle with chopped nuts, if desired.

Yield: 9 rolls.
Tips from our bakers
For a glaze that stays white and remains on top of the rolls, rather than partially melting in, allow the rolls to cool completely before glazing.
Reviews
Made this for brunch at the cabin....at nearly 11,000 ft elevation. The flavor was amazing! They were a little dense but perfectly moist. For the filling, I spread about 3 Tbsp. Salted butter, all of the cinnamon with brown sugar and 3/4 c. dried cranberries but next time will try 1/2 c. cranberries and 1/4 c. minced crystallized ginger. For the topping I used 1/2 c. softened cream cheese, 1 1/2 c. powdered sugar, a dash of salt and enough maple syrup to loosen it a bit. Delish!!! My sister says she'd prefer these 3 to 1 over regular cinnamon rolls.
I'm always looking for ways to use pumpkin so I was intrigued when I ran across this recipe. I made this yesterday. Just a couple of substitutions, I used walnut oil in place of the butter and omitted one of the egg yolks (used one whole egg and one egg white, added another tablespoon of water to make up for it). I didn't use the dried cranberries or crystallized ginger because I didn't have that, plus I like raisins in my cinnamon rolls, so I used raisins. I mixed and kneaded it in my stand mixer, no problems. The dough rose nicely and rolling it out was not a problem, the dough did not snap back. They baked up nicely. I like the flavor a lot and also like the color. I'll make these again.
These fabulous rolls will headline our Thanksgiving breakfast! We loved the combination of flavors, and found them pleasantly less sweet than the typical cinnamon roll. I used both candied ginger and dried cranberries atop the KAF cinnamon filling and substituted cream cheese frosting as suggested by other reviewers.
These cinnamon rolls are so moist! And the color is beautiful. I didn't put the spices in the batter although I did the cinnamon filling in the roll. I'm sure these are going to be a big hit I think they're delicious!
I made the rolls as directed, but smaller, yielding 13 rolls. The dough was heavy in my opinion, even though the rise was fine both times. Also, I made the topping as directed and think a cream cheese topping would better compliment the pumpkin. I enjoyed making them, but will probably not bother again.

Thanks for sharing your baking experience with us. One of the most common reasons why baked goods (and sweet rolls in particular) turn out dry and heavy is because too much flour is used. To ensure you're using the right amount, we recommend checking out the "Measuring Standards," link next to the ingredients header above. You'll see that either measuring your flour by weight using a scale, or fluffing and sprinkling the flour into your measuring cup are the best ways to ensure your recipe turns out perfectly. Kye@KAF
A great recipe! I doubled it (needed more than 9 rolls, plus that way I could use a whole can of pumpkin) and used the stand mixer, which almost overflowed but handled it. Also used an overnight rise. The dough was stiff, but handled well with a rolling pin. I'll be going back to bake this many times, I'm sure.
I love these rolls and everyone I have made them for dose too. I now have a sourdough starter and was wondering if I could use it in this recipe?

This recipe isn't a good contestant for adding in sourdough starter since there is very little liquid in it. When you add in 1 cup of starter for example, you have to reduce the water by 1/2 cup. Since this dough only uses about 2 tablespoons to 1/4 cup of water, you'll have best results reserving your starter for something else. Happy baking! Kye@KAF
Everyone loves these cinnamon rolls! I make 2 dozen smallish ones from this recipe rather than 9 enormous ones. Even my oh-so-picky 4-year-old grandson likes them. And since they have a cup of pumpkin in them, they count as a vegetable, you know! :)
Straight forward and delicious recipe. Didn't have White Whole Wheat and used regular Whole Wheat flour with great results. Nice spin on a traditional cinnamon bun recipe.
THESE ROLLS helped me win a bake-off at work! They were perfect! I used a cinnamon cream cheese frosting and sprinkled pecans on top. Gorgeous! Thank you KAF :)