A customized print-friendly version of this recipe is available by clicking the "Print Recipe" button on this page.
Cinnamon-Swirl Pumpkin Rolls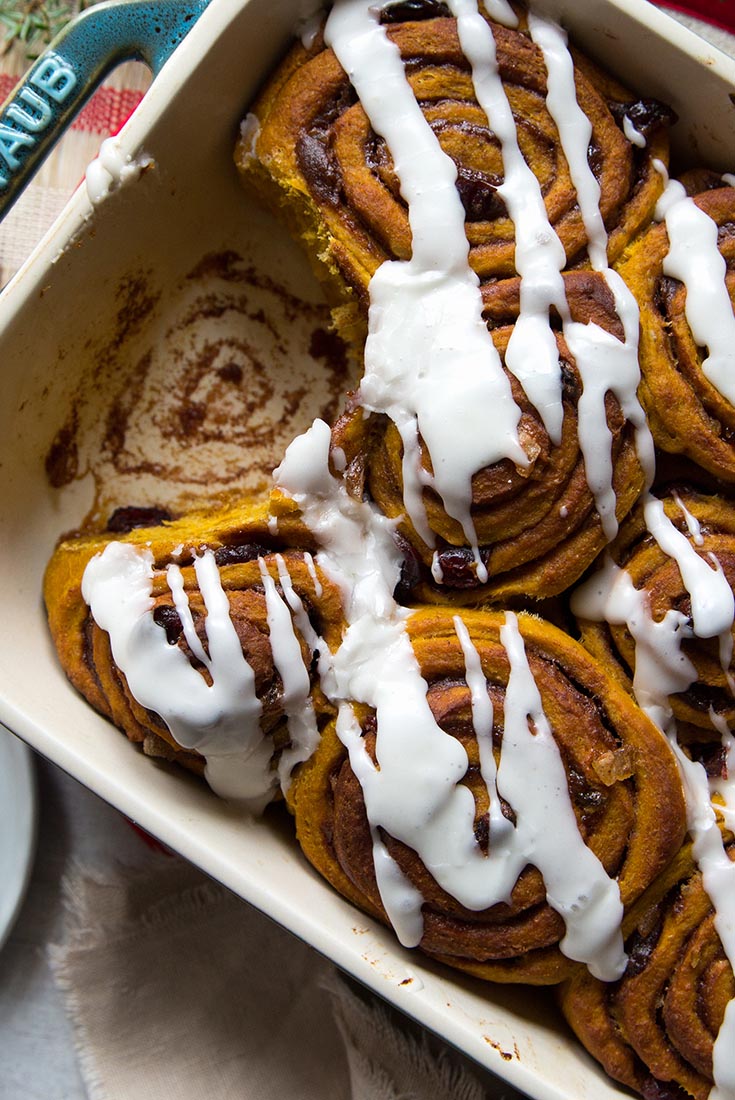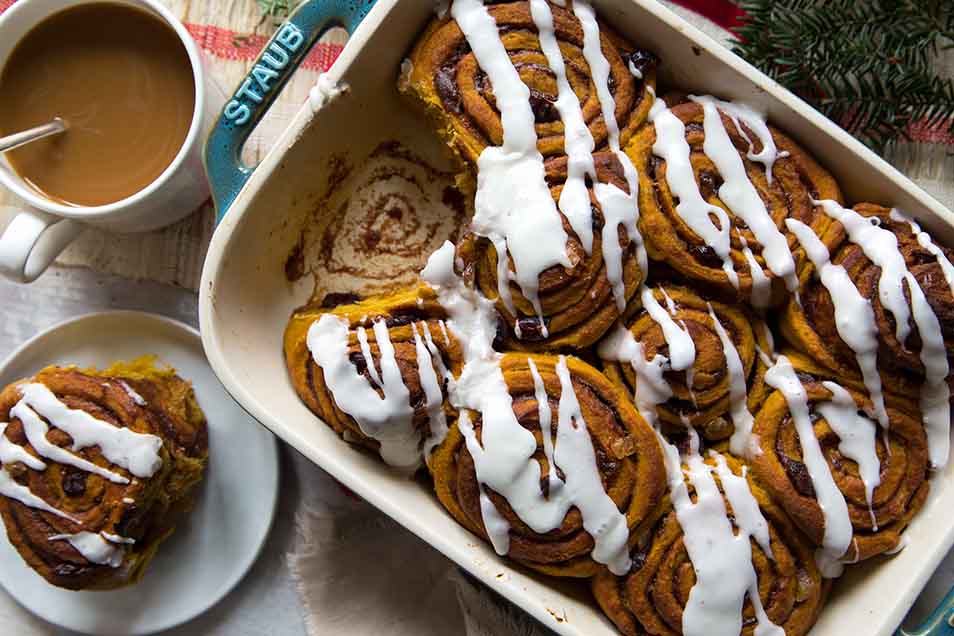 These cinnamon-roll lookalikes are made with a golden, pumpkin-scented dough and lots of spice.

Read our blog about these rolls, with additional photos, at Flourish.
Ingredients
Dough
1 cup canned pumpkin or squash
2 large eggs
2 tablespoons to 1/4 cup lukewarm water*
1/4 cup soft butter
2 1/2 cups King Arthur Unbleached All-Purpose Flour
1 3/4 cups King Arthur White Whole Wheat Flour
1/4 cup Baker's Special Dry Milk or nonfat dry milk
1 teaspoon ground cinnamon
1/2 teaspoon ground ginger
1/4 teaspoon ground cloves, optional
3 tablespoons brown sugar, light or dark
1 1/2 teaspoons salt
2 teaspoons instant yeast
*Adjust the amount of water by the time of year or your climate. For summer, or in a humid enivronment, use the lesser amount of water. In winter, or in a dry climate, use the greater amount. It's always best to start with the lesser amount; you can
Filling
3/4 cup Baker's Cinnamon Filling*
3 tablespoons water
1/2 cup minced crystallized ginger, raisins, or dried cranberries, optional
*Substitute 3/4 cup granulated sugar and 1 tablespoon ground cinnamon for the Baker's Cinnamon Filling and water, if desired. If you use sugar and cinnamon, DO NOT ADD THE WATER.
Glaze
1 cup glazing or confectioners' sugar
1 tablespoon butter
1 1/2 tablespoons milk, or enough to make a "drizzlable" glaze
Instructions
Mix and knead all of the dough ingredients together — by hand, mixer, or bread machine — until you've made a soft, fairly smooth dough.

Place the dough in a lightly greased bowl, cover the bowl, and allow the dough to rise for 1 1/2 hours, until it's almost doubled in bulk.

Turn the dough out onto a lightly greased surface. Roll it into a 14" x 22" rectangle; the dough will be thin.

Mix the cinnamon filling and water. Spread a thin layer over the dough, leaving one short edge free of filling.

Sprinkle with crystallized ginger or dried fruit (or both), if desired.

Starting with the short end that's covered with filling, roll the dough into a log.

Cut the log into nine 1 ½"-thick rolls.

Place the rolls into a lightly greased 9" x 9" pan that's at least 2" deep. Set aside, covered, to rise for 1 hour, or until the rolls look puffy.

Bake the rolls in a preheated 375°F oven for 25 to 30 minutes, until they're lightly browned and feel set. Remove them from the oven, and set them on a rack. Turn them out of the pan, and allow them to cool for about 15 minutes. Towards the end of the cooling time, make the glaze.

To make the glaze: Heat the butter and milk together till the butter melts. Whisk into the sugar.

Drizzle the warm rolls with the warm glaze. Sprinkle with chopped nuts, if desired.

Yield: 9 rolls.
Tips from our bakers
For a glaze that stays white and remains on top of the rolls, rather than partially melting in, allow the rolls to cool completely before glazing.
Reviews
A great recipe! I doubled it (needed more than 9 rolls, plus that way I could use a whole can of pumpkin) and used the stand mixer, which almost overflowed but handled it. Also used an overnight rise. The dough was stiff, but handled well with a rolling pin. I'll be going back to bake this many times, I'm sure.
I love these rolls and everyone I have made them for dose too. I now have a sourdough starter and was wondering if I could use it in this recipe?

This recipe isn't a good contestant for adding in sourdough starter since there is very little liquid in it. When you add in 1 cup of starter for example, you have to reduce the water by 1/2 cup. Since this dough only uses about 2 tablespoons to 1/4 cup of water, you'll have best results reserving your starter for something else. Happy baking! Kye@KAF
Everyone loves these cinnamon rolls! I make 2 dozen smallish ones from this recipe rather than 9 enormous ones. Even my oh-so-picky 4-year-old grandson likes them. And since they have a cup of pumpkin in them, they count as a vegetable, you know! :)
Straight forward and delicious recipe. Didn't have White Whole Wheat and used regular Whole Wheat flour with great results. Nice spin on a traditional cinnamon bun recipe.
THESE ROLLS helped me win a bake-off at work! They were perfect! I used a cinnamon cream cheese frosting and sprinkled pecans on top. Gorgeous! Thank you KAF :)
I wanted to like these after reading all of the reviews. I normally make the CinnaBun recipe from this site and they're wonderful. However, after making these, I just don't care for the texture. The dough was nice to work with and they smelled great while baking but I found the texture a bit too dense like some other reviewers. The rolls were definitely golden and baked through but they still weren't great.
I'm sorry this recipe did not meet your expectations. We'd love to help you troubleshoot this or any recipe at the Baker's Hotline 855-371-2253. Barb@KAF
Easy to make and well received. These tasted like fall and scented my House when they were baking. Brought them to work for a fundraiser and everyone loved them. Thank you KAF : ).
These were absolutely incredible! I was worried about them not being pumpkin-y enough, so I added a teaspoon of natural pumpkin pie flavoring to the dough, since that has a good amount of pumpkin notes and not just the pie spices. I don't know how easy that is to get; but my local and rather famous kitchen shop in Philly's Italian market has it. Other than that, I didn't change the dough, and it was a wonderful dough to work with. It rolled really easily. I made mine smaller, by rolling out half the dough at a time, and ended up with skinny 2 inch diameter logs. I put 7 little ones in a 6 inch cake pan, and froze 2 more batches ready to cook the same way (21 rolls total, could've gotten a few more if I didn't waste the scraps). For that, I put 2 layers of plastic wrap into a 6 inch pan, nestled the unrisen dough inside, folded the plastic over, and stuck the pans in the freezer. Once they were solid, I moved the whole plastic wrapped disk to a ziploc bag. Last night I took one out and unwrapped it, and put them in the pan to thaw and rise covered overnight on the counter, and they're still perfect! I topped them with leftover cream cheese frosting from making carrot cake on Saturday, and I've been recommending this recipe to everyone I know.
I made these rolls yesterday and they are fantastic! I LOVE pumpkin and these had just the right flavor balance and subtle sweetness. I used a 9" cake pan for this batch, gave away some of these to a friend, and decided that next time I'm making a full batch for each household! I used 2 TB of cake enhancer in the dough and Vietnamese cinnamon with sugar for the filling. Like many others, I also made a cream cheese icing instead of the glaze and topped the rolls with chopped toasted pecans. The cake enhancer was probably unnecessary since these got eaten so fast. Thanks for another wonderful recipe!
Taste-wise it wasn't sweet but I like the spices. Used 3 1/2 cups APF and then 3/4 cup WWF. No dried milk so used 1/2 cup 1% milk for the liquid Took longer to rise the first time and left it out overnight to get a big 2nd rising Filled with 1/2 Trader Joe's Almond Cocoa and pecans on one side and did the cinnamon sugar, dried cranberries and pecans on the other half. Used a Maple sugar sour cream glaze instead. It was good but surprisingly not sweet!