A customized print-friendly version of this recipe is available by clicking the "Print Recipe" button on this page.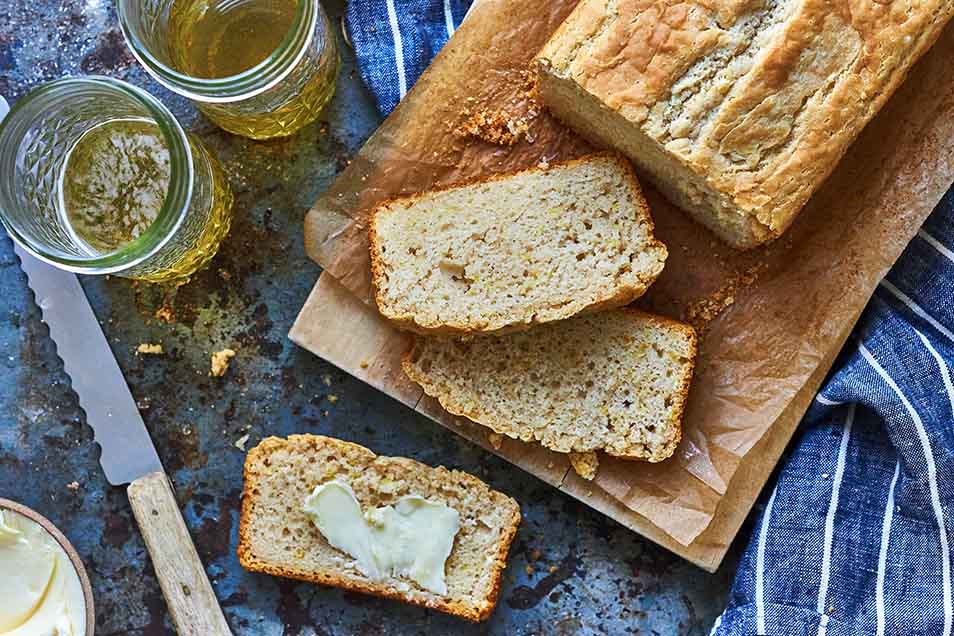 Raise your hand if beer bread was the first type of bread you learned to bake! This classic recipe, with its four simple ingredients, requires nothing more than a bowl, spoon, pan, and oven in the way of tools. Beloved of busy bakers everywhere, the bread is moist, nicely dense and chewy, perfect for toast and sandwiches.
Ingredients
1 to 4 tablespoons sugar, to taste
4 tablespoons melted butter, divided
1 1/2 cups beer
Instructions
Preheat the oven to 375°F. Lightly grease a 9" x 5" loaf pan.

Mix the flour, sugar, 3 tablespoons of the melted butter, and the beer, stirring until fairly smooth; don't worry about a scattering of small lumps.

Spoon the batter into the prepared pan, smoothing the top. Drizzle with the remaining 1 tablespoon melted butter.

Bake the bread for 45 to 50 minutes, until a toothpick inserted about 1/2" into the top of the loaf comes out clean, or with a few moist crumbs clinging to it.

Remove the bread from the oven, and after 5 minutes turn it out onto a rack to cool.

Wait until the bread cools completely before slicing. Store airtight at room temperature.
Nutrition Information
Serving Size

42g

Servings Per Batch

18
Amount Per Serving:
Calories

100

Calories from Fat

25

Total Fat

3g

Saturated Fat

1.5g

Trans Fat

0g

Cholesterol

5mg
Sodium

240mg

Total Carbohydrate

16g

Dietary Fiber

1g

Sugars

1g

Protein

1g
* The nutrition information provided for this recipe is determined by the ESHA Genesis R&D software program. Substituting any ingredients may change the posted nutrition information.
Tips from our bakers
Why the large range of sugar? Because you can make this bread as sweet as you like. Using 1 tablespoon of sugar will yield a bread with a mere hint of sweetness; 4 tablespoons will make bread that's noticeably sweet = — though not so sweet you can't use it for sandwiches.
Can you make this bread with whole wheat flour? Yes, but it'll be denser. Here's our suggestion for a good compromise: substitute whole wheat flour for half the self-rising flour, adding 1 teaspoon baking powder and 1/4 teaspoon salt to the recipe.
Need a side dish really quickly? Pour the batter into 12 greased muffin cups, and enjoy mix and bake muffins in just 25 minutes or less! For muffins, fill the muffin cups 2/3 full. Bake until muffins spring back when pressed lightly in the middle, about 14 to 18 minutes; their tops will stay pale. Muffins are best enjoyed warm from the oven.
Don't care for beer? Substitute 1 1/2 cups (12 ounces) plain seltzer water.
Want to make this recipe vegan? Substitute 2 tablespoons vegetable oil for the butter in the batter; omit the butter topping.
Reviews
Excellent recipe! So happy with results.I used mineral water instead of beer.
I used a local brown ale and it turned out excellent. I've been baking almost everyday this winter so I feel I'm in tune with baking at the moment. I also used a scale and made my own self-rising flour with KA Bread Flour.
Bread came out perfect - I baked to an internal temp of 208. Excellent with chili! David from Las Vegas - what does 'nom' mean? Or did you mean 'yum'? Autocorrect strikes again, maybe?
I added cinnamon sugar and raisins soaked in brandy to this recipe and a generous coating of sugar on the top, but otherwise baked by the recipe. Delicious!
Wanna make this recipe REALLY good? Substitute some Angry Orchard hard cider instead of beer. Pair with some cinnamon-sugar butter, and nom...
I usually use the NYT version of this recipe, and it comes out much better. That recipe has 3 tsp if baking powder which I think it needs. The KA version was almost as flat as when it went into the oven. I've been baking for 60 years, so I should have known to add the baking powder.

Terry, it sounds like you might have been using all-purpose flour instead of the self-rising flour this recipe calls for. Each cup of King Arthur Self-Rising flour contains 1 1/2 teaspoons of baking powder, which means this recipe has a total of 4 1/2 teaspoons altogether. We checked the recipe you referenced, and that one is made with all-purpose, which accounts for the difference. We think you'll find this recipe rises nicely with fresh self-rising flour. Happy baking! Kat@KAF
I've made this with beer and love it but I have also made it with a can of Mountain Dew instead of beer (Hawaiians bread) and it was amazing. My question though, the crust on the bottom and sides always turn out really hard and I'm wondering if there is a way to fix this?

We're so glad this has been a fun recipe for you to experiment with, Amber! Usually, a loaf will get especially hard if it dries out in the oven. Something that helps lessen that effect is to bake it in something with a lid for the first stretch of baking time, removing it for the final 15 minutes or so so it can brown. The lid will trap the steam the bread releases, keeping some of that moisture trapped. The steam also helps create a crackly, crisp crust.

If you don't have a pan with a lid, you can make one out of tin foil or get a disposable aluminum pan from the grocery store to lay over the bread.

Since the bottom is also coming out hard, you might want to try doubling up on your pans or adding a layer of tin foil around the exterior of your pan to make it a bit more insulted. Annabelle@KAF
Just now!!! Yum I made drop biscuits vs. loaf pan bread Sliced thru middle of baked biscuit; bacon, eggs, hollandaise sauce Going to put fresh stawberry jam later for a savory dessert Used kitchen aide pro mixer; blended all dry ingredients first @slowest speed Heinekan 1.5 c. cold (2 gulps leftover!) Used Ghee (butter clarified) melted Guessing you could cut in cold butter, as I do when making biscuits. 1c fresh grated parmesan Flour (not self rising) , 1.5 tsp. Baking pwd. 1/4 tsp. Salt (I used Himalayan) 3 Tbs white granulated sugar. Baked at pre heated 375, well sprayed (coconut) approx 17-20mins total. When lightly browned, added 2Tbs. Melted ghee combined w/ garlic/italian seasonings brushed top, Melt in your mouth flaky!
Simple and amazing! I used Guinness and 3tbsp of sugar and everything was just right.
I used King Arthur whole wheat flour, added the needed baking powder and salt, used 1/4 cup of sugar and made 2 great loaves of bread. It's too easy, and will experiment some more.