A customized print-friendly version of this recipe is available by clicking the "Print Recipe" button on this page.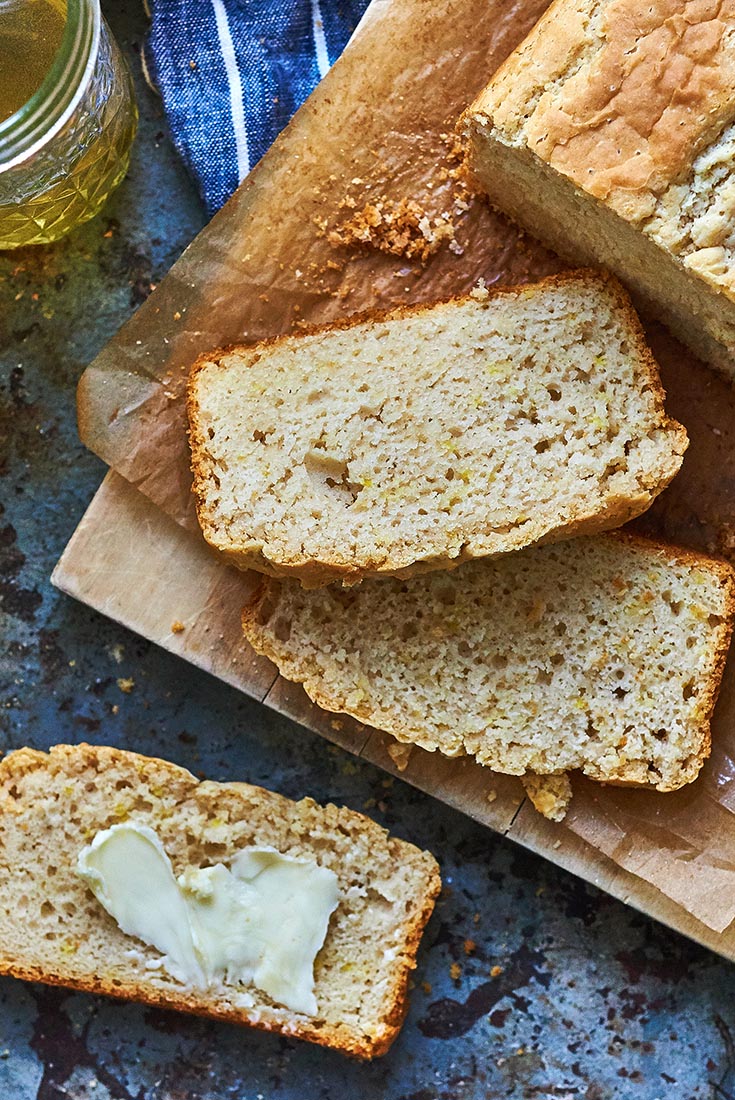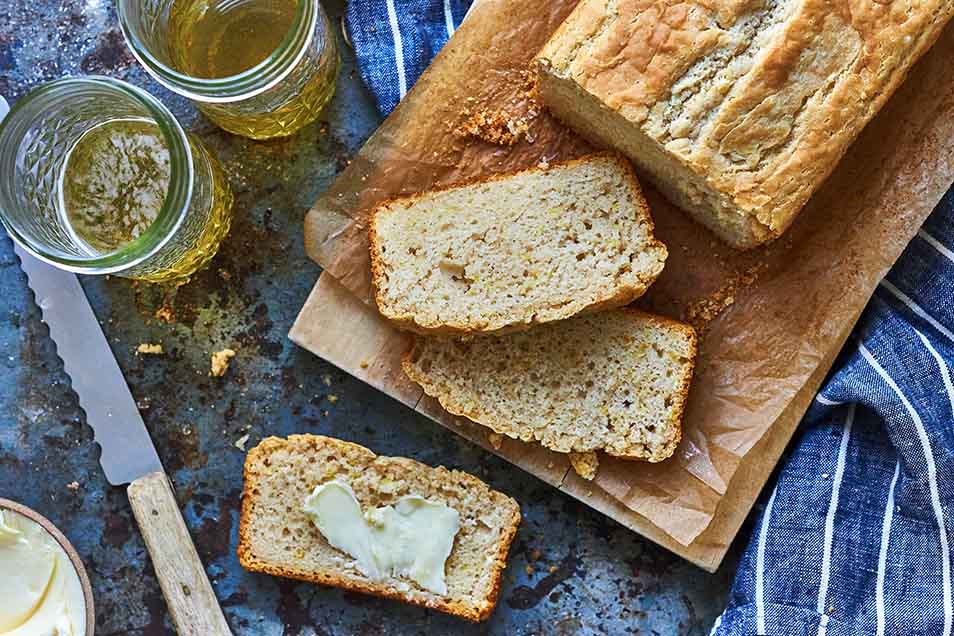 Raise your hand if beer bread was the first type of bread you learned to bake! This classic recipe, with its four simple ingredients, requires nothing more than a bowl, spoon, pan, and oven in the way of tools. Beloved of busy bakers everywhere, the bread is moist, nicely dense and chewy, perfect for toast and sandwiches.
Ingredients
1 to 4 tablespoons sugar, to taste
4 tablespoons melted butter, divided
1 1/2 cups beer
Instructions
Preheat the oven to 375°F. Lightly grease a 9" x 5" loaf pan.

Mix the flour, sugar, 3 tablespoons of the melted butter, and the beer, stirring until fairly smooth; don't worry about a scattering of small lumps.

Spoon the batter into the prepared pan, smoothing the top. Drizzle with the remaining 1 tablespoon melted butter.

Bake the bread for 45 to 50 minutes, until a toothpick inserted about 1/2" into the top of the loaf comes out clean, or with a few moist crumbs clinging to it.

Remove the bread from the oven, and after 5 minutes turn it out onto a rack to cool.

Wait until the bread cools completely before slicing. Store airtight at room temperature.
Nutrition Information
Serving Size

42g

Servings Per Batch

18
Amount Per Serving:
Calories

100

Calories from Fat

25

Total Fat

3g

Saturated Fat

1.5g

Trans Fat

0g

Cholesterol

5mg
Sodium

240mg

Total Carbohydrate

16g

Dietary Fiber

1g

Sugars

1g

Protein

1g
* The nutrition information provided for this recipe is determined by the ESHA Genesis R&D software program. Substituting any ingredients may change the posted nutrition information.
Tips from our bakers
Why the large range of sugar? Because you can make this bread as sweet as you like. Using 1 tablespoon of sugar will yield a bread with a mere hint of sweetness; 4 tablespoons will make bread that's noticeably sweet = — though not so sweet you can't use it for sandwiches.
Can you make this bread with whole wheat flour? Yes, but it'll be denser. Here's our suggestion for a good compromise: substitute whole wheat flour for half the self-rising flour, adding 1 teaspoon baking powder and 1/4 teaspoon salt to the recipe.
Need a side dish really quickly? Pour the batter into 12 greased muffin cups, and enjoy mix and bake muffins in just 25 minutes or less! For muffins, fill the muffin cups 2/3 full. Bake until muffins spring back when pressed lightly in the middle, about 14 to 18 minutes; their tops will stay pale. Muffins are best enjoyed warm from the oven.
Don't care for beer? Substitute 1 1/2 cups (12 ounces) plain seltzer water.
Want to make this recipe vegan? Substitute 2 tablespoons vegetable oil for the butter in the batter; omit the butter topping.
Reviews
I've tried several recipes lately and this one is spot on for texture and taste! I used 2 Tablespoons of sugar and 2 Tablespoons of honey and it was the perfect combination of sweetness. I made several loaves with different beers and I found the Heineken worked the best. It's the only one that didn't leave a bitter after taste. (I don't actually drink or like beer, so this could just be me...lol). I got a spicy berry gourmet jelly to spread on it and it's perfection!
Disappointed in the taste, but liked the texture except where there was a distinct bottom layer that didn't bake/rise properly - it was just this side of doughy. And it seems that it needs salt to jazz it up. My husband, a bread fanatic, said "meh".

Lauren, if you want to give this bread recipe another try, we think making a few simple changes could bring the flavor right up to where you want it to be. Consider adding a 1/2 teaspoon of salt. While there is salt already in the Self-Rising Flour, some folks like a saltier slice. Also consider changing up the kind of beer you used. The flavor of this bread primarily comes from that liquid, so it may just be a matter of finding the kind that's right for your taste buds. Don't be afraid to experiment; the kind of beer you like best in this bread might be different than what you like to drink. Consider using a dark beer, like a stout or a porter. We hope that helps! Kye@KAF
One of the first couple times I've baked bread, and it turned out great. I used 'The Poet' Oatmeal Stout beer for one, and a Leinenkugel's Berry Weiss for the other. With 2.5 tbsp of sugar in the first, it turned out with a nice crumble and nutty aftertaste. With 3.5 tbsp in the second one, there's a nice, golden-brown crust on top, and a less crumbly, sweeter bread, which is perfect for jam or honey.
I made this and while the taste was good, it did not grow. It was no more than an inch high. I consider myself a good baker. Don't know what happened and what went wrong.

We're glad to hear about the good flavor, Ann, but we're sorry to hear that it didn't rise well for you. Self-rising flour provides the leavening agent (in the form of baking powder), and the loaf pan provides the shape for this quickbread to rise in. If you happened to use regular all-purpose flour without an addition of baking powder and/or attempted to bake this outside of a loaf pan, then we'd imagine that it would fall flat. If neither of these factors are to blame in your case, feel free to give our Baker's Hotline a call at 855-371-BAKE to discuss in more detail - we'd be happy to help puzzle this out. Mollie@KAF
What is the reason to use self raising flour instead of active dry yeast? Can be susbstituted? Thanks!

Luis, this recipe is written as a quick bread, leavened by the baking powder in the self-rising flour, rather than a yeast bread. Using yeast would require a different, longer process, so we wouldn't recommend trying to make that change here. You could, however, use a combination of all-purpose flour, baking powder and salt if you don't have access to self-rising flour. If you're interested in making that swap, please feel free to give our Baker's Hotline a call for details: 855-371-BAKE. Mollie@KAF
This is a great basic recipe to add your own touch to. I used 4 oz WWW flour and 8 oz AP flour; brown sugar instead of white, since another recipe I compared called for molasses; and Guinness for the beer. Baked in 3 mini loaf pans for ~20 minutes. Next time I think I'll do ~25 minutes at 350, however.
DIdn't have great luck--my bread never rose and when I tested it, the toothpick came out clean, but when I cut into it, it was raw inside. I think I'm a decent baker and have baked beer bread several times before using different recipes, so I'm not entirely sure what went wrong here. Oh well.

It sounds like you may have used regular flour instead of self-rising flour in this recipe, which caused the lack of a rise and dense texture. Either that, or too much flour was added to the batter (be sure to fluff and sprinkle the flour into the measuring cup if not measuring by weight). As for the doneness, it's important to let the bread cool completely before cutting into to ensure it finishes baking all the way through. We hope these tips help give you better results next time! Kye@KAF
Not bad at all. It's not a breakfast/snack bread, but not a yeast bread either. More like a dense, tangy biscuit. Not knowing what to expect, I only used about 2 TBS of sugar but I think I could easily have gone to 4 without it being sweet. I'm not a big fan of beer and used your basic brand name boring beer, what I keep in hand for company. I can make out a mild yeasty zing in the flavor, but it's not obnoxious. This was certainly fast and easy, and I can see serving it with a hearty winter meal. I will experiment some next time, maybe sprinkle course salt and herbs over the top. One question: I have some mead that I was gifted. Assuming it would give a stronger flavor, but would it affect the density/rising? Interesting or awful idea?

McAlvie- We have not tested this with mead but since mead is typically derived from honey, it may contain more sugars than beer, and it may get darker in the oven. Watch the color and tent with foil if necessary. Enjoy! Laurie@KAF
I've made this bread for years. Easy and quick. Good served warm but it really shines as toast the next day. For best flavor use a flavorful craft lager (light beers don't give much flavor I my experience). I generally use 2 TBL sugar. Frequently add about a TBL of dried minced onion or dried minced garlic and sprinkle more on the top before drizzling the butter. Experiment with cheese and other additions!
I added 1/2 cup grated cheese and 1/2 cup chopped japapeno. Turned out fantastic!