A customized print-friendly version of this recipe is available by clicking the "Print Recipe" button on this page.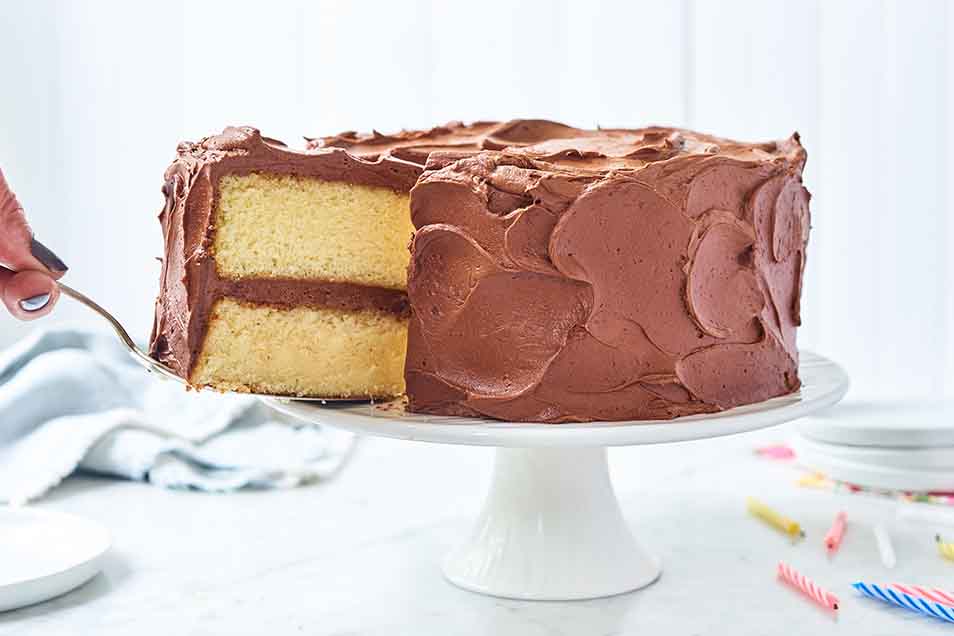 Birthdays: A time for singing, balloons, and (of course) cake. Some of us have a dedicated favorite, but perhaps no cake is more universally topped with candles than the classic yellow cake with chocolate frosting.

Despite its ubiquity in bakeries nationwide (and in mix form on grocery store shelves), great homemade versions of this chocolate-on-vanilla duo are somewhat elusive. But after months of testing, we think we've nailed it. This golden-hued, moist, tender vanilla cake with its layers of rich chocolate frosting is so good that we've declared it our 2019 Recipe of the Year. Join us in celebrating this classic American cake and the birthdays it commemorates.

Baking gluten-free? For great results, substitute King Arthur Gluten Free Measure for Measure Flour for the all-purpose flour in this recipe; for details, see "tips," below.
Ingredients
Cake
2 cups King Arthur Unbleached All-Purpose Flour OR Gluten Free Measure for Measure Flour
1 1/4 teaspoons salt
2 teaspoons baking powder
4 large eggs, at room temperature
2 cups granulated sugar
1 tablespoon vanilla extract
1/8 teaspoon almond extract; optional, for enhanced flavor
1 cup milk (whole milk preferred)
4 tablespoons (1/4 cup) butter, cut into pats
1/3 cup vegetable oil
Frosting
1 1/4 cups natural cocoa powder* (sifted if lumpy)
1 cup + 3 cups confectioners' sugar (sifted if lumpy)
1/4 teaspoon salt
1/3 cup hot water
1 tablespoon vanilla extract
16 tablespoons (1 cup) butter, softened
*See "tips," below for an alternative to natural cocoa.
Instructions
To make the cake: Preheat the oven to 325°F with a rack in the center. Lightly grease two 8" x 2" or 9" x 2" round cake pans; for extra protection against sticking, line the bottom of the pans with parchment rounds (you can cut these yourself or use precut 8" or 9" rounds), and grease the parchment. If your 8" pans aren't at least 2" deep, use 9" pans.

Weigh your flour; you'll find its weight by toggling to "grams" at the top of the ingredient section above. Or measure it by gently spooning it into a cup, then sweeping off any excess.

In a small bowl, combine the flour, salt, and baking powder. Set aside.

In a large mixing bowl, either using an electric hand mixer or a stand mixer with whisk attachment, beat the eggs, sugar, vanilla, and almond extract, if using, until thickened and light gold in color, about 2 minutes at medium-high speed. If your stand mixer doesn't have a whisk attachment, beat for 5 minutes using the paddle attachment. The batter should fall in thick ribbons from the beaters, whisk, or paddle.

Add the dry ingredients to the mixture in the bowl and mix — by hand or on low speed of a mixer — just enough to combine. Scrape the bottom and sides of the bowl, then mix again briefly, to fully incorporate any residual flour or sticky bits.

In a saucepan set over medium heat or in the microwave, bring the milk just to a simmer. Remove the pan from the heat and add the butter and oil, stirring by hand until the butter has melted.

Slowly mix the hot milk-butter-oil mixture into the batter, stirring on low speed of a mixer until everything is well combined. Scrape the bowl and mix briefly, just until smooth.

Divide the batter evenly between the two pans. You'll use about 2 3/4 cups (about 580g) in each.

Bake the cakes until a toothpick inserted into the center comes out clean and the top feels set, 26 to 30 minutes for two 9" pans, or 38 to 42 minutes for two 8" pans; a digital thermometer inserted into the center of the cakes should read 205°F. Remove the cakes from the oven, carefully loosen the edges, and allow them to cool for 15 minutes in the pans. Then turn them out of the pans and transfer them to a rack, right-side up, to cool to room temperature.

To make the frosting: In a large mixing bowl or the bowl of your stand mixer, stir together - by hand or mixer - the cocoa powder, 1 cup (113g) of the confectioners' sugar, and the salt. Stir in the water and vanilla, scraping the bowl if necessary.

Add the butter and remaining confectioners' sugar, stirring to combine. Using an electric hand mixer or a stand mixer with paddle attachment, beat the frosting at medium-high speed for 1 to 2 minutes, until lightened in color and fluffy, stopping halfway through to scrape the bottom and sides of the bowl. When the frosting is ready, scoop out a bit on your spatula; does it seem nicely spreadable? If it's too stiff, beat in water (1 teaspoon at a time) until it's the consistency you want.

To assemble the cake: Place one of the cake layers on a serving plate; tuck pieces of waxed or parchment paper underneath the edge of the cake to keep the plate clean. Spread the bottom layer with about 1 cup of frosting, enough to make a 1/4" to 1/2"-thick layer. Center the second layer bottom-side up (for a flat top) over the frosted layer and press gently to set it in place.

If your schedule permits, place the cake in the refrigerator or freezer, uncovered, for at least 30 minutes (or up to 2 hours) to firm it up. This will make the layers less likely to slide around as you work, and the cake won't shed crumbs as you frost. If you're pressed for time, you can skip this step.

To finish the cake: For the best-looking cake, do the frosting in two steps. First, spread a very thin layer of frosting around the sides and across the top; this is called a crumb coat. You should be able to see the cake through the frosting in spots, it's that thin. Refrigerate the cake for 20 minutes to let this layer set. Again, skip this step if time is a factor.
Once the cake is chilled, use the remaining frosting to coat it thoroughly and evenly; our cake styling guide offers six pro-style options for "styling" your cake. If you have any leftover frosting, you can use it to pipe decorations on the top and/or around the base.

Store the cake, covered, at room temperature, or in the refrigerator if your kitchen is hot. Let it come to room temperature before serving.

Storage information: The cake will keep at room temperature, covered with a cake cover, for up to three days; in the refrigerator, covered, for up to one week, or in the freezer, well wrapped, for up to one month.
Nutrition Information
Serving Size

1 piece, 131g

Servings Per Batch

16 servings
Amount Per Serving:
Calories

480

Calories from Fat

190

Total Fat

22g

Saturated Fat

11g

Trans Fat

22g

Cholesterol

85mg
Sodium

300mg

Total Carbohydrate

69g

Dietary Fiber

2g

Sugars

53g

Protein

5g
* The nutrition information provided for this recipe is determined by the ESHA Genesis R&D software program. Substituting any ingredients may change the posted nutrition information.
Tips from our bakers
To make this cake gluten-free, substitute King Arthur Gluten Free Measure for Measure Flour 1:1 for the all-purpose flour. Follow the directions as written for preparing the cake batter, and bake the cakes until the tops are set and a cake tester inserted into the center of one comes out clean, about 36 to 40 minutes for two 9" pans or 43 to 47 minutes for two 8" pans; a digital thermometer inserted into the center of the cakes should read 205°F.
While we typically call for unsalted butter in our recipes, we find that this cake tastes just fine using either salted or unsalted butter.
Dutch-process cocoa can be substituted for the natural cocoa in the frosting if it's what you have in your pantry, or if you prefer a more robust, bittersweet chocolate flavor.
If you prefer a lighter chocolate frosting, use just 1 cup (85g) of cocoa powder instead of 1 1/4 cups (106g). This slight change will result in a mellower flavored frosting as some of our fellow bakers have requested.
If you prefer a three-layer cake, or your 8" pans aren't at least 2" deep, divide the batter into thirds and use three pans. If you only have two pans, bake the third cake in a second batch, reusing one of the cooled, cleaned, and newly greased pans. Bake the cakes for 22 to 27 minutes.
Make ahead tips: Cake layers and frosting can be made up to three days ahead, refrigerated, and the cake assembled the day you wish to serve it. For storing, wrap the layers in plastic and transfer the frosting to an airtight container, or tightly cover the bowl in which you made it. When you're ready to assemble the cake, remove the frosting from the fridge and warm at room temperature until soft enough to spread easily. The whole cake (assembled and decorated) can be stored in the freezer for up to a month.
To make cupcakes: You'll need two cupcake pans, and will need to bake in batches. Prepare the batter as directed and scoop it into the pans; you'll make 26 to 28 cupcakes. Bake in a preheated 325°F oven for about 25 to 28 minutes; cupcakes won't dome, but will remain flat. For sufficient frosting to pipe a nice swirl atop each cake, increase the frosting amount by half. To use the original amount of frosting, spread about 1 1/2 tablespoons (about 30g) frosting on each cake.
To make a 9" x 13" sheet cake: Prepare the batter as directed. Pour it into a lightly greased 9" x 13" pan, and bake in a preheated 325°F oven for about 45 to 48 minutes, until the cake tests done. You'll have excess frosting if you make the entire frosting recipe; if you don't want to end up with leftover frosting, consider making a half recipe (which will frost the cake minimally), or a three-quarter recipe (which will frost it more generously).
Reviews
So I just tried this recipe and the cake it's self is delicious! Super moist and bouncy the recipe was very clear and easy to follow however the frosting is for lack of a better word...terrible now maybe I'm not a chocolate frosting type of person but I just wasn't a fan. I'll give this another go and maybe make a fresh strawberry frosting once they're in season. Thanks!

Kelsey, this is definitely a dark chocolate frosting for serious frosting fans. Strawberry would be delicious, though. We definitely suggest giving that a try! Happy baking! Kat@KAF
This is the perfect birthday cake! I'm not really a reviewer, but I made this cake for my sister's birthday and was prompted to write this review when my 16 year old nephew called the next day to "pre-order" the cake for his own birthday. Truly, high praise from a teenager, which I thought should be passed on. I've baked this recipe before as cupcakes (also excellent), but for this version I used three 7" cake pans (30 minutes in my oven was perfect), which made a tall, elegant cake. Thank you KAF!
This was my 4 year old's birthday cake this year! Since we had to make a dog cake with chocolate and peanut butter frosting, we had to stray from our typical carrot cake. I loved the flavor! (I'd like to think that fresh eggs from our chickens contributed to that!) However the texture, at least the first day, was a bit rubbery and tough. I followed the directions pretty carefully, only reducing the sugar to 1.5 cups instead of 2. I measured the flour, etc by weight, so that wasn't the issue. The only other thing it might have been, was that I beat the sugar and eggs for closer to 4-5 minutes instead of 2-3. I had a one year old in the kitchen. Could that have affected the texture? Interestingly, two to three days in, and covered by frosting, the texture improved! All in all a tasty cake that I'd love to experiment with again.

Hi Maria! Sugar is a tenderizor, so it's possible that the decrease in sugar simply leasened how tender the cake was and it had a chewier texture at first. Sugar absorbs moisture from wherever it can, so it's possible that as the cake sat, the sugar slowly attracted moisture from the air or even from the frosting, softening the cake? It's a bit of a mystery! We're glad it was tasty and definitely recommend trying again!
This cake is absolutely perfect! This is definitely replacing the yellow cake recipe I've been using for the past several years. This one is just right; light and springy and tender, yet sturdy. The people who ate it complimented it and asked where it came from. I made cupcakes and can't wait to make a full cake with it. (I did not make the chocolate frosting.). Thanks, KAF!
5 stars! I could not be more impressed with this cake. I slaver away on one from cook's illustrated last year and was so disappointed with it that I hadn't baked a cake since! Today that ended when I baked this cake for my son's first birthday. The crumb was moist and fluffy. I made no changes to the recipe. I followed it to a T and used a scale to measure all of the ingredients.
This cake is wonderful!! I would like to bake the cake recipe in a half sheet pan but the batter was is not quite enough on my initial test. I was wondering if you could make the batter one and one half times or maybe even double it. Thanks for your advice!

Damon, doubling this recipe would give you a nice, thick cake in your half sheet pan. We haven't baked it this way here in our test kitchen, though, so you'll want to keep a close eye on the baking time. Happy baking! Kat@KAF
This combination is my husband's very favorite birthday cake, and while I have a tried and true recipe, I figured I'd give this one a go because he asked for a lighter cake, and I've had great success with King Arthur's recipes. I'm an avid and experienced baker, but while the cake was great, the frosting was frustrating. It was so stiff I ended up pressing it onto the sides of the cake with my hands! The flavor was good (my husband loved it) but I was disappointed I couldn't do the nice swirls as in the photo.

Hi there, Susan. We're glad to hear that you enjoyed this cake recipe but are sorry that you had a bit of trouble with the frosting. For future baking adventures, the consistency of this frosting recipe is quite easy to adjust by just adding some additional water or milk a tablespoon at a time until you achieve your desired consistency. We hope this helps and happy baking! Morgan@KAF
Follow the recipe and you cant go wrong. I doubled it for my work relay for life fundraiser and it was a hit. 48 cupcakes gone bye bye lol.
I'm a fairly new baker, and this was a great recipe! My brother helped out as my sous chef, which was really helpful, and I don't know if I would have done it without him. I made it in a 9 inch pan, and left it in for 35 minutes, and it was only barely done, but that might just be my oven. The frosting is wonderful, and I would absolutely use it for other recipes! Great cake!
I baked this cake exactly as written. The two 9" layers rose beautifully in the pans. I tested the temps as directed in the recipe. The frosting however was another matter. I found that the frosting did turn a lighter shade when mixing after a few minutes, but returned to that very dark chocolate color after a short while. I also found it to be very stiff and not easy to spread. Perhaps it could have used a little more moisture, like a few drops of heavy cream to lighten it up. That was my only disappointment.

Gary, we're glad you enjoyed this cake! If your frosting seems dry at all, feel free to add a touch more water to get the desired consistency. It's one of those things that will vary somewhat depending on the weather and the brand of cocoa you're using, so it's always good to tweak it according to your preferences. Happy baking! Kat@KAF