A customized print-friendly version of this recipe is available by clicking the "Print Recipe" button on this page.
Classic Sourdough Waffles or Pancakes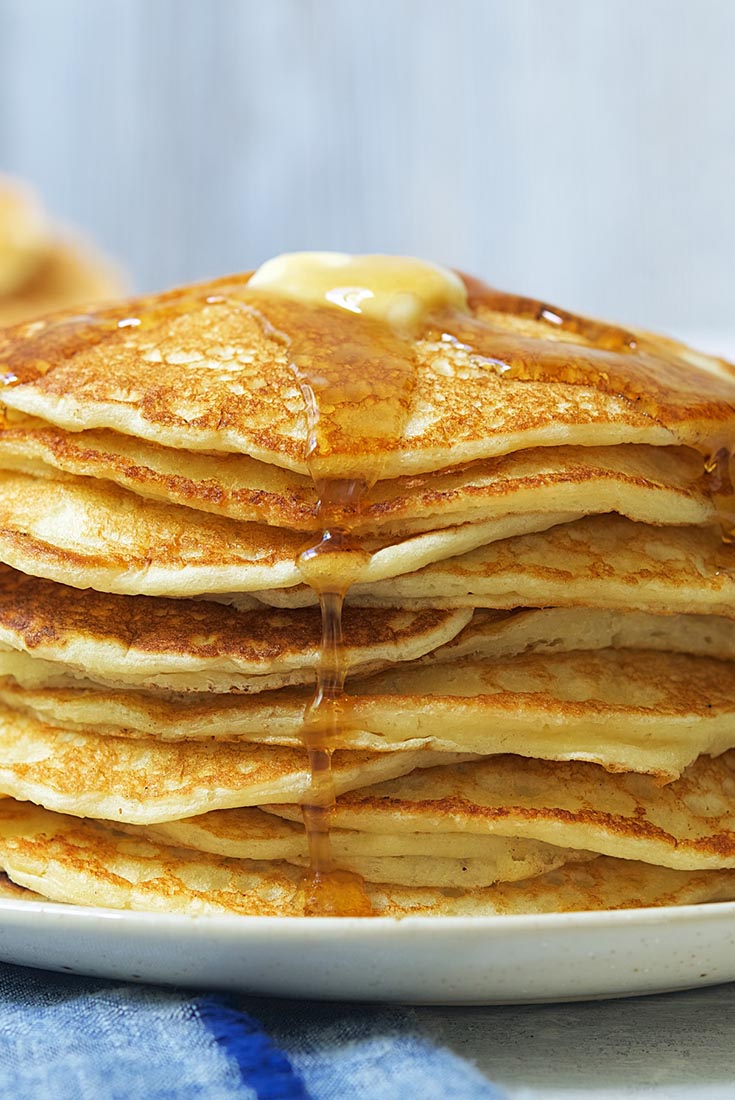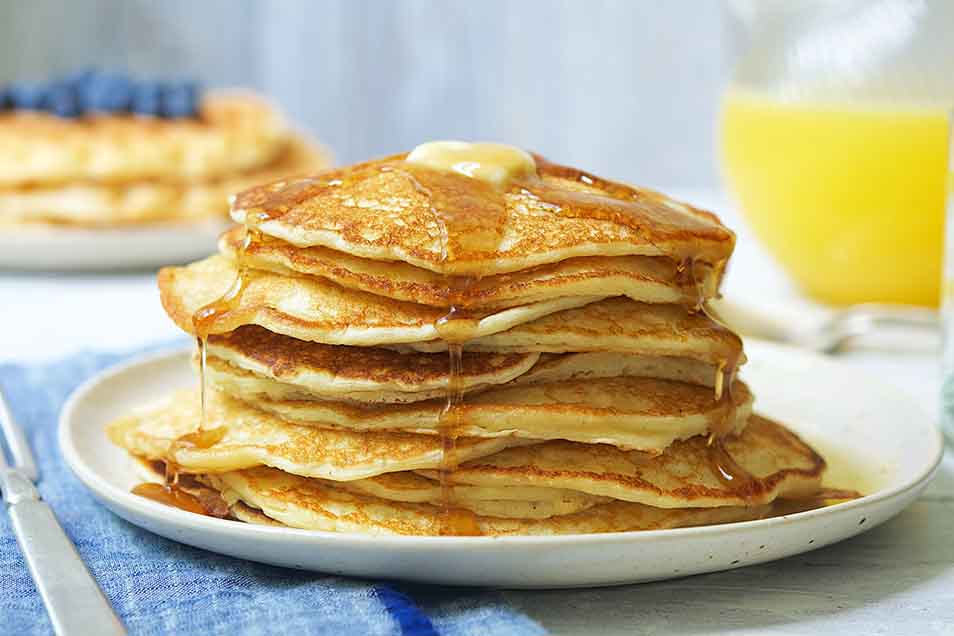 Crisp, feathery light, and with a delightful, mild tang, these waffles evoke memories of Goldrush days in California, when sourdough pancakes, biscuits, and bread were served to miners morning, noon, and night. This recipe also makes great pancakes.

New to sourdough? Find the help you need for all of your sourdough baking at our Sourdough Essentials page.
Ingredients
Waffle or pancake batter
all of the overnight sponge
2 large eggs
1/4 cup vegetable oil or melted butter
3/4 teaspoon salt
1 teaspoon baking soda
Instructions
To make the overnight sponge, stir down your refrigerated starter, and remove 1 cup. Note: This is a good opportunity to feed the remainder, if necessary.

In a large mixing bowl, stir together the 1 cup unfed starter, flour, sugar, and buttermilk.

Cover and let rest at cool room temperature (about 65°F to 70°F) for about 12 hours, or overnight.

In a small bowl or mixing cup, beat together the eggs, and oil or butter. Add to the overnight sponge.

Add the salt and baking soda, stirring to combine. The batter will bubble.

Pour batter onto your preheated, greased waffle iron, and bake according to the manufacturer's instructions.

Serve waffles immediately, to ensure crispness. Or hold in a warm oven till ready to serve.

Yield: 1 dozen 8" waffles or about 2 dozen medium pancakes.
Nutrition Information
Serving Size

1 waffle or 2 pan

Servings Per Batch

12 waffles or 24 pan
Amount Per Serving:
Calories

190

Calories from Fat

50

Total Fat

6g

Saturated Fat

1g

Trans Fat

0g

Cholesterol

35mg
Sodium

300mg

Total Carbohydrate

27g

Dietary Fiber

1g

Sugars

5g

Protein

6g
* The nutrition information provided for this recipe is determined by the ESHA Genesis R&D software program. Substituting any ingredients may change the posted nutrition information.
Reviews
I've made this recipe three times now and am quite happy with the results. I've made it with all purpose flour twice and also once with 2/3 all purpose and 1/3 whole wheat pastry flour and both were excellent. I can't say these are the lightest waffles I've ever made, probably because the starter has some gluten development going, but they are certainly tender enough, have a delicious subtle tang, and help save starter from being wasted. Great with butter and syrup or jam and a delicious buddy for some fried chicken!
I'm not going to add my star rating because I suspect my issues are user error rather than recipe error. The batter came out very thin and the resulting pancakes were sort of gummy (they were definitely cooked through) and not at all fluffy. The taste was ok but maybe a bit tangier than I was expecting. The sponge rested around 18 hours so maybe that's too long? I also did not have buttermilk so I clobbered milk with vinegar. Maybe this is why it was too tangy? Thanks for all of the recipes! I'm having fun experimenting with sourdough for the first time!

We're happy to help, Mel! We think the tanginess was due both to the vinegar and the sponge resting for 18 hours. A long rest could also make the mixture thicken up further and be a bit gummy, but gumminess also happens when batter is over mixed. We'd recommend trying again and seeing if a 12 hour rest, using buttermilk, (or just regular milk, skip the vinegar) and mixing the batter as little as possible does the trick. We think you'll enjoy the results. Happy baking! Annabelle@KAF
Wonderful!! Yummy!! You have to try these!! I just made these and was pleasantly surprised at how flavorful they were. 2 things: My batter fermented for 15 hours (oops) and were a bit tangy, so definitely 12 hours or less. My batter had obviously dropped down a bit from it's peak. 2, I found that, after adding the salt and baking soda, letting it sit for half an hour allowed it to fluff up more. The resulting pancakes were fluffier and less dense than the first batch. And I love how the edges get crispy. YUM! Also this recipe makes a ton of batter which can definitely feed a family of 4. I have a bunch of pancakes left over. Thanks for another great recipe!
I made this and the dough seemed too thick- you could feel the gluten in the batter like an extra-wet bread dough. I'm not sure if it would have worked that way, but I added milk to it, maybe 1/2 or 3/4 cup, to thin it closer to what I expect of pancake batter consistency. I still think it was a little thicker, but much closer. The result though was a thin, rubbery pancake. I see the ones in the picture are also kind of thin- mine were a little thinner than that. They tasted GREAT though, and they went over well with people. Next time though I may just stick to a regular buttermilk batter.

Hi Eric, it sounds like perhaps there was a bit too much flour added to the batter initially, which created the thick batter. To ensure you're using the right amount, we recommend checking out the "Measuring Standards," link next to the ingredients header above. You'll see that either measuring your flour by weight using a scale, or fluffing and sprinkling the flour into your measuring cup are the best ways to ensure your recipe turns out perfectly.

Using the right amount of flour is key, and also try to limit the amount of mixing or stirring that you do once the wet and dry ingredients are added. This prevents gluten from forming and ensures super tender pancakes or waffles. We hope your next batch it superb! Kye@KAF
Great recipe. I am very new to sourdough baking and absolutely love Kingarthurflour. I live in Bangkok, Thailand. I find that with the heat and humidity I have to make many adjustments in the proofing times. My kitchen/in-house is temperature is 85 to 87 degrees. Can you give me any suggestions? Thank you so much.

Hello, Jim! You'll want to use colder water/liquid to slow down fermentation both for your starter and for your doughs. Aim for the water to be around 50°F, and just keep an eye on your starter, batters, and doughs because they'll probably move along faster than the recipe suggests. Happy baking! Annabelle@KAF
Loved them as pancakes, great to wake up to a nearly ready batter for the first day of school breakfast. A great way to use up discard sourdough starter
I make the pancake version weekly. My wife now won't eat any other pancakes. Phenomenal. Question: I always use melted butter instead of oil (butter is just more "breakfast" than oil), but what happens if I try the oil? Taste- and texture-wise?

We're glad they're a favorite, Jimmy! Oil won't impart that lovely buttery flavor, and you may find they don't brown quite as much, but they'll still make for a glorious stack of hot pancakes. Annabelle@KAF
I cannot figure out what I'm doing wrong. I've tried this recipe several times and it keeps coming out gummy. My starter is a week old. The flavor is good (my husband insists on eating them) but they simply will not dry out in the middle. They just ... barely brown and stay wet inside. They bubble up and look almost right when they're cooking though. I'm close to giving up on sourdough!

We hope you won't give up, Ellie — that's why we're here to help! If your starter is only a week old, as in, you created it one week ago from scratch, we expect it will start behaving more consistently and effectively after 10 to 14 days of consecutive twice-daily feedings. If you're using sourdough discard that's a week old, we'd recommend throwing that away. Sourdough discard will keep in the fridge for a couple of days but after that it gets funky and doesn't like to behave. We'd love to get some more details, so if you'd like to chat further or if you ever have questions, our free and friendly Baker's Hotline is available at 855-371-BAKE (2253). Kindly, Annabelle@KAF
First time trying this recipe and the results were very good! It was enough for me my wife and 2 hungry kids :) they loved it!
I'd never made waffles before but the purchase of a waffle maker prompted me to try out several recipes. This is the absolute best. I never thought I'd wax lyrical over waffles but seriously these are sublime. It always delivers, I've not had a failed batch, and I have made several so far. My current sourdough is '00' type flour, and I add AP flour to the mix. These waffles are substantial, puffy inside, crispy outside. What a winner and a keeper! My family devours them as fast as I can make them. I get a large batch from this recipe, in my maker, roughly 18. They freeze very well and reheat to crisp perfection. It's wonderful to make something this delicious from excess starter. I ran late on a batch last night and the batter stood for well over an hour. I thought they'd be flat as a result, but they were even better than usual. They were much airier and lighter and rose fabulously - I can only think this was due to the baking soda having extra time to do it's work. I plan to experiment and add additions into the batter - such as grated apple. Also want to play around with flavourings such as cocoa powder, salted caramel flavouring, speculoos etc. If any of these are a success, I'll post it up.