A customized print-friendly version of this recipe is available by clicking the "Print Recipe" button on this page.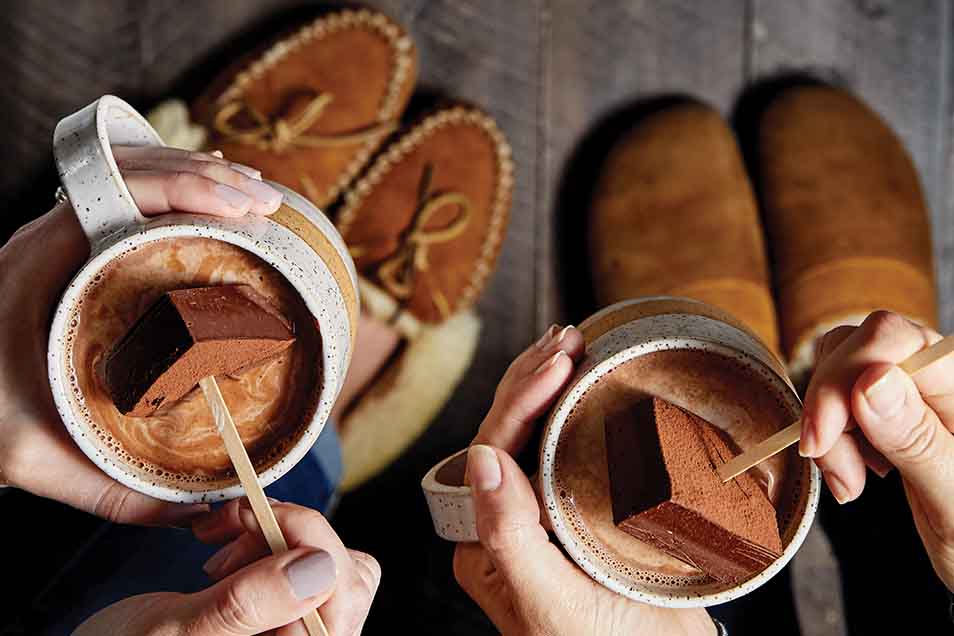 These chocolate blocks are a fun and simple way to make rich hot chocolate to order. Make them ahead, then stir them into mugs of hot steamed milk to create a decadent winter drink as they melt.
Ingredients
1/2 cup heavy cream
1 can (14 ounce) sweetened condensed milk
3 cups semisweet or bittersweet chocolate
3/4 cup unsweetened baking chocolate
1/2 teaspoon vanilla extract
unsweetened cocoa, for sprinkling (optional)
Wooden ice-pop sticks
Instructions
Line an 8" square pan with parchment or foil.

In a 2-quart saucepan, heat the cream and condensed milk until steaming. Remove from the heat and add the chocolate. Let the mixture sit for 10 minutes.

Return the pan to the stove over low heat and whisk vigorously until the chocolate is completely melted and the mixture is thick and shiny. Add a flavoring or extract (see tips), whisk to combine, and pour the mixture into the prepared pan. Shake it gently to level the top.

Sprinkle the top with cocoa (if using). Set aside at room temperature for 1 hour to set up.

Run a knife around the edge of the pan and use the parchment or foil to lift the block out of the pan. Place on a cutting surface.

Dip a large knife in hot water and wipe dry; slice the block into 1 1/4˝ cubes, heating the knife and wiping dry between each cut. Place a wooden stick into the center of each block. Roll in more cocoa (if using).

Place in mini-muffin papers, then wrap in waxed paper or plastic wrap to store in the refrigerator.

Yield: 3 dozen blocks
Nutrition Information
Serving Size

29g

Servings Per Batch

36 blocks
Amount Per Serving:
Calories

121

Calories from Fat

63

Total Fat

7g

Saturated Fat

4g

Trans Fat

0g

Cholesterol

7mg
Sodium

16mg

Total Carbohydrate

14g

Dietary Fiber

1g

Sugars

13g

Protein

2g
* The nutrition information provided for this recipe is determined by the ESHA Genesis R&D software program. Substituting any ingredients may change the posted nutrition information.
Tips from our bakers
Depending on your taste and the occasion, you can flavor your blocks any way you like. Hazelnut, vanilla, and almond extracts are all good choices. Try adding some ground chili or five-spice powder for an intriguing twist.
Reviews
I shared this in the blog for these blocks, but thought it might be helpful here as well, after reading some of the same questions in this comment section: I see some folks have asked about dissolving their blocks in water vs. milk or cream. I make these blocks quite often, and can offer some thoughts. I'm a professional confectioner who also specializes in European and Mexican sipping chocolates, and believe it or not, water actually creates a brighter, more chocolatey hot chocolate in which the nuances of the chocolate really shine (so use the best quality chocolate you can find). Milk or half and half, or a mixture of cream and boiling water, make a richer hot chocolate, but the fat molecules "dim" the chocoate flavor. By the way, nut, soy and oat "milks" and lactose-free milk work fine with these blocks. Those tiny cups of thick-as-pudding French or Italian sipping chocolates are made with heavy cream - and 60-80% dark chocolate, which really, I think, make for an interesting flavor profile - so try to find the darkest chips for the strongest, most full chocolate flavor in these blocks. Mexican sipping chocolate blocks aren't really good for this recipe, as it retain its distinctive, pleasant, slightly graininess after melting.

Thanks for sharing your expertise, Jeanne! We're sure many of our home bakers will find your comments helpful as well as fascinating. Kat@KAF
I made these about a week ago and have fixed them into hot cocoa a couple of times now. The recipe itself was pretty easy and straightforward, though I will admit that the cutting it into chunks bit was a little tricky. I think next time I might use a bigger pan so the blocks aren't as thick. I live in Southwest Virginia and had been worried about these setting up properly or melting before use. That actually hasn't been an issue at all. What has been an issue, or at least a "learning curve", has been getting them to melt in the hot milk. When I first made them we'd just come back from our local Christmas parade and everyone was freezing. I probably didn't let the milk get hot enough, as I was trying to rush this and there were kids (and heaven forbid hot cocoa be actually hot). The result was that the blocks took FOREVER to melt and the drink was good and tepid by the time they did. Today it has snowed, so I gave it another go while the kids were outside playing. I got some milk heating up (about half the amount needed) and nice & steamy. Then I put the blocks in and had them starting to melt. When the kids came back in I quickly heated up the rest of the needed milk and filled the mugs up the rest of the way. That worked a lot better. One other thing is that we've also found one cube isn't enough for a large mug of cocoa. We cut our's so that we got 36 blocks, which is what the recipe calls for, but two hunks are far tastier for anything other than a tiny mug.
Definitely a keeper! I usually struggle with chocolate and I have never made a successful fudge, but these turned out beautifully! Super easy. I did stir in about 3/4 cup of the chocolate first, before putting in the rest and then letting it sit for 10 minutes, though I'm not sure that actually improved it any. After I let them set for the designated amount of time, they were still a bit too soft to work with so I put the pan in the fridge for a while longer. After that they firmed up fine, even when they went back to room temperature. Perfect! My one slight problem was getting the chocolate mixture to smooth out in the pan, my finished blocks turned out not completely uniform, but that didn't affect the taste any! I also added crushed peppermint candies to the bottoms as another reviewer suggested and it worked perfectly! I plan to give them as gifts throughout the Christmas season so I've frozen most of them, they easily thaw out though on the counter--although, the peppermint ones became a little sticky after I froze them. I've heard great responses from everyone who's tried them so far! :) Thanks for another great recipe KAF!
I accidentally made this recipe a week before I wanted to gift it. How long can they be stored? Should I refrigerate or just leave at room temp??

These cocoa blocks will last for about 1-2 weeks at room temperature, individually well-wrapped and then in an airtight container. If you're hoping to keep them any longer than that, freeze them for best results. You're welcome to give the blocks you made as gifts in one week, but the recipient will not have as long a time to enjoy them, so you might want to freeze your blocks until it's gift time! Kye@KAF
I must have not tempered the chocolate correctly, as it still hasn't set. Since this recipe is now out of the question, can I do anything with all this chocolate?

Cindy, we're sorry to hear you had trouble with this recipe. The chocolate doesn't need to be tempered to set up properly, so we're wondering if something else may have caused the problem like an ingredient substitution, for instance. As for what you could do with the soft chocolate mixture, consider chilling it and then folding it into a whipped cream base to serve it as chocolate mousse. It will be delicious! Kye@KAF
I've made this 2xs and can't get the chocolate to turn out. The marshmallows are perfect but the chocolate is too soft. Bummer

It sounds like your chocolate is not properly tempered. The chocolate needs to be heated slowly and brought to the correct temperature to get the chocolate to the right stage of crystallization. If it is heated too much or too quickly, it won't harden once it cools. If you need a refresher about tempering chocolate, check out the full chocolate tempering guide in the "Learn" section of our website. Happy baking! Kye@KAF
I totally forgot to add the unsweetened baking chocolate so I'm not sure how the actual recipe turned out. The squares were still delicious...
Hi there!! I just tried this out and I'm enjoying the fruits of my labor. I'm from a very hot place on this planet and I was wondering if there's a way to keep these babies from melting as I transport these from house to parties.
I made this for the first time and it was simple to make, easy to clean up and taste great. I love the idea, but I think the squares are too big at 1 1/4". I can't get the whole cube to melt in the hot milk and there is a big hunk of chocolate in the bottom of the cup every time. Anyone else find this to be a problem? Has anyone tried a smaller square. I am using this recipe for a skating party in January and would like to perfect it before then. Thanks so much for input if anyone can help.

Hi Nanci, We didn't have any issues with the blocks dissolving when we made them here, but if you would like to cut them into a smaller size, then you absolutely can do that. Happy baking! Jocelyn@KAF
This was So Easy! And SOOO YUMMY! I am on my 3rd batch sitting in the kitchen waiting to be cut up! I ran some over to my neighbor's house to share, and I am getting ready to wrap some up as gifts for Christmas! I have added in Crushed Candy canes, and my daughter, husband and I tried them already. WOW! I put a piece of foil on my skillet an turn it on to warm the squares for dipping into my crushed Candy Canes as a finishing touch, It worked Great! And clean up was easy! Thank you so much for this recipe. I am adding coffee extract next... I don't know what else I am going to do, but, this is so easy to play with, we could do just about whatever tickles us!