A customized print-friendly version of this recipe is available by clicking the "Print Recipe" button on this page.
Construction Gingerbread for Gingerbread Houses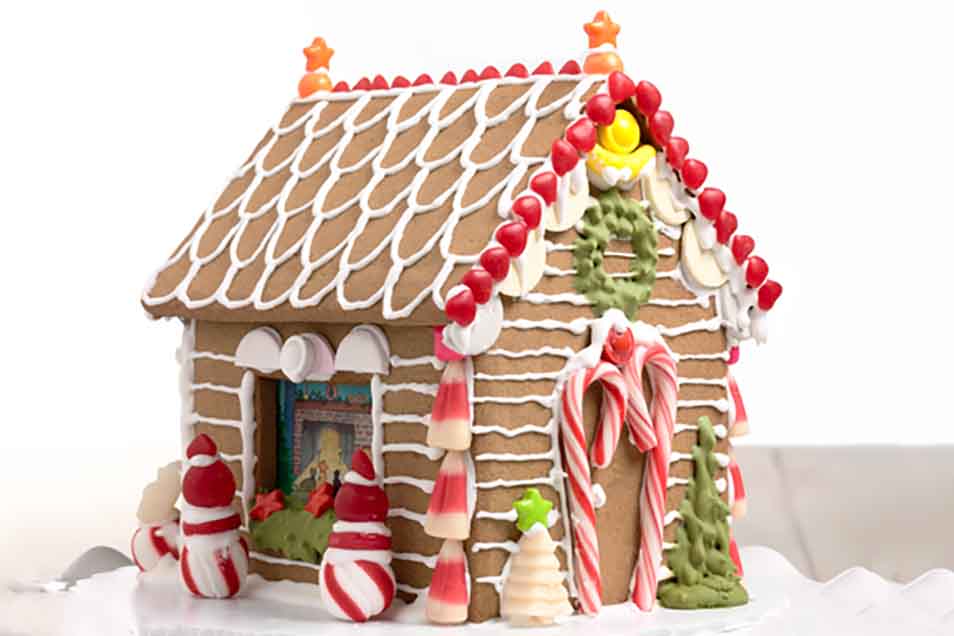 Dough for gingerbread construction projects is perfectly edible; it just has more flour in it to make it sturdier than gingerbread cookie dough would have. It's simple to put together, and can be used for gingerbread men, trees, and other decorations, as well as for the house itself.
Ingredients
Dough
6 tablespoons butter
3/4 cup buttermilk
1 cup brown sugar
1/2 cup molasses
1 large egg
1 teaspoon baking soda
1 teaspoon ground ginger
1 teaspoon ground cinnamon
1/2 teaspoon salt
Construction icing
3 large egg whites*
½ teaspoon cream of tartar
4 cups (1 pound) unsifted confectioners' sugar
food coloring, optional
peppermint oil, lemon extract, vanilla extract, or the flavor of your choice, optional, to taste
*Or substitute ¼ cup meringue powder combined with ½ cup cold water.
Instructions
To make the dough: In a large saucepan, heat the buttermilk and butter until the butter is just melted; remove from the heat.

Add the brown sugar and molasses, then beat in the egg.

Whisk the baking soda, spices, and salt with 1 cup of the flour.

Add this to the wet mixture and mix until incorporated.

Add flour 1 cup at a time until you have a smooth, stiff dough. It should be stiff enough to be flexible, and neither crumbly nor sticky.

Divide the dough in half, flatten each half, and wrap in plastic. Refrigerate for at least 1 hour.

Preheat the oven to 350°F.

Using a quarter of the dough at a time (return the unused portion to the refrigerator), roll the dough 1/4" thick on a piece of parchment.

Cut your construction pieces as needed, pulling away the scraps to be re-rolled. Transfer the dough, parchment and all, to a baking sheet.

Bake the dough for 15 to 18 minutes, until set and very lightly browned at the edges.

Remove from the oven and trim any rough edges while the pieces are still warm. Cool completely before using for construction.

To make the royal icing: In a large bowl, whip the egg whites with the cream of tartar until foamy.

Sprinkle in the sugar gradually, whipping all the while. The more you whip the icing, the stiffer it'll be and the faster it'll harden up.

Cover the bowl of icing, taking out only as much as you'll need immediately. The easiest way to store the icing for long periods of time is in a plastic pastry bag, or zip-top food storage bag.

Yield: enough dough for a 10" x 7" house (approx.), plus decorations.
Tips from our bakers
If you want to "paint" with the icing, use food coloring to create different colors and thin the icing with a few drops of water so it will flow.
Download our step-by-step instructions for building your own gingerbread house.
Reviews
We're sorry to see that this recipe didn't do the trick. If we can help to troubleshoot, please consider giving our Baker's Hotline a call at 855-371-BAKE. Mollie@KAF
This recipe rises to much for most gingerbread house type uses. Great cookie but it puffes up to much and is not sturdy enough as it stays a n bit to moist which can cause it to bend or break. Later will try it with less baking soda. Oh even though I mixed it well but it did not rise evenly which in my application was not good.
I made a gingerbread house with the KAF gingerbread cookie recipe last year and liked the results much better than this. This recipe puffed SO MUCH, which is good for someone who is worried about cracking, but if you're confident with your construction abilities, the cookie recipe is actually much better for a house because it's darker, well spiced, and isn't so puffy and bready. This recipe has a very mild gingerbread taste and color.
This recipe turned out great! I doubled it and had enough for 3 5"x6" houses, plus enough to make lots of gingerbread men to hang on the tree. This recipe did puff, in a nice cottage cookie way - very similar looking to the photo. I preferred this look to the stiffer thinner gingerbread house recipes I've used in the past. I was using it with my children, and the gingerbread was also really sturdy - no danger of it breaking if someone dropped a piece! This will be my go-to recipe next year!
Do you have an eggless gingerbread house recipe and frosting for a child that has an egg allergy?
A pretty reliable egg substitute for a large egg is 1 T. flax meal with 3 T. water (blend and allow to hydrate for about 5 minutes). As for vegan royal icings, there are suggestions on the internet (several actually!). Elisabeth@KAF
I just used again for our houses for the 3rd or 4th year in a row. I find the houses to be very sturdy. I do think it puffs up, despite chilling and rolling even thinner than recommended (did 1/8th inch on last set). The puffiness doesn't really bother me much as our houses are definitely beginner types. Will try next year with less leavening maybe.
We had great success with this! I wonder from the negative reviews if they did the recipe by volume instead of weight? We did not experience any of the negative issues that some other reviews posted. This has been absolutely excellent. There is definitely a clear gingerbread taste as well. This seems like a classic recipe and design. I have tried many versions of gingerbread house and contraction over the years and this seems to reflect the common standard of what people expect in taste, texture, and design.
I first made this recipe a few years ago for a gingerbread house that has stood the test of time. Makes great house construction, bakes puffy but that doesn't bother me. It does lack slightly on taste if you're planning on making gingerbread cookies, once iced with plain icing sugar frosting it tastes geat. I really like this recipe!
This recipe worked very well for making gingerbread houses. It was very easy to work with and rolled out easily. Make sure to roll it out to the recommended thickness. The batch that turned out puffy was the one I did not roll out thin enough.
I used this recipe to make a couple dozen gingerbread men for my son's grade-school class. I was disappointed. Dough is tough to roll out and work, puffs up a lot, and has an off flavor from the baking soda and buttermilk. No strong gingerbread flavor (very mild) -- I like my gingerbread pungent, so this is a personal preference issue. On the plus side, is easy to peel off the parchment paper and doesn't stick to the rolling pin. I'll be searching for another recipe, however.
The gingerbread dough that I love becomes very stiff when chilled. I have to put it quickly in the microwave if I am impatient! Or if my kids are impatient! Then, it become more pliable. Adding more ginger is always a possibility. Be sure you are not using a black strap molasses. It tends to be less sweet! Elisabeth@KAF