A customized print-friendly version of this recipe is available by clicking the "Print Recipe" button on this page.
Cranberry Orange Cornbread Stuffing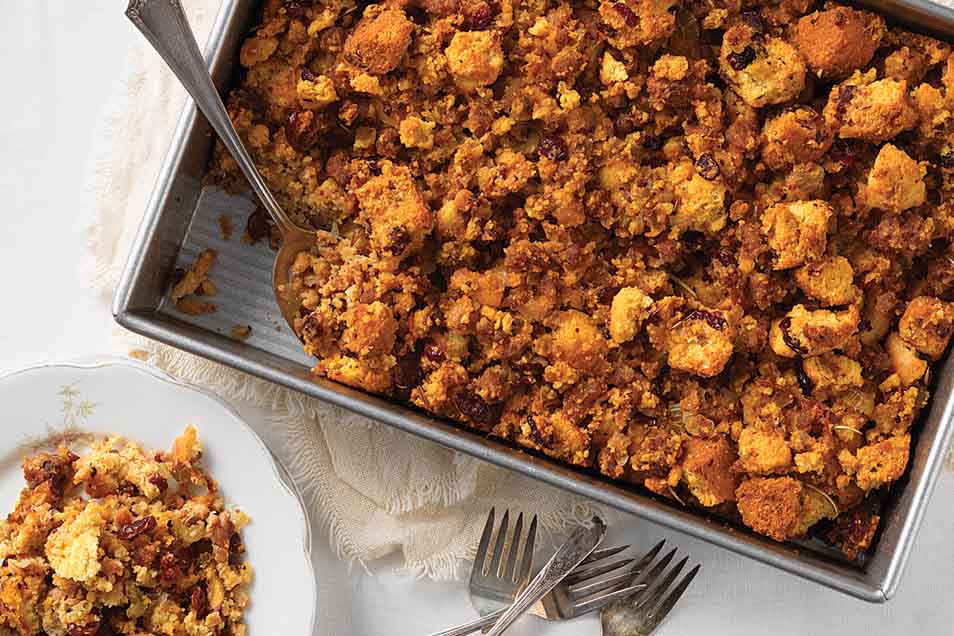 This Northern-style stuffing is a fun spin on a classic Southern staple. The slightly sweet cranberry and orange flavors complement the savory herbs and sausage, and they all come together to create a perfect match for Thanksgiving turkey.
Ingredients
Muffins
1 3/4 cups King Arthur Unbleached All-Purpose Flour
1 cup cornmeal
1 tablespoon sugar
2 teaspoons baking powder
1/4 teaspoon baking soda
1/2 teaspoon salt
1 1/4 cups milk
1/2 cup vegetable oil
1 large egg
1/4 teaspoon orange oil
1 cup dried cranberries
Stuffing
2 tablespoons olive oil
3 cups diced yellow onions; about 2 large or 3 medium onions
1 cup diced celery; about 3 stalks
1 pound ground sweet or hot Italian sausage
1 tablespoon herbes de Provence; or 1 tablespoon dried herb blend
2 teaspoons peeled chopped garlic
1 tablespoon orange zest
1/2 cup fresh or frozen cranberries
salt and pepper, to taste
2 cups chicken stock, divided
3 large eggs
Instructions
To make the muffins: Preheat the oven to 375°F. Lightly grease 12 muffin cups.

In a medium bowl, whisk together the flour, cornmeal, sugar, baking powder, baking soda, and salt.

In another bowl or large measuring cup, whisk together the milk, vegetable oil, egg, and orange oil or zest.

Pour the liquid all at once into the flour mixture, stirring quickly and gently until just combined. Fold in the dried cranberries.

Scoop the batter into the muffin cups. Bake the muffins for 18 to 22 minutes, until a cake tester inserted in the center of one muffin comes out clean.

Remove the muffins from the oven, let them cool in the pan for 5 minutes, then turn them out onto a rack to cool completely.

Cut the muffins into eighths and leave to dry out overnight, uncovered.

To make the stuffing: Preheat the oven to 350°F.

Pour the oil into a large sauté pan set over medium heat. Add the diced onion and celery and cook until they just begin to soften, about 5 minutes.

Add the sausage, breaking it up, and the herbes de Provence. Cook, stirring occasionally, until the sausage is cooked through, about 8 to 10 minutes.

Mix in the garlic, orange zest, cranberries, and salt and pepper, cooking for another 1 to 2 minutes.

Add 1/2 cup of stock and scrape to deglaze the pan. Boil until the stock is reduced by half.

Transfer the cooked mixture to a large bowl and gently toss with half the corn muffin pieces.

Whisk together the eggs and remaining stock and pour into the bowl, tossing until the mixture is evenly moistened. Gently incorporate the remaining corn muffin pieces.

Spoon the stuffing into a buttered 9" x 13" pan. Cover the stuffing with foil and bake for 30 minutes. Remove the foil and bake for another 5 to 10 minutes, until golden brown on top.

Remove from the oven and serve hot.

Yield: 6 to 12 servings.