A customized print-friendly version of this recipe is available by clicking the "Print Recipe" button on this page.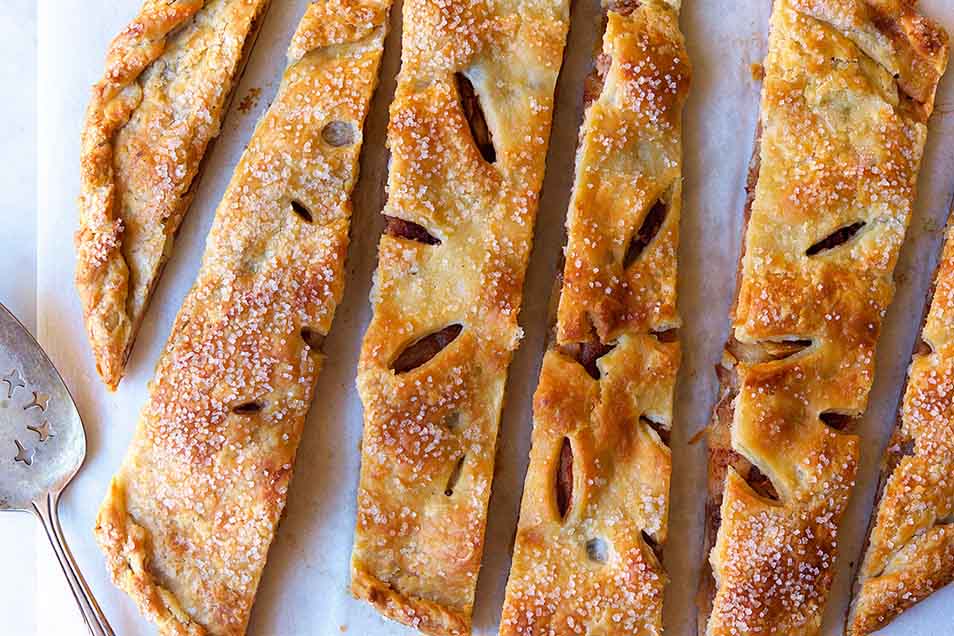 Crust lovers, unite! This low-profile apple pie features a thin layer of cinnamon-scented apples between two flaky, sugar-topped crusts.
Ingredients
Crust
3/4 teaspoon salt
2 tablespoons buttermilk powder, optional
1/2 cup cream cheese (low-fat is fine)
10 tablespoons cold butter
3 to 4 tablespoons ice water
Filling
1/2 cup Baker's Cinnamon Filling mixed with 2 tablespoons water*
3 medium-to-large fresh apples, peeled, cored, and thinly sliced
dash of salt
2 teaspoons lemon juice
2 tablespoons butter, cut in small cubes
*Substitute 1/2 cup granulated sugar and 2 teaspoons ground cinnamon for the Baker's Cinnamon Filling and water, if desired. If you use sugar and cinnamon, DO NOT ADD THE WATER.
Topping
2 tablespoons coarse sparkling white sugar
Instructions
To make the crust: Put the flour in a bowl, or in the work bowl of a food processor. Add the cream cheese, salt, and buttermilk powder. Mix together until everything is evenly crumbly. If you're using a food processor, just a few quick pulses are all you'll need.

Cut the cold butter into pieces and work it into the flour, leaving some visible pieces.

Sprinkle the dough with the cold water and toss. Squeeze the dough to determine if it holds together. If it's too dry, add water 1 tablespoon at a time, using just enough so the dough will hold together.

Divide the dough in two pieces, one slightly larger than the other. if you have a scale, one piece should be about 9 ounces; the other about 10 ounces. Flatten each piece of dough into a disk, wrap well, and refrigerate for 30 minutes or longer.

Remove the larger piece of dough from the refrigerator, and roll it into a 13" circle. Place it in a 12" shallow pizza pan, or onto a parchment-lined baking sheet. The parchment is there to catch any spills and simplify cleanup; if you don't have it, there's no need to grease your pan.

Spread the Baker's Cinnamon Filling mixture atop the crust. If you're using sugar and cinnamon, simply sprinkle it evenly atop the crust.

Spread the apples evenly atop the crust.

Sprinkle the apples with a dash of salt, and drizzle with the lemon juice. Scatter the bits of butter over all.

Remove the other piece of dough from the refrigerator, and roll it into a 12" circle. Place it atop the apples. Bring the edge of the bottom crust up over the top, pressing to seal. Make a decorative crimp, if desired.

Brush the crust with milk, and sprinkle with coarse white sparkling sugar, if desired. To allow steam to escape, cut a dime-sized hole in the middle. Or use a small, decorative cutter to make cutouts at regular intervals around the crust. Alternatively (and most simply), cut several 1" slits across the top.

Bake the pie in the preheated 425°F oven for 15 minutes. Reduce the heat to 375°F, and continue to bake for an additional 25 to 35 minutes, or until the crust is golden brown and you can see some filling bubbling through the slits in the top.

Remove the pie from the oven, and wait about an hour before cutting into wedges and serving.

Yield: one 12" pie.
Nutrition Information
Serving Size

1 piece (128g)

Servings Per Batch

10
Amount Per Serving:
Calories

330

Calories from Fat

170

Total Fat

19g

Saturated Fat

11g

Trans Fat

0.5g

Cholesterol

50mg
Sodium

220mg

Total Carbohydrate

36g

Dietary Fiber

2g

Sugars

16g

Protein

4g
* The nutrition information provided for this recipe is determined by the ESHA Genesis R&D software program. Substituting any ingredients may change the posted nutrition information.
Reviews
The cream cheese in the crust makes it savory and rich, a nice compliment to the not-too-sweet apples. I never bake pies because my crust always slides down the sides of the plate, so I loved this version baked on a cookie sheet. It was simple enough to make on a weeknight and got rave reviews the following day.
I baked this for my son's birthday. Unfortunately, I didn't get to taste it. His report was 'fantastic, 10 out of 10, I will eat again.' The only problem I had was my own fault - I didn't shape the discs correctly, so when I rolled the crust out, it frayed around the edges. As a result, the juice in the apples never bubbled to the top, but instead came out the sides because I couldn't seal them properly. Honestly, it didn't affect the taste at all - he reportedly ate the sides first! Has anyone tried adapting this recipe for blueberries? I would love to hear any results!

Gail, we haven't tried using blueberries to make the filling for this delightful pie, but it could be a tasty variation. You'll want to add some sort of thickener to the sugar in the filling, as blueberries are juicer than apples. Typically we recommend adding about 1 tablespoons of cornstarch (or 1 tablespoon plus 1 teaspoon of all-purpose flour) per cup of berries used. This should give you the perfect consistency in your crusty Blueberry Pie. Happy baking! Kye@KAF
This is my first time make apple pie. It turn out beautiful. My kids finished all pie in 10 minutes. I love it!
I just used the crust recipe. I put it with a pumpkin pie. It was excellent, especially brushed with milk and sugar. The crust was flaky, flavorful, and and sturdy. I also had no problems with the dough tearing.
Make the crust with my mixer, we loved the pie. Making it again today.
I didn't have a 12" pizza pan so I used the bottom of a 12" springform pan, and placed it on a rimmed baking sheet. Good thing I did, because the cinnamon/sugar mixture melted into a thick, sticky syrup which leaked out of the pie. The pie filling was dry (probably because most of it leaked onto the baking sheet.) I served it with vanilla ice cream, which saved the pie. My company said it was good, but I think they were just being polite! Would I make it again? Probably not.

We're sorry to hear about your pie troubles. It sounds like you were well on your way to a delicious pie, but the crust might have been just a bit too weak to hold in all the juices. Next time you might want to opt for using a traditional pie pan to help provide more structure for the dough, or try working the dough a bit more to build some strength. (It seems counter-intuitive, but some gluten development can actually be helpful when you're trying make the dough strong.) We hope you're able to make the Crusty Apple Pie you're searching for. Happy baking! Kye@KAF
Baked this pie today using regular cinnamon and sugar. My best ever attempt at a pie crust. However, I must have sliced the granny smith apples too thin. I have a great tasting applesauce pie. How do you keep the apples from breaking down?

Grannies are pretty resilient to cooking down so I would recommend for next time cutting 1/4" slices. Enjoy! Elisabeth@KAF
A very good recipe. Definitely will make again. I used Granny Smith apples and used my own cinnamon and sugar mix. The crust was excellent. It came together quick and easy in my food processor.
I am crazy about this recipe and have made it many times for holidays, celebrations, and just because. I love its portability and easy-to-eat slices (ahem, almost too easy, if you catch my drift), making it perfect for gatherings where eating with hands and easy cutting/portioning is key. The abundance of delicious crust makes it a special pastry. Speaking of crust, this dough has also become my go-to pie crust recipe. I've found it to be very easy to work with, and I love the tartness of the added cream cheese and buttermilk.
OMG this is theee besttt ever - Last winter I think I made about 15 of these for family and friends and everyone is speechless and just nodding their heads as they stuff it in, hee hee. Truly one of the best apple pies ever, and glad fall is here so I can start baking this baby again