A customized print-friendly version of this recipe is available by clicking the "Print Recipe" button on this page.
Crusty European-Style Hard Rolls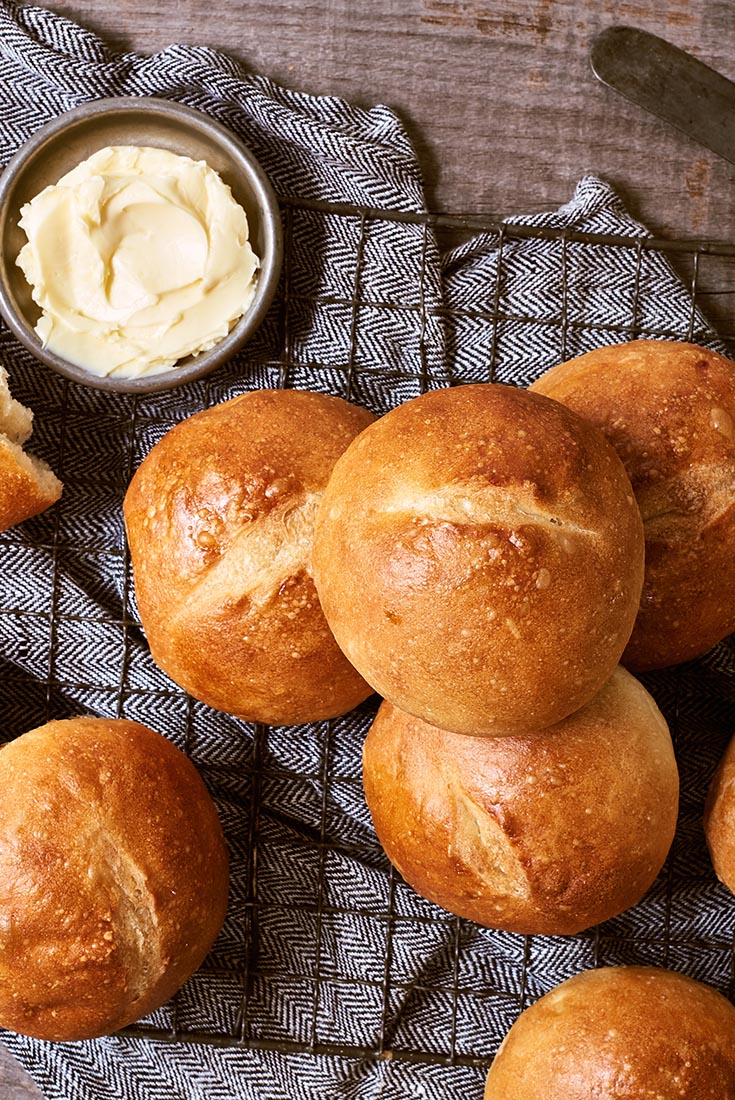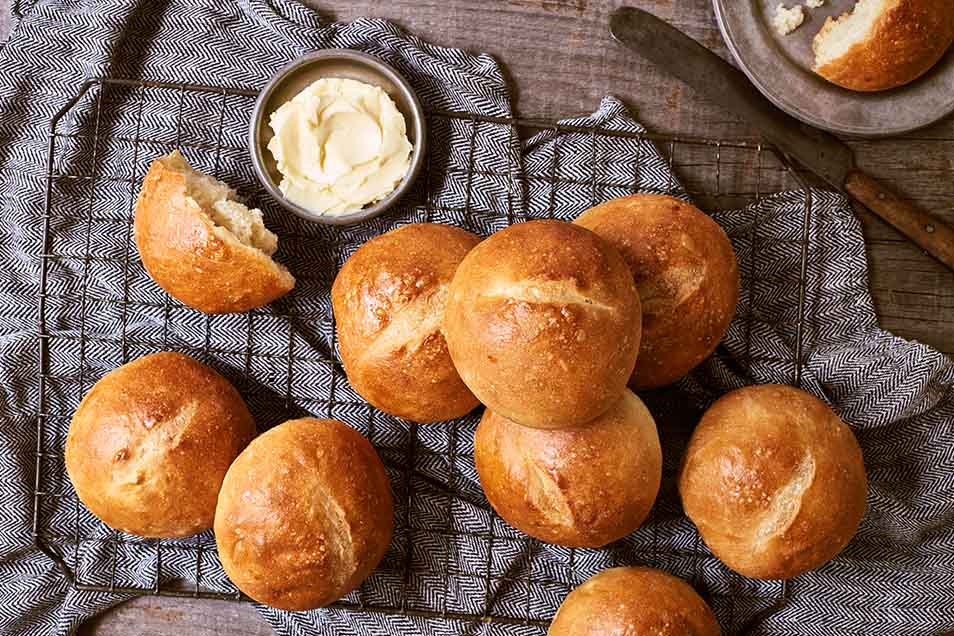 These rolls have a delicious crackly/crunchy crust, partly the result of allowing them to proof in the refrigerator, partly from an egg white wash applied just prior to baking. Their texture is light and airy, rather than substantial, which makes them a wonderful mini-sandwich roll. Make them slightly larger, and they're perfect for hamburgers or grilled sausage. Or serve them at breakfast, with butter and preserves, as they do in Europe.

Notice that this recipe includes just over 1/4 teaspoon yeast. Why so little? Because of the extra-long fermentation, key to developing the rolls' flavor. As the dough rests, the yeast will continue to multiply; thus there's no need to "front-load" with lots of yeast initially.
Ingredients
Egg wash
1 large egg white mixed with 1-2 tablespoon cool water
Instructions
To make the starter: Mix the starter ingredients together until smooth, cover, and let rest at room temperature overnight.

Combine all of the dough ingredients and mix and knead them together — by hand, mixer or bread machine — until you've made a soft, somewhat smooth dough; it should be cohesive, but the surface may still be a bit rough. It may also stick to the bowl just the tiniest bit.

Allow the dough to rise, covered, for 3 hours, gently deflating it and turning it over after 1 hour, and again after 2 hours.

Turn the dough out onto a lightly greased work surface. Divide it into 12 pieces, shape the pieces into balls, and firm them up by rolling them under your lightly cupped fingers.

Place the rolls on a parchment-lined baking sheet, cover them, and let them rise for 1 to 2 hours, until they're puffy, though not doubled in size. They'll flatten out a bit as they rise; that's OK.

Cover the rolls, and refrigerate them for 2 to 3 hours. Towards the end of the rolls' chill, preheat the oven to 425°F.

Whisk together the egg white and water until frothy. Remove the rolls from the refrigerator, and brush them with the wash; you won't use it all up. Again, don't be discouraged if the rolls seem a bit flat; they'll pick up when they hit the oven's heat.

Slash a 1/4" deep cut across the top of each roll. Immediately put the rolls into the oven.

Bake the rolls for 20 to 25 minutes, until they're a deep golden brown. Remove them from the oven, and cool on a rack. Or, for best crunch, open the oven door, and allow the rolls to cool in the turned-off, open-door oven.
Nutrition Information
Serving Size

74g

Servings Per Batch

12
Amount Per Serving:
Calories

160

Calories from Fat

5

Total Fat

0g

Saturated Fat

0g

Trans Fat

0g

Cholesterol

0mg
Sodium

290mg

Total Carbohydrate

34g

Dietary Fiber

1g

Sugars

0g

Protein

6g
* The nutrition information provided for this recipe is determined by the ESHA Genesis R&D software program. Substituting any ingredients may change the posted nutrition information.
Tips from our bakers
For larger rolls, divide the dough into 8 pieces, rather than 12. Bake for a minute or two longer.
For extra-crusty crust, add steam to your oven as follows: While the oven is preheating, place an empty cast iron frying pan on the oven rack below the stone. If possible, adjust stone and pan so that the pan isn't directly under the stone, making it easier for steam to reach the baking rolls. Once you've placed the rolls in the oven, pour about 1 cup of boiling water into the cast iron frying pan. Steam will billow from the pan upwards to envelop the baking rolls; be sure to wear good oven mitts to shield your hands and arms. Quickly close the oven door to trap the steam.
Reviews
I don't know where I went wrong, but I made this twice and couldn't get it to work. The first time, I think the room temperature was too cool because they didn't rise enough and were like hockey pucks. The second time, I proofed them in the oven with the light on for a little extra warmth. They seemed to be going along beautifully, but when I baked them, they didn't puff up much. The taste was good and they had a nice crispy exterior, just a little flat. For the amount of time it took with all the rises, I don't think I'll try again. The no knead bread recipe works well enough for crusty rolls without all the work!

We're sorry to hear this recipe left you feeling disappointed. It sounds like you've experienced the joy that is our No-Knead Crusty White Bread recipe, which is reliable and easy even for rolls. However, if you'd like to attempt this recipe again and experience the fantastic results we know are possible, consider giving the Baker's Hotline a call at 855-371-BAKE (2253) so we can troubleshoot with you further and figure out what may have gone awry with your bake. Kindly, Kye@KAF
Amazing recipe.I baked it this morning and my client was Super happy with the result.Thank you for this wonderful recipe
I used some rye flour and sourdough starter. The rolls are light and crusty. I am apt to try changing the recipies. So far so good.
Decent Rolls but not what I was expecting. I followed the directions precisely but the rolls did not have the crispy/crusty/hard exterior that I was looking for. The taste is pleasant.

Looking to make your rolls even crustier/crunchier? Try spritzing them with a bit of water using a spray bottle right at the beginning of the bake, and spray them again after 5 minutes. The steam helps create a crunchy crusty. Also try extending the baking time by about 3 to 5 minutes and letting the rolls cool in the turned off oven. Crack the door to let some heat escape slowly, and then open it up fully after about 10 minutes. This slow cool will also help the rolls maintain their crisp exterior. We hope this helps, and happy baking! Kye@KAF
These are delicious. I used 00 flour (based on some recommendations I had seen in other German brotchen recipes) instead of the AP it calls for, and I also forgot to chill them, but the flavor and texture of these rolls still turned out amazing. I love the contrast of the crispy exterior and pillowy interior. Dedicate the time and your patience will be rewarded.
Well! Totally screwed up this recipe and they taste GREAT. Although I read through the recipe, I apparently retained nothing. So when the starter was ready, I could not stay home to do all the rises, etc. So I made the dough and put in the fridge. Went home in the middle of the day and took out from the refrigerator. Let it stand at room temp for several hours. I did not chill again after shaping, but put in the oven and then had to stop myself from eating them all. I did use KAF bread flour rather than all-purpose, but that was the only change to ingredients. Next time I will still use bread flour and will actually follow direction. Not sure how they could be better, but we'll see :)
Our son requested 'rolls like we had in Germany, please,' and our DIL found this recipe and asked me to make them. I wanted to bake in the morning, so shaped them and refrigerated them overnight (instead of 2 hours). The next morning, they had flattened out, so I reshaped them and baked them after a short rise. They were perfect. I made a second batch the next day. This time I left the dough in a bowl in the fridge overnight, shaped and baked in the morning after a 45" rise. They were equally delicious. My husband has voted them his new favorite too.
Memories of childhood. Walked over a mile to primary school as a youngster (about 1948) when rationing was still in full force in England. Got two 'cob rolls' for a penny fresh from the bakers oven next to the school. Cracked the crust and scooped out the soft warm bread then ate the crunchy crust last. These rolls are just as I remember from way back then!
No flavor at all, and they didn't rise. I followed the recipe exactly, but they were just awful... I had to throw them out. No homemade rolls for Easter this year. :(.

We're so sorry to hear that there were no rolls at your Easter table, Roni. It sounds like something definitely went awry. We'd love the chance to talk through the recipe with you, so we encourage you to reach out to our free and friendly Baker's Hotline staff to help troubleshoot at 855-371-BAKE (2253). Kindly, Annabelle@KAF
Wow! Awesome rolls! I'm not sure how anyone could fail making these. The first few 'deflates' were not quite timely....and the 3rd was rather late. But after I formed the rolls, let them rise as directed....then in the refrigerator for 3 hours, made the cuts and baked them, the finished product was perfect. The Lord willing, these will be on our table for our family Easter dinner.