A customized print-friendly version of this recipe is available by clicking the "Print Recipe" button on this page.
Crusty European-Style Hard Rolls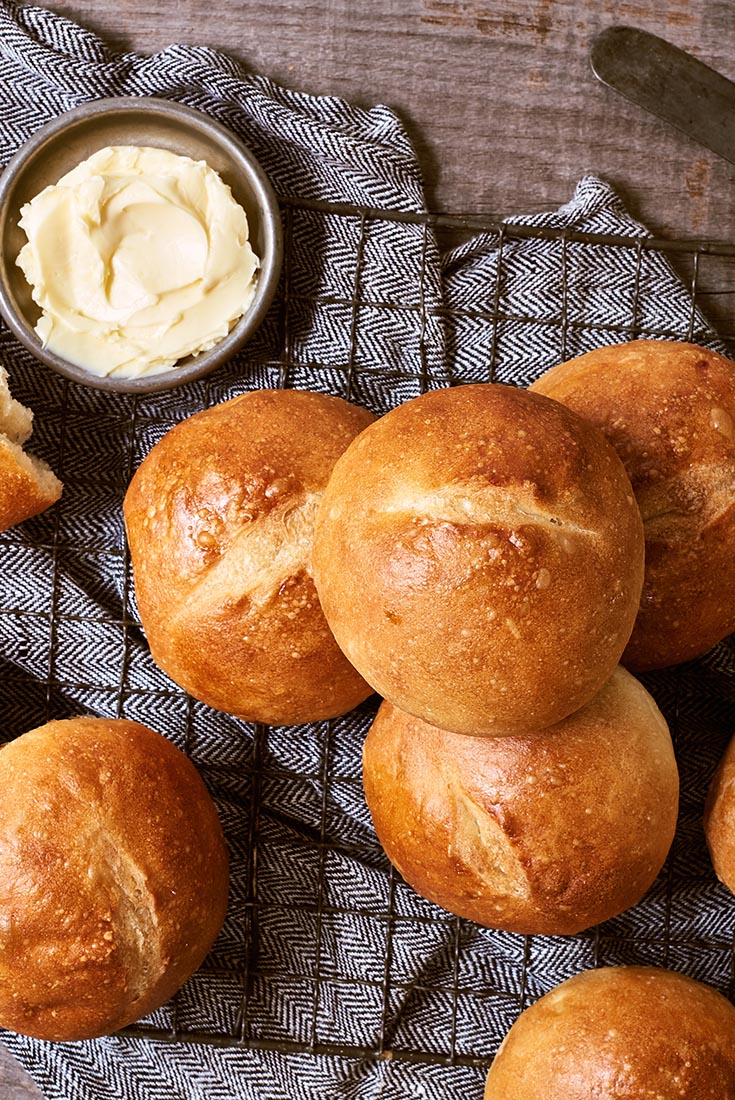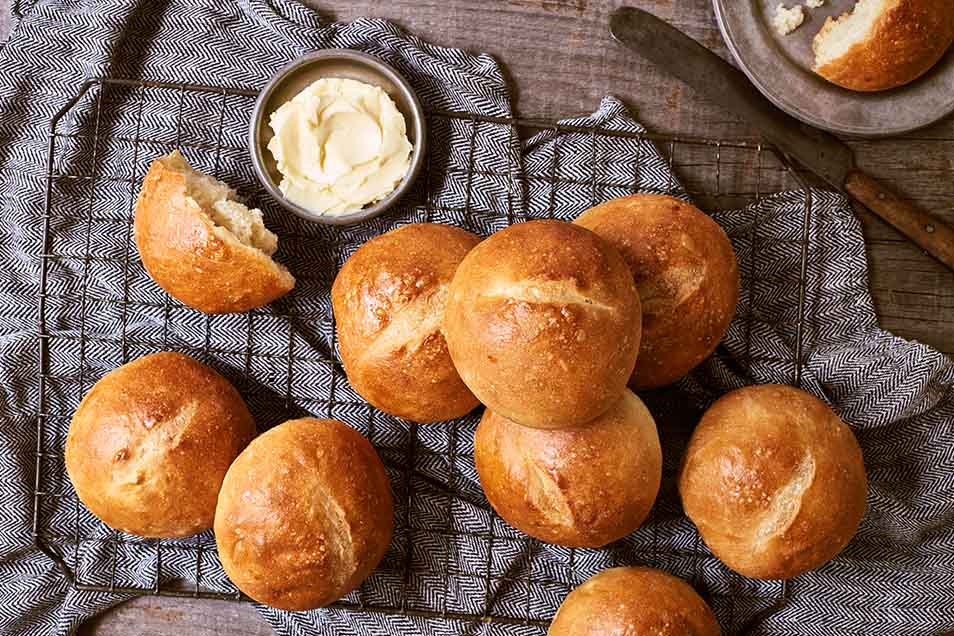 These rolls have a delicious crackly/crunchy crust, partly the result of allowing them to proof in the refrigerator, partly from an egg white wash applied just prior to baking. Their texture is light and airy, rather than substantial, which makes them a wonderful mini-sandwich roll. Make them slightly larger, and they're perfect for hamburgers or grilled sausage. Or serve them at breakfast, with butter and preserves, as they do in Europe.

Notice that this recipe includes just over 1/4 teaspoon yeast. Why so little? Because of the extra-long fermentation, key to developing the rolls' flavor. As the dough rests, the yeast will continue to multiply; thus there's no need to "front-load" with lots of yeast initially.
Ingredients
Egg wash
1 large egg white mixed with 1-2 tablespoon cool water
Instructions
To make the starter: Mix the starter ingredients together until smooth, cover, and let rest at room temperature overnight.

Combine all of the dough ingredients and mix and knead them together — by hand, mixer or bread machine — until you've made a soft, somewhat smooth dough; it should be cohesive, but the surface may still be a bit rough. It may also stick to the bowl just the tiniest bit.

Allow the dough to rise, covered, for 3 hours, gently deflating it and turning it over after 1 hour, and again after 2 hours.

Turn the dough out onto a lightly greased work surface. Divide it into 12 pieces, shape the pieces into balls, and firm them up by rolling them under your lightly cupped fingers.

Place the rolls on a parchment-lined baking sheet, cover them, and let them rise for 1 to 2 hours, until they're puffy, though not doubled in size. They'll flatten out a bit as they rise; that's OK.

Cover the rolls, and refrigerate them for 2 to 3 hours. Towards the end of the rolls' chill, preheat the oven to 425°F.

Whisk together the egg white and water until frothy. Remove the rolls from the refrigerator, and brush them with the wash; you won't use it all up. Again, don't be discouraged if the rolls seem a bit flat; they'll pick up when they hit the oven's heat.

Slash a 1/4" deep cut across the top of each roll. Immediately put the rolls into the oven.

Bake the rolls for 20 to 25 minutes, until they're a deep golden brown. Remove them from the oven, and cool on a rack. Or, for best crunch, open the oven door, and allow the rolls to cool in the turned-off, open-door oven.
Nutrition Information
Serving Size

74g

Servings Per Batch

12
Amount Per Serving:
Calories

160

Calories from Fat

5

Total Fat

0g

Saturated Fat

0g

Trans Fat

0g

Cholesterol

0mg
Sodium

290mg

Total Carbohydrate

34g

Dietary Fiber

1g

Sugars

0g

Protein

6g
* The nutrition information provided for this recipe is determined by the ESHA Genesis R&D software program. Substituting any ingredients may change the posted nutrition information.
Tips from our bakers
For larger rolls, divide the dough into 8 pieces, rather than 12. Bake for a minute or two longer.
Reviews
Is it possible to modify this recipe so it can be completed within the course of one day?

Time is an essential ingredient in both the starter and the dough in this recipe. Without the full rest periods, the rolls will not have their signature flavor or crusty exterior. If you need to make a recipe within a single day, consider making the recipe called Deli-Style Hard Rolls. We hope that helps, and happy baking! Kye@KAF
Superb! These delicious rolls are a joy to make and test any baker's ability to time manage while allowing opportunities to experiment. Plan your day to accommodate the rising times - I find I plan multiple bakes with these puppies. I have a very small fridge so I do the cold rise on my back porch in the winter. Works great!
This was my first time baking crusty rolls and they turned out really well. My teenage son devoured them and is still talking about them the next day. They took a *long* time -- SEVEN hours of rising time?! -- but nothing was difficult and they were very tasty.
I love this recipe! It's my go-to any time I just feel like I need to make some bread. (I do usually double the salt just to get a little more flavor, though.) I would love to try this recipe as a larger loaf. Any recommendations about changing the rising or baking time in order to get the right puff and crunch on a large scale?

Thanks for sharing your love for this recipe, Catie. With 4 1/2 cups flour total, you could make either one large loaf or two smaller ones. The rise will take a bit longer for a larger portion of dough, but how long exactly will depend on the environment and the size of your loaves - look for the same visual cues you would with the rolls. We'd suggest keeping the bake temp the same, and increasing the baking time to 25-35 minutes for smaller loaves 30-40 minutes for a larger one. Ultimately your goal is the same as with rolls - a deep golden-brown color and an internal temp of at least 190°. Steam is key to crispy crust development, so you might consider baking your loaf in a Dutch oven, rather than on a parchment lined baking sheet. At the very least, try adding a bit of steam by spraying your loaf with water just as you put it in the oven. Our blog article entitled "Steam in bread baking" offers some great guidance for both techniques, as well as several others. Happy baking! Mollie@KAF
My rolls turned out great - the rise, texture, color were spot-on. The process was very long. I give it a low rating for the flavor, though. Very bland and disappointing to me (family members enjoyed them.) However, they would be perfect for small sandwiches. Will try a different recipe.

Leslie, if you'd like to try adjusting the flavor of these rolls before moving on to another recipe, feel free to give our Baker's Hotline a call (855-371-2253). We'd love to hear more about what flavor you were looking for (salt? yeast?) and how you might be able to achieve that by tweaking your technique slightly. We're here to help if you need us. Kye@KAF
I used Kaf bread flour and followed the directions to the letter. They seemed deflated when I took them out of the fridge but I wasn't too concerned after all the recipe said that was to be expected. After coating with the egg mixture and snipping the tops I confidently placed them in a 425 degree oven. 25 minutes later I had golden brown hockey pucks, not the beautiful round rolls pictured. Good thing I tested this before Thanksgiving. The taste is good and I like the crunch. Too bad the shape didn't hold. I was hoping your bread flour would have held up. Was that wrong thinking?

Robert, our Bread Flour should work just fine in this recipe (although it may require a bit more liquid). It just sounds like the rolls were overproofed, or left to rise too long in the fridge. Next time, try reducing the amount of time they're left in the fridge, and make your snips a bit smaller. We hope that helps make the rolls look just as good as they taste. Kye@KAF
Thinking about making these for Thanksgiving. I was wondering if you could freeze these after the 1st or 2nd rise and then defrost and bake?

While you could freeze these rolls after the first rise is complete and the rolls have been shaped, you might get better results freezing the baked rolls. Baked rolls can be thawed at room temperature and warmed in a low oven for about 5-10 minutes until warm all the way through; they'll be almost as delicious as they were when they first came out of the oven. If you opt for freezing the unbaked rolls, you may want to increase the amount of yeast in the dough slightly (about 1/4 teaspoon). Thaw the dough in the fridge overnight and then let them rest at room temperature until puffy before baking as described. Enjoy! Kye@KAF
I just baked this recipe for the first time and with great success! The flavor is what I dreamed of and I will have another go at it for a dinner party next week. Curiously, there are some differences between the recipe that I get on my iPad and the one on my computer (with all the great photos and advice). I followed the more complete and detailed computer version. I intend to follow PJ Hamel's blog in the future!
These are great and I've made them a handful of times. If you don't have time for the chill, you can still follow through with the recipe on an expedited basis and they're still good.
OK, it's almost 7:00 PM and I need to put in the frig for three hours. And I'm tired (evacuated for Hurricane Irma). Can I keep in the frig overnight and bake them in the morning?

Lynn, we're glad to hear that you're safe and baking! Most rolls (including these ones) can be kept in the fridge overnight to complete either the first or second rise. If you opt to do the first rise overnight, you can divide the dough, shape, and let the rolls rise until puffy, then bake as per usual. If you put the shaped rolls in the fridge overnight, you can take them out the next morning while the oven preheats and then bake according to the recipe. We hope that helps! Kye@KAF