A customized print-friendly version of this recipe is available by clicking the "Print Recipe" button on this page.
Crusty European-Style Hard Rolls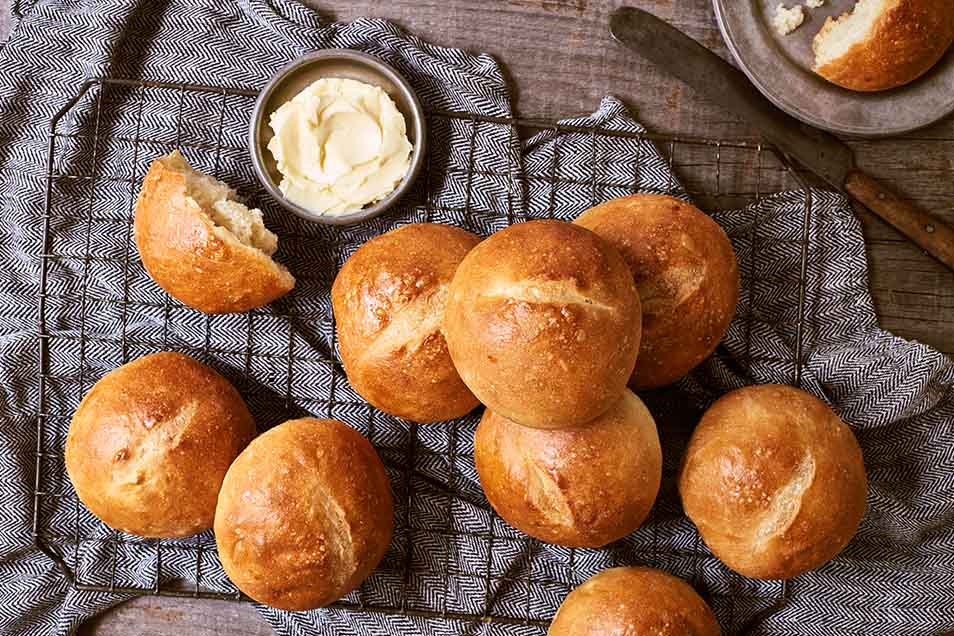 These rolls have a delicious crackly/crunchy crust, partly the result of allowing them to proof in the refrigerator, partly from an egg white wash applied just prior to baking. Their texture is light and airy, rather than substantial, which makes them a wonderful mini-sandwich roll. Make them slightly larger, and they're perfect for hamburgers or grilled sausage. Or serve them at breakfast, with butter and preserves, as they do in Europe.

Notice that this recipe includes just over 1/4 teaspoon yeast. Why so little? Because of the extra-long fermentation, key to developing the rolls' flavor. As the dough rests, the yeast will continue to multiply; thus there's no need to "front-load" with lots of yeast initially.
Ingredients
Egg wash
1 large egg white mixed with 1-2 tablespoon cool water
Instructions
To make the starter: Mix the starter ingredients together until smooth, cover, and let rest at room temperature overnight.

Combine all of the dough ingredients and mix and knead them together — by hand, mixer or bread machine — until you've made a soft, somewhat smooth dough; it should be cohesive, but the surface may still be a bit rough. It may also stick to the bowl just the tiniest bit.

Allow the dough to rise, covered, for 3 hours, gently deflating it and turning it over after 1 hour, and again after 2 hours.

Turn the dough out onto a lightly greased work surface. Divide it into 12 pieces, shape the pieces into balls, and firm them up by rolling them under your lightly cupped fingers.

Place the rolls on a parchment-lined baking sheet, cover them, and let them rise for 1 to 2 hours, until they're puffy, though not doubled in size. They'll flatten out a bit as they rise; that's OK.

Cover the rolls, and refrigerate them for 2 to 3 hours. Towards the end of the rolls' chill, preheat the oven to 425°F.

Whisk together the egg white and water until frothy. Remove the rolls from the refrigerator, and brush them with the wash; you won't use it all up. Again, don't be discouraged if the rolls seem a bit flat; they'll pick up when they hit the oven's heat.

Slash a 1/4" deep cut across the top of each roll. Immediately put the rolls into the oven.

Bake the rolls for 20 to 25 minutes, until they're a deep golden brown. Remove them from the oven, and cool on a rack. Or, for best crunch, open the oven door, and allow the rolls to cool in the turned-off, open-door oven.
Nutrition Information
Serving Size

74g

Servings Per Batch

12
Amount Per Serving:
Calories

160

Calories from Fat

5

Total Fat

0g

Saturated Fat

0g

Trans Fat

0g

Cholesterol

0mg
Sodium

290mg

Total Carbohydrate

34g

Dietary Fiber

1g

Sugars

0g

Protein

6g
* The nutrition information provided for this recipe is determined by the ESHA Genesis R&D software program. Substituting any ingredients may change the posted nutrition information.
Tips from our bakers
For larger rolls, divide the dough into 8 pieces, rather than 12. Bake for a minute or two longer.
For extra-crusty crust, add steam to your oven as follows: While the oven is preheating, place an empty cast iron frying pan on the oven rack below the stone. If possible, adjust stone and pan so that the pan isn't directly under the stone, making it easier for steam to reach the baking rolls. Once you've placed the rolls in the oven, pour about 1 cup of boiling water into the cast iron frying pan. Steam will billow from the pan upwards to envelop the baking rolls; be sure to wear good oven mitts to shield your hands and arms. Quickly close the oven door to trap the steam.
Reviews
This recipe is not kidding around! It's the real thing! I've re-awakened my dormant sourdough after reading the book "52 Loaves" I'm not sure I can bake every week, this recipe is week 3 in my sourdough exploration. I started this bake in the morning and used a cup of my established starter. I wasn't sure but decided to add the scant 1/8 tsp yeast called for in the recipe. (My starter is not particularly bubbly or strong as I learn to adjust and manipulate it) I was so unsure, but wow, the results are fantastic! The dough was easy to work with and fun to watch rise through all the steps. It was a long wait during the day, but the rolls came out beautifully brown-ish (not as dark as the picture) and light/fluffy on the inside. Perfect texture! The crust, crunch, and flavor made it a thing of beauty. Calling this one a success and looking forward with a bit more confidence to Week #4
I bake homemade breads, yeast rolls, cinnamon rolls etc and have tried several "crusty" roll recipes in the past only to be disappointed. Not with these! I followed the recipe EXACTLY and I'll admit that I was a little doubtful after letting them sit in the fridge for a couple of hours BUT they baked up perfectly! Nice crunchy/chewy exterior with a great fluffy tasty interior. LOVE THEM!
This is a favorite of ours; mine resemble the type of favored roll served on cruise ships. Just pay attention to the fact that you don't want to hurry these along, and you will be satisfied with the end result. I gave this five stars.
I did a little research on how to shape German Brotchen. This recipe gave the perfect texture and crust. It was a thing of beauty!
These were wonderful and well worth the time. I used my bread machine to knead the dough and for the first rise, then moved the dough to a bowl. I followed the recommendation to leave the rolls in the oven with the door cracked for "extra crispness". Seemed to take longer than the 20- 25 minutes to get the rolls brown but they turned out goodAnyway. Absolutely delicious!!
Thank you for this recipe! I have been making the no-knead rolls for months now as a substitute for brotchen, which my husband remembers so fondly from trips to German. But then I found this recipe. My first attempt came out good, but not perfect. So, I'm trying again. My starter worked beautifully overnight but I realized about 30 minutes into the first rise, that my house is a little cold and I'm just not getting much action. Would you recommend allowing the initial rise to go a little longer? Or, will it all work out over the course of the 8 or so hours of rise this dough calls for anyway?

That's an excellent question, Sara! We don't think you'll run into any problems given the total length of this rise, but choosing the longer end of the provided ranges is probably a good idea. Happy baking! Kat@KAF
So there was a lot to like about this recipe, but mine didn't come out perfect. I saw a lot of people say theirs came out dense; I didn't have that experience. They don't have great big holes in the crumb like a ciabatta, but I didn't think they would. I found the texture to be excellent. My toddlers did as well, which is actually a pretty difficult feat to achieve so that's really saying something. I think my disappointment came from the fact that I didn't really love the flavor. It fell flat to me, and almost tasted floury. They were cooked all the way through, so I'm not totally sure how that happened. With butter or jam, I'm sure they're just fine, but I would be interested if there was a way to increase the amount of salt in the recipe without impacting the viability of the yeast.

We definitely encourage you to experiment using more salt to better suit your tastes, Kayt! You may also enjoy giving these rolls a bit of a Parker House Roll treatment, meaning you brush them with melted butter and sprinkle them with coarse salt just before baking. Then brush them again with butter when they come out. This will make them a little softer, but oh so tasty. Annabelle@KAF
These might be the best things I've ever baked. They taste and have the same texture as those frozen crusty rolls from the grocery store that my grandparents love. They do take quite a lot of time to rest at different stages, but getting the dough mixed and baked couldn't have been simpler. Can't wait to make these again!
followed this recipe. Rose nicely but my rolls baked up flat, tough, and dense. they did taste good, though.

That sounds like a frustrating experience after such a good start with your dough! Ultimately, it sounds like your dough was over-proofed, leaving your loaf with nowhere to go once it hit the heat of the oven. If you search our site for "over-proofed dough" you'll find a blog post on what to do in these situations to avoid the dreaded hockey puck roll. Happy baking! Kat@KAF
Can this be adapted to use the crown bread pan? If so, how?

Caite, you could definitely make this in your crown pan, but you will have some leftover dough that won't fit. Just place eight rolls in the crown for their second rise, and place any additional rolls on a pan as directed. You can bake them both at once. Happy baking! Kat@KAF