A customized print-friendly version of this recipe is available by clicking the "Print Recipe" button on this page.
Double Chocolate Banana Bread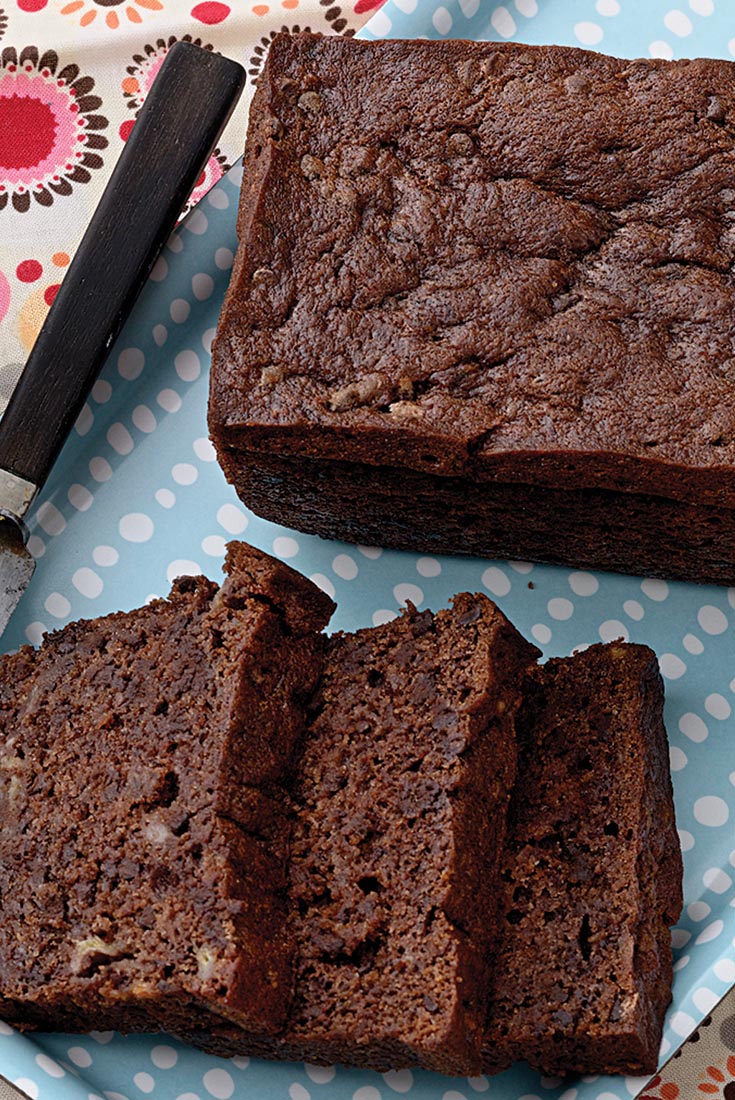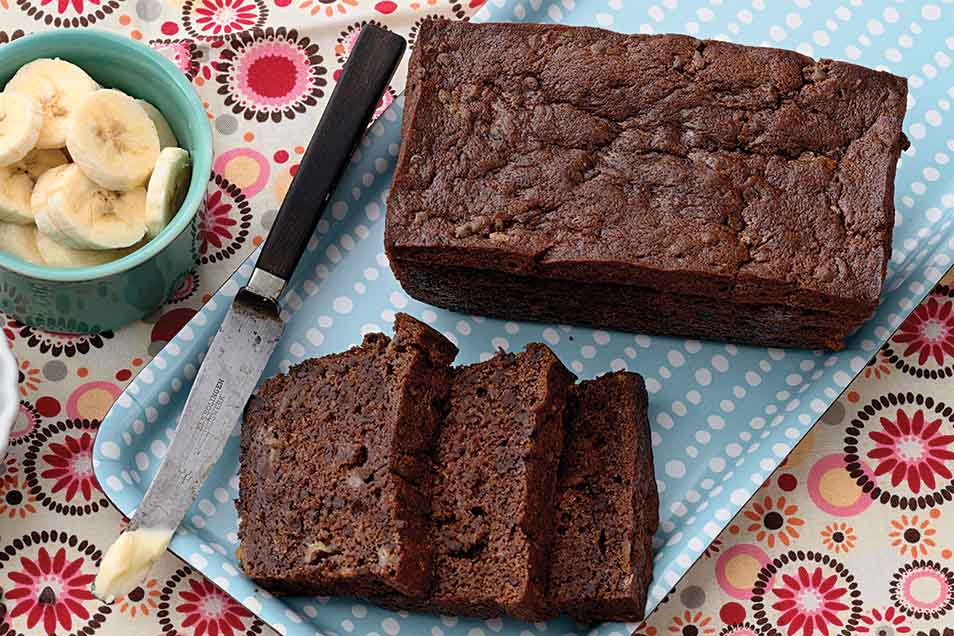 Chocolate meets banana in this version of one of the most popular breads we know. We like to make two mini loaves so one can be eaten straight away, and the other can be tucked away for later.
Instructions
Preheat the oven to 350°F. Lightly grease two 3 1/4" x 5 3/4" mini loaf pans, or one 9" x 5" loaf pan.

Combine the flour, baking soda, salt, and cocoa.

In a separate bowl, beat the butter and sugar until light and creamy.

Beat in the egg, then stir in the vanilla, banana, and sour cream.

Gently mix in the dry ingredients and chocolate chips until well incorporated.

Pour the batter into the pan(s) and bake for 45 to 60 minutes (bake for the shorter time for two mini loaves and the longer time for the larger loaf), until a cake tester or toothpick inserted into the center comes out clean.

Remove the bread(s) from the oven, and allow to rest in the pan(s) for 10 minutes. Turn the bread(s) out onto a rack to cool completely.

Yield: one 9" x 5" loaf or two mini loaves.
Reviews
Love this recipe! I left out the chips and added toasted walnuts and a tsp of espresso powder. Also, used plain yogurt instead of the sour cream. Lastly, sprinkled struesel that I had left over from making coffee cakes on top of my mini loaves before baking. So Good!
OK! This was easy, and just the right balance of chocolate and banana. Nice and moist too, but maybe I could have given it just another minute for additional firmness. I didnt want it to be too dry, so as soon as it tested clean stick, out it came. I used Valrhona for cocoa powder and its smoky profile paired nicely with the banana to give it the mmmmm kapow. Took this for a church dinner and everyone had more than 1 piece. The leftovers went to a family that loves b-bread and they really liked it. Bet its good with butter and warmed........
It seemed that I had to bake this loaf a bit longer as my toothpick kept coming out very wet. This is one of the best breads I've baked this Christmas season. It's a very moist and rich flavored bread. I would highly recommend this recipe.
I've made this recipe a couple of times and literally the loaves are gone in a day. This makes a very moist loaf with the perfect touch of sweetness. I reduce the sugar as per KAF suggestions, and I also reduce bake time by alot. I don't know if it's supposed to be baked within an inch of its life or just my oven is weird but I set my timer for 20 minutes and start checking on it every 5 minutes from there. Generally it only needs 25 min. Tonight I'm going to try this without cocoa to make a regular banana bread bc I've had such better results with this recipe than the original .
I've made this recipe at least 3 times and it always comes out delicious. I did have some problems when I made it yesterday (which was the first time in about a year). I baked it for 40 minutes and then starting checking on it every 5 minutes. At 60 minutes a toothpick was still coming out a little wet, but I didn't want to overbake it so I took it out anyways. Per the instructions, after ten minutes of cooling in the pan, I turned it over to remove it from the pan and it cracked in half (top split from bottom). What did I do wrong?

Mariko, because this recipe uses bananas, there's some natural variability in the moistness and texture. It's possible that your most recent batch simply had a bit more banana than previous loaves, which meant it needed more time to bake all the way through and was slightly more delicate. It's also possible that the flour you used this time was lower in protein content, if you happened to have used a different kind. If you're not already doing so, try using King Arthur All-Purpose Flour to ensure a more sturdy foundation of your (tasty) banana bread. Kye@KAF
The flavor is fabulous, but I had an awful experience with baking in 2 small loaf pans. Way too much batter, and then rose all over and oozed like a volcano all over my oven. I went back and doubled checked the measurements to be sure I didnt screw up somewhere. Nope. I regret not using one large loaf pan. Flavor is great, and interior texture is very moist and gooey. I will salvage these by crumbing into vanilla ice cream for a very decadent treat.

We're surprised to hear you had trouble getting the batter to fit nicely in two mini loaf pans, and we're wondering if perhaps they were smaller than the recommended 3 1/4" by 5 3/4" size. You might want to double check the dimensions, or opt for the 9" by 5" size going forward. Regardless, we're glad you enjoyed the taste of this rich chocolate bread. Please feel free to call our Baker's Hotline at 855-371-BAKE(2253) if you have questions. Happy baking! Kye@KAF
I baked this last night and even though I know banana bread is always better the next day, I tried some so that I could gauge the difference from fresh baked compared to the next day. Warm from the oven it was only ok and would not inspire me to bake it again but to it was delicious and flavorful. The cocoa does not give it a super chocolaty taste...it's really the chocolate chips the give the biggest hit of chocolate flavor. Use a good quality chip. I used a 50/50 mix of AP flour and white whole wheat and next time I may just use white whole wheat. Also, I cut back the sugar to 1/3 cup. Even with both of these changes my bread baked up to look just like the picture. I also swapped half the choc chips for walnuts. Just trying to keep the flavor of the chocolate but lower the sugar and give a little extra protein. They were just small changes but the bread stayed tender and full of flavor. I'll gladly make again.
Hello, I made this for my kids and they enjoyed the bread. But since my husband cannot have gluten, could you so kind to tell how can I change the ingredients to GF recipe? Thanking you in advance!

Emma, you can quickly and easily make this banana bread gluten-free by replacing the all-purpose flour in the recipe with our Gluten-Free Measure for Measure Flour. No other changes need to be made. Happy GF baking! Kye@KAF
Delicious...best banana bread I've ever had. Big hit with the family. If using a regular loaf pan it takes longer to bake. Falls flat when it cools but recipe pic shows the same.
I would recommend adding extra bananas to bring out the flavor, 2 wasn't enough, the flavor got lost in the chocolate and sour cream. Regardless, still delicious.