A customized print-friendly version of this recipe is available by clicking the "Print Recipe" button on this page.
Favorite Fudge Birthday Cake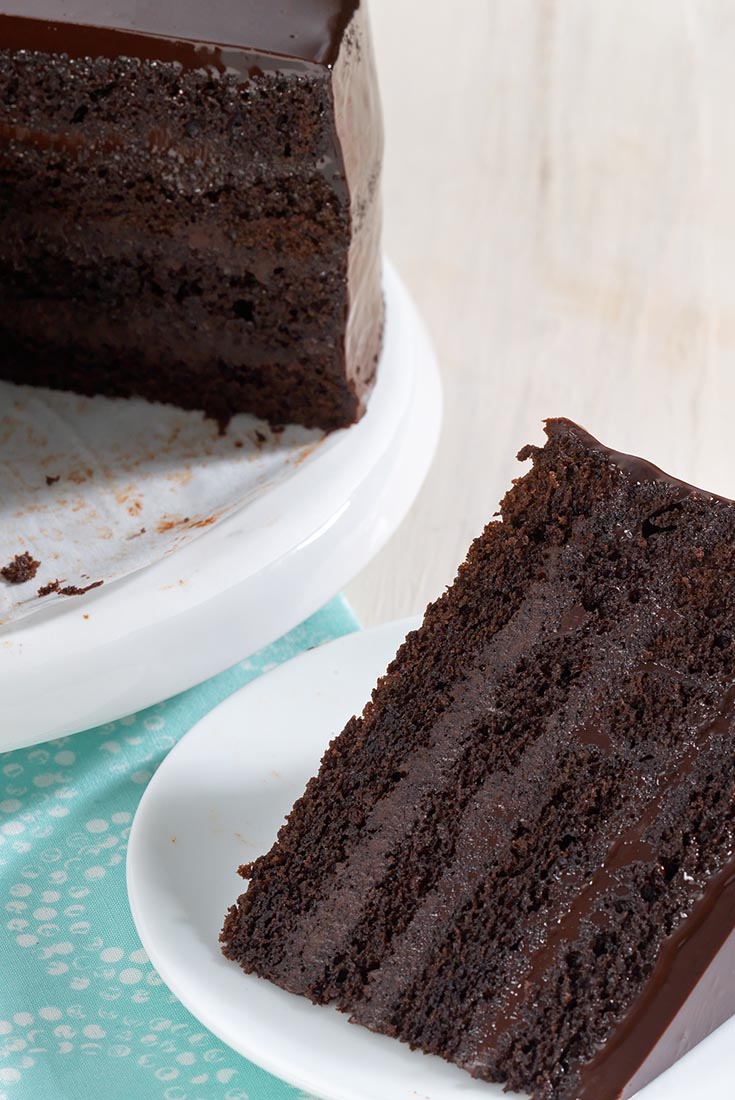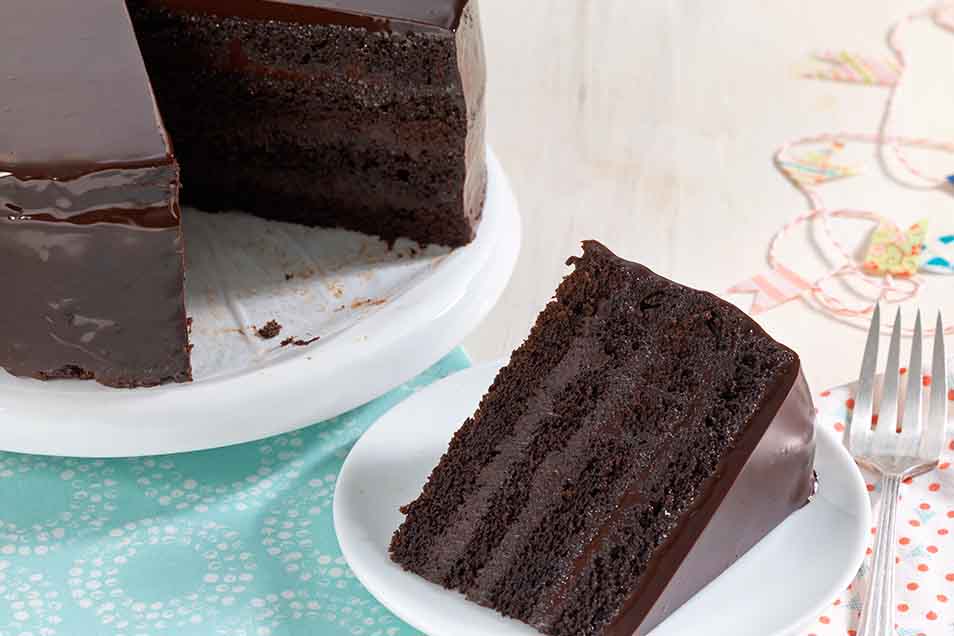 This quadruple-layer cake isn't nearly as fussy to make as you might think. It starts out as a standard two-layer cake, then each layer is cut in half and stacked, with an easy filling in between the layers. The result is a moist cake that keeps well without refrigeration; looks spectacular when cut, and tastes even better than it looks!

Want to make 2 dozen cupcakes instead of a layer cake? Enjoy our recipe for Favorite Fudge Birthday Cupcakes with 7-Minute Icing.
Ingredients
Filling
2 cups chopped semisweet chocolate or chocolate chips
3/4 cup cream (light, whipping, or heavy) or milk, or a combination*
Flavors of your choice (see filling directions below)
*Hint: Since you need 4 ounces of cream for the icing, and you'll most likely buy an 8-ounce container, use 4 ounces cream in the filling supplemented with 2 ounces of milk.
Icing
1 1/3 cups chopped semisweet chocolate or chocolate chips
1/2 cup cream (light, whipping, or heavy)
Instructions
Preheat the oven to 350°F. Lightly grease and flour (or grease, then line with parchment, then grease again) two 8" x 2" round cake pans. Note: These pans need to be at least 2" tall; if you have non-standard, shorter 8" pans, substitute 9" round pans.

To make the cake: Whisk together the dry ingredients. Add the eggs, oil, vanilla, and water, beating until smooth. Pour the batter into the prepared pans.

Bake the cakes for 35 to 38 minutes (a bit less if you use a 9" pan), or until a cake tester inserted into the center comes out clean. Cool the cakes in the pan for 15 minutes, then turn them out of the pans to cool completely on a rack.

To make the filling: Combine the chocolate and cream in a microwave-safe bowl, and heat until the cream is very hot, and the chocolate very soft. Stir to melt the chocolate completely, reheating very briefly if necessary.

Now you have a choice. You may either flavor the filling all one flavor, or use a different flavor for each layer of filling. For all one flavor, use 3 tablespoons of your favorite liqueur — Frangelico (hazelnut), Kahlua (coffee), or Framboise (raspberry) are all good choices. Or try 2 tablespoons rum. Alternatively, add 1 tablespoon espresso powder; or flavor to taste with a bottled extract (coconut, peppermint, cherry, almond...) To mix and match flavors, divide the filling into three parts, and flavor each differently to taste, with an extract; or with about 1 tablespoon liqueur for each flavor.

Divide the cooled layers in half horizontally, to make four layers. Place one layer on a serving plate, and spread with filling. Repeat with the next two layers. Top with the final cake layer.

To make the icing: Combine the chocolate and cream in a microwave-safe bowl, and heat until the cream is very hot, and the chocolate very soft.

Stir to melt the chocolate completely, reheating very briefly if necessary. Pour and spread the icing over the top of the cake, letting it drip over the edges and down the sides.

Once it's done dripping, you may smooth the sides with an icing spatula, if desired. Allow the cake to rest, covered with a cake cover (or a big turned-over bowl) until the chocolate is set; overnight is good, though several hours are sufficient.
Nutrition Information
Serving Size

185g

Servings Per Batch

12
Amount Per Serving:
Calories

610

Calories from Fat

291

Total Fat

33g

Saturated Fat

13g

Trans Fat

0g

Cholesterol

75mg
Sodium

380mg

Total Carbohydrate

84g

Dietary Fiber

6g

Sugars

57g

Protein

9g
* The nutrition information provided for this recipe is determined by the ESHA Genesis R&D software program. Substituting any ingredients may change the posted nutrition information.
Reviews
The cake looks good so far. Am I able to use buttercream between the layers instead of the chocolate cream? Thank you!

Go for it, Sarah. This is a great recipe that you easily adapt to make your own. Happy baking! Annabelle@KAF
instead of using the regular flour, baking soda and baking powder, can I just replace all that with self-raising flour?

Tammy, you can use Self-Rising Flour and omit the baking powder, but you'll still need to add 1/2 teaspoon of baking soda as well as 1/2 teaspoon salt. (This is a lesser amount than what's listed in the recipe because there's also salt added to our Self-Rising Flour.) We hope this helps, and happy baking! Kye@KAF
I love that the cake is moist and springy. I used Kosher salt. Was I meant to use table? Felt like it needed more salt. Would it affect the texture of i tried to make the cake sweeter? THANKS!

Our recipes are written for table salt, Melizza, but they can be made with kosher salt too, with the addition of a little extra salt. We like to use 1 1/4 tsp (or 1 heaping tsp) or kosher salt for every 1 tsp of table salt called for in the recipe. Increasing (or decreasing) the sugar in the cake will affect texture, so we'd suggest pairing it with a sweeter frosting before playing around with those ratios. The addition of a little more salt too will help to bring out more flavor in the cake overall. Mollie@KAF
I really wanted to love this cake, but even though I greased and floured my baking pan, I could not get the cake out of the pan in one piece after cooling for 15 minutes. It was a disaster. :(

We hope you made a delicious trifle with your cake and are willing to try again, fellow baker! We put together a full article on our blog called, "How to prevent Bundt cakes from sticking," but the tips and tricks highlighted there will work for layer cakes like this too. (Spoiler: greasing and flour does not work best; it actually makes a paste that can cause the cake to stick.) We encourage you to give some of the methods in the post a try, or you can even consider lining your pan with parchment paper to ensure an easy release. Kye@KAF
Awesome chocolate cake made it for a coworker's Birthday. It got rave reviews. I topped it with chocolate dipped strawberries
Made this for my own birthday. It was beautiful and delicious. Very rich and chocolate-y. I used the Double-Dutch Dark Cocoa and Valrhona and Callebaut chocolates in the filling and frosting. This is a recipe deserving of fine chocolate as it steals the show. For flavoring, I did a bit of espresso powder to enhance the chocolate flavor. I will make this one again!
I was making a peanut butter/chocolate cake and found this recipe to use for the cake part. It turned out great. I can't wait to make the complete recipe the next time a chocolate craving hits.
The cake is awesome but i need help. How to prevent my cake from rising and cracking while baking? I did not managed to get an even top hence have to cut off the hill. Any tips? The only change to your recipe is I cut down on the amount of sugar and only used 3/4 and I used cornstarch instead of instant gel. Thanks!

Hi Jenn, there are a few reasons why cakes sometimes crack on the top, which include the oven temperature being too high, the batter being too stiff, the batter being mixed too much, or not enough sugar being used. To rule out all of these possible causes, try turning your oven down by about 15°F, measure your flour by weight using a scale, mix the batter just until the ingredients are combined, and try using the full amount of sugar. Also consider using Cake Strips to make a more level top if you don't like trimming your layers. (You can always use any spare cake to make crumbs that coat the outside of the cake.) These adjustments should improve the results of your next bake. Happy baking! Kye@KAF
Basic chocolate cake recipe. Not really fudge-y. Moist, yes. Fudge-y? No. If you're looking for basic chocolate cake then this is it. If you're looking for an exceptional chocolate cake, keep looking. Baked to the T using a weighing scale. I'm also a fairly seasoned home baker, I can bust out a loaf of crusty sourdough bread or french macarons, so I'd like to think I know what I'm doing when it comes to good ol' chocolate cake. I tried this recipe to see what all of the hubub in the reviews were. This is a very average, very standard, moist chocolate cake. Not sure why everyone is so blown away?

Hi Mimi, we're wondering if you made all components of this cake. The layers of the cake are tasty, but they become elevated when the filling and icing are added; they're the elements that bring the fudgyness. If you did indeed make all the components and were still left feeling unsatisfied, you might want to try our Chocolate Fudge "Blackout" Cake recipe. The pudding-like filling should provide all the chocolate fudgyness you've ever wanted! Kye@KAF
This is now my go to recipe for chocolate cake/cupcakes. I made this into cupcakes and they domed perfectly. I made it twice, once using regular cocoa that was from Costco and pure vanilla extract from Costco as well and it was good but in the second recipe I used Valrhona cocoa and vanilla bean paste and all I can say is OMG. What a difference it made. It just took this recipe to a whole new level!