A customized print-friendly version of this recipe is available by clicking the "Print Recipe" button on this page.
Feeding and Maintaining Your Sourdough Starter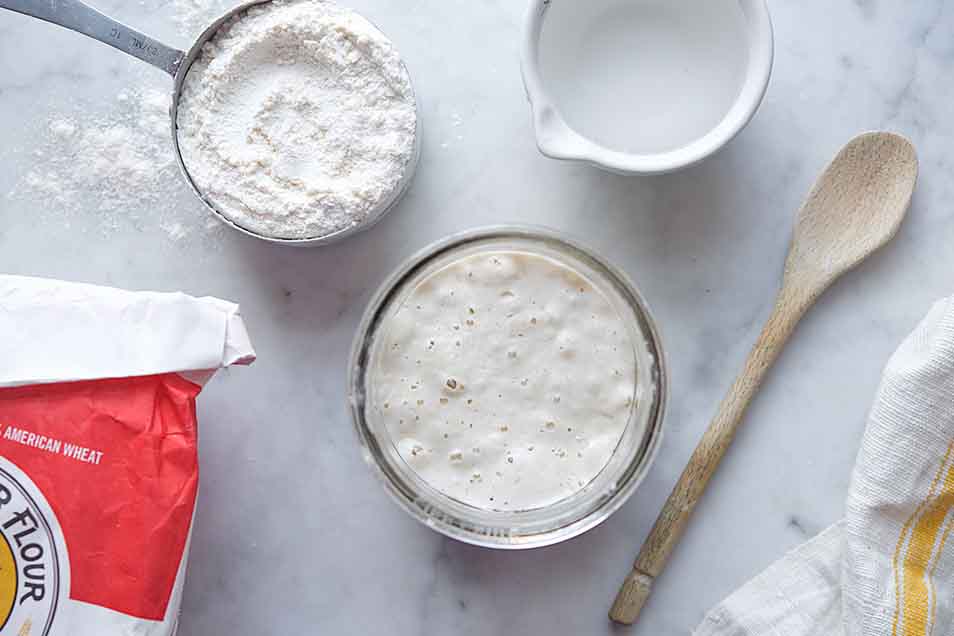 Once you've successfully created your own sourdough starter, you'll need to feed it regularly. If you bake a lot of sourdough treats, you may want to keep it on your counter, at room temperature. While this means feeding it twice a day, it also means your starter will be ready to bake when you are. If you're a more casual sourdough baker, store your starter in the refrigerator, feeding it just once a week.
Ingredients
Instructions
To store your starter at room temperature: Stir the starter well and discard all but 4 ounces (1/2 cup). Add the water and flour. Mix until smooth, and cover. Repeat every 12 hours. Remove 1 cup starter to bake with when it's expanded and bubbly, then feed the remaining starter immediately; revert to your normal 12-hour schedule for subsequent feedings.
To store your starter in the refrigerator: Take the starter out of the fridge. There may be a bit of light amber or clear liquid on top. Either drain this off, or stir it in, your choice; it's simply a byproduct from the fermenting yeast.

Remove all but 4 ounces (1/2 cup) starter; see "tips," at left, for ideas on what to do with it. Add the flour and lukewarm water to the remaining starter. Mix until smooth, and cover.

Allow the starter to rest at room temperature (about 70°F) for at least 2 hours; this gives the yeast a chance to warm up and get feeding. After about 2 hours, refrigerate.

To ready your refrigerated starter for baking: Take the starter out of the fridge, discard all but 4 ounces (1/2 cup), and feed it as usual. Let it rest at room temperature for about 12 hours, until bubbly. Repeat as necessary, every 12 hours, until you notice the starter doubling or tripling in volume in 6 to 8 hours. That means it's strong enough to leaven bread.

For the final feeding prior to baking, add enough flour and water to use in your recipe, with a little left over to feed and maintain the starter for the next time you bake. For instance, if your recipe calls for 1 cup (about 8 ounces) starter, add 4 ounces each water and flour. If your recipe calls for 2 cups (about 16 ounces) starter, add 8 ounces each water and flour.

Once the starter is bubbling and vigorous, remove what you need for the recipe and set it aside. Feed the remaining starter as usual. Mix until smooth, and allow the starter to work for about 2 hours at room temperature before putting it back in the refrigerator.
Tips from our bakers
Sourdough baking is as much art as science. This method for maintaining sourdough starter is just one of many you might choose to follow. It doesn't exactly match the process in our "Baker's Companion" cookbook, nor some of our recipes online, nor what your neighbor down the street does. And that's OK. If you have a process you've successfully followed before, then stick with it. Or try this one and compare. All good.
Use "discard" starter to make pancakes, waffles, cake, pizza, flatbread, or another treat; see our recipes for discard ("unfed") starter. Or, simply give your excess to a friend so he or she can create his or her own starter.
Reviews
I have a question for the King Arthur bakers about old starter. I left some unfed discard in the refrigerator for more than a month. When I fed it to see if it was still alive, it was, but it took 12 hours to double. My regular starter doubles in 6 hours. My question is, did the weaker yeast strains die out and leave a more hardy strain or was all the yeast dormant and revived?

Hi Barry, it's normal for starters to take longer to double in size if they're neglected in the fridge for longer than a week. Depending on how long the starter is left in the fridge unfed and how regularly it was fed beforehand, some of the micro-organisms (both the bacteria and the wild yeast) may die while some may become dormant. (So the answer to your question is mixed.) For best overall starter health, we recommend feeding your starter at least once a week if keeping it in the fridge or about once a day if keeping it at room temperature. Happy baking! Kye@KAF
I've been baking this sourdough for a little more than 3 years from your sourdough starter recipe. We love it and have found I can store much longer than your suggested time. I store on bottom shelf in back of fridge. I'm writing today to ask what the best way to mail some starter out of state. Thank you!

You have a couple of options to ship your starter, Cindy. First, you can dry it out. Check out our blog "Putting your sourdough starter on hold" for instructions on how to dry out (and how to rehydrate) your starter. In this form, it can be shipped any which way and not go bad. If you want to mail it fresh, go with priority mail so it doesn't take more than a couple of days. Putting it in a jar is great, just aim for it to not be 100% airtight as you want the gasses to be able to escape. A good rule of thumb is to have your starter take up no more than 25% of your container. Happy shipping! Annabelle@KAF
The refrigeration method works well, feeding once a week. But here's my problem. There are just two of us and as good as it is, there's just so much sourdough we can eat. Is there a suggested way for longer term storage? Perhaps freezing? I'd be happy with a once a month batch of ready starter without having to find so many ways to use up the discard.

One of the easiest ways to store sourdough starter longterm is to dry it out on a sheet pan. Head on over to our blog (you can click "blog" at the top of this page) and enter "Putting your sourdough starter on hold" into the search bar. The blog article takes you step-by-step through the drying process. It may be the perfect solution for you and your husband. Annabelle@KAF
Someone please tell me how to use up the rest of the sourdough without continuing to feed it. I would like to start one again but I don't want it to go to waste when I am done. TYVM!

Hello! To use up your starter, search "discard" in the Recipes section of our website and you'll have a big list of recipes to choose from. Happy baking! Annabelle@KAF
In most baking recipes grams are used as a source of measurement. Why are you using cups in your directions on how to maintain and feed a starter? I know that starters weigh different amounts, but using cups instead of grams seems a little confusing to me. Love your website, it's full of wonderful and helpful information.

We appreciate your feedback, Marcia. We have to say that we too love baking by weight and find it's incredibly helpful, especially when baking with sourdough starter. We've shared the request to add the weight of ingredients in grams to the feeding and maintenance instructions here for convenience. Thanks for helping keep us on our toes, and for making our recipes as user (baker!)-friendly as possible. Kye@KAF
I can't fault this recipe because it is the "Gold Standard" for sourdough feeding. However, I just wanted to note that the flour that I am using is apparently twice as heavy as everyone else's flour. I have been using weight since I started, but recently put together a recipe for a friend and used this recipe for volume (1 cup flour, half cup water). As it turns out, a half cup (very lightly heaping) of my bread flour weighs exactly as much as a half cup of water. 100g. In fact, a fluffed and scraped half cup weighs 80g. I'm using Dakota Maid Bread Flour, which is milled here in North Dakota. I don't know if my flour is particularly fine or more dense, or what... but I wanted to make note of this in case anyone else wonders why their starter ends up being way too stiff. Given my experience here, a pure-volume feeding would result in a 60% hydration level, which is less than most bread doughs.
I haven't been discarding my starter every time I feed and as far as I can tell it's been doing fine. I mean, it smells terrible, but it's supposed to, right? Do I have to discard? Or is that more about maintaining volume?

We're glad you asked. "Discarding," or dividing the starter and getting rid of half is key to growing a successful sourdough starter. It helps keep the balance of the pH within a healthy level so that wild yeast and bacteria can thrive. It doesn't have to be a wasteful step, either. You can give away the discard to a friend to start their own culture, or you can use it in recipes that call for discard or "unfed" starter.

As for the smell, your starter should smell tangy and fresh, like buttermilk. We think it'll start to develop an aroma more similar to this once you start discarding before feeding your starter. Kye@KAF
The starter worked great the first two loaves I baked but failed after that. I dumped the starter and began again, the first two loaves were great and then .... failure! The bread would rise well threw the first proofing but in the second hour it only rose slightly. While the taste was great, it was condensed. I felt that I had gone through a lot of flour for no reason.
I have had my sourdough 'pet' for quite a few years, and it has traveled from FL to NJ with me. I even thought I had killed it once, and it has come back to life quite nicely. I decided to try a new experiment today using white whole wheat flour instead of all-purpose. Has anyone amongst the bakers here or KAF personnel tried this? I can definitely tell a slight change in color because of the bran and germ, but from a practical standpoint, would recipes need to be altered much, if at all?

The biggest difference with feeding your starter whole wheat flour (either traditional or white whole wheat) is that your starter will ferment faster. This means it'll need to be fed more regularly, or put someplace cool to slow down the fermentation (like the fridge). If you don't keep up with a whole wheat starter, then it can get funky and become over-ripe quickly. The flavor also might be a bit more sour, but this will come more from how you treat the final dough rather than the starter itself. As for using it in recipes, you can still use it the same way you have been without adjusting the flour or water in the rest of the recipe; 1 cup weighs roughly 8 ounces. Happy baking! Kye@KAF
My starters do beautifully, thanks to the KA how-to, but have run into a bit of a challenge. Bread baking isn't just a loaf or two a week, but several loaves a week, I need to and do maintain a large batch of starter, not just a crock-full. Sourdough bread is very popular. I'm wondering now, after reading here, if I need to feed twice a day, where I've only fed it once a day.

Feeding your starter twice a day can help ensure it's healthy and rises vigorously after feeding. It will also change the flavor of your starter slightly. If you need to increase the volume of starter you're keeping, feel free to feed it with larger quantities of flour and water. As long as they're equal parts by weight, you will maintain the right consistency in your starter. Try feeding 4 ounces of starter with 6, 8, or even 10 ounces of water and flour the next time you're ready to make a big batch of sourdough bread. Happy baking! Kye@KAF