A customized print-friendly version of this recipe is available by clicking the "Print Recipe" button on this page.
Feeding and Maintaining Your Sourdough Starter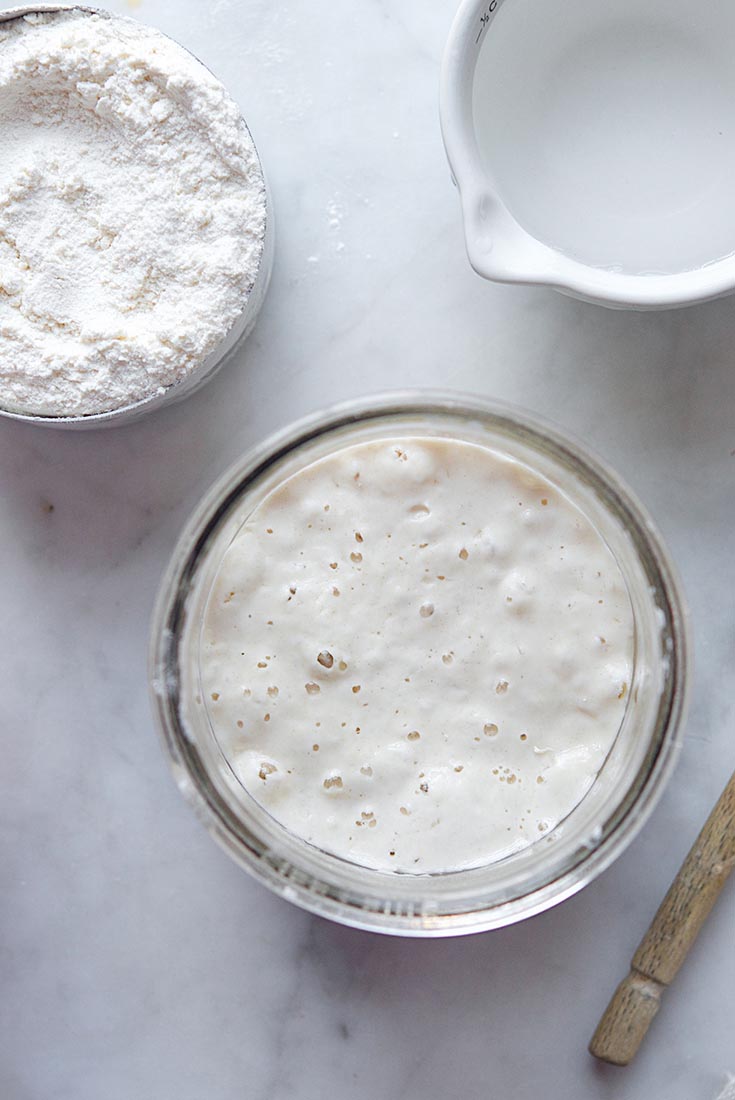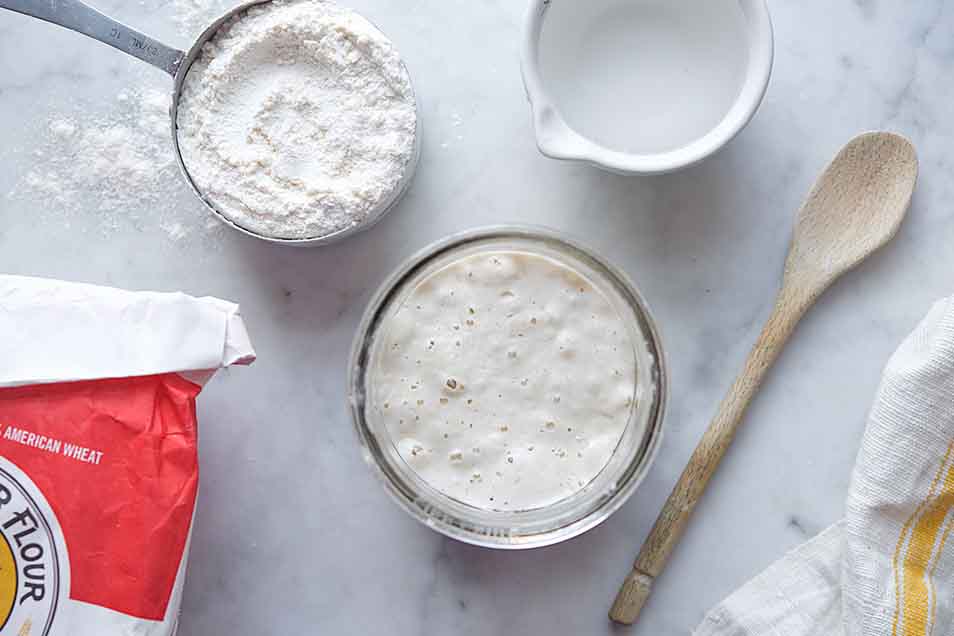 Once you've successfully created your own sourdough starter, you'll need to feed it regularly. If you bake a lot of sourdough treats, you may want to keep it on your counter, at room temperature. While this means feeding it twice a day, it also means your starter will be ready to bake when you are. If you're a more casual sourdough baker, store your starter in the refrigerator, feeding it just once a week.
Ingredients
Instructions
To store your starter at room temperature: Stir the starter well and discard all but 4 ounces (1/2 cup). Add the water and flour. Mix until smooth, and cover. Repeat every 12 hours. Remove 1 cup starter to bake with when it's expanded and bubbly, then feed the remaining starter immediately; revert to your normal 12-hour schedule for subsequent feedings.
To store your starter in the refrigerator: Take the starter out of the fridge. There may be a bit of light amber or clear liquid on top. Either drain this off, or stir it in, your choice; it's simply a byproduct from the fermenting yeast.

Remove all but 4 ounces (1/2 cup) starter; see "tips," at left, for ideas on what to do with it. Add the flour and lukewarm water to the remaining starter. Mix until smooth, and cover.

Allow the starter to rest at room temperature (about 70°F) for at least 2 hours; this gives the yeast a chance to warm up and get feeding. After about 2 hours, refrigerate.

To ready your refrigerated starter for baking: Take the starter out of the fridge, discard all but 4 ounces (1/2 cup), and feed it as usual. Let it rest at room temperature for about 12 hours, until bubbly. Repeat as necessary, every 12 hours, until you notice the starter doubling or tripling in volume in 6 to 8 hours. That means it's strong enough to leaven bread.

For the final feeding prior to baking, add enough flour and water to use in your recipe, with a little left over to feed and maintain the starter for the next time you bake. For instance, if your recipe calls for 1 cup (about 8 ounces) starter, add 4 ounces each water and flour. If your recipe calls for 2 cups (about 16 ounces) starter, add 8 ounces each water and flour.

Once the starter is bubbling and vigorous, remove what you need for the recipe and set it aside. Feed the remaining starter as usual. Mix until smooth, and allow the starter to work for about 2 hours at room temperature before putting it back in the refrigerator.
Tips from our bakers
Sourdough baking is as much art as science. This method for maintaining sourdough starter is just one of many you might choose to follow. It doesn't exactly match the process in our "Baker's Companion" cookbook, nor some of our recipes online, nor what your neighbor down the street does. And that's OK. If you have a process you've successfully followed before, then stick with it. Or try this one and compare. All good.
Use "discard" starter to make pancakes, waffles, cake, pizza, flatbread, or another treat; see our recipes for discard ("unfed") starter. Or, simply give your excess to a friend so he or she can create his or her own starter.
Reviews
The starter worked great the first two loaves I baked but failed after that. I dumped the starter and began again, the first two loaves were great and then .... failure! The bread would rise well threw the first proofing but in the second hour it only rose slightly. While the taste was great, it was condensed. I felt that I had gone through a lot of flour for no reason.
I have had my sourdough 'pet' for quite a few years, and it has traveled from FL to NJ with me. I even thought I had killed it once, and it has come back to life quite nicely. I decided to try a new experiment today using white whole wheat flour instead of all-purpose. Has anyone amongst the bakers here or KAF personnel tried this? I can definitely tell a slight change in color because of the bran and germ, but from a practical standpoint, would recipes need to be altered much, if at all?

The biggest difference with feeding your starter whole wheat flour (either traditional or white whole wheat) is that your starter will ferment faster. This means it'll need to be fed more regularly, or put someplace cool to slow down the fermentation (like the fridge). If you don't keep up with a whole wheat starter, then it can get funky and become over-ripe quickly. The flavor also might be a bit more sour, but this will come more from how you treat the final dough rather than the starter itself. As for using it in recipes, you can still use it the same way you have been without adjusting the flour or water in the rest of the recipe; 1 cup weighs roughly 8 ounces. Happy baking! Kye@KAF
My starters do beautifully, thanks to the KA how-to, but have run into a bit of a challenge. Bread baking isn't just a loaf or two a week, but several loaves a week, I need to and do maintain a large batch of starter, not just a crock-full. Sourdough bread is very popular. I'm wondering now, after reading here, if I need to feed twice a day, where I've only fed it once a day.

Feeding your starter twice a day can help ensure it's healthy and rises vigorously after feeding. It will also change the flavor of your starter slightly. If you need to increase the volume of starter you're keeping, feel free to feed it with larger quantities of flour and water. As long as they're equal parts by weight, you will maintain the right consistency in your starter. Try feeding 4 ounces of starter with 6, 8, or even 10 ounces of water and flour the next time you're ready to make a big batch of sourdough bread. Happy baking! Kye@KAF
I bake a lot but never made sourdough before, much less my own starter. This works very well - thanks for sharing it! I didn't follow the instructions to a T (or anything close to it) - found I was winding up with too much discard 'paste' for the first week or 10 days, so I basically went to something like a half-size starter. I just kept it smaller, added roughly 1/2 the flour and water. It took about two weeks to get to what I now consider a potent little starter, and it's been the germ of some great breads and waffles. If I could give some advice to other people trying this - first, be patient; you might not have anything great for 10 days or more. And second, don't be too fussy about the portions. Give it less if you are getting overwhelmed with discard. This stuff is hard to kill, the worst you'll probably do is slow it down for a day or two, but it will come back.
I am doing wonderfully at maintaining my sourdough. I am making about 4 - 6 loaves a week for friends and family. The bread crumb is marvelous and it is not too tedious to keep the sourdough feed going. But here is my issue - what a mess!! I swear I could pave my driveway with the dough that gets stuck to my bowls, measuring cups and spatulas. Even if I rinse immediately this thick goop sticks and once I clean my tools then I have to clean the sink and the trap. This is my only complaint, but the bread is still worth it. Does anyone have any suggestions that can help me make this clean-up easier. It is even worse with the refrigerated dough. Sometimes after the first rise I will stick in the fridge and bake it the next day. The stick in my bowl is very hard to remove the following day. It takes at least 15 minutes to get all the tools cleaned and ready for the dish washer. I love the recipes on KAF. They make me look good. I have a reputation in town as a great baker, but its me just following KAF directions. Thanks KAF
Thank you for the excellent advice.... I have maintained my sourdough starter, and I have made delicious breads from it. My family says I have the best recipes. Thanks to your site.
I have maintained sourdough for years, but just recently (in the last year or so) was given a crock from King Arthur (I previously kept my sourdough in mason jars.) From time to time, my starter died from neglect (being left out too long in the summer when I was too ambitious about my baking plans and forgot to feed it) and I've had to start over. Most of the time, if it stays too long in the fridge, I refresh it and it is just fine. This time, however, I've had something happen and I don't know what it is or what to do. I took it out of the fridge, and not only did it have a dark liquid on top, it had a black crusty layer which looks like a type of mold that perhaps died. I don't know why this formed, as I have never experienced this before.
I am on my 3rd day my startet have a liquid on top of it.. i have to fed it and i was asking you about the 8 onces .. i can put 6 onces of water and flour on 4 day by every 12h is that wright ! so now is the liquid is fine or my starter are dieing

Hi again Ruba, liquid on the top of your starter is known as "hooch," and it's a normal byproduct of fermentation. It means your starter is alive; you can either stir this liquid back into your starter before feeding it or you can pour it off. Stirring it in will make your starter slightly more sour in flavor. If you have more questions about the quantities of flour and water to feed your starter, we encourage you to reach out to our friendly bakers for further assistance via chat, email, or phone. Check out the "contact" page for more information. Kindly, Kye@KAF
I make the starter then i have 4 onces unfed discard starter but most recipe calls for 8 onces how can i savw my 4 onces so next add to it more 4 to be 8 onces

If you need to increase your volume of starter, feel free to give your starter larger quantities of flour and water. (Try giving it 6 ounces of flour and water next time.) You can continue with these larger feedings until you have enough starter to take when you need for recipes and still have enough to maintain a healthy culture. Happy baking! Kye@KAF
I order is the starter and I've fed it twice. It's bubbled, but it hasn't doubled in size. Is my starter DOA?

Sourdough starters can be tricky, Annaliese, but they also tend to be hard to kill. We encourage you give our friendly bakers on the hotline a call (855-371-2253) so we can walk through some steps to possibly revive your starter. If it doesn't work out, we'll happily send you another one so you can have a second chance at sourdough baking success! Kye@KAF