A customized print-friendly version of this recipe is available by clicking the "Print Recipe" button on this page.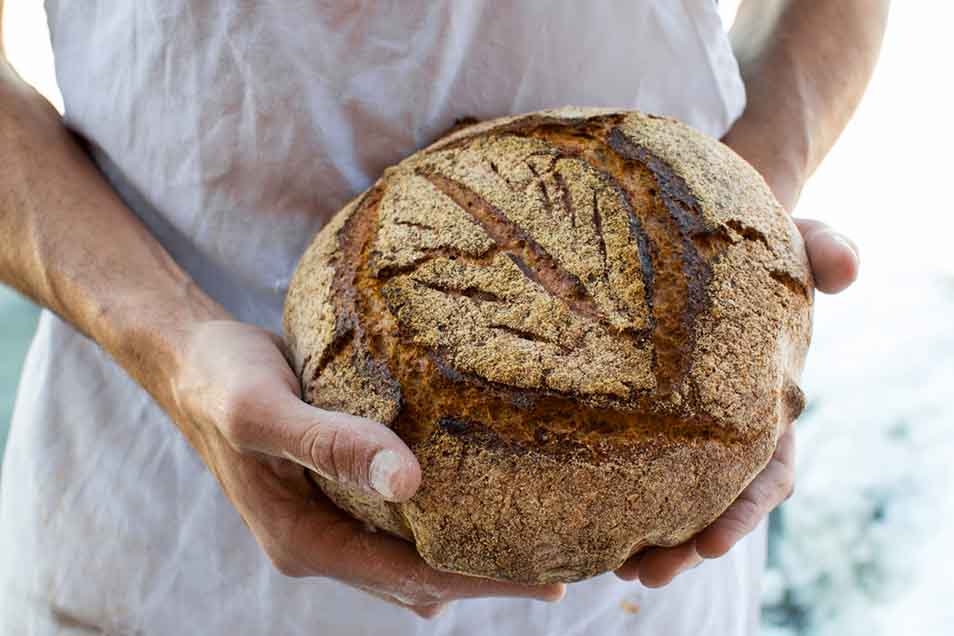 This crusty loaf, made with freshly milled grains, is adapted from King Arthur Flour baker Martin Philip's book, Breaking Bread, due out in October 2017. Note: For best results, Martin advises using the gram weights of the ingredients listed below; simply click on "grams" at the top of the ingredient list.
Ingredients
Levain
1/2 cup barely warm water (75°F to 80°)
a heaping 2 tablespoons ripe (fed) sourdough starter
1 1/2 cups + 2 tablespoons whole wheat flour, freshly milled*
3/4 teaspoon salt
*While we strongly suggest you fresh-mill the whole wheat from wheat berries, you can substitute King Arthur White Whole Wheat Flour.
Dough
1 3/4 cups room-temperature water
2 cups + 2 tablespoons King Arthur Unbleached All-Purpose Flour
1 cup + 2 tablespoons whole wheat flour, freshly milled*
1/2 cup + 2 tablespoons whole rye flour, freshly milled*
1 1/2 teaspoons salt
heaping 1/4 teaspoon instant yeast
*See "tips," below
Instructions
To make the levain: In a medium bowl, combine the water and sourdough culture. Mix with your hands and fingers until the culture is broken up and well distributed in the water.

Add the flour and salt. Mix briefly, then knead until smooth. Cover and set at room temperature (about 68°F) for 12 to 16 hours.

To make the dough: In a large mixing bowl, combine the dough water and stiff levain.

Mix with your hands until the levain is broken up in the water, then add the flours, salt, and yeast. Stir with the handle end of a wooden spoon until the dough forms a shaggy mass. If you find it easier, after stirring some, scrape the dough out of the bowl with a plastic scraper onto your work surface and knead briefly with your hands just until the dough comes together. Resist the urge to add flour.

Scrape the dough off the work surface and return to the bowl for bulk fermentation.

Scrape down the sides of the mixing bowl and allow the dough to rise, covered, for 3 hours at room temperature. While it rises, fold after 15, 30, 45, 60, and 120 minutes. To fold dough, bring the outside edge closest to you into the center. Rotate the bowl 90°; bring the outside edge closest to you into the center. Repeat twice more: this counts as one fold.

After the final fold, leave untouched for the last hour. As you perform each series of folds, you'll begin to notice that the dough becomes smoother, stronger, and more cohesive.

Pre-shape the dough into a round loaf. Cover and let rest for 15 minutes.

Uncover the dough and shape it into a smooth, round boule. Place the boule seam-side up in a floured banneton or floured, towel-lined bowl, approximately 10" wide and 4" deep. A 9" lined brotform should work just fine.

Cover and let rest for 50 to 60 minutes at room temperature.

Toward the end of this final rest, preheat the oven to 450°F with a lidded cast iron pot and lid in the oven. Our bread and potato pot is a good choice here.

Transfer the loaf to a parchment sling, gently inverting it so that the side that was against the dusted towel — the smooth side — becomes the top.

Score the bread several times with a lame and gently transfer to the pot, sling and all. The sling will remain underneath the loaf as it bakes.

Put the lid on the pot and bake the bread for 40 to 45 minutes, removing the lid after 30 minutes.The loaf should be a deep golden brown by the end of its bake.

Remove the bread from the oven, and cool it on a rack. Don't slice until it's fully cooled.

Store bread in a paper bag at room temperature for several days. Freeze for longer storage.
Tips from our bakers
For the best flavor, fresh mill the whole wheat and rye flours; you can mill rye flour from rye chops, coarsely chopped rye berries. Or you can also simply use King Arthur Whole Wheat Flour and whole rye flour (pumpernickel).
Reviews
Hi! About to start the levain. As I was reading this over and over, wondering why All Purpose flour is used amd not bread flour. Thank you in advance!!
Have baked this bread now five or six times and love, love, love the European flavor. Also, it comes out great every time. Thanks
While I love to bake as well as cook, I am brand new to bread baking. I decided I have had it with mediocre grocery store bakeries, and while I would classify Wegman's bakery as better than most, I was tired of paying for a loaf of their miche every week. Also, surprisingly, DC and the DC region has never cultivated a bread culture. Having said that, there are decent patisseries in the area if one knows where to look. This is the second week I have baked this loaf, and I could not be more delighted with the results. Give it a go!
This bread turned out superb! I'm so glad I made it. Will make again. It was the prettiest boule I've ever made. Seriously! Thank you
I made this bread over the weekend. The family nearly swooned over the awesome flavor of this bread. We have been buying Miche from a local bakery, but now can save some $$ and make it at home. I should have done a better job of reading ahead to discover the time required; I didn't really map my schedule to the time commitment. I had planned for the overnight fermentation of the levain, but the dough process included 4 hours of rising/resting as well as 45 minutes of baking. So my levain had an extra day to do its thing, but it still turned out fabulous!
Excellent result. I was looking for such recepeie for a long time as this kind of bread I've been eating during my childhood in Eastern Europe. Finally found this here,
I don't have a mill so I ground all the berries by hand with a mortar and pestle over the course of a week. This bread was worth the effort; long finish and lots ifvwhole wheat flavor with a moist crumb. I've only used a dutch oven a few times but the directions are clear abd bake times are spot on. Five stars.
Pretty and tasty! Will absolutely make this again.
I painstakingly hand ground the flour from berries with a mortar and pestle over the course of a week. The bake times are spot on pretty much 45 minutes on the dot. I've dine very little dutch oven baking as I prefer a stone and boiling water. That being said it's incredible to see a loaf this size bake so quickly. This breaf has a strong whole wheat flavor and a very ling finish.