A customized print-friendly version of this recipe is available by clicking the "Print Recipe" button on this page.
Gluten-Free Chocolate Chip Cookies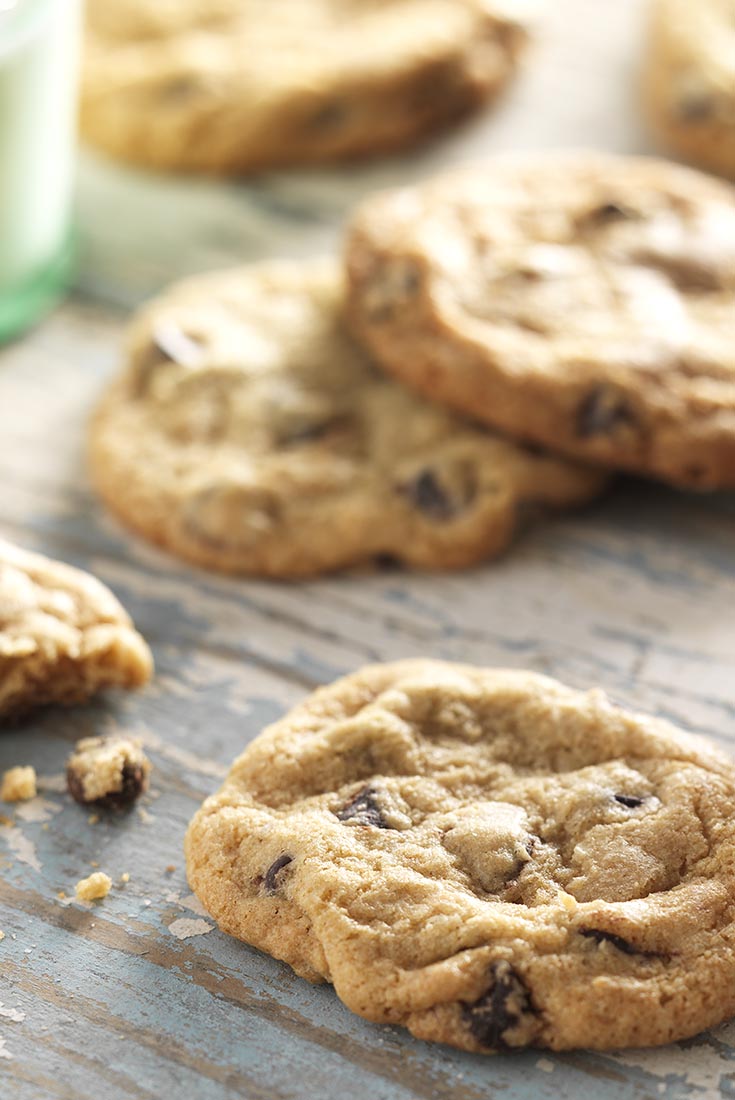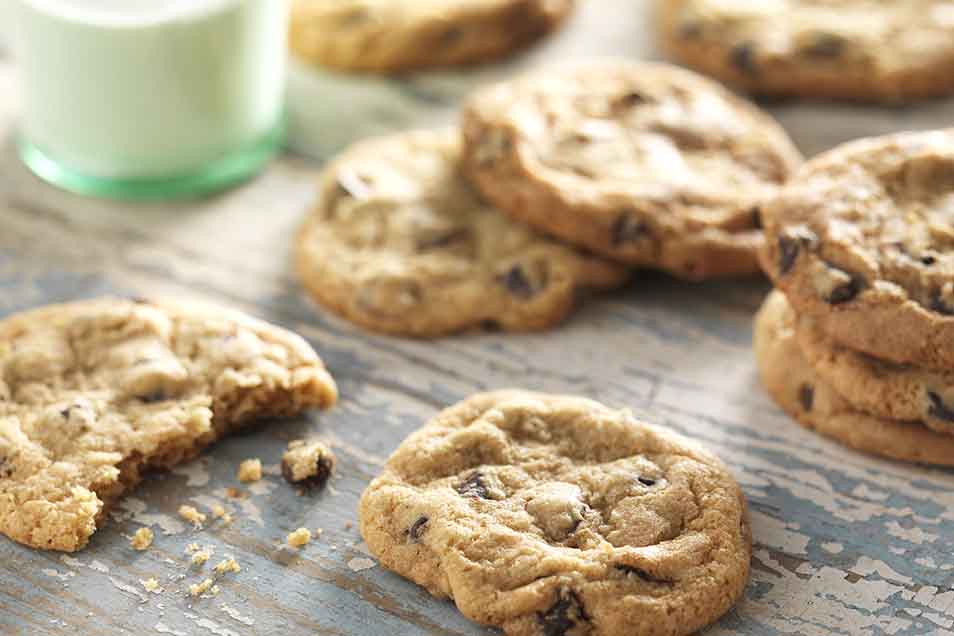 These cookies are open to your own imaginative interpretation. Try butterscotch chips and toasted salted pecans, or white chocolate and cranberries, in place of the chocolate chips.
Ingredients
1 cup butter
1 cup brown sugar, firmly packed
1/2 cup granulated sugar
2 teaspoons gluten-free vanilla extract
1 teaspoon salt
2 large eggs
2 1/3 cups King Arthur Gluten-Free Multi-Purpose Flour or brown rice flour blend*
2 teaspoons xanthan gum
1 teaspoon baking powder
1 teaspoon baking soda
2 cups chocolate chips
1 1/2 cups chopped nuts, optional
*See recipe for this blend below.
Instructions
Beat the butter, sugars, vanilla and salt till fluffy.

Beat in the eggs one at a time, being sure to scrape down the sides and bottom of the bowl midway through to make sure everything is well combined.

Whisk together the flour or flour blend, xanthan gum, baking powder, and baking soda.

Beat the dry ingredients into the butter mixture, then blend in the chocolate chips and nuts. Again, scrape the bottom and sides of the bowl to be sure everything is well blended.

Cover the bowl and refrigerate for 1 hour, or for up to 2 days.

Preheat the oven to 350°F. Lightly grease a couple of baking sheets, or line with parchment.

Scoop tablespoon-sized balls of dough onto the prepared baking sheets; a tablespoon cookie scoop works well here. Leave space between the cookies so they can spread.

Bake the cookies for 9 to 11 minutes, until golden brown. Remove from the oven and let rest on the baking sheets for 5 minutes, to set, before transferring to racks to cool completely. Or allow them to cool right on the baking sheets.

Yield: 3 dozen cookies

*Make your own blend
Many of our gluten-free recipes use our King Arthur Gluten-Free Multi-Purpose Flour, which includes ingredients that reduce the grittiness sometimes found in gluten-free baked goods. Our flour also increases the shelf life of your treats, keeping them fresh longer.

The following make-at-home blend, featuring stabilized brown rice flour, works pretty well when substituted; and it tastes better than a blend using regular brown rice flour.

Whisk together 6 cups (28 1/2 ounces) King Arthur stabilized brown rice flour; 2 cups (10 3/4 ounces) potato starch; and 1 cup (4 ounces) tapioca flour or tapioca starch. Store airtight at room temperature. Note: You can substitute white rice flour for the brown rice flour if you like; it'll make your baked goods grittier (unless you manage to find a finely ground version).
Nutrition Information
Serving Size

1 cookie without nut

Servings Per Batch

36
Amount Per Serving:
Calories

161

Calories from Fat

71

Total Fat

8g

Saturated Fat

5g

Trans Fat

0g

Cholesterol

24mg
Sodium

119mg

Total Carbohydrate

23g

Dietary Fiber

1g

Sugars

13g

Protein

2g
* The nutrition information provided for this recipe is determined by the ESHA Genesis R&D software program. Substituting any ingredients may change the posted nutrition information.
Tips from our bakers
The cookie dough needs to be refrigerated for at least 1 hour before baking (or for up to 2 days), so plan accordingly. Dough may be scooped into balls, wrapped well, and frozen for up to several months. For hot homemade cookies, FAST, simply place frozen dough balls on a baking sheet, and bake for a minute or so longer than the directions indicate.
These cookies stay nice and fresh for a day or so after baking. Freeze for longer storage.
To make sure your oven temperature is exactly right, bake a sample cookie first. If the cookie spreads too much, raise the oven temperature slightly. If it doesn't spread enough, lower the oven temperature slightly, or pat the dough down slightly before baking.
Reviews
Love this recipe! I like to add either a teeny bit of maple extract or orange zest. They make the flavor a little more interesting but they are great without. I usually make a half batch with a size 30 ice cream scoop, bake for 10 minutes and it makes around 28 and are perfect!
This has been my go to recipe since 2011. While my husband is the one who requires gluten free baked goods, the recipe is a mainstay for me because of the well balanced end result. It makes a tasty, crunchy, chocolate chip cookie with a lighter crisper feel that is preferable to wheat flour based recipes. The KAF cc cookie has grown to become my favorite... gluten free or otherwise. . I guess you could say I'm back for round #1 of the 2018 batches.
Mad this recipe for the first time this year for my son who has a gluten allergy. He loved them! I'm now on batch #2 because batch #1 disappeared in 3 days. Haha Just wondering why the dough has to be refrigerated for an hour? It's a very stiff dough as it is. When chilled I would imagine its like cement...no? I left out the refrigerated step and they were fine. My son loved them!

Glad these cookies were a hit, Anthony! Typically cookie dough is refrigerated to set up the butter so that they don't spread into a puddle in the oven. You can either do this step before or after you've scooped out the dough, whichever way is easier for you. Happy baking! Annabelle@KAF
I have made this recipe as a sugar free version and as a 1/2 cup Almond and Coconut flour sugar free version. Both variations have been pretty lovely. I don't expect toll house but these are cookies that I will continue to make. Note: IF you use coconut flour expect the batter to be a bit dry. I would suggest a 1/4 cup CF instead of 1/2.
Just made these cookies this afternoon. Are they yummy! Followed the directions to a tee and they turned out better than I thought. Why? This was my first attempt at a GF cookie recipe. My husband was just diagnosed with Celiac and now I have to learn to bake differently. Some of the GF store bought cookies I've tried are so dry. Not these!
One of the best chocolate chip cookie recipes I've ever tried! You know how GF bakes will sometimes have a different texture than regular bakes? Or sometimes, they'll be really good when they're warm, but not so good once they cool off? Neither is the case with this recipe - they are as good cool as they are warm and the texture is not distinguishable from cookies with gluten. I highly recommend this recipe and will definitely be making these again myself. One note: My cookies didn't spread as much as in the picture. This is not a complaint, but next time I might try lowering the oven temperature a bit as recommend in the recipe notes to see how that works.
My 13 yo son is gluten intolerant. Just figured this out over the last year. He was a fussy eater before and it's harder for him now to find something he likes gluten free. He wanted some chocolate chip cookies and I found this recipe. I made them, he ate one and said "these are AMAZING "! I am so happy! He was always a big chocolate chip cookie fan so for him not to be able to eat them has been hard. He has tried the already made GF ones but it's just not the same. It breaks my heart when his brothers can eat anything and he can't. So thank you King Arthur Gluten Free Flour! You made my son a happy boy today!
I love this recipe. This is the first time I've made this one. I used Balsamic vinegar as another suggested, which leaves a very subtle flavor. I added 1 Cup coarsely chopped toasted Pecans. I did not have Barley flour so used about 1/4 cup Whole wheat, and 3/4 cup finely ground Corn Meal. I also reduced the sugars by 1/3 and the Chocolate chips by 1/4. They are still sweet and delicious! These are by far the crunchiest cookies I've ever made, and I love them that way! Even my wife loves them! These also baked more quickly than the recipe suggested by about two minutes...My oven tends to be slower though. I plan other ingredient additions in future batches!
I made this recipe for my son, ( we're trying him on a gluten free diet as he has symptoms of Non-Celiac Gluten Intolerance) I am VERY new at gluten free baking, so I halved the recipe incase I messed it up and it turned out terrible. These cookies are FANTASTIC!! Another of my children didn't even realize they were gluten free. They taste just like a cookie made with standard all purpose flour! Will absolutely make this for him again!!
I've been trying KAF recipes since finding out I have celiac in April. Many of them have turned out a bit greasy, but I found this was a common complaint about MANY GF recipes, not just KAF's. I did a little research and found out that GF flours don't absorb fats as well as wheat flours. I followed suggestions of several reputable sites and substituted 2 tablespoons cream cheese for 1/4 cup of the butter - so fats equalled 3/4 cup butter, 2 T. cream cheese. PERFECT. Not greasy, beautiful structure, still tender but chewy. If you notice this too, try this fix! If I can say where I got this, it was America's Test Kitchens.