A customized print-friendly version of this recipe is available by clicking the "Print Recipe" button on this page.
Gluten-Free Chocolate Chip Cookies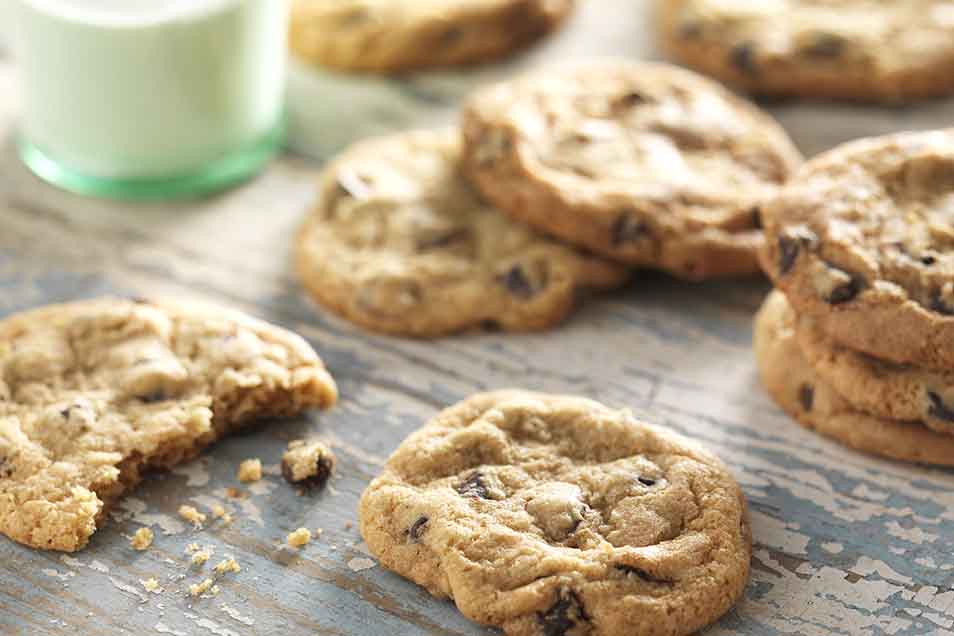 These cookies are open to your own imaginative interpretation. Try butterscotch chips and toasted salted pecans, or white chocolate and cranberries, in place of the chocolate chips.
Ingredients
1 cup butter
1 cup brown sugar, firmly packed
1/2 cup granulated sugar
2 teaspoons gluten-free vanilla extract
1 teaspoon salt
2 large eggs
2 1/3 cups King Arthur Gluten-Free Multi-Purpose Flour or brown rice flour blend*
2 teaspoons xanthan gum
1 teaspoon baking powder
1 teaspoon baking soda
2 cups chocolate chips
1 1/2 cups chopped nuts, optional
*See recipe for this blend below.
Instructions
Beat the butter, sugars, vanilla and salt till fluffy.

Beat in the eggs one at a time, being sure to scrape down the sides and bottom of the bowl midway through to make sure everything is well combined.

Whisk together the flour or flour blend, xanthan gum, baking powder, and baking soda.

Beat the dry ingredients into the butter mixture, then blend in the chocolate chips and nuts. Again, scrape the bottom and sides of the bowl to be sure everything is well blended.

Cover the bowl and refrigerate for 1 hour, or for up to 2 days.

Preheat the oven to 350°F. Lightly grease a couple of baking sheets, or line with parchment.

Scoop tablespoon-sized balls of dough onto the prepared baking sheets; a tablespoon cookie scoop works well here. Leave space between the cookies so they can spread.

Bake the cookies for 9 to 11 minutes, until golden brown. Remove from the oven and let rest on the baking sheets for 5 minutes, to set, before transferring to racks to cool completely. Or allow them to cool right on the baking sheets.

Yield: 3 dozen cookies

*Make your own blend
Many of our gluten-free recipes use our King Arthur Gluten-Free Multi-Purpose Flour, which includes ingredients that reduce the grittiness sometimes found in gluten-free baked goods. Our flour also increases the shelf life of your treats, keeping them fresh longer.

The following make-at-home blend, featuring stabilized brown rice flour, works pretty well when substituted; and it tastes better than a blend using regular brown rice flour.

Whisk together 6 cups (28 1/2 ounces) King Arthur stabilized brown rice flour; 2 cups (10 3/4 ounces) potato starch; and 1 cup (4 ounces) tapioca flour or tapioca starch. Store airtight at room temperature. Note: You can substitute white rice flour for the brown rice flour if you like; it'll make your baked goods grittier (unless you manage to find a finely ground version).
Nutrition Information
Serving Size

1 cookie without nut

Servings Per Batch

36
Amount Per Serving:
Calories

161

Calories from Fat

71

Total Fat

8g

Saturated Fat

5g

Trans Fat

0g

Cholesterol

24mg
Sodium

119mg

Total Carbohydrate

23g

Dietary Fiber

1g

Sugars

13g

Protein

2g
* The nutrition information provided for this recipe is determined by the ESHA Genesis R&D software program. Substituting any ingredients may change the posted nutrition information.
Tips from our bakers
The cookie dough needs to be refrigerated for at least 1 hour before baking (or for up to 2 days), so plan accordingly. Dough may be scooped into balls, wrapped well, and frozen for up to several months. For hot homemade cookies, FAST, simply place frozen dough balls on a baking sheet, and bake for a minute or so longer than the directions indicate.
These cookies stay nice and fresh for a day or so after baking. Freeze for longer storage.
To make sure your oven temperature is exactly right, bake a sample cookie first. If the cookie spreads too much, raise the oven temperature slightly. If it doesn't spread enough, lower the oven temperature slightly, or pat the dough down slightly before baking.
Reviews
Just like the regular chocolate chip cookies your mom used to make. Great texture and taste!
The best gluten free chocolate chip cookie recipe I've ever found.
Amazing GF cookies! Gooey and gorgeous! My boyfriend couldn't tell these were GF and I couldn't either! I used a mix or white dark and milk chocolate chips and had no baking soda so used an extra 3 tsp of baking powder... They puffed up a bit but when I took them out of the oven to cool a swatted them with a spatula to flatten them, this also gave them gorgeous cracks and made the chocolate oooze out! These totally rock!
This is a soft, cakey cookie, which many Americans are familiar with, less so Europeans. If you are looking for a crispy cookie, following this recipe to a T isn't what you're looking for. It if you love soft cookies, this is it! And I would recommend them even for those who aren't gluten intolerant, as the taste is completely unaffected, just the soft texture is different. I suspect it's more than the starches in the flour, sugar ratios and not pressing them down that are doing this. I am not sure if I suspect the xanthan gum is also doing it. If I were to make this recipe looking for a crispy, chewy cookie, next time I would reduce the xanthan gum by at least half as well. The amount seems very high to me. One of my kids loved these, while the others were a bit disappointed, expecting more of a Crispy-chewy cookie. I thought they were good, but I adore the crispy-chewy variety more. These lasted very well overnight (covered up of course), but didn't stay around long enough to test for day three. Still warm cookies are always the best. I used a light European mix of gf flour, as I don't have access to KAF. The ingredients were similar from my memory.
I've made the the recipe 3 times so far, once with the GF All Purpose, and twice with the GF 1 to 1 flour. All three times the cookies came out perfectly, enough so, that the family prefers these to the regular wheat flour recipe. Between the flours, the cookies came out with a very very similar texture (you have to be looking for differences to notice them) and the exact same taste. I strongly recommend the recipe author's suggestions of having the dough sit over night in the fridge and to only bake what you will eat, as they taste their best fresh. I roll up the dough into balls ready for baking, and place them on wax paper in an air tight container and leave it in the fridge. For my oven, 360 for 17-18 minutes works better. I only take the dough out to place it on the cookie sheet once the oven is at temp and only then, not sooner. Colder dough allows for the cookie to keep that thickness to it, otherwise it flattens out more. Once you pull them out of the oven, you may need to let the cookies rest on the sheet for a minute or two for them to firm up a bit before transferring them to a cooling rack. Nota bene: if you use the 1-1 flour instead, skip on the Xanthum gum as it is already in the flour. If you use KA GF Baking Mix, forgo on the Xanthum gum and baking powder. Just be aware the 1-1 has about x2 the Xanthum gum and the Baking Mix is almost x3 than the original recipe (that's my guess anyway, someone at KA can clarify the ratios better than I). Also, try adding a scoop of vanilla ice cream on top of a freshly baked cookie. You'll thank me later.
I wanted a Crisper cookie So I increased the butter, as well as browning it. I also used all brown sugar,And more chocolate than the recipe called for. They were phenomenally good. It was really hard to determine that these were gluten free.
I was using this for ingredient ratios as I didn't have my usual, trusted recipe and needed to make a half batch. The batter wasn't the texture I expected so I read further and saw the chill time. That wasn't possible so I dropped the oven down to 300 degrees when I put the dough in to bake. I watched them like a hawk- great crispy edges and tender middles! What a wild ride but really nice results.
This recipe turned out quite well but they do puff up into a cakey style biscuit rather than a cookie so I will try to tweak the recipe next time. Overall they're ok though.

Hi Amy, we're glad to hear you're invested in making the perfect chocolate chip cookie with precisely the texture you're looking for. As we've suggested to some other bakers who are looking to make cookies that are more crispy/chewy rather than cakey, try making these adjustments: use all brown sugar and reduce the baking soda to 1/2 teaspoon. Press the cookie dough with the tips of your fingers or the back of a greased spoon before putting them in the oven to encourage spreading. Take them out of the oven when they still look slightly underbaked and then let them cool completely on the baking sheet. We hope this helps, and happy GF baking! Kye@KAF
This recipe is almost perfect, flavor is completely on point. I used the equivalent mix but with white rice flour (didn't have brown, has never made a difference for me however) but otherwise followed the recipe exactly. I use an oven thermometer too so I have a true 350F. Tried 9 minutes, 10 minutes, and a bit past 11 minutes. All of the cookies deflated and didn't look like the picture. Comparing to all the tollhouse style recipes, they don't usually have baking powder (might still be needed though) but mostly importantly NONE OF THEM GREASE ANYTHING. I think that was the problem. Use an ungreased baking sheet or cookie sheet and it should be good.
I made these cookies for family members who can't tolerate wheat flour. I made a slight change in the flavoring: cut down the vanilla to 1 1/2 teaspoon and added 1/2 teaspoon ground instant expresso coffee. I had no problem at all with the dough, and they baked up just fine. I guess the cookies are pretty good for being gluten free.