A customized print-friendly version of this recipe is available by clicking the "Print Recipe" button on this page.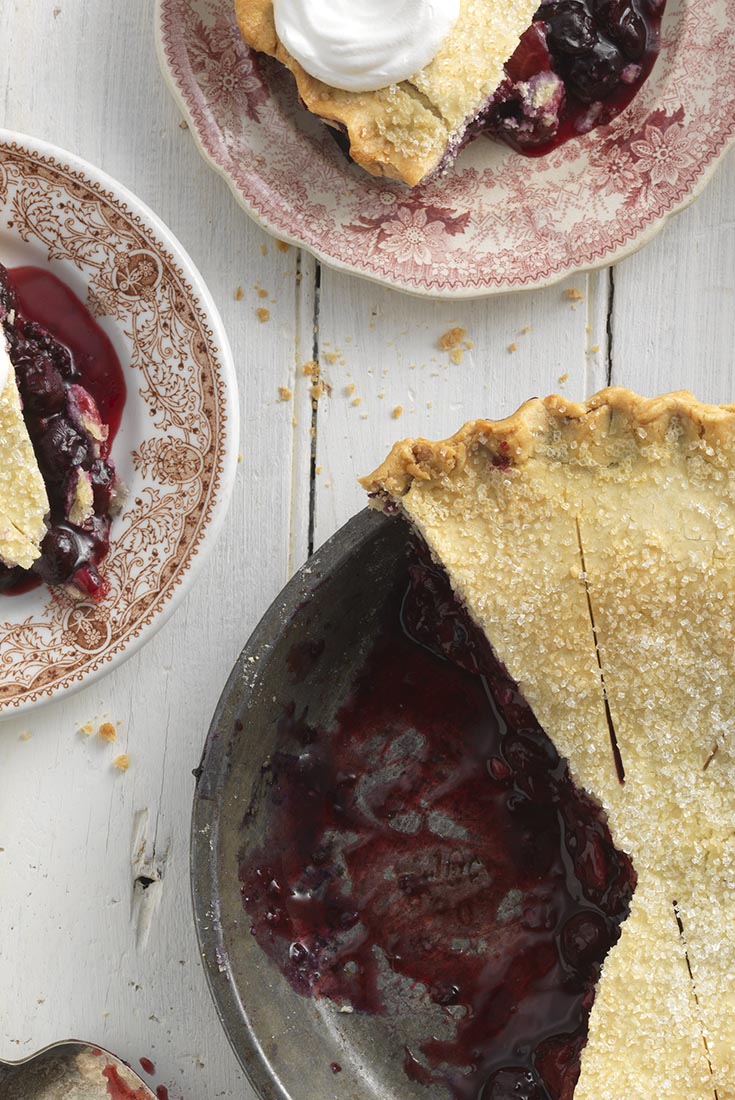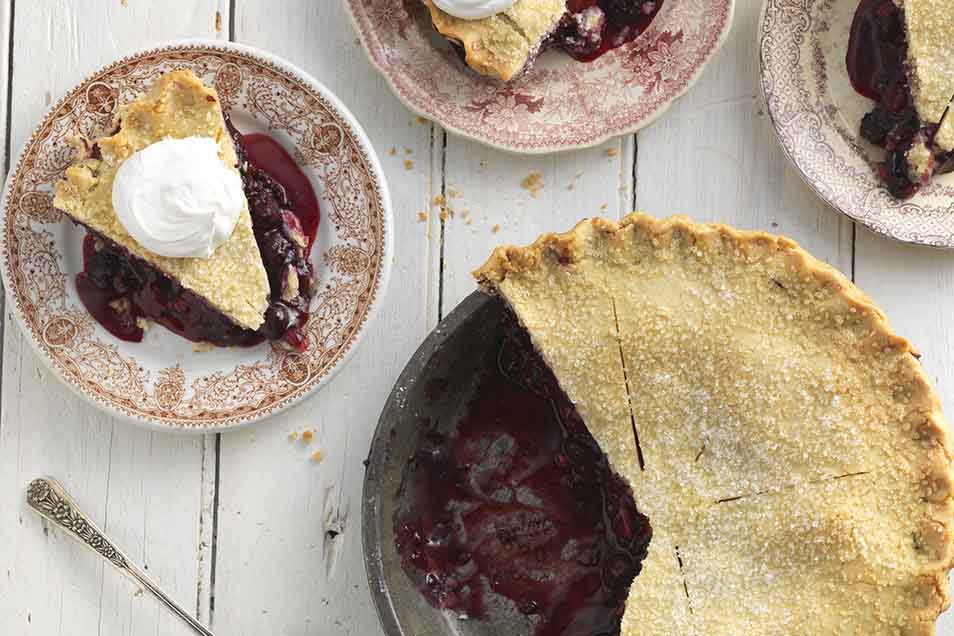 We're proud of the flaky texture of this crust, which can be difficult to achieve with gluten-free ingredients. Thorough baking and a golden brown color will give this crust a wonderful toasty flavor. This is enough for a single 9" crust, but can easily be doubled to make a two-crust pie.

Note that the Instant ClearJel used here is optional; it's not packaged in a gluten-free facility, and thus isn't suitable for celiacs, or for those with a strong allergy to gluten.
Ingredients
1 1/4 cups King Arthur Gluten-Free Multi-Purpose Flour or brown rice flour blend*
1 tablespoon sugar
2 teaspoons Instant ClearJel (optional; not packed in a gluten-free facility)
1/2 teaspoon xanthan gum
1/2 teaspoon salt
3/8 cup (6 tablespoons) cold butter
1 large egg
2 teaspoons lemon juice or vinegar
*See recipe for this blend below.
Instructions
Lightly grease a 9" pie pan.

Whisk together the flour or flour blend, sugar, Instant ClearJel, xanthan gum, and salt.

Cut the cold butter into pats, then work the pats into the flour mixture until it's crumbly, with some larger, pea-sized chunks of butter remaining.

Whisk the egg and vinegar or lemon juice together until very foamy. Mix into the dry ingredients. Stir until the mixture holds together, adding 1 to 3 additional tablespoons cold water if necessary.

Shape into a ball and chill for an hour, or up to overnight.

Allow the dough to rest at room temperature for 10 to 15 minutes before rolling.

Roll out on a piece of plastic wrap, on a silicone rolling mat, or in a pie bag that's been heavily sprinkled with gluten-free flour or flour blend. Invert the crust into the prepared pie pan.

Fill and bake as your pie recipe directs.

*Make your own blend
Many of our gluten-free recipes use our King Arthur Gluten-Free Multi-Purpose Flour, which includes ingredients that reduce the grittiness sometimes found in gluten-free baked goods. Our flour also increases the shelf life of your treats, keeping them fresh longer.

The following make-at-home blend, featuring stabilized brown rice flour, works pretty well when substituted; and it tastes better than a blend using regular brown rice flour.

Whisk together 6 cups (28 1/2 ounces) King Arthur stabilized brown rice flour; 2 cups (10 3/4 ounces) potato starch; and 1 cup (4 ounces) tapioca flour or tapioca starch. Store airtight at room temperature. Note: You can substitute white rice flour for the brown rice flour if you like; it'll make your baked goods grittier (unless you manage to find a finely ground version).
Nutrition Information
Serving Size

1/8 of recipe, 43g

Servings Per Batch

8
Amount Per Serving:
Calories

173

Calories from Fat

84

Total Fat

9g

Saturated Fat

6g

Trans Fat

0g

Cholesterol

49mg
Sodium

156mg

Total Carbohydrate

20g

Dietary Fiber

0g

Sugars

2g

Protein

1g
* The nutrition information provided for this recipe is determined by the ESHA Genesis R&D software program. Substituting any ingredients may change the posted nutrition information.
Tips from our bakers
The egg yolk makes this crust vulnerable to burned edges, so always shield the edges of the crust, with aluminum foil or a pie shield, to protect them while baking.
To pre-bake without filling, preheat the oven to 375°F. Line the bottom with pie weights, and bake for 25 minutes. Remove the weights, and bake for an additional 10 to 15 minutes, until the crust is a light golden brown.
Making fruit pie? Apply strong heat to the bottom crust at the beginning of the baking time to prevent sogginess. For best results, use a metal (aluminum preferred) pie pan. Bake at 425°F on the bottom rack of your oven for 20 minutes, then reduce the heat to 350°F, move your pie to the middle rack, and continue to bake until the crust is golden and the filling is bubbly.
If you're baking a custard pie in this crust, we recommend pre-baking as directed above, then cooling the crust until you can touch it comfortably before pouring in the custard. Bake the custard-filled pie at the moderate heat such pies require; your recipe will indicate what that is. Don't forget the pie shield for this second bake as well.
The top of a double-crust pie will brown OK; but brushing it with milk and sprinkling it with sugar will enhance its browning, and add sparkle and sweet crunch to your pie.
For an egg-free crust, substitute 4 tablespoons cold water for the egg and lemon juice (or vinegar). If necessary, stir in additional cold water, a teaspoon at a time, until the dough holds together.
Reviews
Turned out great! I am eondering if this same recipe woukd work for a galette? Will it be structural enough?

You're welcome to give it a try, Susan! If possible we'd recommend doing it in a round springform cake pan, just so the dough has sides to hold onto. It'll be pretty delicate so any support it can have in the oven will help. Annabelle@KAF
I absolutely love this recipe. I have tried various gluten free pie crust recipes, and this is my favorite. I do have a question though. I plan on baking a lot of pies this holiday season, and I was wondering how long does the dough last? Could I potentially make all of my pie crusts at once and then use them as I need? Can the dough be frozen and then used later?

Pie dough (whether gluten-free or regular) can last in the fridge for up to a week, but it tends to oxidize and turn slightly gray after about 3-4 days. If you'd like to store them longer than this, wrap well in plastic and freeze. Let the dough thaw in the fridge overnight and then roll out and bake the next day. Happy GF baking! Kye@KAF
I tried this recipe for thanksgiving. I was sooo excited. I could actually roll it. That is something I have missed. After my celiac diagnosis I was so bummed at the baking differences. I always liked to bake. This makes making pies wonderful again. Thank you, thank you!!
I tried the recipe first for a top crust only, for chicken pot pie. My celiac son was thrilled - we all loved it. I have already posted that review. Over Thanksgiving, I made it for a gluten free pumpkin pie. It was sublime. You will think I am fibbing, but we all liked it better than the "regular" pie crust. I'll be using this recipe for ALL pie crusts in the future. I did not have Sure Gel. Also, I used my food processor and had the dough chilling in the fridge five minutes later, SO easy. Best Gluten Free recipe I have tried, for anything. Thank you
I haven't tasted it cooked yet, but this rolled out and went on my apple pie better than any gf crust recipe I've ever made!! I did taste the hatter, and that was also very good.
Really gritty and not a great texture or flavor. I'm glad I did a test run before deciding on a crust for Thanksgiving pumpkin pie. Decided on a different rice flour based recipe from a Portland company that was preferred by 6/6 people in the side by side comparison.

Annie, we're sorry to hear this recipe missed the mark for you and your taste testers. We find that making a regular crust recipe with our Gluten-Free Measure for Measure Flour tends to produce a more pleasant mouthfeel, but it sounds like you might already have the recipe you're looking for. Regardless of how you get there, we hope you have a delicious gluten-free pie to enjoy on Thanksgiving day. Kye@KAF
Tonight, I baked this pie crust for the first time. I made a double batch and used one for the top of a chicken pot pie and the other for the bottom crust of a pumpkin pie. I'm the only one in my house who is gluten free and the rest of the family is usually so turned off by GF recipes that I end up having to make separate dishes. This recipe was fantastic and the entire family inhaled it; they had no idea it was GF. It is flakey and buttery. I omitted the gel but otherwise followed to recipe exactly. I did brush the top crust with milk, which turned it a beautiful golden brown color. I can't wait to use this recipe again and again!
This is the very first recipe I've rated anywhere. I actually made it to be the top of a chicken pot pie. My son was diagnosed with Celiac disease about three years ago and of course really misses pies, cakes, biscuits, breads. So I've tried quite a few gluten free recipes. I have not baked this as a bottom crust yet, but will soon. But I can tell you, as a top crust, it is really, really good. Some of us actually liked it better than regular pie crusts! No kidding. I whipped it up in my food processor and let it chill while I made the filling. I followed the recipe exactly and was a bit concerned about the dough being a rather hard block, even after resting at room temperature. But I put the dough in a huge ziploc bag and used the rolling pin on top. It fit my Pyrex pie dish perfectly. I may have had to bake it a while longer, but it was delicious! I hope you'll try it. Oh, and I didn't use the Clear Gel as I don't have any.
First ....have been making short crust pastry for all of my 53 married years. And am praised for its texture. So ... I followed this recipe 100% I found it tough and kind of hard. Was not pleased with the results and am experimenting on my own to find a pastry at least somewhat flaky and GF.

We're sorry to hear this gluten-free version of classic pie crust didn't produce the tender, flaky texture you were looking for. You might be interested in trying our Classic Single Pie Crust recipe using our Gluten-Free Measure for Measure Flour in place of the all-purpose flour in the recipe. It tends to yield a more delicate crust, which you might find more appealing. Kye@KAF
Best tasting gf pie crust. It doesnt have a gf after taste, it taste great, cooked perfect; I did follow the direction leaving out the clear gel. I did not prebake the crust. I made pumpkin pie as a trial for thanksgiving. Simply great. Thank You KAF