A customized print-friendly version of this recipe is available by clicking the "Print Recipe" button on this page.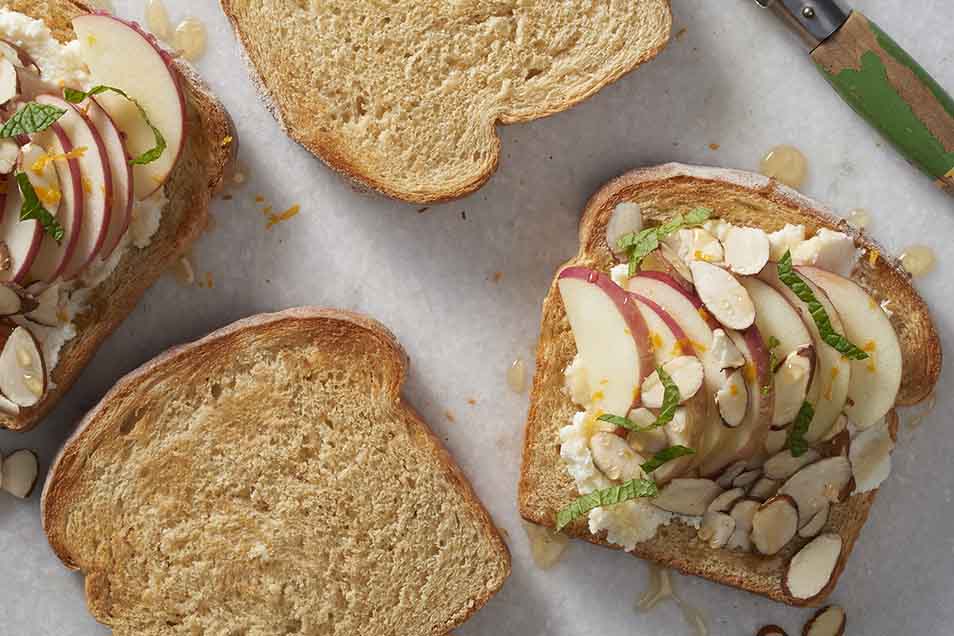 Kamut is an ancient strain of wheat that lends beautiful color and soft texture to this bread.
Instructions
Combine all the ingredients in a large bowl or in the bucket of a bread machine.

Mix and knead till the dough is smooth and supple, adding additional liquid or all-purpose flour as needed.

Place the dough in a lightly greased bowl, cover, and let it rise about 1 hour, till puffy. (In the bread machine, allow the machine to complete its dough cycle.)

Turn the dough onto a lightly oiled work surface, and shape it into an 8" log.

Place the log in a lightly greased 8 1/2" x 4 1/2" loaf pan.

Cover the pan and let the loaf rise for about 40 to 60 minutes, or until it's crowned about 1" over the rim of the pan. Towards the end of the rising time, preheat the oven to 350°F.

Bake the bread for 30 to 40 minutes, or until it's golden brown and its internal temperature registers 190°F on an instant-read thermometer. Remove it from the oven, and turn it out of the pan onto a rack to cool.
Reviews
My first time using Kamut, wow a beautiful loaf, soft golden and great flavour.
Lovely results. Works well. But I also wanted something I could put in my bread machine at night on the delay timer and have in the morning. And after a lot of bad results (top falls in, overproofing), I found a combination that works in my Oster Bread Machine. (Really had to increase water and decrease yeast.) Would like a higher percentage of Kamut flour, but this is what works so far. Put in bottom of bread machine loaf pan 1 3/4 c. water 2 TBS olive or other oil (or slightly more) 2 TBS honey, molasses, maple syrup or other sugar (or slightly more) In a bowl, mix together 3 1/3 c. bread flour 2/3 c. Kamut wheat flour 1 1/2 tsp salt 1/4 c. potato flakes 1 TBS wheat gluten 2 TBS dry milk Pour the mixed dry ingredients into loaf pan so that they cover liquid. Make a little well on top of dry ingredients in bread machine loaf pan and add 3/4 tsp Active Dry Yeast
I followed this recipe exactly , mixed the dough in the bread machine and let it rise and then took it out and shaped it and let it rise for an hour in a bread pan , then baked it for 30 minutes . I turned out perfect and I will definitely be making it often !
I LOVE KING ARTHUR and feel slighted by the misdirection of this recipe and its title. Fellow bakers: THIS IS NOT A RECIPE for the bread machine -as indicated. Truly, better to simply cut off the " bread machine" from the name, so that the search engines dont bring us here. A wonderful bread recipe-but IT IS NOT for the bread machine. Shame on King Arthur.

Wendy, we're sorry for the apparent confusion here. The title of this recipe doesn't include any mention of the bread machine, but it may show up when using a search engine to find "bread machine recipes" because it mentions in the instructions that the dough can be prepared "in the bucket of a bread machine". Despite the current frustration, we hope you'll continue to find joy in the recipe itself. Mollie@KAF
I made this and the flavor is excellent. I used Khorasan instead of Kamut, but my understanding is that they are almost the same. It seems to have a weaker gluten structure than regular wheat loaves. So it's not as great as a sandwich bread, but it still may be serviceable of you use thick slices.
So delicious! So, so delicious!!!
Absolutely fabulous bread! Followed directions, tho mindful of water amounts. The loaf turned out picture perfect and tastes even better than it looks. We grind all our grain and the combo of (freshly) milled Kamut and hard white wheat berries made this a winner with everyone. The kids even request it in their school lunches!
Came out with perfect crust and flavor. Used recipe as is. Simple delicious.
Mindful of the previous reviewer's comment, I began by adding only 1 cup of water; however, my dough required the two extra tablespoons. The only change I made to the recipe was to substitute 1 cup of white whole wheat flour for a cup of the A-P flour. The bread is moist and has a fine texture. The flavor is very good, and the loaf slices nicely. If one is saddled with a fmily averse to whole grain breads, I believe this would pass their scrutiny with no complaint. I'm definitely adding this recipe to my collection!
This recipe makes a very soft loaf with subtle, but good flavor. Nest time I make it I will use a little less water than called for.