A customized print-friendly version of this recipe is available by clicking the "Print Recipe" button on this page.
Hamburger or Hot Dog Buns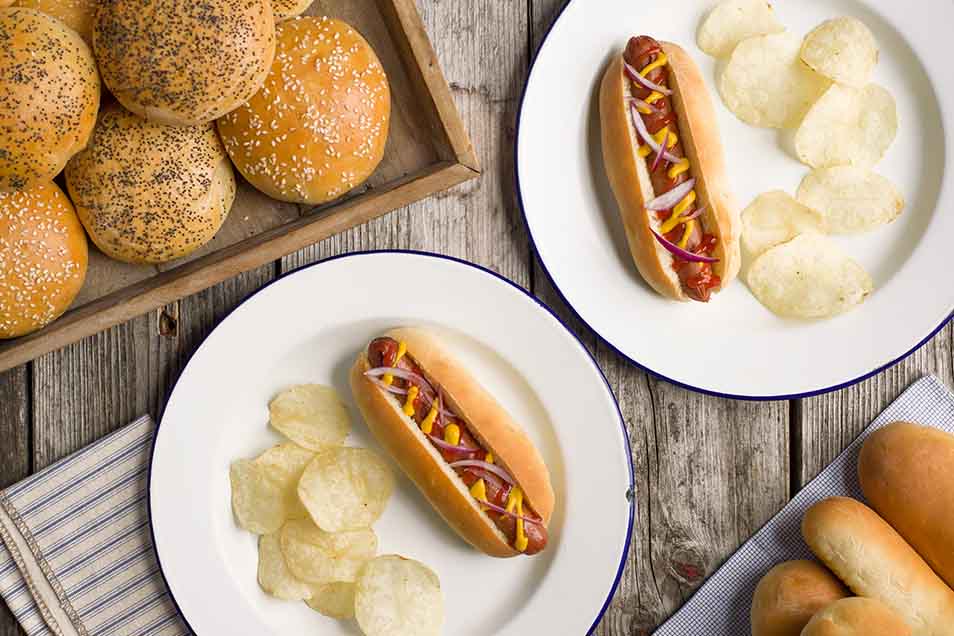 Summer is the time of year when everyone thinks about grilling outdoors. Homemade buns make hamburgers and hot dogs taste out of this world. If you live in an area where the temperature gets so hot you don't want to heat up your oven, make a bunch of buns early in the season and freeze them. To give them a heartier texture, you can substitute 2 cups of King Arthur Premium Whole Wheat Flour for an equal amount of King Arthur Unbleached All-Purpose Flour.
Ingredients
2 tablespoons sugar
2 packets active dry yeast or 4 1/2 teaspoons instant yeast
1/2 cup warm water (105°F to 115°F)
2 cups warm milk (105°F to 115°F)
2 tablespoons vegetable oil
2 teaspoons salt
6 to 7 1/2 cups King Arthur Unbleached All-Purpose Flour*
egg wash: 1 egg beaten with 1 tablespoon cold water
sesame, poppy or caraway seeds or coarse salt (optional)
*See "tips" below
Instructions
To mix the dough: In a large bowl, dissolve the sugar and then the yeast in the warm water. Add the milk, oil, salt and 3 cups of flour to the yeast mixture. Beat vigorously for 2 minutes.

Gradually add flour, 1/4 cup at a time, until the dough begins to pull away from the sides of the bowl. Turn the dough out onto a floured work surface.

Knead until you have a smooth, elastic dough. Because this dough is so slack, you may find that a bowl scraper or bench knife can be helpful in scooping up the dough and folding it over on itself.

Put the dough into an oiled bowl. Turn once to coat the entire ball of dough with oil. Cover with a tightly-woven dampened towel and let rise until doubled, about one hour.

Turn the dough out onto a lightly oiled work surface. Divide into 18 equal pieces. This is done most easily by dividing the dough first into thirds, then those thirds into halves, then the halves into thirds.

Shape each piece into a ball. For hamburger buns, flatten the balls into 3 1/2" disks. For hot-dog buns, roll the balls into cylinders, 4 1/2" in length. Flatten the cylinders slightly; dough rises more in the center so this will give a gently rounded top versus a high top.

For soft-sided buns, place them on a well-seasoned baking sheet a half inch apart so they'll grow together when they rise. For crisper buns, place them 3" apart. Or shape buns and bake in either our hot dog bun pan or our hamburger bun pan.

For the second rising, cover with a towel and let rise until almost doubled, about 45 minutes.

Fifteen minutes before you want to bake your buns, preheat your oven to 400°F. Just before baking, lightly brush the tops of the buns with the egg wash and sprinkle with whatever seeds strike your fancy.

Bake for 20 minutes or until the internal temperature of the bread reaches 190°F. (A dough thermometer takes the guesswork out of this.)

When the buns are done, remove them from the baking sheet to cool on a wire rack. This will prevent the crust from becoming soggy.
Nutrition Information
Serving Size

1 bun, 93g

Servings Per Batch

18
Amount Per Serving:
Calories

206

Calories from Fat

Total Fat

3g

Saturated Fat

Trans Fat

Cholesterol

17mg
Sodium

255mg

Total Carbohydrate

37g

Dietary Fiber

1g

Sugars

1g

Protein

7g
* The nutrition information provided for this recipe is determined by the ESHA Genesis R&D software program. Substituting any ingredients may change the posted nutrition information.
Tips from our bakers
We give you this fairly wide variation for a couple of reasons. First, you'll find in the summer that you'll need a bit more flour to absorb a given amount of liquid than you will in the winter. This is because it's humid and flour acts somewhat like a slightly dampened sponge as a result. Second, this particular dough should be quite slack, i.e., very relaxed in order to make soft and tender buns. So you want to add only enough more flour, past the 6-cup point, to make the dough just kneadable; sprinkling only enough more to keep it from sticking to you or the board.
Reviews
I use 1/3 whole wheat flour. bake another 15minutes covered with aluminum foil. spread some onion podwer on the baking sheet (I used aluminum foil) not directly on the dough. the result is good! the hotdog buns are so soft~ thank you.
I made these buns a bit larger (for brats) so cut into 12 pieces rather than 18, and they were fabulous. The egg wash helped keep the crust just the right crunchiness to support the heavier filling, yet the inside was soft and easy to eat. I made the entire recipe in my stand mixer, switching to the dough hook to knead. The rest was done according to the recipe, and they were just as expected. In fact, this recipe turned out to be far easier and more successful than I even anticipated. I'd rate myself a good baker, but definitely less successful with bread, so I credit the recipe, for sure!
My hamburger buns came out pretty flat, although they tasted good. I am not a very experienced bread baker so I'm sure it was probably something I did wrong. Can you tell me about how long you are supposed to knead the dough?

Hi Kristen! The kneading process usually takes between 5 and 7 minutes, but the most common reason for yeasted recipes to come out flat is over-rising. If they were nice and puffy before baking but collapsed, then that was the issue, they just needed a shorter rising time. If they never really puffed up, there might be too much flour. For ideal measurement accuracy when not using a scale, we recommend fluffing the flour with a whisk or spoon, sprinkling it into the measuring cup, and scraping off the excess. With a couple of tweaks here and there, we bet your next ones will come out looking as professional as ever! Annabelle@KAF
My husband is a die-hard New Englander when it comes to his hot dog buns - must have the split top! I'm looking forward to giving this recipe a try, but I'm concerned that 18 buns is too many for the two of us. Would I need to make any adjustments if I wanted to make half a batch? Alternatively, would the dough freeze well?

You can get this recipe right in half, Cleo! That will be much more successful than freezing the dough which potentially kills most of the yeast. Happy baking, and enjoy the taste of New England! Annabelle@KAF
This is an amazing recipe for hot dog buns with the perfect density, flavor, and texture. It honestly does make me say, why would I ever buy the typical pack of grocery store hot dog buns again? I think the key for me in getting a great result from this recipe was in following the instructions exactly in the way it said to add just enough flour until it was no longer sticky. It ended up being 6 plus 1/8 cups of flour for me, so it was not overly dense like other bun recipes. When I was kneading it, I could see that it never got really stiff, and it started very loose and pliable. During the kneading, it was a little sticky, but kneading it in the extra 1/8-1/4 cup of flour kept it balanced. I watched the second rise to bake it after it rose to where I expected it, which took a little longer because I think it was a little cool. The end result was nice and chewy, but not tough or crumbly, and I think watching the second rise prevented over-proofing or collapse that has happened to me in the past with other recipes. This recipe was actually a great learning experience and has me thinking other bread recipes that end up a little too dense should maybe use the same method. I'm also wondering if I would have had the same great result if I had kneaded it in the stand mixer like I do with other breads. Kneading it by hand allowed me to better control the amount of flour worked into the dough so I could keep it "barely not sticky". And it also allowed me to see/feel first-hand when the dough changed and the kneading was done.
The best hot dog buns I've ever made. Texture was perfect, they look as pretty as they taste, and I have found my new go-to recipe! Thanks, KAF!
I have made these twice following the recipe exactly except for baking only 15 minutes testing with a thermometer. I love this recipe because our granddaughter is allergic to eggs. (I brushed the hamburg buns with olive oil instead of the egg wash.) The buns have a much better flavor and texture compared with the doughy store-bought ones. I would keep making these even if I didn't need to worry about eggs!
There may be some confusion about the yeast in this recipe. You write between 6 and 7.5 cups flour, (so I opted for 6.75 cups / 770g) and you recommend 4.5 teaspoons instant yeast / 22.5g, which equates to 2.9%. That is a lot! I've been baking my own bread for many years taught by a French Master Boulanger/Patissier. We do everything by percentages and our base calculation, depending on which bread we're baking is 2% fresh Baker's yeast per qty of flour. If I don't have fresh yeast, I will use instant yeast but halve the amount, being 1% to qty of flour. So your recipe is calling for 2.9% instant yeast which is almost 3 times what I normally use. Anyhow, I prepared your recipe to bake hot dog rolls but used only 7.7g instant yeast to 770g flour, 1%, and did a cold rise for 6 hours. I must say that these rolls were light and soft and very very nice. You probably do need to clarify the amount of yeast in the recipe because some people are going to end up with a mess.
These buns are SO delicious. The first time I made them, it was because I simply forgot buns at the store and chose to make my own as opposed to running out again (nearest store is 15 minutes). My family LOVED them! My husband liked them so much, in fact, that he asked me to please forget the buns next time at the store so I'd have to make them again. I've made them about once a week since! They are easy to change up just by changing the seeds on the top. My favorite topping is onion powder, sea salt, and poppy seeds. Today, one batch will have that mixture for brat buns. The other batch will have garlic to go with tomorrow's pasta dinner. Very versatile. If you follow the description for what the dough will look like at various steps, consistency is easy.