A customized print-friendly version of this recipe is available by clicking the "Print Recipe" button on this page.
Hamburger or Hot Dog Buns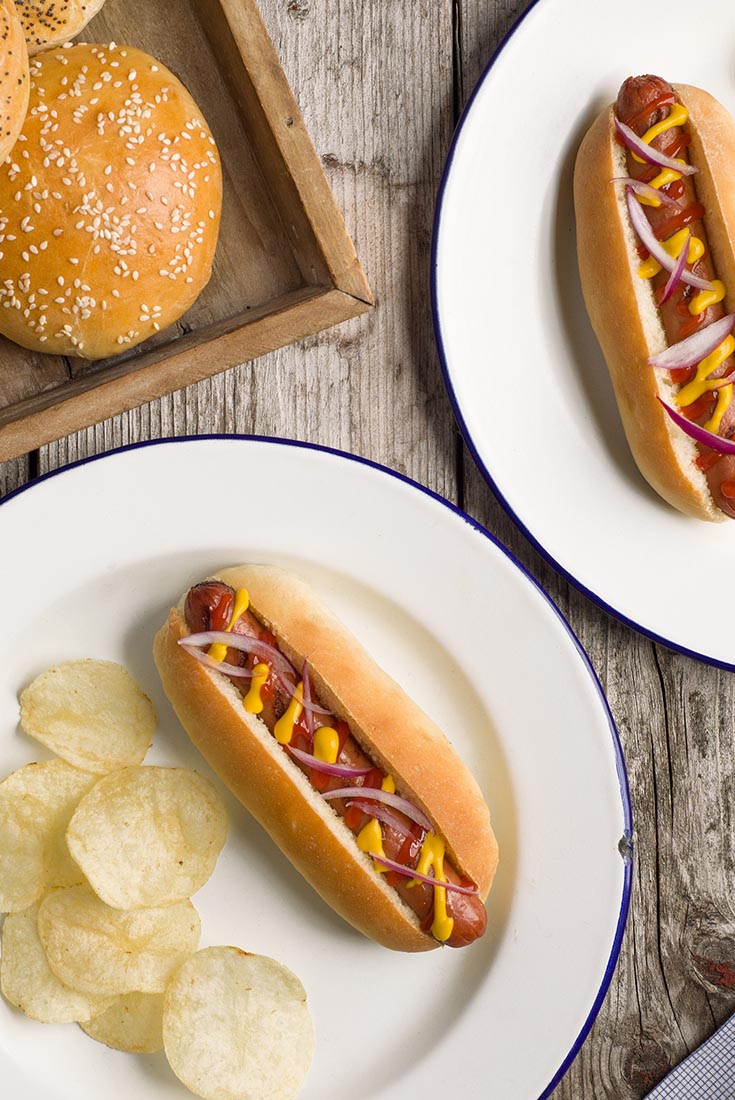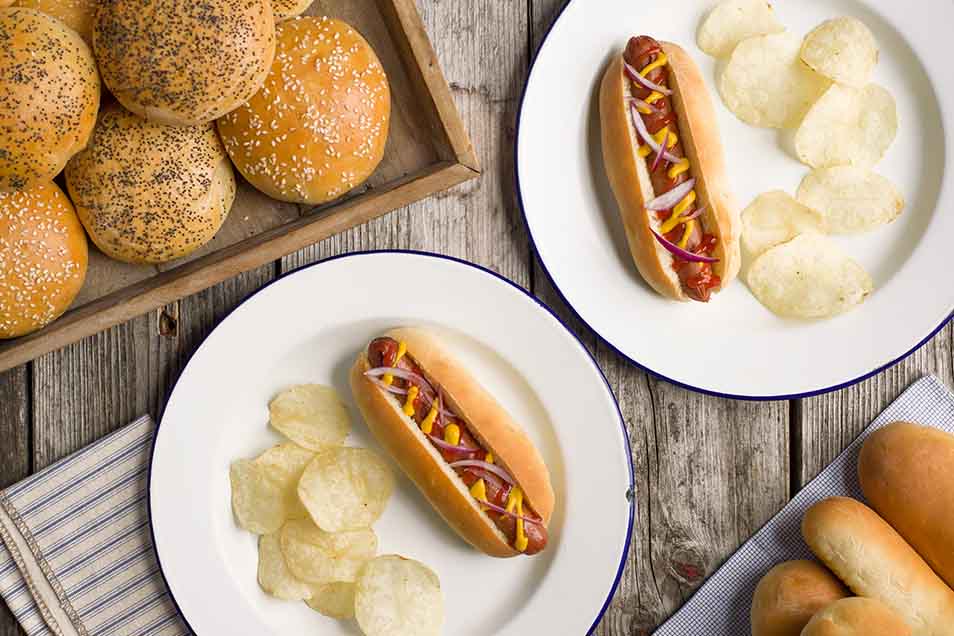 Summer is the time of year when everyone thinks about grilling outdoors. Homemade buns make hamburgers and hot dogs taste out of this world. If you live in an area where the temperature gets so hot you don't want to heat up your oven, make a bunch of buns early in the season and freeze them. To give them a heartier texture, you can substitute 2 cups of King Arthur Premium Whole Wheat Flour for an equal amount of King Arthur Unbleached All-Purpose Flour.
Ingredients
2 tablespoons sugar
2 packets active dry yeast or 4 1/2 teaspoons instant yeast
1/2 cup warm water (105°F to 115°F)
2 cups warm milk (105°F to 115°F)
2 tablespoons vegetable oil
2 teaspoons salt
6 to 7 1/2 cups King Arthur Unbleached All-Purpose Flour*
egg wash: 1 egg beaten with 1 tablespoon cold water
sesame, poppy or caraway seeds or coarse salt (optional)
*See "tips" below
Instructions
To mix the dough: In a large bowl, dissolve the sugar and then the yeast in the warm water. Add the milk, oil, salt and 3 cups of flour to the yeast mixture. Beat vigorously for 2 minutes.

Gradually add flour, 1/4 cup at a time, until the dough begins to pull away from the sides of the bowl. Turn the dough out onto a floured work surface.

Knead until you have a smooth, elastic dough. Because this dough is so slack, you may find that a bowl scraper or bench knife can be helpful in scooping up the dough and folding it over on itself.

Put the dough into an oiled bowl. Turn once to coat the entire ball of dough with oil. Cover with a tightly-woven dampened towel and let rise until doubled, about one hour.

Turn the dough out onto a lightly oiled work surface. Divide into 18 equal pieces. This is done most easily by dividing the dough first into thirds, then those thirds into halves, then the halves into thirds.

Shape each piece into a ball. For hamburger buns, flatten the balls into 3 1/2-inch disks. For hot-dog buns, roll the balls into cylinders, 4 1/2-inches in length. Flatten the cylinders slightly; dough rises more in the center so this will give a gently rounded top versus a high top.

For soft-sided buns, place them on a well-seasoned baking sheet a half inch apart so they'll grow together when they rise. For crisper buns, place them three inches apart.

For the second rising, cover with a towel and let rise until almost doubled, about 45 minutes.

Fifteen minutes before you want to bake your buns, preheat your oven to 400°F. Just before baking, lightly brush the tops of the buns with the egg wash and sprinkle with whatever seeds strike your fancy.

Bake for 20 minutes or until the internal temperature of the bread reaches 190°F. (A dough thermometer takes the guesswork out of this.)

When the buns are done, remove them from the baking sheet to cool on a wire rack. This will prevent the crust from becoming soggy.
Nutrition Information
Serving Size

1 bun, 93g

Servings Per Batch

18
Amount Per Serving:
Calories

206

Calories from Fat

Total Fat

3g

Saturated Fat

Trans Fat

Cholesterol

17mg
Sodium

255mg

Total Carbohydrate

37g

Dietary Fiber

1g

Sugars

1g

Protein

7g
* The nutrition information provided for this recipe is determined by the ESHA Genesis R&D software program. Substituting any ingredients may change the posted nutrition information.
Tips from our bakers
We give you this fairly wide variation for a couple of reasons. First, you'll find in the summer that you'll need a bit more flour to absorb a given amount of liquid than you will in the winter. This is because it's humid and flour acts somewhat like a slightly dampened sponge as a result. Second, this particular dough should be quite slack, i.e., very relaxed in order to make soft and tender buns. So you want to add only enough more flour, past the 6-cup point, to make the dough just kneadable; sprinkling only enough more to keep it from sticking to you or the board.
Reviews
I have made these twice following the recipe exactly except for baking only 15 minutes testing with a thermometer. I love this recipe because our granddaughter is allergic to eggs. (I brushed the hamburg buns with olive oil instead of the egg wash.) The buns have a much better flavor and texture compared with the doughy store-bought ones. I would keep making these even if I didn't need to worry about eggs!
There may be some confusion about the yeast in this recipe. You write between 6 and 7.5 cups flour, (so I opted for 6.75 cups / 770g) and you recommend 4.5 teaspoons instant yeast / 22.5g, which equates to 2.9%. That is a lot! I've been baking my own bread for many years taught by a French Master Boulanger/Patissier. We do everything by percentages and our base calculation, depending on which bread we're baking is 2% fresh Baker's yeast per qty of flour. If I don't have fresh yeast, I will use instant yeast but halve the amount, being 1% to qty of flour. So your recipe is calling for 2.9% instant yeast which is almost 3 times what I normally use. Anyhow, I prepared your recipe to bake hot dog rolls but used only 7.7g instant yeast to 770g flour, 1%, and did a cold rise for 6 hours. I must say that these rolls were light and soft and very very nice. You probably do need to clarify the amount of yeast in the recipe because some people are going to end up with a mess.
These buns are SO delicious. The first time I made them, it was because I simply forgot buns at the store and chose to make my own as opposed to running out again (nearest store is 15 minutes). My family LOVED them! My husband liked them so much, in fact, that he asked me to please forget the buns next time at the store so I'd have to make them again. I've made them about once a week since! They are easy to change up just by changing the seeds on the top. My favorite topping is onion powder, sea salt, and poppy seeds. Today, one batch will have that mixture for brat buns. The other batch will have garlic to go with tomorrow's pasta dinner. Very versatile. If you follow the description for what the dough will look like at various steps, consistency is easy.
This dough is easy to work with, the overall process is quick and easy, and the buns came out fabulous!!! The recipe also can easily be cut in half and worked in a stand mixer. Today's batch, I used butter instead of oil, and twice as much. For shaping, I patted dough into a ~6x4 rectangle, rolled it up, pinched under the ends and seams. I made mine a little longer to fit my dogs. I wish I could post a picture because they came out so lovely even though I skipped the egg wash If I was going to do anything different next time, I might space them a little wider than 1/2" apart. I'd probably also do them as pairs so that one side is soft and the other side is crispy. (The end buns were my favorites.) These were so good, they really didn't need meat in them :) The flavor was great, the crumb was exactly what I wanted, tender and even-grained yet with substance. Why buy store buns when you can eat something this heavenly?
Baked 2 min less (convection oven) made a big difference because the first 12 I cooked 20 min on 400 came out to crusty.... reduced the time to 17-18 min made a huge difference these are perfect now.

Generally speaking, when baking in a convection oven, you'll want to turn the temp down by 25° to help control the bake. Some ovens with convection settings make an automatic adjustment, but given the quick, heavy bake you experienced, it sounds like this would help next time. Mollie@KAF
I've been baking for 30 years, from classic books, also in different "languages" also, so to speak. This is the first time ever I've had to toss an entire batch of baked goods. I'd read the reviews here, and noted the comments. Let me just say that after this disaster, I did go back to the "centuries old" recipe, and it worked just beautifully, it's just not the recipe posted here. Baking IS an art and a science and ratios matter. We all know about cold this and hot that, and humid this and dry that. This is not a recipe I can count on. My overall feedback to KAF recipes is that they are a bit hit and miss. Big hits for sure (see my past reviews) and big misses. This is the first big miss I've posted.

Hi there fellow baker, we apologize for any disappointment you may have experienced. We're sincerely intrigued by what could have gone so awry with this recipe to make you toss it. Please consider giving our Baker's Hotline a call so we can hear more about what happened (dough didn't come together? rise? final texture wasn't good?) so we can look into this further. Kye@KAF
Looks like there is an error in the conversion of packets of yeast to grams. The recipe calls for 30g of ADY, but considering that each packet is ~7g, the measurement should be 14 g. I made these yesterday and the dough rose way to fast. The buns deflated in the oven and were quite bland. I have no doubt that this is a good recipe and I believe that my poor results were from using too much yeast. I'll definitely try it again.

Thanks for bringing this misprint in the conversions to our attention, Kevin. We're sorry it took a failed attempt at burger buns for us to correct it. We've updated the recipe accordingly and do hope you'll give it another shot! Mollie@KAF
Note for everybody: This recipe is classic. The simplest and most effective bun recipe. Its derived from french round bun with butter and milk, only that the butter here is replaced with oil for a lower fat input. But use butter instead and the buns will be marvelous. These being said, i got 1.5Kg of dough divided in 10 buns, that qualifies for Jumbo Hot-Dog! Due to the fact that i used cake yeast (resistant to sugar) - because i finished the other yeast, i did put sugar at all (plenty in the milk). While the proofing times were longer (due to the yeast) - the results were as expected. If your results are poor, dont blame the recipe, for starters it was not invented by KAF and its around the world for at least one century ! Check your flour, make sure is not self rising, make sure is not too humid, check the date on the yeast - maybe is dead (to make sure, mix the yeast with the sugar and a spoon of flour together, then add the 120 ml of water (can be at room temperature, not colder and not hotter - you will kill the yeast which in fact is bacteria) mix it well and let it rest 5 min - if double the size it's perfect - and continue with the recipe). This is a very old recipe and its solid.
The best recipe. I always double my batches so I can get moe for the effort. Today was funny. The dough rose in 20 minutes. It burst through my dough bucket and pushed the proofer lid up and on to the floor. I started laughing and my housekeeper baker partner and I gabbed the dough cutting in pieces as suggested. We never stopped laughing. The second rise was only 10 minutes. We have so many perfect buns. I use your hamburger bun pans and needless to say 3 more baking sheets. The buns are wonderful. I think I let the wet ingredients mix with the yeast and sugar too long before adding floor. Oh well, that much of a jump ahead for Memorial Day picnic.
I made this buns for our family get-together. Not only they loved it but very impressed. Now I have them in my freezer all the time.