A customized print-friendly version of this recipe is available by clicking the "Print Recipe" button on this page.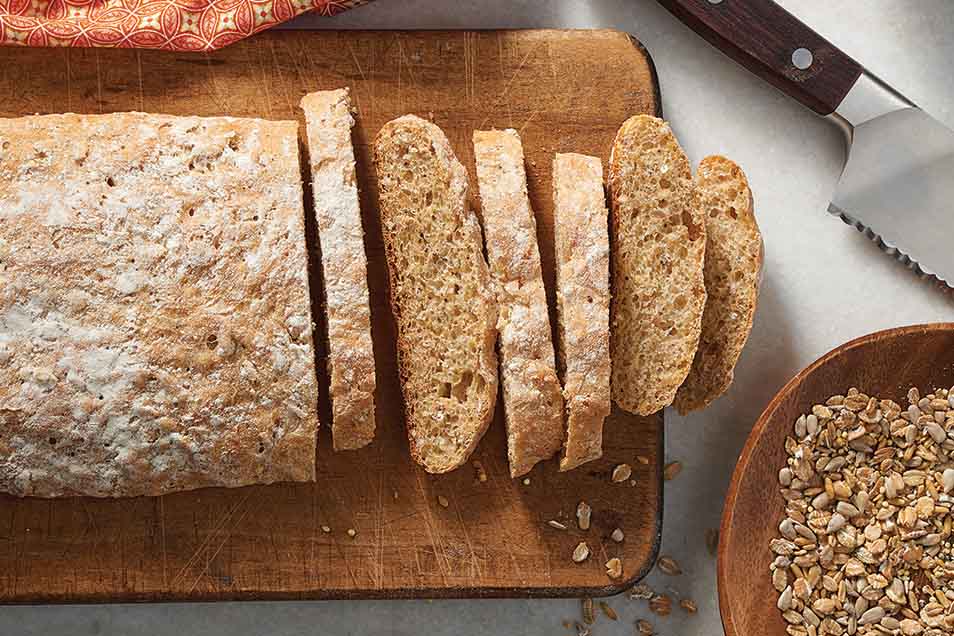 Coarse-textured and full-flavored, this lusty bread features our Harvest Grains Blend, which lends it extra chew and nice crunch.


Instructions
Combine the starter ingredients and stir until cohesive. Cover and let rest at room temperature overnight, or for up to about 15 hours. The mixture will be bubbly.

Combine the starter with all of the dough ingredients except the Harvest Grains Blend, and mix and knead to make a very smooth, soft, very sticky dough. Using a stand mixer equipped with the flat beater paddle, knead for 7 minutes; the dough may or may not clear the sides of the bowl. Or prepare dough in the bread machine set on the dough cycle.

Once the dough is kneaded, add the Harvest Grains Blend, mixing just until it's well distributed. If you're using a bread machine, add the grains blend at the beep. If you're kneading in a stand mixer, add and knead for about 30 seconds, just to combine.

Place the dough in a lightly greased rising container (or leave it in your bread machine), and allow it to rise for 90 minutes, until it's doubled in size. If it's in the bread machine, remove the dough at the end of the dough cycle.

Gently deflate the dough, and divide it in half.

Shape each half into a 10" log.

Place the logs on a large, lightly greased (or parchment-lined) baking sheet, leaving about 5" between them.

Cover and let rise for 60 to 90 minutes, until very puffy. Towards the end of the rising time, preheat the oven to 425°F.

Spray the loaves with lukewarm water, and place them in the oven. Bake for 20 to 25 minutes, or until they're golden brown.

Remove from the oven, and cool on a rack.
Tips from our bakers
This very sticky dough is virtually impossible to knead by hand. Please use a stand mixer, hand mixer, or bread machine set on the dough cycle.
Be sure to add the Harvest Grains Blend after you've kneaded the dough. Adding it first, along with the other ingredients, makes a REALLY sticky dough. Trust us; you don't want to go there.
Want to bake this bread right in the bread machine? Go for it. We've baked it in our Zojirushi here in the test kitchen, and it works just fine.
Reviews
I made the Ciabatta bread over the weekend. It turned out wonderfully but my crust wasn't crusty. I took the advice from a comment about ice cubes for steam. A better way, according my Culinary Program Baking chef would have been to put a roasting pan in the oven when I preheat then when I the bread dough inside insert the ice cubes as well to immediately get the steam that's needed. Thus my 4-Star rating. Question: why would I add Flaxseed? I've read several different places that in order to gain benefit, they must be ground. Thanks for your terrific recipes.

Rene, the various seeds in this recipe are for added texture and flavor, rather than as a nutritional supplement. Happy baking! Kat@KAF
Deeelicious! I didn't plan ahead to make this so I used my unfed starter and half white whole-wheat flour in place of the all purpose. Easy to make. Anytime I can use my sourdough starter and harvest grain blend together makes me very happy. This was a great accompaniment to the soup I made for dinner.
loved it, a winner. totally easy with a bread machine.
Simply great. Made it tree times and one time I replaced whole white wheat flour by reguler whole wheat flour and also the result was amazing. I recommend adding one table spoon vital gluten.
I used a cup of sourdough starter instead of the overnight starter. Then I soaked the harvest grains for a time in H2O to soften. I think those changes made this sticky, loose dough even more so! Compensated with additional four and rise time. Baked the loaves in a loosely constructed parchment 'tube' to help maintain shape and they came out perfect! Big airy holes, crisp crust, and big flavor. Perfect!
Excellent for hearty soups and stews like oxtail-barley soup. I did substitute light brown sugar for white and will increase the amount to 1 1/2 T. Made up my own whole grain mixture and will eliminate the sesame seed in the future as it tends to be a little on the bitter side. I would also suggest an egg wash brushing at the end for presentation. Just a wondwerful bread.
I haven't made this bread yet. Before I do, I would like to know if I could use the white whole wheat flour for the entire recipe?
Using all white whole wheat will change the texture and flavor of the recipe and you will need to add extra liquid. ~Amy
This was my first time making ciabatta bread. I took one of the two loaves to nursing clinicals and the nurses and my students ate it up! My best bread yet!
PS: I also steamed these in the oven using the good old handful of ice cubes on the bottom of a hot oven trick. They steamed wonderfully and created a very nice hard crust with a nice tender crumb.
I didn't have the Harvest Grain Blend on hand, so I used sunflower, sesame, and flax seeds, plus a little bit of fennel seed ground between the heels of my palms to release the oils. Next time, I will not use the sunflower seeds, as I find them a bit overpowering. I kneaded this dough as I would any bread dough on the bench and gave it 2 - 3 folds during the bulk fermentation and 1 - 3 fold on the couche. I also did a 3oz roll make-up with this formula instead of the loaf. The bread came out delicious. They rose beautifully and were light and flavorful. The extra hint of fennel tasted truly like I had added sausage essence to my formula. I would like to ask though, for the final dough, minus the preferment, if I used bread flour, how to adjust the other ingredients. Will be adding this formula to my portfolio and spicing up the harvest blend for more interesting flavors.
We would love to help you with your questions, but may need some clarification before providing answers. Please call our baker's hotline so that we may better assist you. ~Amy