A customized print-friendly version of this recipe is available by clicking the "Print Recipe" button on this page.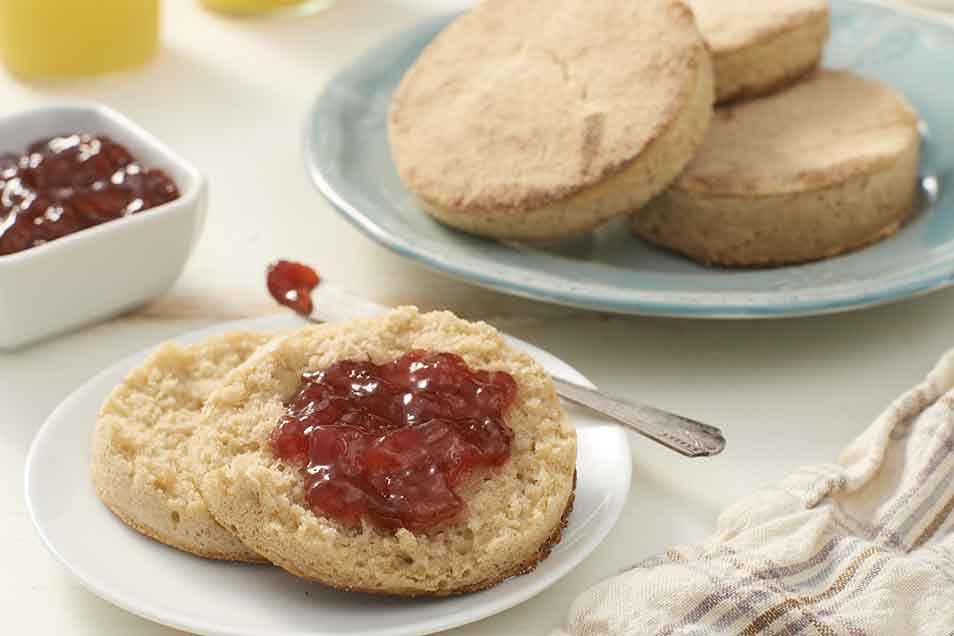 Along with offering plenty of fiber, these English muffins are just plain delicious. They're as easy to make as pancakes; they just take a little more time on the griddle, and a set of rings to create their distinctive shape.
Ingredients
Batter
all of the starter
3/4 cup buttermilk, at room temperature
2 tablespoons honey
1/2 teaspoon salt
1/2 teaspoon baking soda
2 tablespoons oat bran
1 tablespoon golden flax meal
1/4 cup Hi-maize Fiber
semolina or farina for sprinkling
Instructions
For the starter: Combine the starter ingredients, mix well, cover and let rest at room temperature for at least 4 hours, and as long as overnight. When it's ready to be used, it will be risen and bubbly.

Combine the buttermilk and honey and add to the starter.

Whisk together the flour, salt, baking soda, oat bran, milled flax, and Hi-maize, and stir into the batter. When mixed, it will be thick but not quite pourable.

Let the batter sit while you set up and preheat the griddle to 325°F. Grease 8 English muffin rings and place them on the griddle. Sprinkle the griddle and inside of the rings with semolina or farina.

Using a muffin scoop, dollop 1/4 cup of batter into each ring, using your greased fingers to tease it out to the edges.

Bake for 10 to 15 minutes, until bubbles come up to the surface and the edges look dry. Sprinkle the tops of the muffins with more semolina or farina, and flip them over.

To check for doneness, run a small knife or metal spatula around the inside of the ring; use tongs to remove the rings from the muffins.

Now you can poke the muffins from the side with an instant-read thermometer. When the centers are between 195°F and 200°F, the muffins are done. Remove from the griddle, split, and toast to serve.

Yield: 8 English muffins.
Nutrition Information
Serving Size

1 muffin, 58g

Servings Per Batch

8 muffins
Amount Per Serving:
Calories

110

Calories from Fat

1

Total Fat

1g

Saturated Fat

0g

Trans Fat

0g

Cholesterol

0mg
Sodium

230mg

Total Carbohydrate

24g

Dietary Fiber

4g

Sugars

6g

Protein

4g
* The nutrition information provided for this recipe is determined by the ESHA Genesis R&D software program. Substituting any ingredients may change the posted nutrition information.
Tips from our bakers
What's "active" sourdough starter? If it's been fed within the last 4 days, it's likely in good enough shape to be used right from your refrigerator. It should be homogenous (not separated with liquid on top), and have visible bubbles. If your starter has separated, discard half, mix the rest with equal parts of flour and water by weight, and let it work on the counter for 4 or more hours (until you see it bubbling slowly), before measuring out what you need to make the recipe.
What's the sprinkle all about? Sprinkling the griddle and the tops of the muffins with semolina or farina creates a slight gap underneath the batter as it's baking, which moderates the temperature and keeps the muffins from burning. We like the texture of semolina's finer grind better than that of cornmeal, which can be gritty when cooked.
Reviews
These are great every time I make them. I'm wondering if I could omit the yeast and just use my active starter? What changes should I make? Or would the muffins not rise enough to produce the nooks and crannies?

Hi Carol, you're welcome to experiment with making this recipe naturally-leavened (no added yeast), but you're right in thinking that the texture of the muffins may change slightly. If you'd still like to give it a go, try using 1 1/2 cups (about 340g) of fed sourdough starter in place of the starter in the recipe. If you omit the yeast, give the dough a rest after step three and allow it to become puffy and expand slightly before scooping and baking. You can consider adding a small amount of baking powder to the dough (about 1/2 teaspoon) to help increase the amount of nooks and crannies you see in the final muffins. Good luck, and happy baking! Kye@KAF
Fantastic! The texture was perfect, nooks and crannies on inside, pleasant crunch on the outside. I substituted wheat germ for oat bran and didn't bother with English muffin rings, the dough held its own shape. Just fantastic.
I love this recipe. I follow it to the letter. Put plenty of semolina in the rings before you cook them. I use a Cuisinart Griddler and cook them at 325 degrees for 15 minutes on the first side and 14-15 on the second side.
A terrific recipe. Note, however, that it is very carefully scaled and should be followed exactly (with the single exception that, as others point out, the Hi-Maize flour can be replaced if necessary with regular flour or bran). In particular, there should be exactly 1/4 cup of the batter for each muffin ring. Any more will overflow the ring, any less and the resulting muffins will be thin and dry. Made correctly, these are wonderful muffins, especially given how low calorie and high fiber they are.
Wonderful! I bake them in the oven on parchment paper at 350 degrees for 15 minutes on the first side and 12 minutes when I turn them over. I have 16 rings so I can do all at once so I can freeze 1/2 for later. They are firm enough after the first side to just remove the rings when you flip them. Have fun! (King Arthur was out of the High Fiber Maize when I ordered my supplies but just upped the oat bran and the flax to meet the measurements and they still came out great.
My first time ever making homemade English muffins, and these turned out wonderfully! I always encourage people to reduce the amount of refined flour in their diets, and this recipe is a really good way to experience how good whole grain can be! My starter was whole wheat, and I used all white whole wheat plus the other whole grains, added about 1 Tbsp of extra water. Could this recipe be doubled exactly as written? Thanks again, and the blog was very helpful.

Carol, we're glad to hear these muffins were a hit for you! If you'd like to double the recipe, you're welcome to double all of the ingredients including the ingredients in the starter. Keep a close eye on your starter as it might only need to rest for 4-6 hours before it's ready to use. Happy baking! Kye@KAF
These english muffins were easy to make and delicious! I'm never going to buy them in the store again
What a great recipe! But, I must admit - - it took me a few tries to get it right. But, I was determined, kept trying and am so glad I did. This recipe is the reason why I started down the path of sourdough. I know its easy enough to buy english muffins however; aside from all of the preservatives & junk in them - - they are gummy, too salty or have lots of calories in exchange for zero nutritional value. I prepare the sourdough starter and let it sit on the counter overnight. I bake mine on an electric griddle (Zojirushi griddle) and bake them below the 300 mark b/c the griddle runs hot. I use a small ice cream scoop and fill the 8 rings with two scoops each. I butter the rings and then sprinkle them with semolina. (One time, I forgot to butter & use semolina - - disaster!) I also use semolina on the top and bottom. They bake for 8-10 minutes and then flip and bake for 4 minutes. I make a batch approximately every two weeks. I freeze them and pull one out to thaw overnight in a plastic zip bag. They are nicely browned on the tops and bottoms. When fork split - hello nooks and crannies! Thank you, KAF!
Good for you for being persistent! I am so glad you landed on a great technique and thanks for sharing! Elisabeth@KAF
LOVE these muffins! I never had a problem with the centers being gummy. I do find that setting the griddle to 325 degrees seems a bit too hot, I set mine to 300 and have never had issues. I will be making a double batch of these tomorrow as they freeze so well.
So very easy to make and they are delicious!! This is a go to recipe in my kitchen.