A customized print-friendly version of this recipe is available by clicking the "Print Recipe" button on this page.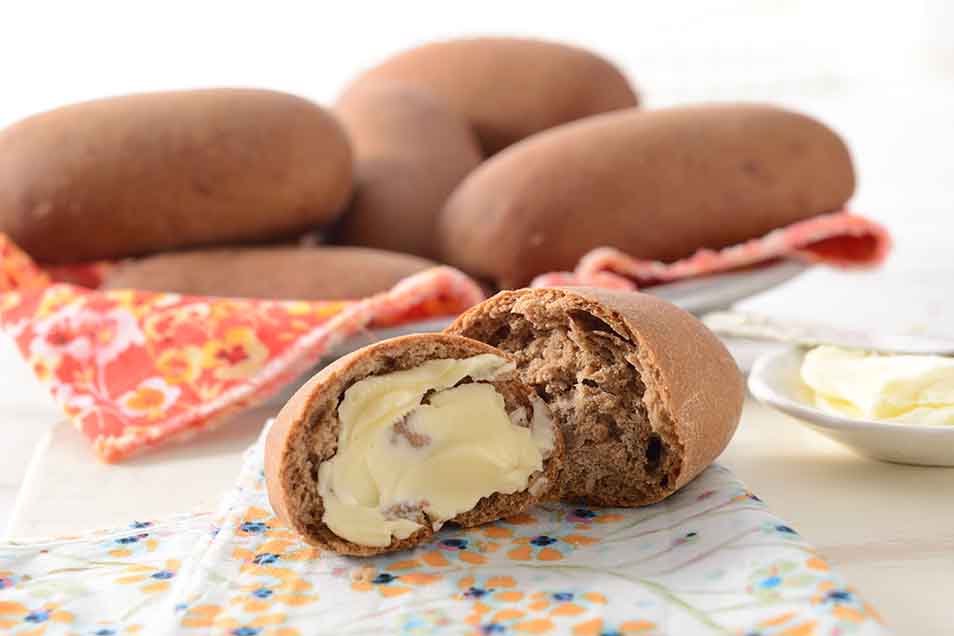 This loaf, often known as Canadian Brown Bread, is dark and quite sweet, but pleasingly so; we love it with just a plain pat of butter.
Ingredients
1 to 1 1/8 cups cup lukewarm water
3 tablespoons unsalted butter, softened
1/3 cup honey
1 2/3 cups King Arthur White Whole Wheat Flour
1 tablespoon cocoa
1 tablespoon sugar
2 teaspoons espresso powder
1 1/2 teaspoons salt
1 tablespoon powdered caramel color, optional; for darker color
2 1/4 teaspoons instant yeast
*If you don't use King Arthur Unbleached Bread Flour, reduce the amount of water to 3/4 cup, adding additional water if necessary to make a soft, smooth dough.
Instructions
Note: As of 1/11/17, the amounts of water, honey, and butter in this recipe have been adjusted slightly to produce a more workable dough.

To make the dough: Measure out the flour by stirring it in the canister, then spooning it lightly into a measuring cup and sweeping off the excess. Starting with the smaller amount of water, mix and knead all of the ingredients — by hand, or using an electric mixer or the dough cycle of your bread machine — to form a smooth, soft dough.

Transfer the dough to a lightly oiled bowl, turning to coat all sides. Cover the bowl, and allow the dough to rise until doubled in bulk, at least 1 hour.

Divide the dough into 8 pieces. Shape each piece into a small log-shaped loaf. This dough is soft, so use flour or a non-stick spray on your hands.

Sprinkle a lightly greased or parchment-lined baking sheet with cornmeal, place the loaves on the sheet, and cover. Let the loaves rise for 1 hour, or until they look puffy but aren't doubled in size. Towards the end of the rising time, preheat the oven to 350°F.

Bake the bread for 20 to 25 minutes. The loaves will appear slightly darker on the top when they're done. Remove them from the oven, and cool on a rack.

Store, wrapped, for 4 days at room temperature, or freeze for up to 3 months.
Nutrition Information
Serving Size

127g

Servings Per Batch

8
Amount Per Serving:
Calories

300

Calories from Fat

35

Total Fat

4g

Saturated Fat

2g

Trans Fat

0g

Cholesterol

10mg
Sodium

440mg

Total Carbohydrate

61g

Dietary Fiber

4g

Sugars

20g

Protein

8g
* The nutrition information provided for this recipe is determined by the ESHA Genesis R&D software program. Substituting any ingredients may change the posted nutrition information.
Tips from our bakers
This bread stays moist and delicious for at least four days. If you want a less sweet bread, cut the honey to 1/4 cup and leave out the 1 tablespoon sugar. The bread won't stay moist as long, but has very good flavor. We also tried this bread with molasses in place of the honey, and it was very good.
Want to bake a loaf instead of rolls? Shape the risen/deflated dough into a log, and place it in a lightly greased 8 1/2" x 4 1/2" loaf pan. Let the loaf rise until it's crowned about 1/2" above the rim of the pan; then bake it in a preheated 350°F oven for about 40 minutes, tenting it with aluminum foil for the final 15 minutes of baking to prevent over-browning. The interior temperature of the finished loaf should be at least 190°F. Take the bread out of the oven, and turn it out of the pan onto a rack to cool.
Reviews
This bread is excellent! I made it in a bread machine and did a loaf instead of rolls. Only change I would make for next time is 1 tablespoon of espresso powder instead of 2. It tastes great with butter or dipped in soup :)
I love baking bread and decided to try this recipe. My cardinal rule when make bread is to weigh everything and I honestly think that I have been successful by doing this... This bread was AMAZING! The dough was soft and so easy to work with. This will be added to our weekly rotation. Thanks!!
This recipe has always been off, but the new changes make it worthless. I wasted a lot of ingredients for dense bread that would not rise despite my best attempts (I tried it twice!). My yeast is fine, I proofed it to be sure. I double checked the recipe to be sure I had everything right and I did. I just recently made our family's oatmeal bread as well without incident. We were looking forward to the nice flavor of this bread, but dinner was ruined by the poor recipe guidelines.

Cynthia, we genuinely apologize for what must have been a frustrating experience. Our ultimate goal is to spread the joy of baking, and we want to be sure that all of our recipes bring bakers success. We're surprised to hear that your dough was too dense and dry, as previously bakers were reporting the dough was too soft. The most common cause of dense, heavy dough is using too much flour. This commonly happens when flour is scooped right from the bag rather than measured by weight using a scale or fluffing and sprinkling it into the cup. We encourage you to review our Measuring Standards guide (which can be found next to the ingredients header above) to see if that helps make your next attempt at bread more enjoyable and successful. Kye@KAF
I made this recipe for Easter today! After the adjustments had been made to the recipe to make it more workable. Only changes I made was subtracting 2 TBSP of honey and replacing it with molasses. And no espresso since the molasses made it dark enough! It was a stickier dough, but no issues forming at all! It was perfect and delicious!
I think this recipe has possibilities but seems to have issues as written. No matter what I do, these come out as dense, heavy rolls. I tried emailing KAF directly but no luck. If you read the other reviews, almost everyone has had to change the recipe to get a working dough. Even the guy who says he can't understand why everyone has trouble goes on to say he had to alter the recipe as written to make it work. Why not correct the recipe then??? The recipe states to put everything into the bowl and mix and knead. If you do that, you have a running batter like consistency. After reading all reviews I'm going to try allowing the dough to sit after adding all liquid and see if the flour absorbs the excess liquid before proceeding with kneading. If you are a novice baker I do not recommend this recipe as it could be very disheartening. Hoping they fix the directions soon!!

Thanks for taking the time to share your feedback with us. We've passed your concerns along to our Recipe Team to look into a bit further. It's true that the recipe as written is designed to produce a very wet dough, which is the key to making such light, tender rolls. However, we may be able to tweak the recipe slightly to make the dough easier to work with. We'll clearly note any changes if we find we can improve the results of the recipe. Kindly, Kye@KAF
Although this bread tastes great, the recipe given is unworkable. I use a food processor to make all of my yeast breads. As many have said, this is more like a banana bread or other sweet quick bread recipe in consistency. I ended up adding almost a cup more flour and then it was more workable but nothing like a traditional yeast dough. The way the recipe stands, one would have to add a lot of flour to form the loaves. But like I said, it tasted great once the recipe was adjusted.

Barbara, if you use another brand of flour other than King Arthur Flour to make this dough, it's likely you'll need to add more than what's called for here as they tend to have lower protein contents (less strength). It's equally important to use King Arthur Bread Flour as opposed to all-purpose (or another kind) because it gives the dough strength and absorbs more liquid than all-purpose flour. This recipe is also designed to be kneaded by hand or in a stand mixer, so the food processor may require some slight adjustments. Kye@KAF
I bake bread daily and have done so for many years. I always use KAF, always bake by weight, and now mix my doughs in a Zojirushi bread machine (just like they do in the KAF test kitchen). That said, this was a delicious bread...once I added another two cups of bread flour to what turned out to be the consistency of pancake batter. I live in southern California so, we have no humidity - ever. It hasn't rained in six months. September in California is like being in the Gobi Desert. So, no problem there. I have never had a problem with a KAF recipe but, apparently, this one has proved problematic for many people. I would recommend this recipe for its taste, but not to novices who would not know that their dough should not look like sludge, and that wheat breads can take considerably longer to rise than those based on white flour exclusively. If you substitute molasses for the honey, and add cracked wheat or oatmeal flakes on top, you will get an excellent approximation of the Canadian Brown Bread they serve at the Cheesecake Factory - but keep that extra flour handy!
delicious!! did it whithout the cocoa (2 of my 3 kids are allergic) and was divine. that is what e are havig for breakfast. First batch came out of the oven and dessappeared in 5 min.. with butter and cofffe...
Made this recipe many times, and then misplaced it. Could not find it in the archives, because they changed the name of the recipe. Wish they wouldn't do that! It was called Kansas black bread, and it is great with a dish of soup or stew on a cold winters day.
there should be a note about how sticky the dough is - but I added a tiny bit of rye flour to the mixer. I used more bread flour on my hand kneading/shaping. I used molasses rather than honey and it was just wonderful! We ate too much of it because it was so good