A customized print-friendly version of this recipe is available by clicking the "Print Recipe" button on this page.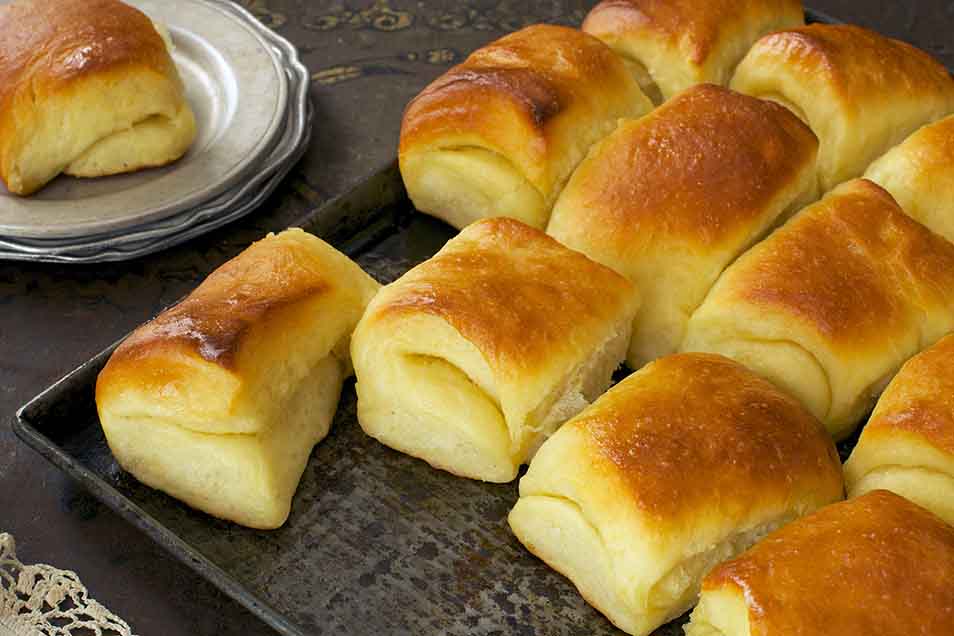 These feather-light, buttery rolls were a 19th-century staple of the Parker House, a famous Boston hotel — the same hotel that in 1855 created the first Boston Cream Pie, serving both rolls and pie to the likes of Oliver Wendell Holmes, Henry Wadsworth Longfellow, and Ralph Waldo Emerson.

So what makes a Parker House roll special? Butter. A buttery fold during the shaping process (and butter brushed on after they're baked) give them over-the-top flavor. An egg, milk, and a fair amount of butter in the dough give them fine and tender texture. All in all, this Boston-based roll is a bread-basket classic.

One more note: the "original" Parker House roll recipe calls for the dough to be cut in circles, dipped in butter, and folded over. However, having tried this rather messy process in the past, and ending up with rolls that popped open in the oven, rather than hold their shape (and their buttery pocket), we opted for a slightly different method.

The result? Softly rounded rectangular rolls, looking very much like the rolls served these days at the Omni Parker House hotel — still a Boston landmark after all these years.
Ingredients
2 1/2 teaspoons instant yeast
3 tablespoons sugar
1 1/4 teaspoons salt
1/4 cup potato flour or 3/4 cup instant mashed potato flakes
3 tablespoons butter
1 cup milk
1 large egg
3 1/2 to 4 tablespoons butter, melted; for brushing on rolls
Instructions
In a large mixing bowl, or in the bowl of an electric mixer, combine all of the ingredients (except the 3 tablespoons melted butter at the end), mixing to form a shaggy dough. Note: to speed the rising process, whisk together the milk and egg, and heat gently just enough to remove the refrigerator chill; then add to the remaining ingredients.

Knead the dough, by hand (10 minutes) or by machine (7 to 8 minutes) until it's smooth.

Place the dough in a lightly greased bowl or 8-cup measure (so you can track its rising progress). Allow it to rise for 90 minutes; it'll become quite puffy, though it probably won't double in bulk. Note that the dough takes quite awhile to get going; after 1 hour, it may seem like it's barely expanded at all. But during the last half hour, it rises more quickly.

Transfer the dough to a lightly greased work surface. Divide it in half. Working with one half at a time, roll or pat the dough into an 8" x 12" rectangle.

Brush the dough all over with a light coating of the melted butter. You'll have butter left over; you'll need it for the other half of the dough, as well as for brushing on top of the baked rolls.

Cut the dough in half lengthwise, to make two 4" x 12" rectangles. Working with one rectangle at a time, fold it lengthwise to about 1/2" of the other edge, so the bottom edge sticks out about 1/2" beyond the top edge. You'll now have a rectangle that's about 2 1/4" x 12". Repeat with the other piece of dough.

Cut each of the rectangles crosswise into four 3" pieces, making a total of 8 rolls, each about 2 1/4" x 3". Place the rolls, smooth side up, in a lightly greased 9" x 13" pan. Repeat with the remaining piece of dough, making 16 rolls in all. You'll arrange 4 rows of 4 in the pan, with the longer side of the rolls going down the longer side of the pan. Gently flatten the rolls to pretty much cover the bottom of the pan.

Cover the pan, and let the rolls rise for about 45 minutes to 1 hour, until they're puffy but definitely not doubled. Towards the end of the rising time, preheat the oven to 350°F.

Bake the rolls for 20 to 25 minutes, until they're golden brown and feel set.

Remove them from the oven, and brush with the remaining melted butter. Pull them apart to serve.

Yield: 16 rolls.
Nutrition Information
Serving Size

53g

Servings Per Batch

16
Amount Per Serving:
Calories

160

Calories from Fat

50

Total Fat

6g

Saturated Fat

3.5g

Trans Fat

0g

Cholesterol

25mg
Sodium

200mg

Total Carbohydrate

23g

Dietary Fiber

1g

Sugars

3g

Protein

4g
* The nutrition information provided for this recipe is determined by the ESHA Genesis R&D software program. Substituting any ingredients may change the posted nutrition information.
Tips from our bakers
Due to the natural tendency of yeast dough to both stretch and shrink as you work with it, don't stress when you don't end up with rolls that are all the same size. Just arrange them however they best fit to cover most of the bottom of the pan — a shorter one next to a longer one, etc. By the time they've risen, baked, and been slathered with butter, no one will care about perfection, size-wise. And anyway, as Ralph Waldo Emerson said: "A foolish consistency is the hobgoblin of little minds."
Reviews
This recipe is THE BEST! I live in Denver (high altitude) and the only adjustments I made both times I've baked them is to add a touch more milk. I don't add anything until I can see how the dough looks while kneading in the stand mixer. So far, I've used the dough for rolls and to make bierocks. Really a fantastic and versatile recipe.
This recipe is fantastic!! I'm not a baker and tend to shy away due to all my flat, dense breads and many flops! About a year ago I tried a different recipe for Parker House rolls and they were terrible! On a last ditch effort to redeem my baking skills I tried one more time using this recipe. They came out perfect and I've been making them ever sense! Even my son who is a super picky eater and a bread connnoisseur loves these rolls! They were the hit of the after dinner turkey sandwiches this Thanksgiving! Everyone loved them!! Thank you for re-energizing my attempts at baking!
I made these rolls last night and they were perfect. I used the dough hook on a kitchenwid mixer and the dough came together in 7 min. For both rises I did something that's not in the recipe I put a bowl with 3 cups of boiling water in the base of the oven (which was turned off) for both risings. It worked great always does.
Everyone agreed these were the best rolls I have ever made for Thanksgiving! I followed the tips for how to make these ahead in the comments section with 10-15 minutes on the counter and then into the fridge to rise overnight. Shape the rolls the next day and allow for a second rise before baking. They were light, buttery, and delicious (and made great sandwiches for leftovers!). This is my new go-to recipe!
Awesome rolls! I followed the directions from the blog (love having the pictures as a guide). They really do fly out of the bread basket! Will make again.
These turned out amazingly well! I weighed all my ingredients and put them in the bread maker (in manufacturer's suggested order) on the dough cycle. When it was through kneading I chucked the dough in a greased bowl and covered with plastic wrap. Then i just followed the instructions as written. These could not be easier, and everyone raved over them.
I made 4 double-recipe batches for Thanksgiving, and hands down, these are the best Parker House Rolls I have ever made. I used a scale and measured KA AP flour in gram (one batch was a little wet compared to the others after a few minutes of kneading, but 1 Tablespoon more of flour did the trick). Cut as per the recipe, these rolls are HUGE, and not what I wanted for a fancy meal, so I cut them in half for 32 smaller rolls that looked pretty in the roll baskets. (I did make some of the big ones to make sandwiches with the letfover ham and turkey.) My first pan was still very pale when the rolls were at 190 degrees, so I buttered the tops of the next pans before the second rise, which gave them better color. Everyone loved these buttery rolls, so this will definitely be my Parker House roll recipe from now on!
I'm typically the person who brings bread products to Thanksgiving, but this time it wasn't happening at my house. It's was over at my sister-in-law's. So I asked her if I could bring biscuits and she said of course. So my choice of Parker House rolls was a last-minute one. I didn't actually plan on it until I saw I think it must have been an email from King Arthur. It peaked my curiosity. And I totally have tons of potato flakes, organic actually, which are my go-to for mashed potatoes. Now as to the recipe: I read a lot of the reviews and it seems as though there are two issues. One is the rising and the other is the amount of give to the dough. I made mine in my stand mixer with the dough hook it seemed just fine. As a side note I did use unsalted butter. The result was that I feel that in particular over flouring is a really crucial mistake. Even though they didn't rise quite as much as I thought they would giving me a little anxiety, the end result was absolutely delicious. A wonderful flavor! My husband who went to MIT back in the day, remarked that his experience with Parker House rolls at the source was that they are very stretchy, which obviously means a lot of gluten. He liked them! So I will be making them again, I think this time perhaps a round version.
I made these yesterday for Thanksgiving and they were awesome!
Fantastic rolls in every way. Easy to make and good instructions to follow when I had questions. I made a double batch and put them in the refrigerator for the second rise. On Thanksgiving morning I pulled them out and let them rise an hour or so on the counter before baking them. I got so many compliments on these rolls. The flavor and fluffiness make them some of the best I've ever had. I'm going to save this recipe.