A customized print-friendly version of this recipe is available by clicking the "Print Recipe" button on this page.
Honey Whole Wheat Beer Bread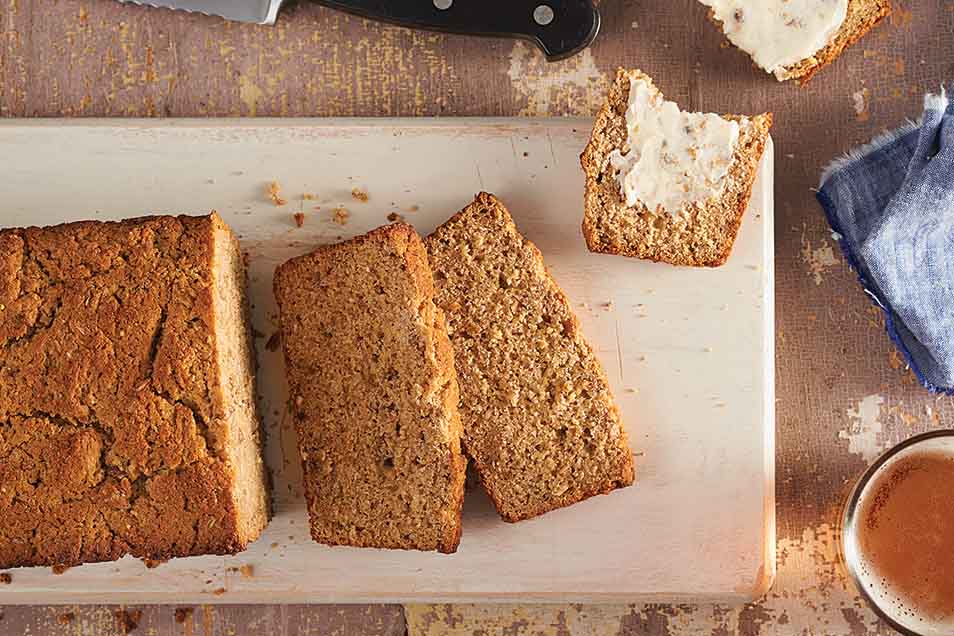 For quick and easy whole wheat bread without the kneading, this batter bread is your answer. Enhanced with a touch of honey, butter, and crunchy, beer-soaked grains, it's a great bread, either plain or buttered, to enjoy alongside a bowl of soup or stew.
Instructions
Combine the six-grain blend and beer in a large measuring cup and set aside to soak for 2 hours or longer.

Preheat the oven to 375°F. Lightly grease a 9" x 5" loaf pan.

Whisk together the flour, baking powder, and salt. Add 4 tablespoons of the melted butter, the honey, and the beer-grain mixture, and stir until fairly smooth; some small lumps are okay.

Spoon the batter into the prepared pan, smoothing the top. Brush with the remaining tablespoon of melted butter.

Bake the bread for 50 to 55 minutes, until a toothpick inserted about 1/2" into the top of the loaf comes out clean, or with a few moist crumbs clinging to it; a digital thermometer inserted into the center of the loaf will register between 195°F and 200°F.

Remove the bread from the oven, and after 5 minutes turn it out onto a rack to cool.

Wait until the bread cools completely before slicing.

Store airtight at room temperature for several days; freeze for longer storage.
Reviews
This has been my least favorite KAF recipe. I used the recommended KAF flour, but not the 6 grain mix, I substituted oats instead. The bread was very sweet, my 4 year old said it tasted like banana bread. With a quarter cup of honey I should have known... Anyhow, not a terrible bread, but not what I was looking for.

We're sorry to hear that this well-loved recipe didn't do the trick for you, Evelyn. If we can help pick out a recipe that better fits your tastes, please give our Baker's Hotline a call at 855-371-BAKE (2253). Kindly, Annabelle@KAF
I admit that I didn't use KAF brand whole wheat flour, because I had some I wanted to use up. But that shouldn't account for how dry and heavy this batter was. It did get some rise in the oven but not enough to make it edible. It's an expensive failure, but at least I get to see if the squirrels get tipsy eating the remains,

Believe it or not, Kate, different flours can give you vastly different results. Whole wheat flours have a fairly high gluten-forming protein content. This, paired with the bran from the wheat kernels, causes whole wheat flour to absorb a lot of moisture. It sounds like the flour you used had a higher protein content than ours has, and it absorbed a significant amount of liquid. This left you with very dense, heavy bread.

If you're interested in trying out this recipe again, we recommend using our flour and either weighing it or measuring it by fluffing it up, sprinkling it into a measuring cup, and scraping off the excess. This will ensure no extra flour packs itself into the cup, which would lead to a heavy, dense, dry dough. Annabelle@KAF
This bread was so easy to make and has a satisfying crunch and nice flavor. I used a Bob's Red Mill 7-grain cereal that I had on hand, and a wheat beer someone left at my house after a party. My only comment is that maybe an egg or a bit of liquid like milk would soften the texture a little. I'll make it again using different grain combinations, and maybe I'll put in some dried milk powder.
I am loving this bread this winter. I just keep making it over and over. I am using a grain mix I bought locally. I am just not a honey lover so I use molasses. So so good.
This is a delicious, bread. A co-worker turned me on to this recipe, and I love it. Baked a loaf, 2 wks. ago, now about to bake another. "Yummy" It allows you to be creative, blending together the grains, of your choice. Soo...It's definitely a winner, in my book..:-)
This is a quick, easy, and so delicious bread! I consulted with the hotline and used harvest grains blend. I used a pale ale local beer and honey from our hives. The bread didn't really rise as much as I had expected, but it was done at the recommended time (checked with thermometer) and didn't last long after it had cooled.
This bread is delicious! I didn't have a grain blend so I just used old fashioned oat meal. For the beer I used nut brown since I couldn't find a honey wheat beer. I was a little nervous after mixing it all together because it wasn't very wet, but it cooked up great in 50 minutes. I will definitely make again, the only change I might try is processing the oats in a food processor before mixing with the beer, just to see if it changes the bread texture at all.
Easy to prepare and has great flavor and texture.