A customized print-friendly version of this recipe is available by clicking the "Print Recipe" button on this page.
Inside-Out Pumpkin Muffins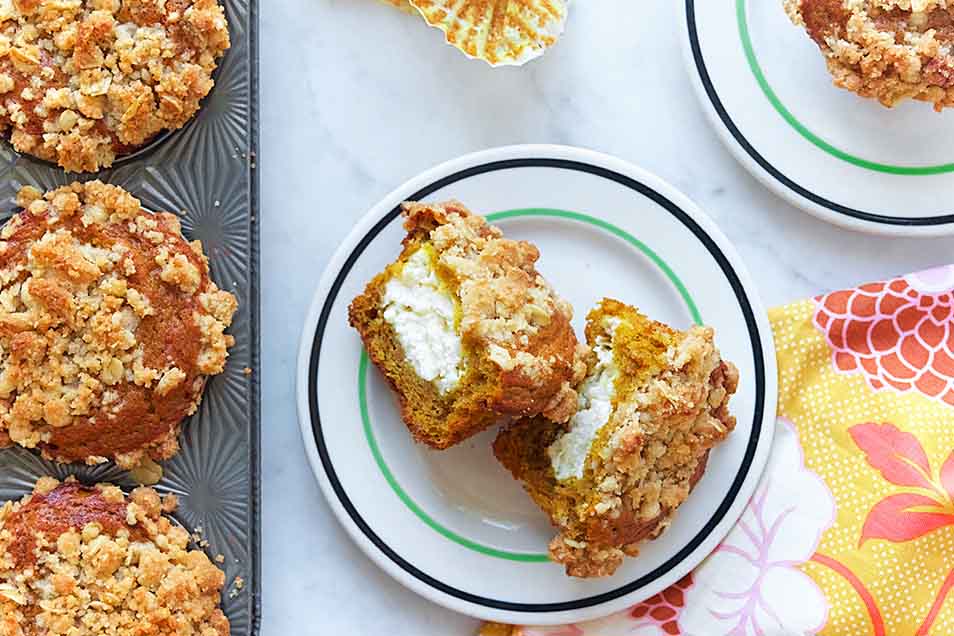 Instead of being iced, these nicely spicy pumpkin muffins have a sweetened cream cheese center that bakes right along with the muffin. Moist, delicious — and attractive! — they're a lovely harvest-time (AND year-round) treat.
Ingredients
Topping
1/2 cup King Arthur Unbleached All-Purpose Flour or King Arthur White Whole Wheat Flour
1/4 cup brown sugar (packed), light or dark
1/4 cup old-fashioned rolled oats or quick oats (not instant)
1/8 teaspoon salt
4 tablespoons butter, at firm room temperature
Filling
1 cup (8-ounce package) cream cheese, at room temperature; low-fat is fine
1/4 cup granulated sugar
1/2 teaspoon vanilla extract or a few drops Fiori di Sicilia flavoring, optional
Muffins
1 cup pumpkin purée (about half a standard 15-ounce can)
2 large eggs
1/2 cup brown sugar
3 tablespoons vegetable oil
1/4 cup boiled cider (for best flavor), dark corn syrup, or honey
1/2 teaspoon salt
1 1/2 teaspoons pumpkin pie spice; or 1 teaspoon ground cinnamon + 1/4 teaspoon ground cloves + 1/4 teaspoon ground ginger
1 teaspoon baking powder
1/2 teaspoon baking soda
1/3 cup milk
1 1/2 cups King Arthur Unbleached All-Purpose Flour or King Arthur White Whole Wheat Flour
Instructions
Preheat the oven to 400°F. Line a standard 12-cup muffin pan with muffin papers, and grease the papers.

To make the streusel: Whisk together the flour, sugar, oats, and salt. Work in the butter, mixing until coarse crumbs form. Set the topping aside.

To make the filling: Make sure the cream cheese is at room temperature. If it's not, place it in a microwave-safe bowl, and heat on low power for 40 seconds, just to soften it. Stir in the sugar and vanilla or Fiori di Sicilia, if using.

To make the batter: Whisk together the pumpkin, eggs, brown sugar, oil, boiled cider, salt, spices, baking powder, baking soda, and milk. Scrape down the sides and bottom of the bowl.

Add the flour and mix until well combined. Scrape down the sides and bottom of the bowl and beat briefly to incorporate the scrapings.

Drop a scant 2 tablespoons of the batter (a heaping tablespoon cookie scoop works well here) into each muffin cup, spreading it to cover the bottom. Dollop on a heaping tablespoon of filling, then cover with another 2 tablespoons of batter.

Sprinkle each muffin with some of the streusel topping.

Bake the muffins for 18 to 20 minutes, until a cake tester inserted towards the edge (not into the filling) comes out crumb-free.

Remove the muffins from the oven. As soon as they're cool enough to safely handle, transfer them to a rack to cool completely.

Enjoy fresh-baked muffins within 2 to 3 hours; refrigerate up to 3 days for longer storage. Freeze, well-wrapped, up to 3 weeks. Rewarm cold muffins in a preheated 350°F oven, tented with foil. Or heat briefly in a microwave set at low power.
Nutrition Information
Serving Size

106

Servings Per Batch

12
Amount Per Serving:
Calories

310

Calories from Fat

130

Total Fat

15g

Saturated Fat

7g

Trans Fat

0g

Cholesterol

60mg
Sodium

300mg

Total Carbohydrate

41g

Dietary Fiber

1g

Sugars

22g

Protein

5g
* The nutrition information provided for this recipe is determined by the ESHA Genesis R&D software program. Substituting any ingredients may change the posted nutrition information.
Tips from our bakers
A tablespoon cookie scoop is your best friend here. Use a heaping scoop for the 2 tablespoons batter in the bottom of the muffin cup (and the remaining 2 tablespoons atop the filling); a level scoop for the filling, and a slightly heaped scoop for the streusel topping.
Boiled cider isn't something you can easily make yourself, simply by boiling cider. But it's so wonderful, in so many different fruit desserts (especially ones with apples), it's worth it to keep a bottle on hand. It'll last for months in the fridge.
We love filling these muffins with our Cider-Cinnamon Spread. Half the recipe is enough to fill 12 muffins, but go ahead, make the entire recipe; it's delicious spread on toast and bagels.
Baking gluten-free? Make these muffins using our gluten-free Measure for Measure Flour in both the batter and streusel topping.
Want to make this recipe dairy-free? Use non-dairy milk in the batter; coconut oil or margarine in the topping, and vegan (non-dairy) cream cheese in the filling.
This recipe will make 24 mini muffins; bake minis in a preheated 375°F oven for 12 to 15 minutes.
Reviews
I made this recipe this evening for a Valentine's Day dessert. Accidentally left out the milk, so shortened the cooking time 2 minutes, and the muffins turned out wonderful. My SO said they're great, don't change a thing.
I made them this weekend, and I felt they were bland. My kids seemed to enjoy them, but there really wasn't very much flavor, and the cream cheese filling wasn't really sweet enough. It maybe could use a little more pumpkin spice to give it that pumpkin cake flavor.

CB, you should definitely feel free to increase the spices in these if you're looking for a more intense flavor. Happy baking! Kat@KAF
I made these this morning and they were very good. Used whole wheat pastry flour which probably made them a little more tender than white wheat whole grain or AP flour since the gluten content is lower. I wanted to use whole grain and the pastry flour was what I had on hand. I also used Steen's cane syrup (a local favorite) instead of the boiled cider. Otherwise followed the recipe as written using weight in grams, not volume. Very tasty. Will make again.
Very, very good. Lovely texture. I'll be anxious to see how they keep, based on some comments here. I made some substitutions due to not having all the ingredients on hand. I used half mesquite honey & half light corn syrup, as I was afraid all honey would be too strong. Used my own pumpkin pie seasoning blend, which includes nutmeg. Other changes I made on a whim - two drops of orange essential oil to the filling, coconut oil for the vegetable oil, some finely minced candied ginger...and finally, I totally forgot to top with the streussel. All the changes worked well. I've never heard of boiled cider, but am intrigued. Might try that next time.
I made these muffins this morning and they were pretty good. I used 1/4 cup of maple syrup in the batter. I substituted maple extract for vanilla in the cream cheese filling. In the future, I would add an additional 1/2 teaspoon of maple extract to boost the flavor. I would probably use an additional 1/2 teaspoon of pumpkin pie spice too (for a total of 2 teaspoons). Is there aaany way to add either buttermilk or yogurt to recipe for a moister muffin? They tasted great fresh from the oven, but, based upon some of the comments, I wonder what they will taste like after being in the fridge overnight or in the freezer for, say, a week.

Experiment, Derek! We think it's worth trying the buttermilk and yogurt methods out. We expect the buttermilk will give you the moister results of the two. Annabelle@KAF
I made a couple changes: added 1/2 c. ground walnuts to the streusel, added 2 tbsp grand marnier + 1 tsp pure vanilla to the cream cheese inside, and increased the cloves & ginger a bit. Also, maple syrup instead of cider. SO DELICIOUS!! I never would have thought of the cream cheese inside, thank you so much for sharing!!
I left my pumpkin muffins out on day of baking but in a airtight container. Upon rereading the recipe it states that they can be refrigerated for up to 3 days. Are the muffins now not good since I left them out for a day?

We recommend enjoying freshly baked muffins within 2-3 hours or storing them in the fridge for longer storage since the filling contains cream cheese, which can spoil at room temperature. You'll have to make a personal choice about whether you feel comfortable eating your muffins based on the temperature and environment they were left in. If you're hesitant, you can always make a fresh batch. Kye@KAF
Delicious!!!! Made with white whole wheat with very good outcome! Made the streusel topping in the food processor, adding the oats at the end, making that task very easy. Made double the streusel and will refrigerate that half until I make my next batch of muffins of whatever variety! Ate them still warm, and it doesn't get much better than this!!!
This was an easy recipe and per my spouse a "keeper." I added a bit of lemon juice to the cream cheese filling otherwise I followed the recipe exactly and it turned out perfectly. The filling surprise really makes the muffin but I liked the texture provided by whole wheat flour and the fact it is not too sweet. The topping enhances the taste as well as dressing it up.
This one was a miss for us. The Fiori di Sicilia taste clashed with the pumpkin, the texture of the oats on top was off-putting (they just sat there and never got any softer) and there was just nothing special about the taste of the muffins. It's only been an hour and already I can't remember what they tasted like, other than the weird citrus from the Fiori di Sicilia. I'm surprised to try a KAF recipe that I don't love, but at least this is the only one.

Kristen, we're sorry to hear these muffins weren't quite right for your family's taste buds, but we do appreciate your genuine feedback. It sounds like maybe there was a bit to much Fiori di Sicilia added to the filling, which is a very concentrated flavor. Perhaps you'd find the flavor of the vanilla extract a better pairing with the pumpkin. Also, the recipe calls for regular rolled oats to be used in the topping to ensure there's a little bit of texture, but if you'd like them to melt into the topping more, you can try using instant oats instead. We hope your next bake delivers more delicious results. Kye@KAF