A customized print-friendly version of this recipe is available by clicking the "Print Recipe" button on this page.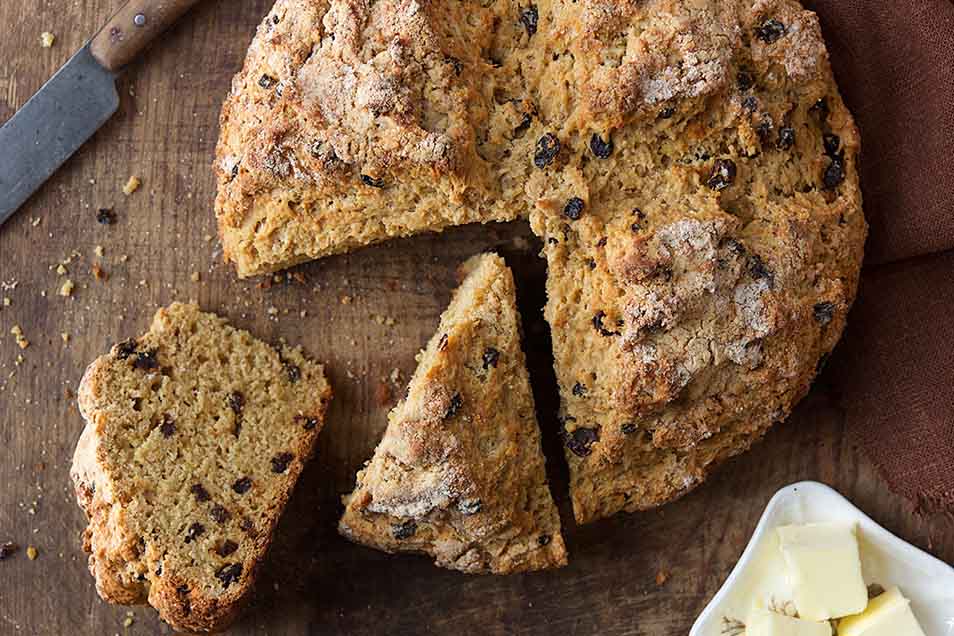 The "real" Irish soda bread consists simply of Irish wholemeal flour (equivalent to a coarse grind of our American whole wheat flour), baking soda, salt and buttermilk. At the other end of the spectrum is Americanized Irish soda bread, a white, sweet, cake-like confection filled with raisins or currants and caraway seeds. The version we print here is much closer to traditional Irish bread than to its American cousin; but the addition of some bread flour, an egg, butter, a bit of sugar, and some currants serve to lighten and tenderize this loaf just enough to make it especially enticing to most of us on this side of the ocean.
Ingredients
2 1/2 cups King Arthur 100% White Whole Wheat Flour or King Arthur Irish-Style Wholemeal Flour
1 1/4 cups King Arthur Unbleached Bread Flour
3 tablespoons sugar
1 teaspoon baking soda
3/4 teaspoon salt
2/3 cup currants or raisins
1/4 cup (4 tablespoons) cold butter, cut into 8 pieces
1 1/3 cups buttermilk
1 large egg
2 tablespoons melted butter, optional
Instructions
Preheat the oven to 400°F. Lightly grease an 8" or 9" round cake pan.

In a medium-sized mixing bowl, whisk together the flours, sugar, baking soda, salt, and currants or raisins.

Using a mixer, a pastry fork or blender, or your fingers, work in the butter until it's evenly distributed and no large chunks remain.

In a separate bowl (or in a measuring cup) whisk together the buttermilk and egg. Pour this mixture into the dry ingredients and mix to combine. The dough will be stiff; if it's too crumbly to squeeze together, add another tablespoon or two of buttermilk.

Knead the dough a couple of times to make sure it's holding together, then shape it into a ball. Flatten the ball slightly, and place the loaf in your pan. Use a sharp knife to cut a 1/2"-deep cross in the loaf.

Bake the bread for about 45 to 55 minutes, until it's golden brown and a cake tester or toothpick inserted in the center comes out clean. Remove the bread from the oven and brush the top with melted butter, if desired.

Store for about 2 days, well wrapped, at room temperature; freeze for longer storage (up to about a month).
Tips from our bakers
For a more authentic soda bread, use King Arthur Irish-Style Wholemeal Flour rather than White Whole Wheat Flour.
The craggy crust on this hearty, dense bread makes it somewhat tough to cut in thin slices; we suggest using a serrated knife to cut wedge-shaped pieces. A bit of butter or jam is a nice addition.