A customized print-friendly version of this recipe is available by clicking the "Print Recipe" button on this page.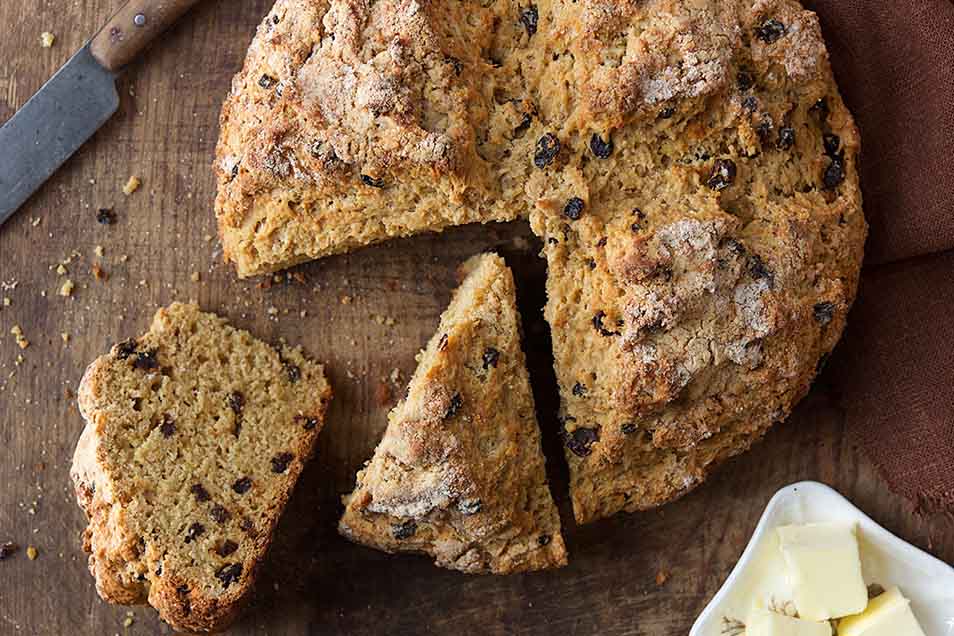 The "real" Irish soda bread consists simply of Irish wholemeal flour (equivalent to a coarse grind of our American whole wheat flour), baking soda, salt and buttermilk. At the other end of the spectrum is Americanized Irish soda bread, a white, sweet, cake-like confection filled with raisins or currants and caraway seeds. The version we print here is much closer to traditional Irish bread than to its American cousin; but the addition of some bread flour, an egg, butter, a bit of sugar, and some currants serve to lighten and tenderize this loaf just enough to make it especially enticing to most of us on this side of the ocean.
Ingredients
2 1/2 cups King Arthur 100% White Whole Wheat Flour or King Arthur Irish-Style Wholemeal Flour
1 1/4 cups King Arthur Unbleached Bread Flour
3 tablespoons sugar
1 teaspoon baking soda
3/4 teaspoon salt
2/3 cup currants or raisins
1/4 cup (4 tablespoons) cold butter, cut into 8 pieces
1 1/3 cups buttermilk
1 large egg
2 tablespoons melted butter, optional
Instructions
Preheat the oven to 400°F. Lightly grease an 8" or 9" round cake pan.

In a medium-sized mixing bowl, whisk together the flours, sugar, baking soda, salt, and currants or raisins.

Using a mixer, a pastry fork or blender, or your fingers, work in the butter until it's evenly distributed and no large chunks remain.

In a separate bowl (or in a measuring cup) whisk together the buttermilk and egg. Pour this mixture into the dry ingredients and mix to combine. The dough will be stiff; if it's too crumbly to squeeze together, add another tablespoon or two of buttermilk.

Knead the dough a couple of times to make sure it's holding together, then shape it into a ball. Flatten the ball slightly, and place the loaf in your pan. Use a sharp knife to cut a 1/2"-deep cross in the loaf.

Bake the bread for about 45 to 55 minutes, until it's golden brown and a cake tester or toothpick inserted in the center comes out clean. Remove the bread from the oven and brush the top with melted butter, if desired.

Store for about 2 days, well wrapped, at room temperature; freeze for longer storage (up to about a month).
Tips from our bakers
For a more authentic soda bread, use King Arthur Irish-Style Wholemeal Flour rather than White Whole Wheat Flour.
The craggy crust on this hearty, dense bread makes it somewhat tough to cut in thin slices; we suggest using a serrated knife to cut wedge-shaped pieces. A bit of butter or jam is a nice addition.
Reviews
I made this with 2 c of Bob's Red Mill wheat bran instead of the whole wheat flour, and 1 3/4 c King Arthur bread flour. I slashed it deeply, which I think helped it get cooked through. It was done at 45 min. It was great!
It was easy and delicious. I wasn't happy when the toothpick came out clean but it was still raw in the middle when I cut into it. I guess you need to really see it turn more golden and try a thermometer.
Hearty, moist and delicious. It was a hit with my family.
I used the exact listed ingredients. (I love the look and texture of the KA Irish flour, so glad I ordered it!) This is so tasty and easy. I have some buttermilk left so I'm going to make it again next weekend.
I think the oven temp and baking times are too long. It is very dry and even though I baked less than it said, still overdone. I hope to make it again add a bit more buttermilk and reduce oven temp to 375 and check bread at maybe 40-45 minutes, juast to be sure it isn't getting overdone.
I really enjoyed this rustic style bread, when I happily tried out the KAF Irish flour (though I think I used AP flour instead of Bread Flour). My husband didn't love it, which was surprising since he's gobbled up every soda bread he's ever been served, during frequent trips to Ireland! I think he was just expecting one of the more American versions I have baked, in the past, since I'm always trying out new recipes. I often sub the zest of an orange (or 2) and dried cranberries (briefly soaked in hot water), when I make soda bread and challah, and everyone seems to really enjoy the flavor. Of course, since I'm one of the few people I know, who regularly bake from scratch, most of what I share gets a very enthusiastic reception!
Used 1 1/4 KA cake flour in place of KA bread flour and remaining flour was half KA all purpose and white whole wheat. Texture was similar to a very good biscuit with a crusty top. Will make again. Thanks as always for the good work.
Recipe came together great but word of caution - add the currants after you rub in the butter. Adding them first made it very difficult to rub the butter in properly.
I did not have enough bread flour (only 37gm), so used All Purpose KAF for the balance of the bread flour. I used KAF whole wheat flour in lieu of Irish-style wholewheat flour. I used approximately 1.5 tablespoons of white vinegar in a cup of skim milk in place of buttermilk. All other ingredients were as written (golden raisins, not currants). Baked 45 minutes. Finished product had good crumb and was not sweet at all. I'm not sure what traditional ISB should taste like, but we liked it.
I was invited to my GGranddaughters for a traditional St. Patrick's Day dinner. I wanted to take something Irish and I reviewed the different Irish soda bread recipes on KA and decided to go with this one. Since my GGdaughter had studied a year in Ireland, this recipe sounded like the most authentic Irish Soda Bread. It was easy to put together. I used chopped raisins, and followed the directions to the tee. I set the timer and when I pulled it out of the oven I didn't know what to think. It was rather dark, bumpy, rather ugly looking, and hadn't risen a whole lot. I decided not to take it, but the last minute I bagged it up and added it to the other things we were taking. After all I had purchased Kerry Gold butter to go with it and couldn't let that go to waste. Well let me tell you, the bread was a hit and my GGD was thrilled as it reminded her of the soda bread she loved while in Ireland. It is just ever so slightly sweet, and with Kerry Gold butter was a real treat. Thank you KA. How could I have doubted that funny looking loaf of bread!