A customized print-friendly version of this recipe is available by clicking the "Print Recipe" button on this page.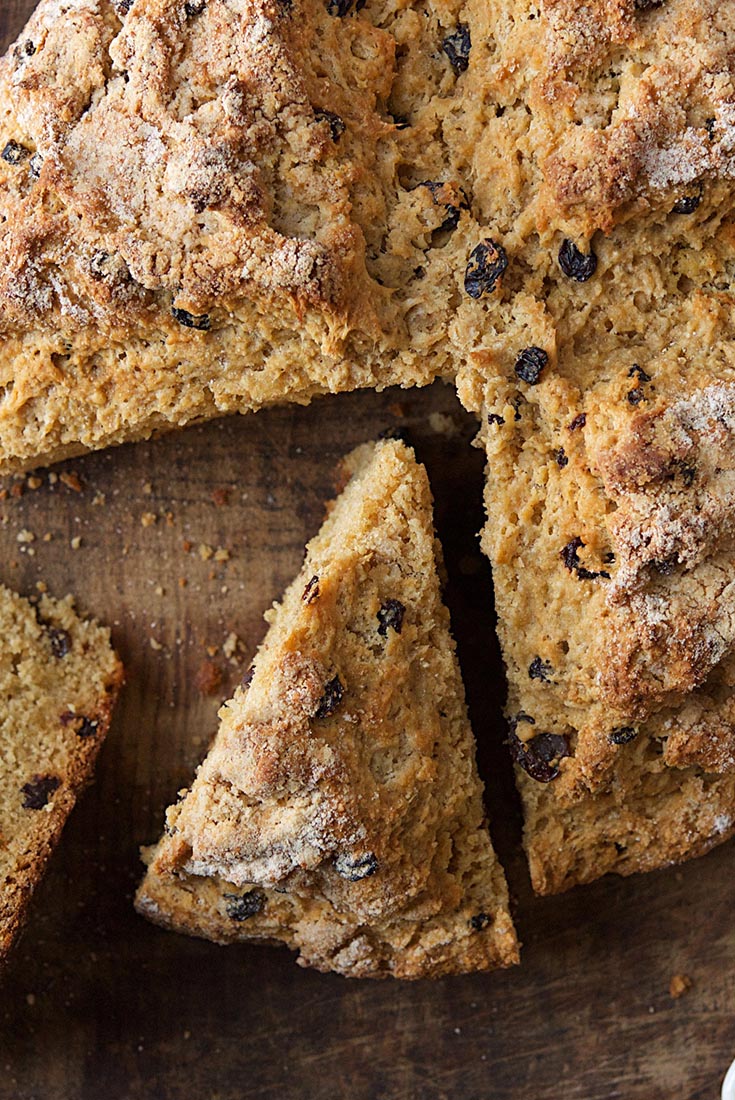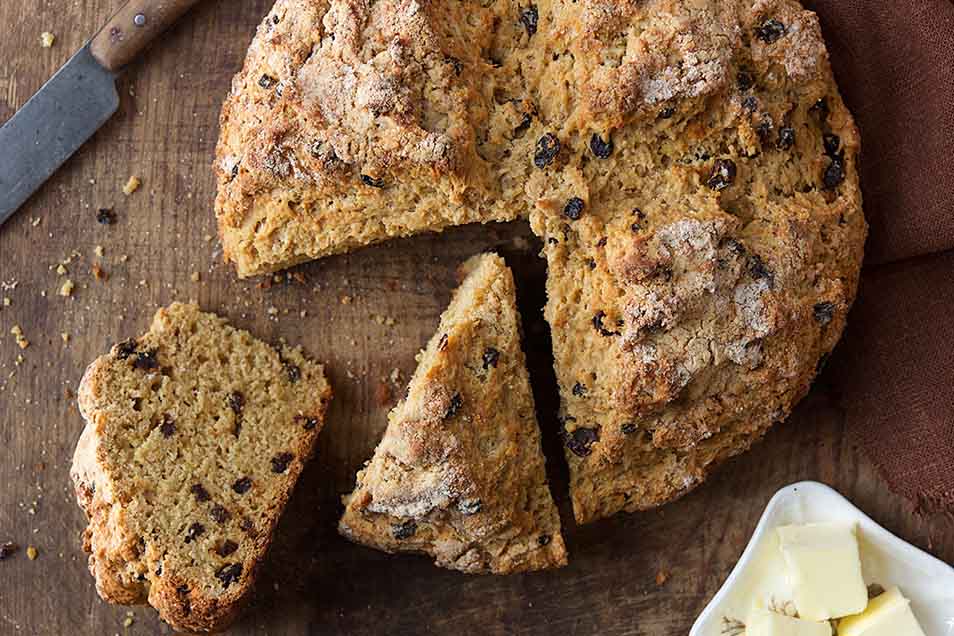 The "real" Irish soda bread consists simply of Irish wholemeal flour (equivalent to a coarse grind of our American whole wheat flour), baking soda, salt and buttermilk. At the other end of the spectrum is Americanized Irish soda bread, a white, sweet, cake-like confection filled with raisins or currants and caraway seeds. The version we print here is much closer to traditional Irish bread than to its American cousin; but the addition of some bread flour, an egg, butter, a bit of sugar, and some currants serve to lighten and tenderize this loaf just enough to make it attractive to most of us on this side of the ocean.
Ingredients
2 1/2 cups King Arthur 100% White Whole Wheat Flour or King Arthur Irish-Style Wholemeal Flour
1 1/4 cups King Arthur Unbleached Bread Flour
3 tablespoons sugar
1 teaspoon baking soda
3/4 teaspoon salt
2/3 cup currants or raisins
1/4 cup (4 tablespoons) cold butter, cut into 8 pieces
1 1/3 cups buttermilk
1 large egg
2 tablespoons melted butter, optional
Instructions
Preheat the oven to 400°F. Lightly grease an 8" or 9" round cake pan.

In a medium-sized mixing bowl, whisk together the flours, sugar, baking soda, salt, and currants or raisins.

Using a mixer, a pastry fork or blender, or your fingers, work in the butter until it's evenly distributed and no large chunks remain.

In a separate bowl (or in a measuring cup) whisk together the buttermilk and egg. Pour this mixture into the dry ingredients and mix to combine. The dough will be stiff; if it's too crumbly to squeeze together, add another tablespoon or two of buttermilk.

Knead the dough a couple of times to make sure it's holding together, then shape it into a ball. Flatten the ball slightly, and place the loaf in your pan. Use a sharp knife to cut a 1/2"-deep cross in the loaf.

Bake the bread for about 45 to 55 minutes, until it's golden brown and a cake tester or toothpick inserted in the center comes out clean. Remove the bread from the oven and brush the top with melted butter, if desired.

Store for about 2 days, well wrapped, at room temperature; freeze for longer storage (up to about a month).
Tips from our bakers
For a more authentic soda bread, use King Arthur Irish-Style Wholemeal Flour rather than White Whole Wheat Flour.
The craggy crust on this hearty, dense bread makes it somewhat tough to cut in thin slices; we suggest using a serrated knife to cut wedge-shaped pieces. A bit of butter or jam is a nice addition.
Reviews
Great recipe! Made exactly as directed and grated the butter as recommended by some previous reviewers. It only took about 30 mins to bake to a golden brown, but that may be due to our wonky oven. Another great King Arthur Flour recipe!
I recently received my order of Irish-Style Flour and was excited to try this Irish Soda Bread recipe. It was great! I used Finlandia butter (I would have used Irish butter if I'd had it), grating it into the dry ingredients as suggested in previous reviews, and golden raisins. The dough was a little sticky (maybe because the egg was an extra-large?) so it was a bit difficult to knead it and form into a ball. I baked it for 45 minutes in a 9" round Williams Sonoma gold cakepan. My husband and I really enjoyed this bread... it's almost half gone even though we were eating it along with a big bowl of turkey soup! I meant to add caraway seeds because I love them in store-bought Irish soda bread, but honestly this bread was so good, we didn't miss them at all. I can tell I'll be buying more of the Irish-Style Flour!
I have used this recipe for several years now. I make two loaves, one with currants and one with raisins. Last year, just for fun, I tried Kerry Gold irish butter in the recipe. The bread came out much better and everyone loved it. This year I made it again with the irish butter and it definitely is better.
This was probably a "me" problem and not a "recipe" problem but using the metric recipe I found the "dough" to be "batter". After I cut my butter in (cold from freezer) I had a nice 'mealy' concoction that seemed like it was perfect. When I added the buttermilk and egg (with a rubber spatula) I had nothing resembling a bread but much more like a waffle batter. Not quite that runny but you get the point. I turned it onto a floured surface and tried to see if it just needed some handling / time but it was a sticky mess. I put it back into mixing bowl, put it under the mixer and added probably another 75g of AP flour and turned it with dough hook for about a minute. I know I was overworking my butter now so I stopped. I got it into a pan and its in the oven now. It doesn't look like the other soda breads I've made- more like a wet biscuit. I used 200g of Whole Wheat flour and 140g of AP flour to start.

We're happy to help. It sounds like you may not have used quite enough flour to begin with. The recipe calls for 283 grams of White Whole Wheat Flour or 276 grams of Irish-Style Wholemeal Flour, plus 149 grams of bread flour. All-purpose flour is less absorbent than bread flour, so if you make this substitution, you'll likely need to add a bit more to bring the dough to the right consistency. The batter is notably more slack that a traditional yeast dough, which helps create a soft, tender texture. We hope this helps! Kye@KAF
I tried another website's recipe last year and it was dry and crumbly. Decided to try this one since I tend to have better luck with KAF recipes, and it turned out really well. I made it as directed with white whole wheat flour, bread flour, and raisins. It was tender with a nice crumb and subtly sweet flavor. Thanks again for such great recipes and tips!
This bread has great texture and taste. I made a few changes, I used dark brown sugar for one of the three tablespoons of sugar and used a combination of golden raisins and currants. It is very good and easy to make. Love King Arthur products.
Best Irish Soda Bread recipe I've found. I use almond beverage instead of buttermilk and turbinado sugar (also sprinkle a bit on top). My go to recipe now.
Delicious and easy to make! This recipe is a keeper! King Arthur always has great recipes!
Just made this and it turned out wonderful! I followed it exactly and used KA Irish style flour with the KA Unbleached flour. I did use golden raisins instead of currents. When I was on a trip to Dublin Ireland once I went to a little market and bought some scones that were so good and tasted a lot like this. Always wished we had the Irish flour here and was glad when you offered it. Actually this is the best item I have made using it so far. Oh and I did grate the butter like someone recommended. So much easier for a number of recipes when baking.
I've been using the soda bread muffin recipe for a number of years, but wanted a less sweet bread. This is perfect. And easy.