A customized print-friendly version of this recipe is available by clicking the "Print Recipe" button on this page.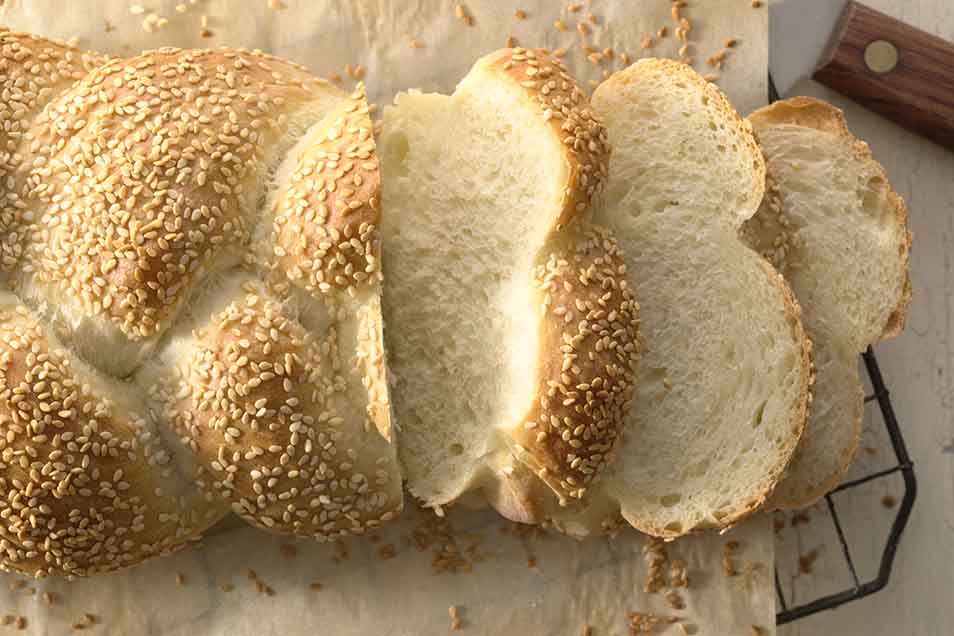 You know that Italian bread you get at the supermarket, the crunchy braid loaded with sesame seeds? You've found a recipe for that delicious loaf. Dish up the pasta!
Ingredients
Overnight starter
1/2 cup lukewarm water
1/8 teaspoon instant yeast or active dry yeast
Topping
1 large egg white beaten with 1 tablespoon water
sesame seeds
Instructions
To make the starter: Mix the starter ingredients in a small bowl, cover, and let rest at room temperature overnight.

Combine the starter and the remainder of the dough ingredients. Mix, then knead the dough — by hand, mixer, or bread machine set on the dough cycle — to make a soft, fairly smooth dough.

Transfer the dough to a lightly greased bowl, cover the bowl or bucket, and allow the dough to rise for 90 minutes, turning it over and gently deflating it after 45 minutes. If you're using a bread machine, remove the dough when the cycle is finished, deflate it gently, and let it rest, covered, for 30 minutes.

Transfer the dough to a lightly greased work surface, and divide it into three pieces.

Roll each piece of dough into an 18" rope. Braid the ropes (tucking the ends under), and set the braid on a lightly greased baking sheet.

Cover the braid, and let rise it rise for about 60 to 90 minutes, or until it's very puffy. Towards the end of the rising time, preheat the oven to 425°F.

Uncover the braid. Brush it with the egg white glaze, and sprinkle it heavily with sesame seeds.

Bake the braid for 25 to 35 minutes; the longer it bakes, the crunchier it'll be. When fully baked, the braid's internal temperature should measure at least 190°F on a digital thermometer.

Remove the braid from the oven and cool it on a rack. For extra crispness, cool it in the turned-off oven with the door propped open.

Store the braid in a paper bag for 24 hours; wrap in plastic and freeze for longer storage.
Nutrition Information
Serving Size

49g

Servings Per Batch

18
Amount Per Serving:
Calories

90

Calories from Fat

5

Total Fat

.5

Saturated Fat

0g

Trans Fat

0g

Cholesterol

0mg
Sodium

170mg

Total Carbohydrate

18g

Dietary Fiber

1g

Sugars

0g

Protein

3g
* The nutrition information provided for this recipe is determined by the ESHA Genesis R&D software program. Substituting any ingredients may change the posted nutrition information.
Reviews
first time = perfect. used instant yeast. as recommended by others, I used 2T vital wheat gluten and 1T honey. was a perfect recipe for a cold rainy weekend in Wisconsin.
I made three loaves of this as a first time bread baker. The crust was nice and crunchy and it was delicious. Being used to crusty Italian bread from the Long Island/Brooklyn, NY area this bread definitely has the potential to fulfill my longing, since I've moved away. I only say potential because of the substitution of KA Whole wheat flour, so I haven't baked this true to the recipe. I used the KA whole wheat flour, likely erroneously, thinking it would just be a 1:1 substitution and I'd have some healthier bread. The crumb of this bread with the KA whole wheat was much closer and dense. Could recommend how to alter this recipe to use the KA whole wheat flour for me, I couldn't find a recipe on the KA site, aside from whole wheat baguettes.

Hi Desiree, to make this recipe with all whole wheat flour you would want to increase the liquid by adding 2 teaspoons of additional water per cup of whole wheat you use. Adding in up to 2 tablespoons of vital Wheat gluten can also help make the loafs less dense and have a better rise. Happy baking! Morgan@KAF
This is a great go to recipe that really is simple to prepare. The only tweak that I made was the next day I added a Tbs of raw honey to the water before adding the yeast and 2 Tbs of vital wheat gluten to the flour for better texture. I feel it is imperative to make the starter at least a day before you make this loaf, two days even better! All said, this baked up crispy and browned wonderfully! I am sure to make this again. Also it's great for toast the next morning!
I'm an inexperienced bread baker but gave this a shot anyways - the texture and the crust were beautiful, but unfortunately it was super flat like a ciabatta. I'm sure I over- or under- did it on at least some of the steps - Is there anywhere I could look for pictures or videos to demonstrate the sizes and textures I should be looking for throughout? If my texture was correct, does that mean that it was more of a shaping issue?

Hi Rachel, we'd love to help as best we can. There's not currently a blog post to accompany this article, but there is one (complete with step-by-step photos) for a similar recipe called Scali Bread. (Search for this recipe by name, and then look for the link to the blog near the top part of that page.) You'll be able to see what the texture of the bread should look like when it's made properly, as well as see some tips for shaping and baking.

To give the bread more strength, try folding the dough over onto itself a few times during the second rise to develop the gluten structure. Also, consider baking the bread in a bread baking crock, like a Long Covered Baker. This will give the dough support to rise high and hold its shape. We hope this helps and good luck! Kye@KAF
I was very happy to see the reviews for this recipe and we love Italian Bread. Easy to follow and make. Mine tasted great, but the bread did not brown :/ also, crust wasn't crispy but more chewy. The only thing I didn't add was the seeds. I will try again but wanted to get input on what I could do to "correct the crust". Thank you!

Looking to make a loaf that's golden brown with a crispy crust? Consider baking your loaf in a preheated Dutch oven, Priscilla. Baking in a hot pot creates lots of steam, which is key to the awesome crust you're seeking. You can find full instructions for this baking method in the article on our blog called, "Bread baking in a Dutch oven." (Click on "blog" near the top of this page and then search for it by name.)

If you don't have a Dutch oven, you can try spritzing the loaf with water a few times during the initial part of the bake. If the loaf still isn't developing the color you want by the end of the bake time, try increasing the heat by 15 to 25°F and baking for a few minutes longer. Let the loaf cool in the turned-off oven with the door cracked once it's done baking. We hope this helps you bake the bread of your dreams! Kye@KAF
I LOVE your recipes - and love the review/comment section even more. Thank you for providing such a great resource to all of us wannabe family bread-makers. Please help me understand the 'starter' concept. I'm not used to using one except for sourdough. What should the Italian Bread starter look like while 'working,' and does 'overnight' = 6-8 hr or to a certain volume? Thanks so much.

We're happy to provide some further details around overnight starters. First, why do we use them? They help add extensibility to the dough, which means it makes it easier to stretch, shape, and handle the dough. It also adds a deep, yeasty flavor the bread and helps it stay fresh for longer.

The starter should become visibly expanded and have some bubbles on the surface of the starter while it's "working." If a recipe calls for leaving a starter overnight, shoot for around 12-16 hours, knowing that a precise time isn't necessary. We hope this helps and happy baking! Kye@KAF
I made this into 2 loaves and used my KAF Italian bread pan to cook up both loaves. It is really really good, crispy outside, chewy soft inside. Yummy. Makes great garlic bread too!
I LOVE this recipe, as do my neighbors. I have made this about a dozen times. Some better than others (new at it) but it's always extremely tasty. I cut the final dough in 2 and make 2 loaves instead of braiding and it works fine. Have used 1/2 whole wheat flour and it's good (but I am partial to the white.) Because I don't eat it quickly enough I slice and freeze it. Perfect for toast as well as sandwiches.
Every bread recipe I try to make including this one comes out dense and dry with a hard white crust. I call it me biscotti bread because that's what it resembles. I will try one more time but this time use a bread pan. Hopeing for the best

We can help, Charles! If you're not already, we highly recommend measuring your ingredients with a scale. It's faster, always accurate, and uses fewer dishes than using measuring cups. The most common reason for dense, dry loaves is that there's too much flour. It absorbs any moisture it can and then doesn't have enough slackness to rise, and you're left with a dense dry loaf of bread. You want the dough to be on the tacky side, similar to a piece of tape or a sticky note, and for it to be soft like your cheek once it's kneaded.

The second most common reason for dense loaves in particular is over-rising. Feel free to check out our blog post Over-Proofed Bread for some helpful visuals and tips. If you have any other questions, please call our free and friendly Baker's Hotline at 855-371-BAKE (2253) and they'll be happy to help! Annabelle@KAF